Gretchen Carlson's Pants, Gretchen Carlson's Pants, Gretchen Carlson's Pants
News
September 23, 2013 11:25 AM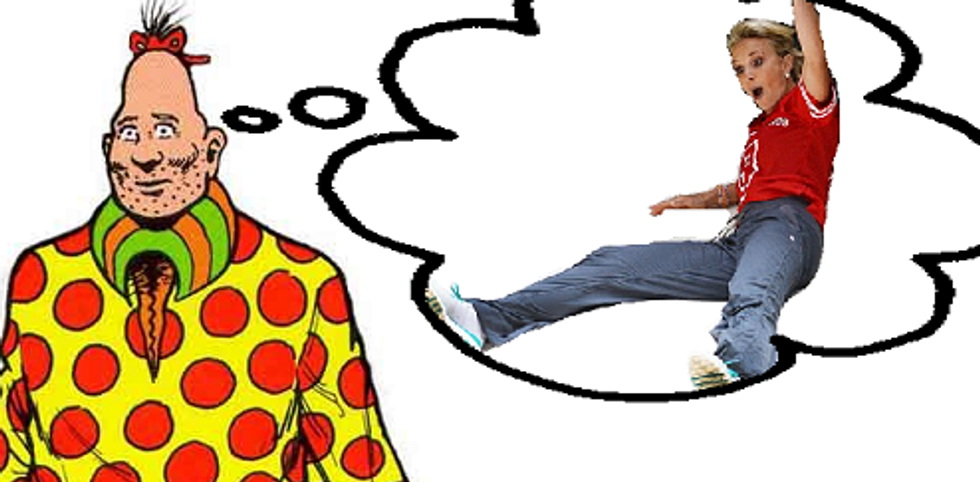 On Thursday'sKilmeade and Friends radio program (a thing which apparently exists), former Fox & Friends cohost Gretchen Carlson talked about pants and how the dress code on Fox's morning show was apparently dictated by that place in France:
---
BRIAN KILMEADE: Guess who just walked in? If you're watching -- if you have the podcast. Gretchen Carlson's in, dressed casual, kind of. Very nice.

CARLSON: Wait a minute. Nobody's going to recognize me because not only am I dressed casually, I have on pants.

KILMEADE: Well, pants, what is --

CARLSON: Now, pants were not allowed on Fox & Friends, remember?

KILMEADE: Yeah, what happened with that?

CARLSON: So I have jeans on, Brian. Welcome -- welcome to the new Gretchen.
The conversation soon expanded into other pants topics, and eventually even encompassed shirts:
KILMEADE: Wow, look at that. Are you going to be jeans on your show when you start?

CARLSON: You just never know.

KILMEADE: You might be the jeans show.

CARLSON: It might --

KILMEADE: Might jeans be a requirement?

CARLSON: I know -- see this is something that you always said on Fox & Friends. You always liked to be shirtless.

KILMEADE: Right.

CARLSON: Yeah. And sometimes you actually suggested that for me.

KILMEADE: Right.

CARLSON: [laughter]

KILMEADE: Which is interesting. I don't -- they wouldn't carry that for the west coast, on the delay.

CARLSON: Yeah. Well, so you never know what I'm going to show up in. I'm busy putting it all together and so, you know, I might forget my clothes the first day.
Protip: Never ever ever ever let yourself be alone with Brian Kilmeade. Or Steve Doocey, for that matter.