Grocery Shoppers Outraged Their Mexican Election Voting Bribes Were So Puny
News
July 05, 2012 02:15 PM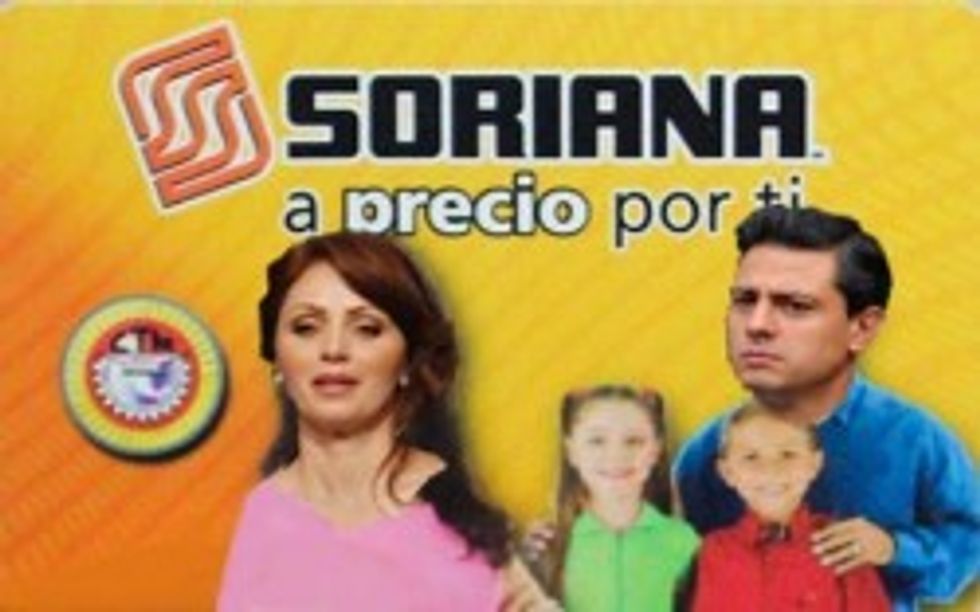 In our second segment in the series Everything We Always Wanted To Know About Mexico But Now That We Know Can We Unknow It?, we bring you the latest fashions in election vote-fixing, brought to you by president-elect Enrique Peña Nieto's party, the oddly-named Institutional Revolutionary Party or PRI. (How do you institutionalize revolution, anyway?) Some of the things the PRIdid institutionalize over the 70 years they were in power was guaranteeing their own reelection and turning a blind eye to the drug cartels because "job creators." However, the new handsome, youthful face of the party, Enrique Peña Nieto, PROMISED that his party had CHANGED and he would NEVER go back to the old ways.
---
But he needed to win the election, ya know? So, just a few little cheaty things here and there wouldn't be noticed, right? It was all for the greater good.
On Monday and Tuesday, just after Sunday's election, an embarrassing Popocatépetl-sized kerfuffle erupted. Thousands of Mexicans crowded into Soriana grocery stores to cash in gift cards that were given to them in exchange for voting for PRI candidates, including Peña Nieto. People who didn't have gift cards (the stupid ones) couldn't get into the stores to do their post-weekend shopping. And the people that did have cards were extremely unhappy. It seems that they were told that the gift cards were worth 500 Pesos ($37.50), but they discovered at the store that they were only worth 100 Pesos ($7.50). We know this because los indignados were all interviewed outside the stores by journalists from media outlets not affiliated with Peña Nieto (meaning, non-Mexican media outlets).
Maria Salazar, a 20-year-old university student, came with her 70-year-old father, Antonio Salazar, to cash three gift cards.

"They gave us the cards in the name of the PRI and Rep. Hector Pedroza (a PRI congressional candidate), and they said they were counting on our vote," Maria Salazar said outside the store, as she carried plastic shopping bags packed with toilet paper, cooking oil, rice, saltine crackers and instant noodle soups.

Her father carried another two packed grocery bags and her 8-year-old nephew carried another.

"They told us they were worth 500 pesos ($37.50), but when we got to the checkout, they were only worth 100 rotten pesos, ($7.50)" Salazar said.

Both she and her father said they had been told to turn in a photocopy of their voter ID card in order to get the gift cards.

Another woman interviewed outside the same Soriana grocery store also complained her card had only 100 pesos ($7.50) in credit.

"For helping them with votes and all ... they gave us a card for supporting them, and all that for 100 pesos," said the woman, who gave only her first name, Josefina, for fear of reprisals. She said she got the card for supporting Pena Nieto, but complained that "100 pesos lasts you about five minutes."
The PRI denies they did anything of the sort and Peña Nieto says he is 235.47% sure (the percentage of people who voted in the state of Mexico's Cuautitlan precinct, where there were 420 registered voters and a total of 989 votes and Peña Nieto won 801 of them) that his party TOTALLY didn't buy votes like that. Totally.
Soriana denies that they had any involvement in a vote-buying scheme, but the governing PAN party says that one company bought 9,500 prepaid gift cards worth $5.2 million (71 million pesos). The investigation of the Soriana gift cards continues, according to the Mexican Electoral Institute.
But what about the children and the vagrants? Well, according to Mexican organization Civic Alliance, the PRI used children to accompany voters into polling booths to check how they mark their ballots. The group issued a report saying 28% of those interviewed by its 500 observers across the country had been exposed to some form of vote-buying or coercion. And people in Puebla state (who had already voted in their precincts) were bused to voting precincts in Veracruz to take advantage of extra ballots allotted for vagrant voters.
It looks like the "creative" PRI election strategy is working, unless Andrés Manuel López Obrador's call for a full recount comes up with enough evidence to re-do the vote. We won't hold our morning coffee breath. But don't have a sad yet, Wonketteers, YoSoy#132, along with Andrés Manuel López Obrador and other organizations are frantically calling for photo or video proof of voting irregularities at the FotoXCasilla (casilla is a voting precinct) website, where so far they have received more than 40,000 uploads, which they plan to submit the the Mexican voting authority. We wish them the BEST of luck. Totally.