Guess CPAC Didn't Find Milo's Kid-Fucking Jokes That Funny After All
News
February 20, 2017 01:54 PM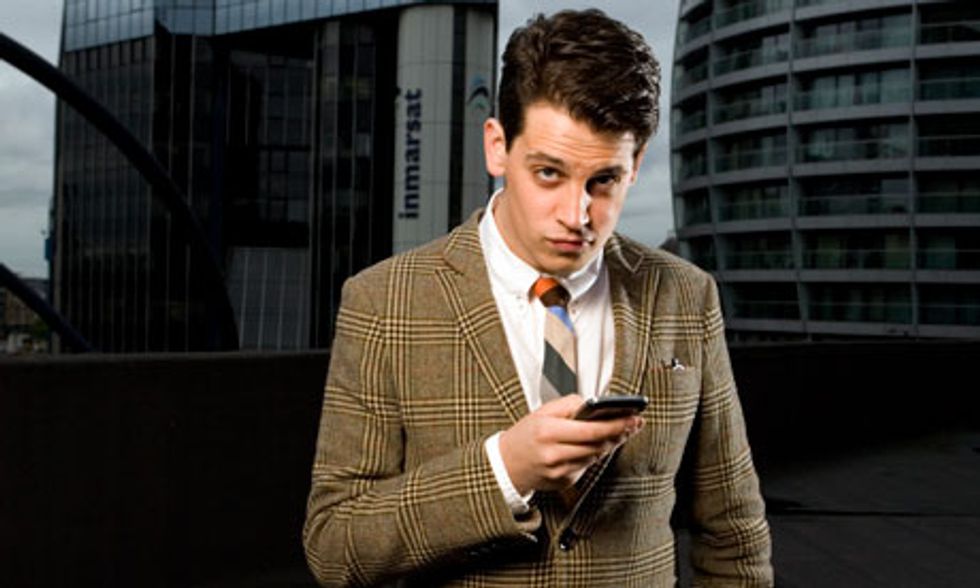 He seems normal and healthy and well-adjusted.
---
Ugh, we have to talk about Milo Yiannopoulos again. We know, we know, YUCK. But BREAKING NEWS, because the Conservative Political Action Conference (CPAC) has just disinvited Milo from speaking at its big wingnut circle jerk festival, just because videos surfaced where Milo seems to suggest he thinks a little pedophilia is cool, under CERTAIN GAY CIRCUMSTANCES: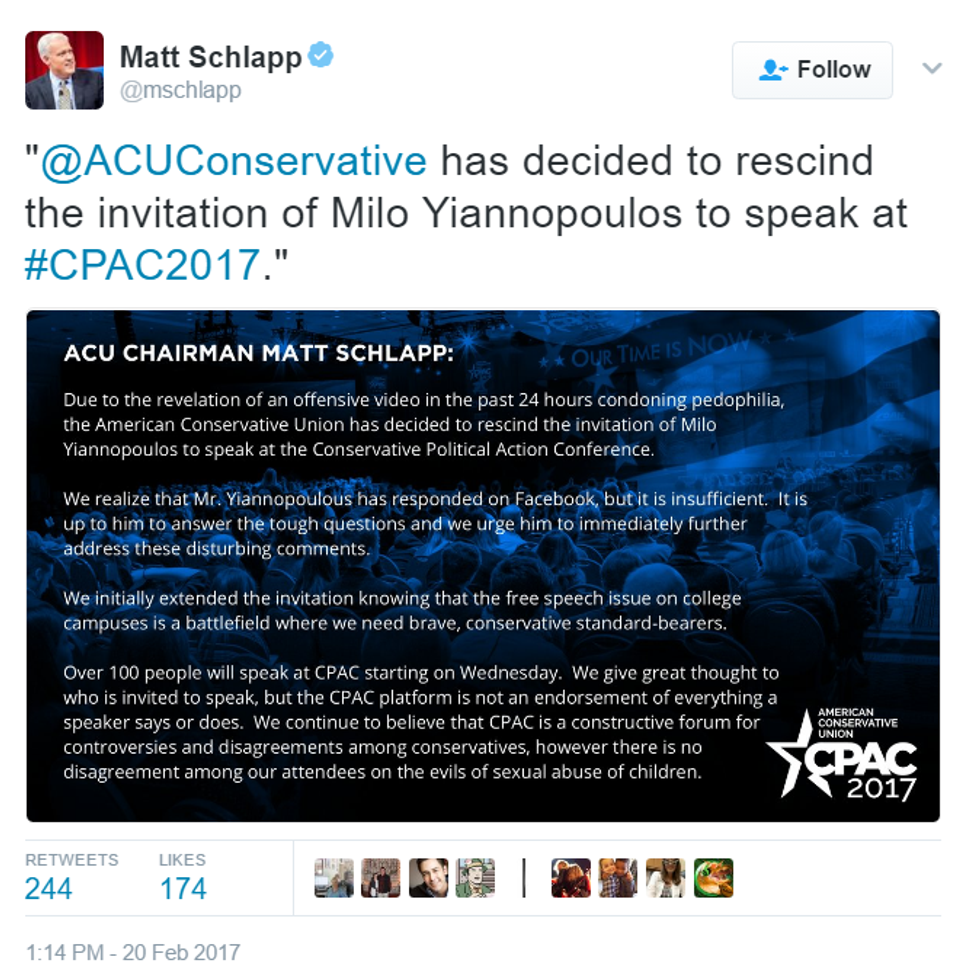 Now we will ruin your lunch by giving you the backstory. Video appeared this weekend of the So Very Edgy Milo yuk-ing it up on two separate occasions about sex with kids. In the video that's getting the most attention, Milo describes how if it hadn't been for "Father Michael," he wouldn't be nearly as good as he is today at sucking dick. Mmhmm, yep, this is what we are talking about right now:
"In the homosexual world, particularly, some of those relationships between younger boys and older men — the sort of 'coming of age' relationship — those relationships in which those older men help those young boys discover who they are and give them security and safety and provide them with love and a reliable, sort of rock, where they can't speak to their parents," he added.

"It sounds like molestation to me," an unnamed person tells Yiannopoulos in reply, likely an interviewer. "It sounds like Catholic priest molestation to me."

"But you know what? I'm grateful for Father Michael. I wouldn't give nearly such good head if it wasn't for him," Yiannopoulos replied...
According to Milo's account, he was about 14 at the time, which means he was a victim. He goes on to say 13-year-old boys should totally be allowed to have sex with older men, because reasons. In another video, he's LOL-ing on Joe Rogan's podcast about the sperm warriors of Papua New Guinea, where young male children are required to drink the semen of their elders, and Milo's reaction, and we are quoting, is "Isn't that just called homosexuality? Sounds great. It sounds fantastic."
Again, we apologize for how we are talking about Milo and sperm warriors.
It was announced this weekend that Milo would be a speaker at CPAC. Now, we don't know why CPAC would pick him in the first place, as all he really talks about is his love for black dick and white supremacy. But then these videos came out! And people, particularly regular conservative people, got MAD.
Hell, people were mad before Milo's video discussions about kid-diddling surfaced. For but one example, here is National Review Online's Jonah Goldberg tweeting at Matt Schlapp, chair of the American Conservative Union (ACU), which puts on CPAC: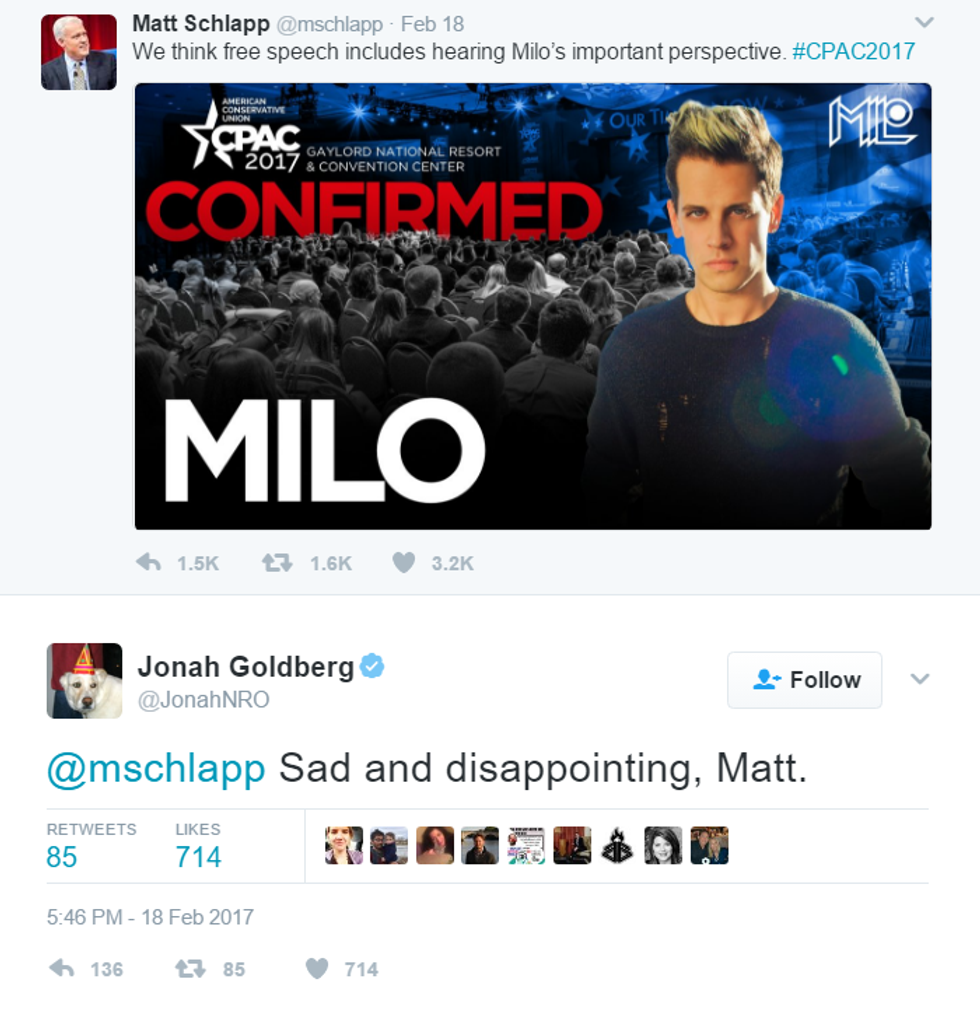 On top of that, here's Jay Nordlinger, also of NRO, writing about what a shitheel Milo is, and saying he shouldn't be speaking at CPAC. This, again, is before the pro-pedophilia recordings came out.
But then they came out and CPAC immediately was like "OOPSIE, WE WILL DISINVITE MILO!" Just kidding! It took them getting yelled at for more than a day! In the time between when the videos surfaced and CPAC kicking Milo in the nuts, Schlapp tweeted that he, himself, is a very good guy, that he's more "open-minded" than liberals (ABOUT PEDOPHILIA?!), and also that even though Milo is "radioactive," he's fighting the good fight against those terrible liberals who want to shut down free speech on college campuses (note that in the third paragraph of the announcement above, they are still saying that).
Also too, Schlapp tweeted these three things, in response to internet people: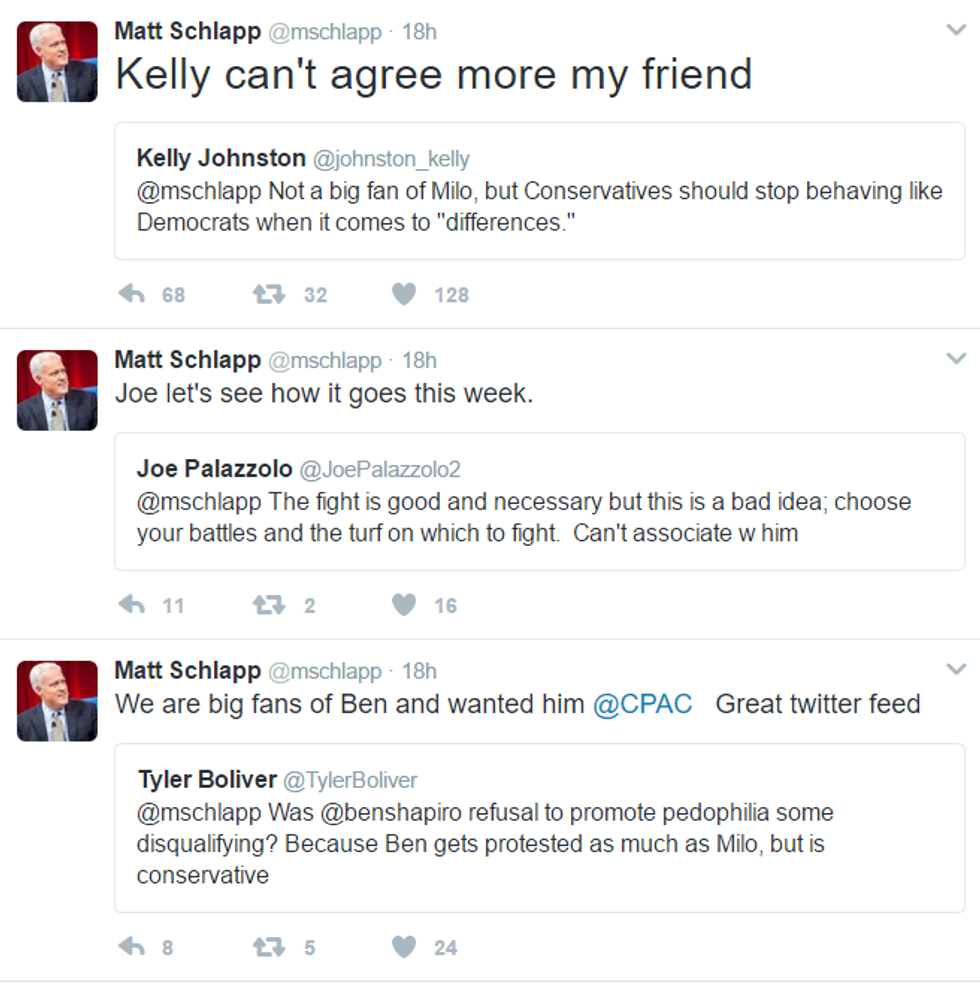 Uh. Wow. CPAC sure has changed! We're just gonna "see how it goes," because CPAC is the big tent, where people who think having sex with kids is funny and great are welcome too!
It wasn't all fun and games in CPAC land, though. This was tweeted by Ned Ryun, an ACU board member: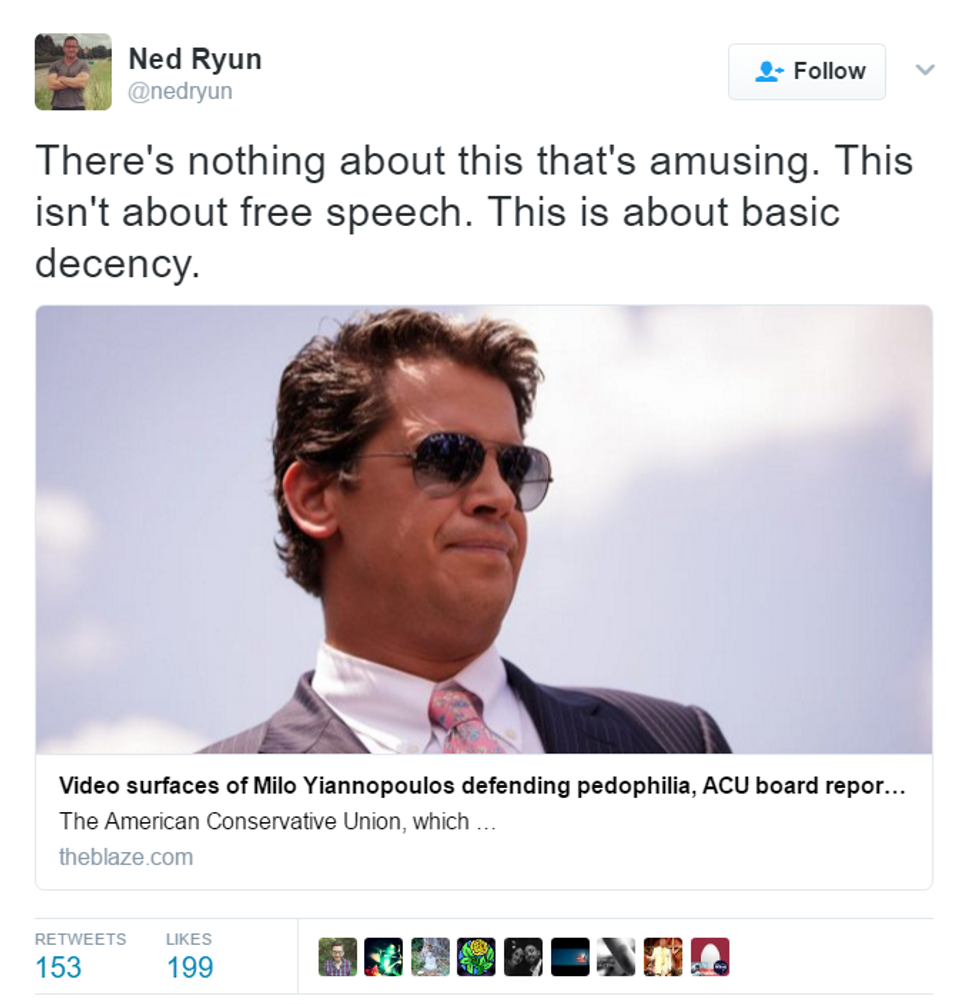 Ryun also tweeted that the ACU board wasn't consulted on the decision to invite Milo, and that the board "may revolt" at their upcoming meeting. Well, CRISIS AVERTED!
You, of course, want Milo's reaction to all of this. From Facebook:
There's a video going around that purports to show me saying anti-semitic things (nope) and advocating for pedophilia (big nope). The shocking thing? It's Republicans doing it. Sad to see establishment types collapse into the same tactics as social justice warriors: name calling, deceptively edited videos, confected moral outrage and public shaming. This is why they deserve to burn — and why they are burning. Here's how I actually feel about pedophilia, which you'd know if you'd actually watched or read anything I've ever done. Or, you know, if you had two brain cells to rub together. There's only one appropriate response to this sort of behavior, and it's a gigantic F**K YOU!
Yeah, except for the part about how he's laughing about it on video. (SHRUGGIE EMOTICON!)
Since that first reaction was too lame even for Milo, he has issued a slightly better thought-out repsonse to CPAC giving him the axe, and if you'd like to read it in all its glory, knock yourself out.
Jake Tapper (our boyfriend) went apeshit about this on Twitter, and we will let his voice of sanity be the end of this post: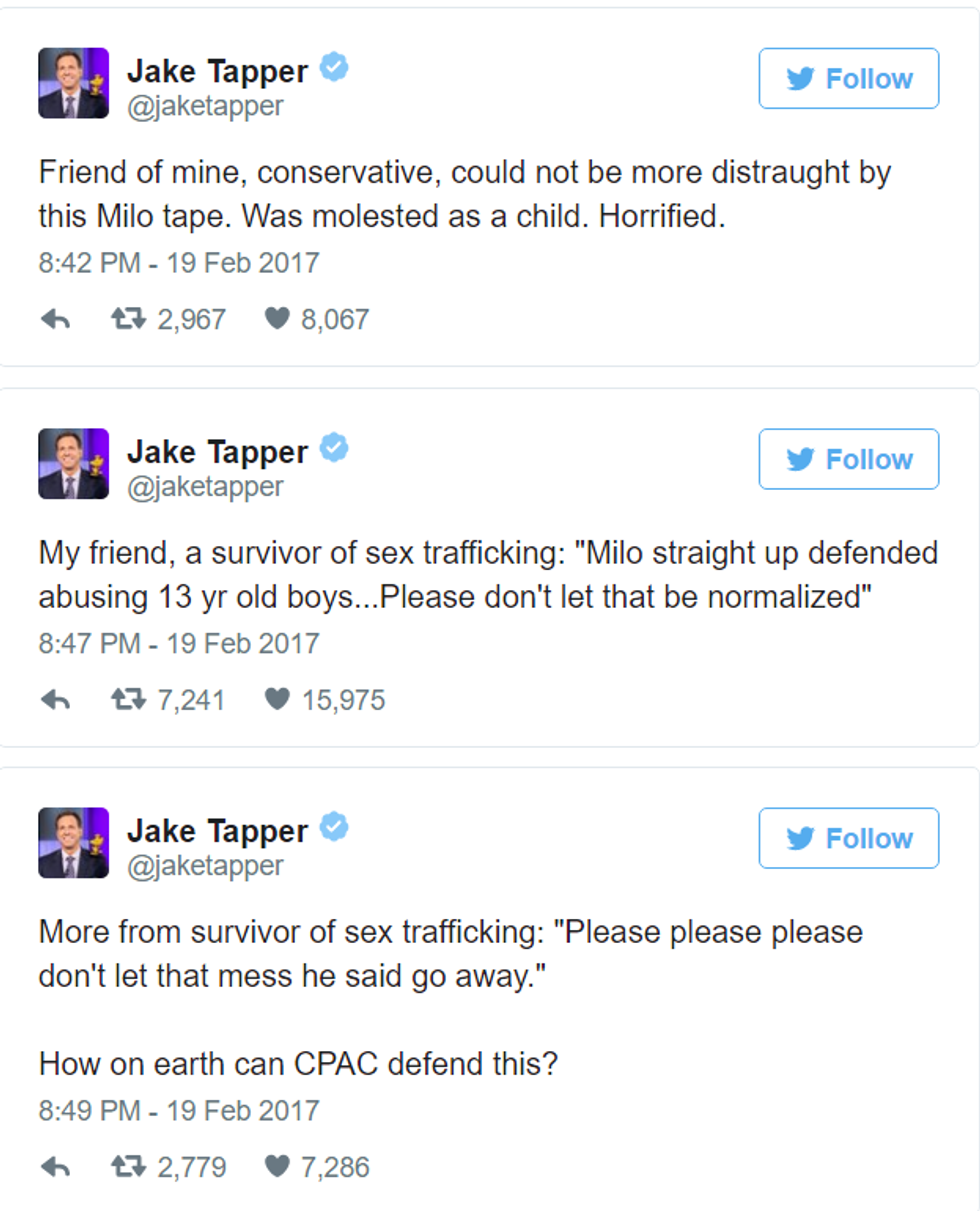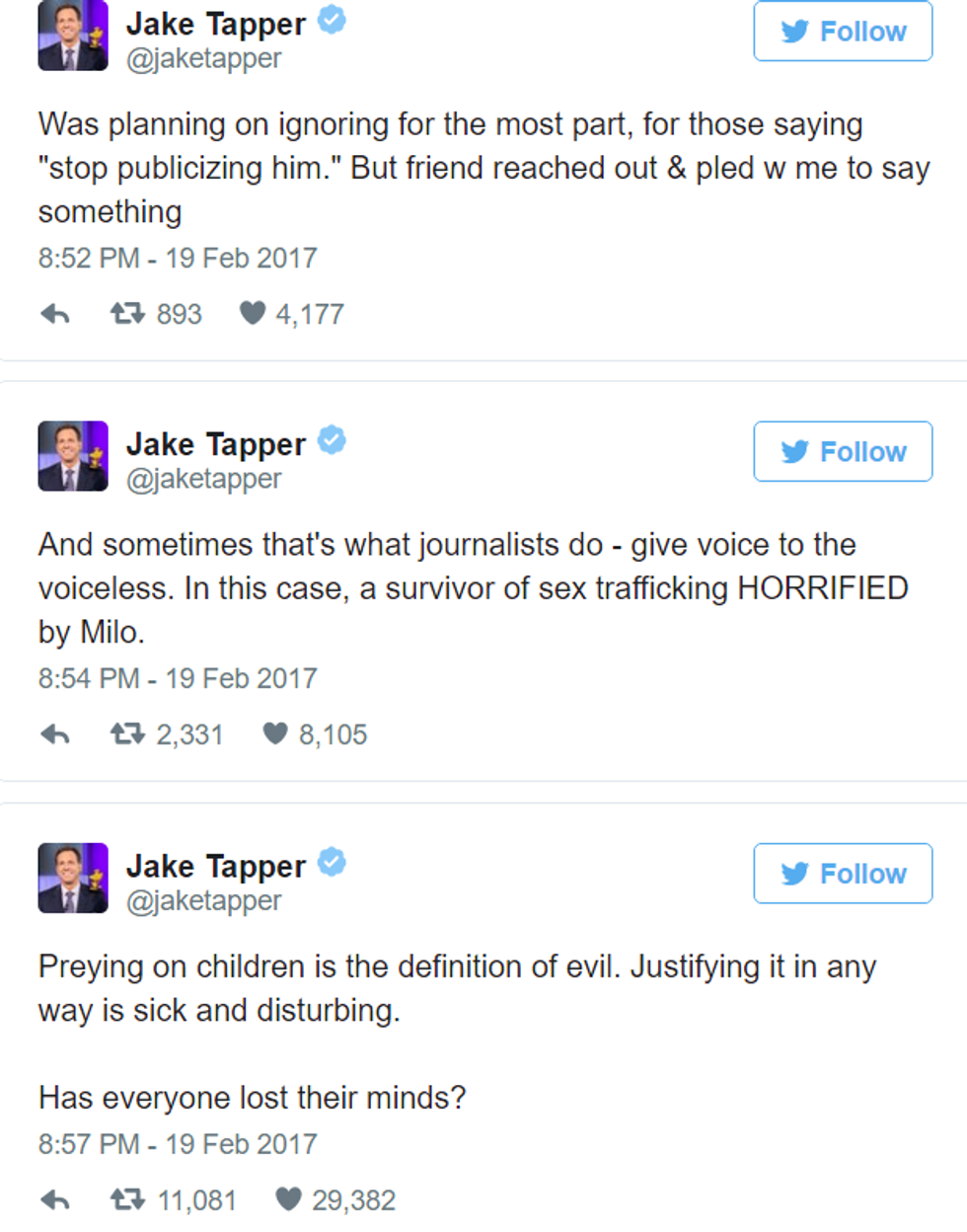 We don't have a dog in the fight over who gets to talk at CPAC and who doesn't, but we guess we're glad the ACU told Milo to fuck right off. And with all the sincerity and care we can muster for Milo, we'd suggest that he needs therapy.
Now, let's all say a prayer that we don't have to talk about Milo again any time soon.
Wonkette is right proper free-speech too. But somehow without kid-fucking or ovens. Weird! Now give us money please, we are ad-free.
Evan Hurst
Evan Hurst is the managing editor of Wonkette, which means he is the boss of you, unless you are Rebecca, who is boss of him. His dog Lula is judging you right now.
Follow him on Twitter RIGHT HERE.