Guess How Much Jail Time Man Got For Strangling A Woman And Masturbating On Her?
Trump
September 21, 2018 02:51 PM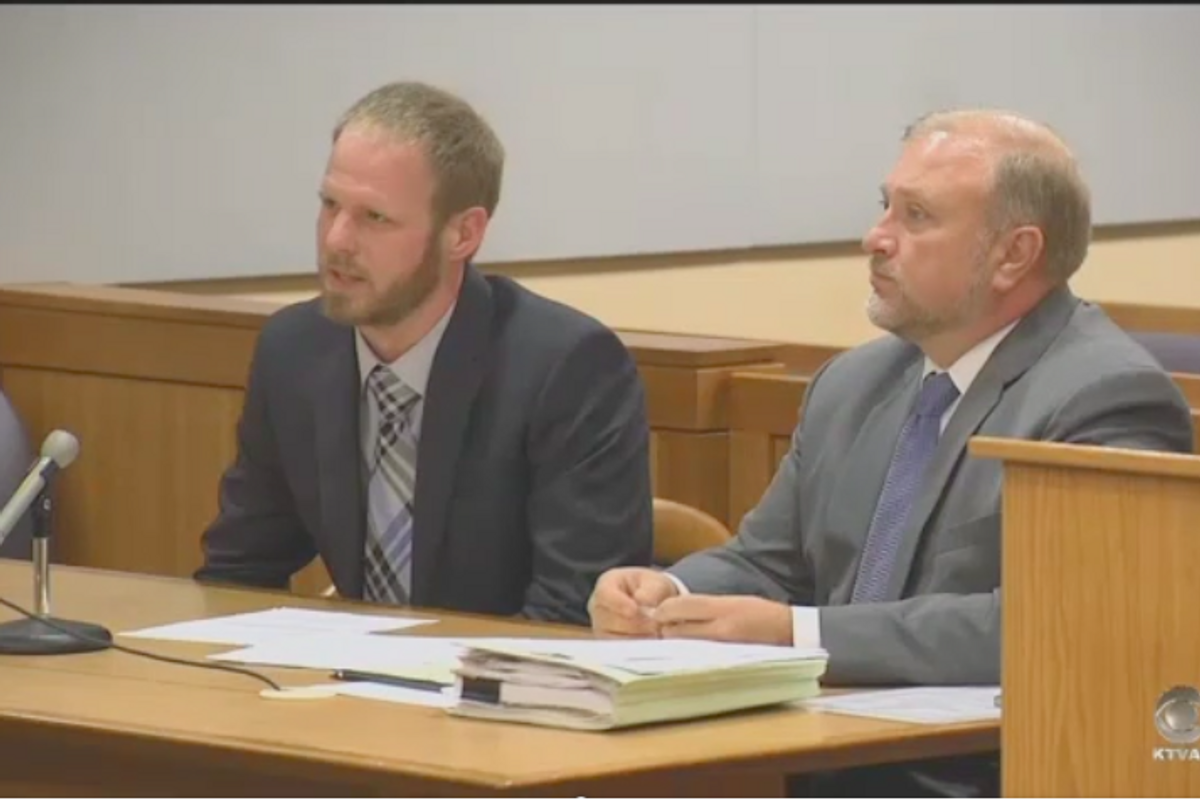 In August of 2017, 34-year-old Alaska man Justin Schneider offered a stranded woman a ride. Rather than taking her where he said he would, he went off in another direction, saying he needed to get something from another car. When they reached that destination, he asked her to get out while he loaded things into his truck. It was at that point he told her he was going to kill her and then strangled her until she was unconscious. He then proceeded to masturbate on her, and when she woke up, he offered her a tissue.

Based on overwhelming evidence, a grand jury indicted him on four felony counts, including kidnapping and assault, as well as a misdemeanor charge for "offensive contact with fluids."
And yet. And yet. He will serve zero days in jail.
---
Via KTVA Alaska:
Schneider struck a deal with the state, pleading guilty to a single felony assault charge in exchange for a sentence of two years with one suspended. Schneider faces no additional jail time. He received credit for time served while wearing an ankle monitor and living with his family.
Think your head is exploding right now? Think you maybe want to punch a wall? Well hold off, because it actually gets worse. Because Anchorage Assistant District Attorney Andrew Grannik, the guy who gave him this sweet, sweet deal, suggested Schneider had been punished enough already by losing a federal job as an air traffic controller. Grannik referred to this as a "life sentence."
That is not, for the record, a "life sentence."
Of course, Grannik was gracious enough to note that this will be the only pass he gets, and if he kidnaps and strangles another woman and then masturbates on her, then there will totally be consequences for his actions. Probably something even more severe, like a whole week of community service or something!
Grannik said he agreed to the plea deal based on Schneider's enrollment and progress in a treatment program, and an expert's assessment that the risk of him re-offending is low.
"I hope it doesn't happen," Grannik said. "That's the reason why I made the deal that I've made, because I have reasonable expectations that it will not happen. But I would like the gentleman to be on notice that that is his one pass -- it's not really a pass -- but given the conduct, one might consider that it is."
Again, "the gentleman" strangled a woman, told her he was going to kill her, and then masturbated on her unconscious body. Oh! Although he was kind enough to tell her afterwards that he was never going to kill her, he just needed her to think he was, so that he could get off. Yes, there is no reason at all to think that someone like this might reoffend. Doesn't sound pathological at all.
Although Schneider expressed no remorse, at all, for what he did to that woman, he did say he was really grateful for the way the case had given him a year to just really work on himself.
"I would just like to emphasize how grateful I am for this process," Schneider said. "It has given me a year to really work on myself and become a better person, and a better husband, and a better father, and I'm very eager to continue that journey."
Yes, his journey. It's all very Eat, Pray, Love.
Again, Justin Schneider strangled a woman and then masturbated on her unconscious body. But he's real excited about what a great father and husband he's going to be now. No reason why that guy shouldn't be in a house with children! What could possibly go wrong?
The judge in the case also didn't think that what Schneider did was all that bad, and that he could totally be rehabilitated.
Judge Michael Corey accepted the deal, noting the outcome of the case could be described as "breathtaking." He said his decision was based on the prospect of rehabilitation.

"Mr. Schneider is going to be a member of our community, and he would not be in jail for the rest of his life even if he had been convicted on all of the counts for which he was charged," said Judge Corey.

He also told Schneider, "This can never happen again."
In Alaska, you can get five years in prison for possession of any amount of heroin. That is five years more than Justin Schneider got for strangling a woman and masturbating on her unconscious body.
To top all of this off, Schneider will not even have to register as a sex offender. But that can't be right, you're thinking. Robyn, you read that wrong. OH DID I?
When asked why Schneider was not required to register as a sex offender, Grannik explained that the conduct in the case did not meet the legal requirements of sexual assault charges, even though the assault included sexual elements.


This isn't even that unusual. In Texas last month, a doctor who was found guilty of sexually assaulting a heavily sedated patient also received zero jail time.
In 2013, a woman, identified in local media as Laura, checked into Ben Taub Hospital in Houston. She was being treated for shortness of breath and wheezing; she was kept overnight and sedated.

Police said Dr. Shafeeq Sheikh went into her room several times through the night and sexually assaulted her.
In the hospital, Laura tried calling for help, but the nurse's button was unplugged.

Sheikh admitted to sexual contact but told jurors it was consensual, according to the Houston Chronicle. The woman was not assigned as Sheikh's patient, the Houston Chronicle reported.
In January, Benjamin Lawrence Petty of Oklahoma pleaded guilty to raping a 13-year-old girl who attended the church camp where he was a cook:
He invited her to the back of the cabin, saying that he wanted to show her something — and then he pulled her into his private bedroom, according to a lawsuit filed against Baptist General Convention of Oklahoma, which runs the camp, and Country Estates Baptist Church, which was in charge of hiring the cabin staff.

Petty then shut the door, tied her hands behind her back and pushed her face down onto the bed. He told her not to tell, or else he would hurt her, the lawsuit claims.

In January, Petty pleaded guilty to the charges — first-degree rape, forcible sodomy and rape by instrumentation.
How much time did he get? ZERO TIME.
Just a month ago, 19-year-old former high school wrestler Logan Michael Osborn of Virginia pleaded guilty to raping a 14-year-old girl.
Osborn, then a student at Cosby High School, sexually assaulted the 14-year-old girl after they attended a school play together. Prosecutors said Osborn went on a walk with the girl, who didn't know the Cosby campus, and when the path ended at a fence, Osborn became aggressive.

[Chesterfield prosecutor Erin] Barr said he forced the 14-year-old onto her knees, then tied a belt around her neck and hands before the assault. Osborn released her around the time her mother was supposed to pick her up.
How much time did he get? ZERO TIME.
A former basketball player from MIT pleaded guilty to "indecent assault" after he broke into a woman's dorm room and raped her.
Samson Donick, 22, apologized to the victim, a 22-year-old former Boston University student, and to her parents, for what he called "his inexcusable behavior that night," Oct. 18, 2015, when, he admitted, he broke into her dorm room at BU while she was asleep.

Donick had been charged with aggravated rape and his trial was due to start Thursday, but after his victim said she would not testify, prosecutors, doubtful that they could obtain a conviction, agreed to a plea bargain.

On Tuesday, Donick pleaded guilty to indecent assault and battery on a person over 14, assault and battery, and breaking and entering with intent to commit a misdemeanor.
How much jail time? NO JAIL TIME!
These are just a few cases, from this year alone. You know, the year 2018? When we're supposed to be getting better about this shit?
And in the meantime, we've got assholes like Tucker Carlson acting all aghast that in 1982, a 15-year-old girl did not report an attempted rape. We've got the President of the United States having the absolute gall to spout snide bullshit like this:
To mock a teenager for not having put herself through an additional hell, after already having been traumatized, is nothing short of sadistic.
I would love to live in a world where reporting a sexual assault was at all likely to lead to some kind of justice for victims. As these cases make clear, we don't live in that world. Shit, we don't even live in a world where those found guilty of these crimes necessarily have to go to jail.
In conclusion, fuck everything.

Wonkette is sorry you had to read that, really. We love you though, and hope you will support our endless screaming into the void with a nice donation!
Robyn Pennacchia
Robyn Pennacchia is a brilliant, fabulously talented and visually stunning angel of a human being, who shrugged off what she is pretty sure would have been a Tony Award-winning career in musical theater in order to write about stuff on the internet. Follow her on Twitter at @RobynElyse