Guess Jared Kushner Found $89 Million In His Couch Cushions To Buy Back His Devil Building! Huh!
Everywhere Else News
April 11, 2018 02:47 PM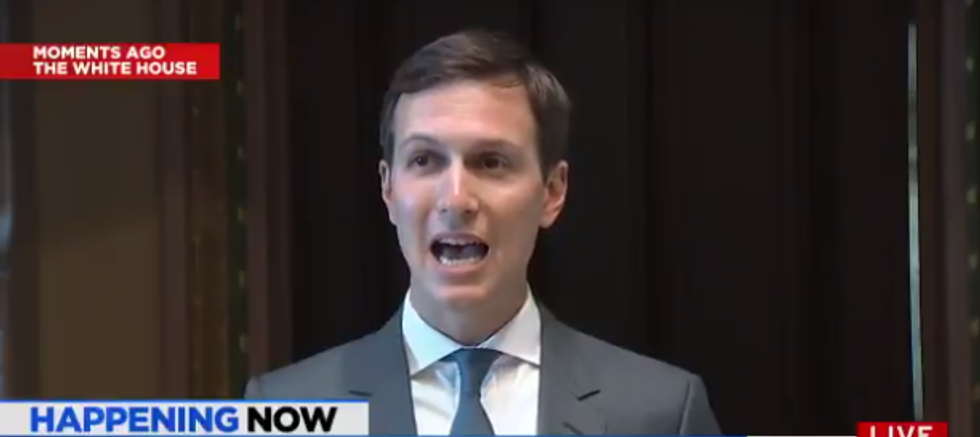 I'm a BIG BOY!
---
Jared Kushner has got some 'splainin' to do! His family is all the way underwater on their 666 devil building in Manhattan, with income only covering half of its annual payments, and an ugly $1.4 BILLION payment looming next year. American firms wouldn't touch the deal, so the Kushners hit up Chinese and Qatari lenders and even sanctioned Russian state banks (allegedly) in a desperate bid to refinance their loan. Things were looking pretty bleak and then HOSANNA, SOMEHOW the Kush Klan is in negotiations to buy out its business partner in the building, Vornado, for up to $89 mill! Where did the money come from? NOBODY KNOWS AND WE HAVE QUESTIONS. And so does Robert Mueller, we're guessing.
Now, we know it's not entirely fair to draw inferences about Kushner's possible shady conduct based on circumstantial evidence. Especially since he "divested" from his family business by selling some assets to his brother and putting others in a trust. (Sure you did, Boychik!) But since American intelligence agencies keep picking up foreign governments going, "So glad we've got that crooked little pipsqueak assigned to our case, since his family needs money and he's so easy to manipulate," well, we think it's fair to lay out a few facts and let you draw your own inferences. (Note: We may have taken some liberties with that translation. Our Mandarin is a little non-existent.)
April 2017: Hey, Qatar! Got a Spare Billion?
The week of April 24, 2017, Jared's convicted felon dad Charlie Kushner met with Qatari Finance Minister Ali Sharif Al Emadi in New York to ask for a bailout on the 666 Fifth Avenue Building. But, according to the Intercept, the Qataris turned him down flat, even though his son works at the White House! Seems the Qataris had some concerns about getting their money back.
June 2017: Oh, Qatar's Being Blockaded? That's a Shame!
Jared Kushner and Saudia Arabia's Crown Prince Mohammad bin Salman (MBS) are thick as thieves. Did Jared know that Saudi Arabia, the United Arab Emirates (UAE), and Bahrain were going to lead a blockade of Qatar and cut off its airspace? We have no idea!
We do know that when former Secretary of State Rex Tillerson tried to condemn the blockade, he was cut off at the knees by Trump, who had recently decided that Qatar was a "funder of terrorism at a very high level."
HUH.
March 2018: Jared Is One Lucky Guy!
Remember when Citigroup and Apollo Global Management came to see Jared at the White House and then by sheer coincidence lent the Kushner company $500 million? And Jared never even mentioned the fact that his family needed loans. Yep, you bet!
Also March 2018: Knock Knock, It's Robert Mueller!
Bobby Three Sticks was just wondering,Jared, if you ever used your position in the White House to secure loans for your family business. Your family does seem to be getting a lot of interesting financing right now.
March 2018 again: Qatar Decides Not To Drop A Dime On Kush
NBC reports that the Qataris had dirrrty dirts on Jared and other Trumpland cronies, but they decided to keep it to themselves.
Qatari officials gathered evidence of what they claim is illicit influence by the United Arab Emirates on Jared Kushner and other Trump associates, including details of secret meetings, but decided not to give the information to special counsel Robert Mueller for fear of harming relations with the Trump administration, say three sources familiar with the Qatari discussions.
That was real nice of them, considering all the smack Trump was talking about them at the time. Wonder if that investment paid off later!
Friday, April 6, 2018: KA-CHING!
Vornado Realty announces that SOMEONE will be buying out its stake in the 666 Fifth Avenue. Who could it be?
Tuesday, April 10, 2018: Meet Qatar, America's New Ally in the War on Terrorism!
Oh, lookie here! It's President Trump with Qatari Emir Tamim bin Hamad Al-Thani. Will there be arglebargle? BUT OF COURSE.
US President Trump says he and the Emir of Qatar are "making sure terrorism funding is stopped" https://t.co/qaf9Tz2FqI

— CNN Politics (@CNNPolitics) April 10, 2018
We're making sure that terrorism funding is stopped in the countries that we are really related to, because I feel related. But those countries are stopping the funding of terrorism. And that includes UAE, it includes Saudi Arabia, it includes Qatar, and others. A lot of countries were funding terrorism, and we're stopping it. It's getting stopped, and fast. Very important!
Okay, Poppy. Now we like Qatar again, and they're just as much our buddy as those countries that are still blockading it. And we're sure that your change of heart had nothing to do with your son-in-law's family business. Time to head upstairs for more Executive Time!
We See You, Boychik!
Look, we have no idea where Jared's family business got this money from heaven. We're just pointing out stuff that's happening. Because we feel related, we're really related. TOTALLY.
Follow your FDF on Twitter!
Please click here to fund us! Wonkette is ad-free and always here for you!
[NYT / Intercept / NBC / NYT / Think Progress]
Liz Dye
Liz Dye lives in Baltimore with her wonderful husband and a houseful of teenagers. When she isn't being mad about a thing on the internet, she's hiding in plain sight in the carpool line. She's the one wearing yoga pants glaring at her phone.