Guess Which Congressman Paid For Sex Via CashApp? Allegedly!
Congress
April 02, 2021 11:24 AM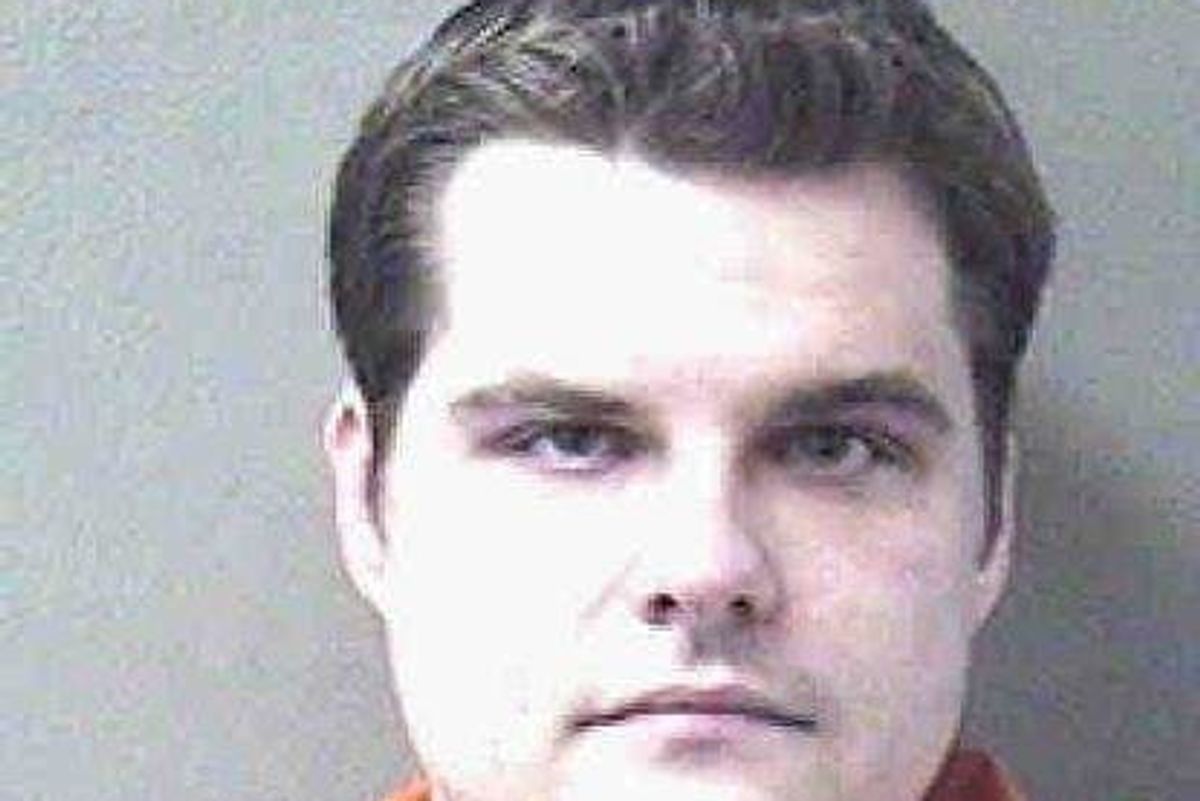 Matt Gaetz! We're beginning to think this guy may not have the best judgment. In fact, it's just possible he's a filthy creep, although it will probably take one or two more news cycles to really be sure.
When last we left Congressman Florida Peen, the 38-year-old Republican was bragging about all his sexual partners and flashing his phone all over DC so everyone could see his latest nudes. CNN reports that one photo depicted "a naked woman with a hula hoop," and that Gaetz's need to prove his prowess was so overwhelming that he even showed the pictures to other members on the House floor. And put that empty box of Bareskin Trojans on top of the garbage can outside his office. Gotta let your colleagues know you fuck!
"I'm a representative, not a monk," he said in a book that came out last September. Which is obviously true, because monks are smart enough not to pay sex workers via CashApp.
Oh, yes he did. ALLEGEDLY.
---
Last night, the New York Times got even more details on the federal investigation into Matt Gaetz and his sleazeball buddy Joel Greenberg, the former Seminole County tax collector who is currently in the hoosegow facing eleventy million charges, including trafficking a minor for sex.
According to the Daily Beast, Gaetz wandered into the frame because he accompanied his pal on a nighttime visit to the state office building where Greenberg was manufacturing fake IDs. And Gaetz stayed in the frame because he may have had sex with the same 17-year-old child as Greenberg. Federal investigators are trying to determine whether the girl "received anything of material value" in exchange, which would make it even worse from a legal perspective.
The age of consent in Florida is 18, and it goes without saying that a child cannot consent to sex with an adult. Descriptions of this teenager as a "prostitute" are both gross and wrong from a legal perspective.
Also wrong from a legal perspective is Gaetz's alleged attempt to disguise payments for sex with women of any age by calling them reimbursements for dating expenses. The Times reports that "Mr. Gaetz told the women to say that he had paid for hotel rooms and dinners as part of their dates." Which is just like your one friend who doesn't buy raw milk, which would be illegal, but she does belong to a club that gives her access keys to a garage where some farmer keeps his own personal supply. Only your friend isn't a goddamn United States congressman. And she doesn't fuck the milk, although it would probably be safer than drinking it.
Hey, remember Tuesday when Gaetz got on the phone with Axios to tell them what a generous lover he is?
"I have definitely, in my single days, provided for women I've dated," he gushed. (Sorry, not sorry.) "You know, I've paid for flights, for hotel rooms. I've been, you know, generous as a partner. I think someone is trying to make that look criminal when it is not."
UH HUH.
Apparently, Greenberg found women using the infamous dating website Seeking Arrangement, "Where Sugar Babies enjoy a life of luxury by being pampered with fine dinners, exotic trips and allowances. In turn, Sugar Daddies or Mommas find beautiful members to accompany them at all times."
The Times spoke to multiple sources in Florida who corroborate that Greenberg and Gaetz paid the women for sex using both cash and mobile payment apps.
The Times has reviewed receipts from Cash App, a mobile payments app, and Apple Pay that show payments from Mr. Gaetz and Mr. Greenberg to one of the women, and a payment from Mr. Greenberg to a second woman. The women told their friends that the payments were for sex with the two men, according to two people familiar with the conversations.

In encounters during 2019 and 2020, Mr. Gaetz and Mr. Greenberg instructed the women to meet at certain times and places, often at hotels around Florida, and would tell them the amount of money they were willing to pay, according to the messages and interviews.
The line between sex work and "it's complicated" can be hard to parse. But Gaetz's claims that he was simply being generous to the women he was "dating" fall apart under the slightest scrutiny. The Times reports that Gaetz asked the women to "help find others who might be interested in having sex with him and his friends." And indeed Greenberg seems to have been little more than a pimp: "One of the women who had sex with both men also agreed to have sex with an unidentified associate of theirs in Florida Republican politics."
However you feel about sex work, it's not appropriate for lawmakers to privately flout laws they disagree with. Sex trafficking isn't civil disobedience, and disguising payments for sex as reimbursements for dinner isn't integrating a lunch counter. Particularly when the lothario in question is a member of a party that holds itself out as representing "family values" against an onslaught of filthy liberal libertinism.
And speaking of stupid illegal shit, the Times reports that some encounters involved Gaetz taking ecstasy, which jibes with the Daily Beast reporting that the congressman's drug use was an open secret in DC.
Gaetz's spokesman denied all the allegations in statement that seemed designed to put his name in a sentence with each scandalous claim.
Matt Gaetz has never paid for sex. Matt Gaetz refutes all the disgusting allegations completely. Matt Gaetz has never ever been on any such websites whatsoever. Matt Gaetz cherishes the relationships in his past and looks forward to marrying the love of his life.
Don't worry, pal, no one's going to forget you!
In summary and in conclusion, PLEASE ENJOY YOUR SHIT SANDWICH, KEVIN McCARTHY. And good luck getting any traction against Biden's infrastructure plan with this asshole blowing up the news cycle.
Follow Liz Dye on Twitter RIGHT HERE!
Please click here to support your Wonkette. And if you're ordering your quarantine goods on Amazon, this is the link to do it.
Liz Dye
Liz Dye lives in Baltimore with her wonderful husband and a houseful of teenagers. When she isn't being mad about a thing on the internet, she's hiding in plain sight in the carpool line. She's the one wearing yoga pants glaring at her phone.