Gun Dealers, Porn Stars & Payday Lenders: Darrell Issa's Sexy Summer Break
News
July 14, 2014 11:45 AM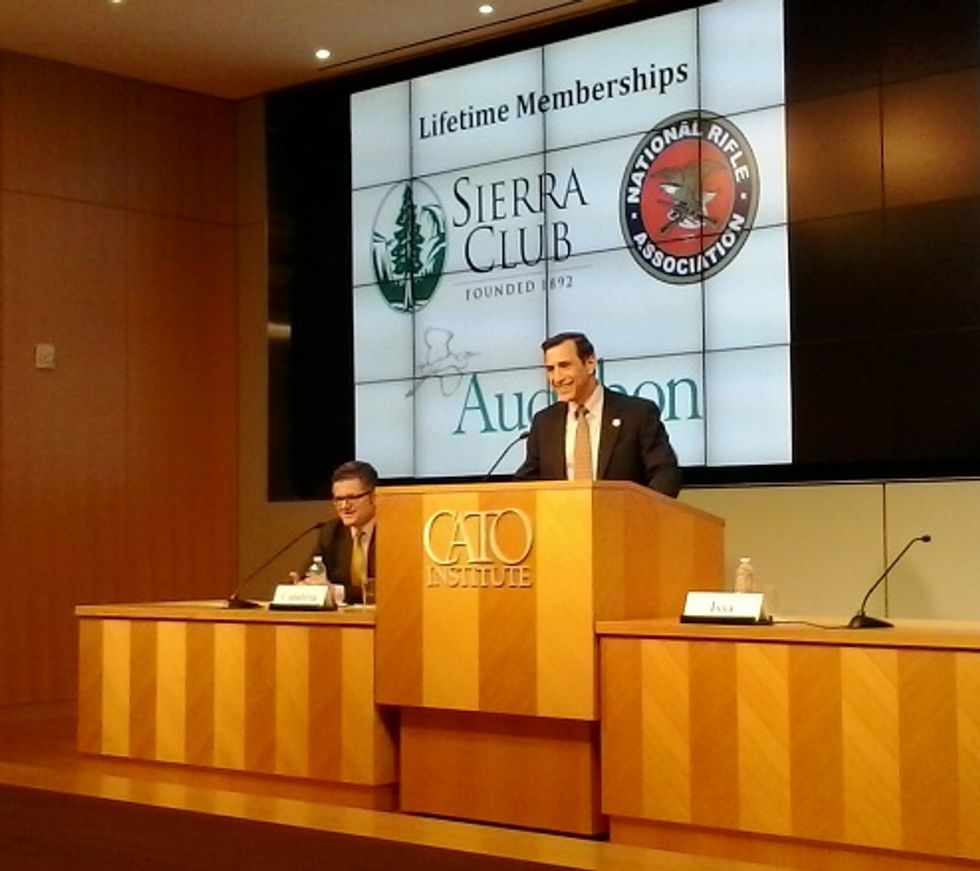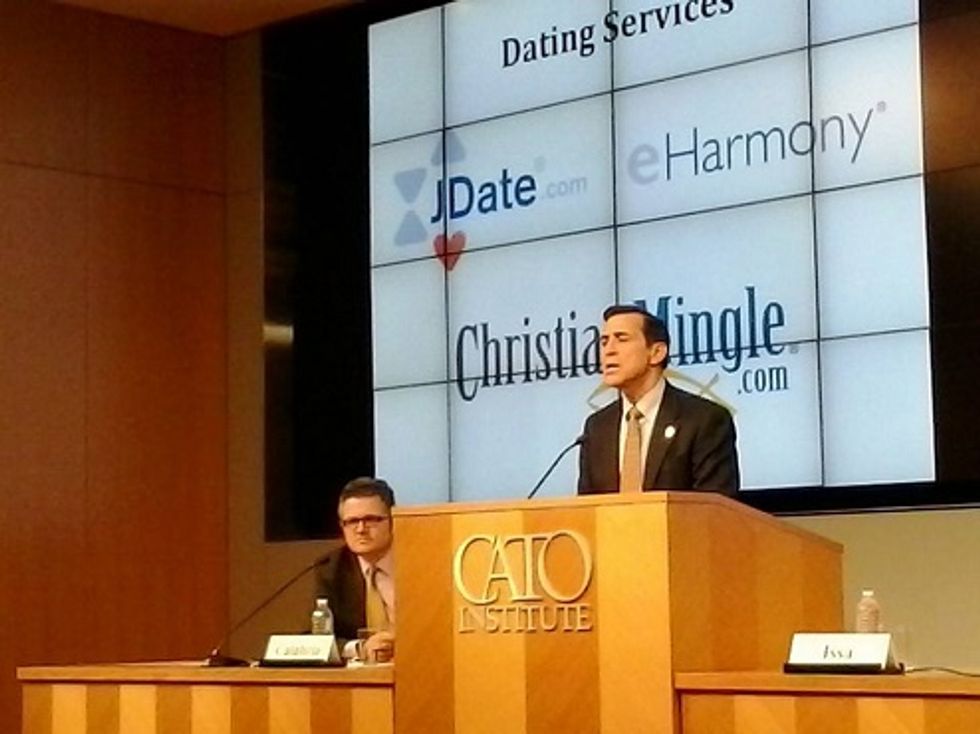 If you are a DC politician, you are duty-bound to spend as much of the summer outside the city as possible. If you're stuck in the swamp, you can at least take advantage of the hollowed-out Capitol and switch up your normal routine. Take a zealously investigated page from Republican Congressman Darrell Issa! In a change of pace after all that mikey-cutty stuff with Elijah Cummings (D-BADASS) during this spring's comedic roast of Lois Lerner, Darrell is indulging in a little light summer outrage and sounding the alarm on the latest "unprecedented abuse of power"TM by the Obama-Industrial Complex.
---
Darrell took a field trip to the Cato Institute for a show-and-tell about Operation Choke Point, a program at the Department of Justice that he says is limiting access to vital banking services, including funds transfer and credit card payment processing, for legal but "unpopular" businesses. Cato claims the DOJ is using Choke Point to harass gun dealers and porn stars, but we soon found out that none other than our most beloved American industrialists, the Koch brothers, could have their points choked at any moment.
Darrell put on his Harry Reid hat to explain why We Are All In Danger:
The greatest threat to our environment, to our nation, to our world, is global warming. We all agree on that. That's settled science, right? As a result, the highest-risk companies, the ones with the greatest risk to your reputation if you're a bank, would be the Koch brothers, according to Harry Reid, right? It would be all the carbon-emission companies. We've got to shut off their access to banks and cash and certainly checks.
Darrell insisted this scenario was not far-fetched at all, so stop looking so confused, everyone.
Is it that absurd in this environment? Every single week the Senate majority leader, a man that's done so much oversight on the Koch brothers, can't help himself but to mention, on the Senate floor, the Koch brothers, because they in fact, you know, are putting out carbon and that's destroying our environment. Everything from hurricanes to just bad weather is caused by that. Where do you stop if you start with any law-abiding, legal business, lawful enterprise, and decide that they shouldn't have access to the critical, if you will, ability (sic) in a non-cash society.
As he described this dystopian future in which Harry Reid could exile the Koch brothers and their soot-stained money from the banking system just by talking smack about them on the Senate floor, the screen behind Darrell flickered to life and the names of American companies he said could be bullied by the DOJ over firearms sales appeared, with the Walmart logo forming a sort of corporate halo around his head.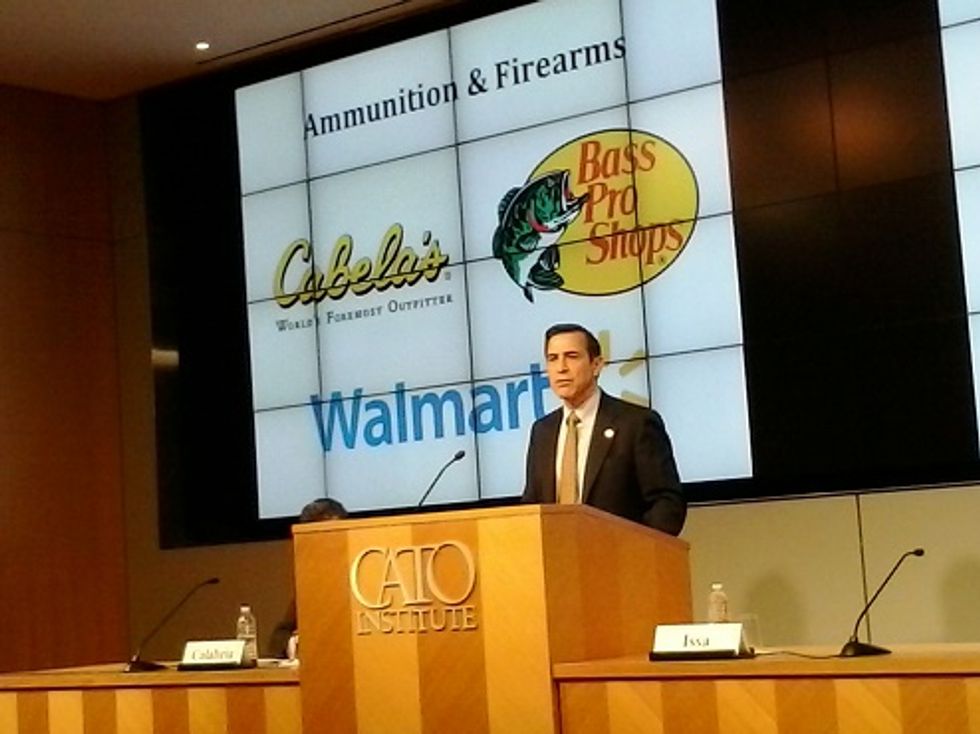 Wake up, America! Do you want Walmart, our foremost purveyor of guns and ammo, suddenly unable to take payment for your boom sticks and also those Chinese-made clothes hangers and extension cords except in unseemly, sweaty sock money, all because Barack Obama and Eric Holder hate your guns? (You may go back to sleep, America. This is not in danger of actually happening.)
Darrell added that forcing everyone to pay cash for their guns would make the weapons inherently less traceable if they were used in crimes. While this is true, it would be simpler to solve this problem by allowing the government to keep records of gun sales, which is currently verboten. If Darrell is concerned about tracing the origins of criminals' guns, he might want to look into that!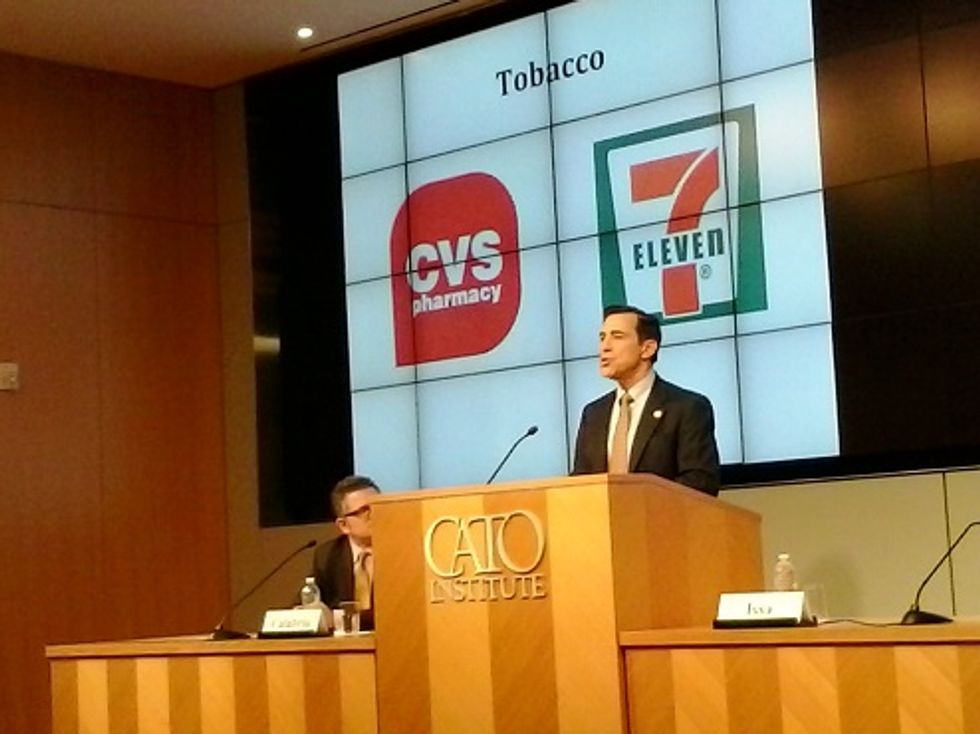 Everyone knows that Obama hates cigarettes because he's not allowed to have them anymore, so we expect he'll be putting the squeeze on these notorious death-stick pushers next. (Note to Congressman Issa's PowerPoint intern: CVS announced five months ago they would be eliminating tobacco sales to help build their image as a chain of clinics that happen to be attached to drugstores.)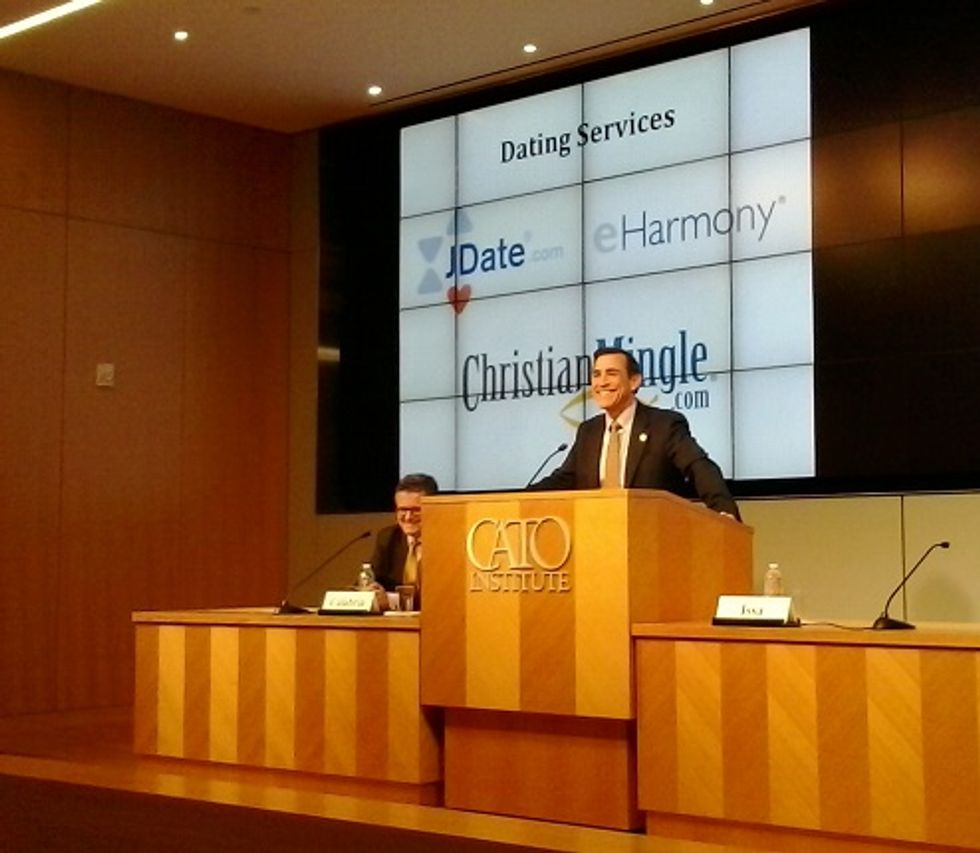 It's not just your guns and smokes that are threatened by this new wave of regulatory tyranny. It could even stand in the way of your sacred American duty to reproduce within the bounds of the marriage algorithm! Do you want these wholesome dating websites, some of which are respectable enough to advertise on prime-time television, forced to meet you at an agreed-upon coffee shop to take your cash?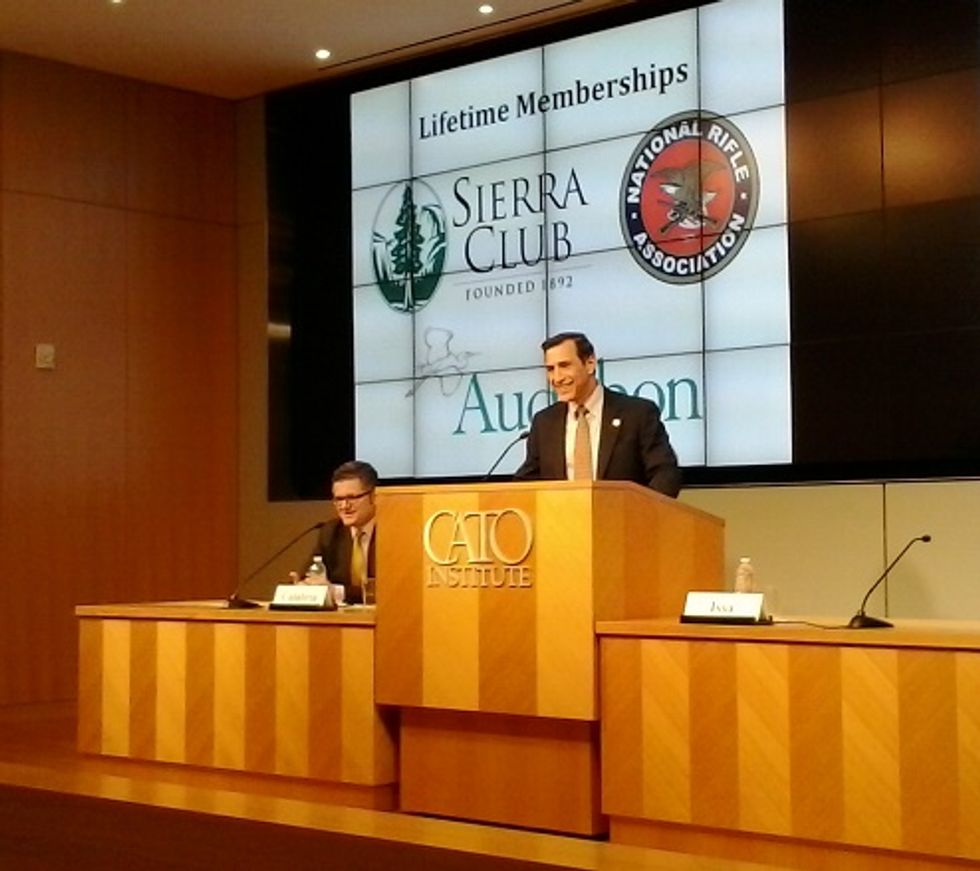 Seriously, though, none of the businesses splashed on the screen behind Darrell were poised to lose access to American banking infrastructure, so what was he going on about? And where were the porn stars we were promised? The most salacious part of the presentation was the Congressman waving a printout of an Economist article with a photo of an exotic dancer who'd allegedly had her bank account Choke-Pointed for depositing too much  of the cash she uses "to support her children."
Darrell's real interest in opposing Operation Choke Point is not protecting stripper moms or pistol peddlers or even the Koch brothers. Most of the businesses that are feeling the effects from the DOJ's scrutiny of their bankers are storefront loan sharks who lend very small amounts of money to people in desperate financial situations, relying on a significant portion of those customers winding up in situations that are exponentially worse when the initial loans can't be repaid on time and balloon rapidly due to the 200-300% annual interest rates that are common among payday lenders.
The mid-term group report for Darrell's summer class (available in all its glory here) patiently explains how the expectation that companies in the financial sector should be able to demonstrate that their dealings are legitimate makes the DOJ history's greatest monsters:
Such an expectation -- if they are legitimate, they can prove it -- is patently absurd, and is reminiscent of the formulation that "if one is not a witch, then they will sink rather than float."
Darrell's committee, along with Congressman Goodlatte's Good-Time Judiciary Sideshow, will continue working through beach season to get their outrage in order on the subject. For now it seems that the adverse affects of Choke Point are mostly confined to members of payday lender trade groups complaining that certain banks no longer want to handle their business. Some of them have been reduced to filing a lawsuit to try to get some respect.
First they came for the payday lenders, and we said nothing because payday lenders are predatory bottom-feeders that exist to capitalize on the desperation of Americans scraping away on the economic margins of society. Also, we were busy finding new things to grill. If you see Darrell around, tell him he needs to get out of the office more. It won't be summer forever and he needs fresh air and sunlight and unstructured running-around time with boys his age.
For more on the comings and goings of DC's swamp creatures, you can follow Beth on Twitter.