Gun Nuts Shoot Moral Compasses To Smithereens. Wonkagenda For Wed., Feb. 21, 2018
Guns
February 21, 2018 09:08 AM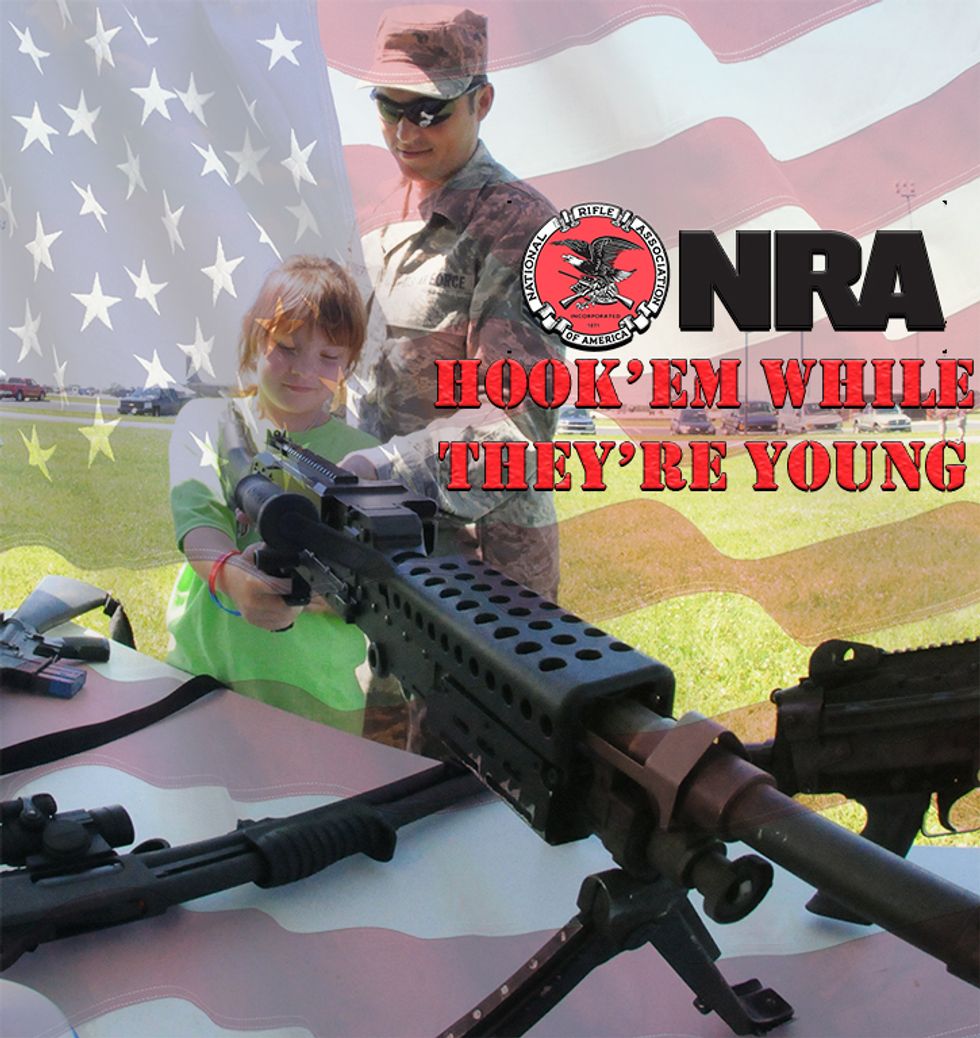 Morning Wonketariat! Here's some of the things we may be talking about today.
---
After being called an apathetic piece of garbage by survivors of the Marjory Stone Douglas high school (MSD) mass shooting, Trump is telling his Justice Department to conjure up a draft ban on "bump stocks," although the order is curiously vague.
The US Army has posthumously honored three victims of the MSD mass shooting, awarding JROTC students Peter Wang, Martin Duque, and Alaina Petty with the Medal of Heroism. The US Military Academy, West Point, also honored Wang with a posthumous admission. Hundreds attended an English and Chinese language funeral for Wang yesterday; he was buried with military honors.
Conservative media has turned up its smear campaign against the MSD mass shooting survivors, calling them actors, Democratic plants, pawns, and false flag operators, and they're getting a big assist from Russian bots.
Convicted felon and Internet troll Dinesh D'Souza somehow sank to a new low yesterday when he started mocking survivors of the MSD mass shooting. He's since been kicked off a CPAC panel (they claim he was never on it), when CPAC called his comments "indefensible."
After seeing a nationalist retrenchment strategy slowly bleed economic and political power from the US, 25 Republican Senators are asking Trump to reconsider TPP.
A USDA employee is suing the agency for equal opportunity violations, alleging that she submitted to a sex-for-promotion scheme, and has since been retaliated against for being a whistleblower.
Jon Cordova, a high level HHS official, was told to go home so that investigators could look at all his conspiracy-laden social media posts, like a Ted Cruz sex scandal, calling Hillary Clinton a "slimy trailer trash huckster," and comparing MoveOn.org and Black Lives Matter to Nazi Germany.
DJTJ is living it up in India, trying to drum up billions for his dad's business, but he did take a moment to note how he likes India's poors because they smile more.
Focus on the Family has declared itself a church after Jesus came down from the heavens and told them to hide their cooked books from Uncle Sam and the IRS.
As Congress gets ready to narrowly avoid another government shutdown, Senators are taking up the DACA debate with the hope that they can do something, but Senate Democrats are still pissed after Republicans (predictably) screwed them for the gazillionth time.
Multiple law enforcement and police geeks are laughing off bullshit claims that sanctuary cities are havens for opioid-smuggling immigrants.
A new Quinnipiac poll shows 8 out of 10 Americans think Dreamers should have a path to citizenship, and an overwhelming majority blame Trump and Republicans for fucking their lives up.
That same Quinnipiac poll also found that support for tougher gun control laws is stratospheric, with 97 percent of 1,249 people surveyed supporting Universal background checks.
New Mexico's Democratic Sen. Martin Heinrich is calling for a repeal of the Dickey Amendment, the 1996 law that restricts the CDC from crunching the numbers on gun violence.
Florida's state Reps don't give a fuck if a bunch of kids just died because the state House just rejected a ban on high capacity magazines and semi automatics guns...in front of MSD survivors.
A bill to ban "bump stocks" in Arizona was blocked in the state House, 34-25, but that wasn't enough as Arizona Republicans then blocked a bill requiring universal background checks meant to stop people with mental illnesses from obtaining guns.
A Rhode Island state House Rep. has been accused of extortion and video voyeurism for secretly taking naked photos of a girlfriend and trading for naked photos of his friend's wife.
The Republican running for former AZ Rep. Trent Franks's House seat, Steve Montenegro, has got himself in his own sex scandal after local reporters found some sexy-time sext messages with his staffer.
The Illinois gubernatorial race has predictably devolved into a multi-million-dollar shitshow with the scumbag Republican governor at the bottom of a dogpile that includes allegations of Legionnaires disease, a batshit primary opponent, and the super rich Democratic front-runner being called an overweight and out of touch racist by a respected Chicago alt-weekly.
Congrats to Kentucky Democratic state Rep. Linda Belcher who won back her seat by a staggering 68 percent during last night's special election to replace the late Dan Johnson.
Nikki Haley was so mad after the Palestinian ambassador to the UN walked out of a UN Security Council meeting over her refusal to hear arguments against moving the US embassy in Israel to Jerusalem. That's it, she was just so mad.
[Video]
Mike Pence was reportedly set to meet with North Korean officials while in South Korea, but the delegation, which included Kim Jong Un's sister, Kim Yong Nam, reportedly pulled out at the last minute. I wonder if Mother would have sat in on the meeting?
Steven Seagal has lost his goddamn mind, y'all. Seagal's new book claims Obama was a secret drug smuggling Islamic terrorist imbued with Satanic powers to secretly control the world with sharia law while he smoked tons of hash and banged hookers.
And here's your morning Nice Time! Red Pandas!
We're 100% ad-free and reader supported, and your money keeps things that way!
Follow Dominic on Twitter and watch him rant against olds!
Dominic Gwinn
Dominic is a broke journalist in Chicago. You can find him in a dirty bar talking to weirdos, or in a gutter taking photos.