Have Some Real Homemade Hamburger Helper That Is Real Good, For Real
Recipe Hub
November 18, 2014 11:30 AM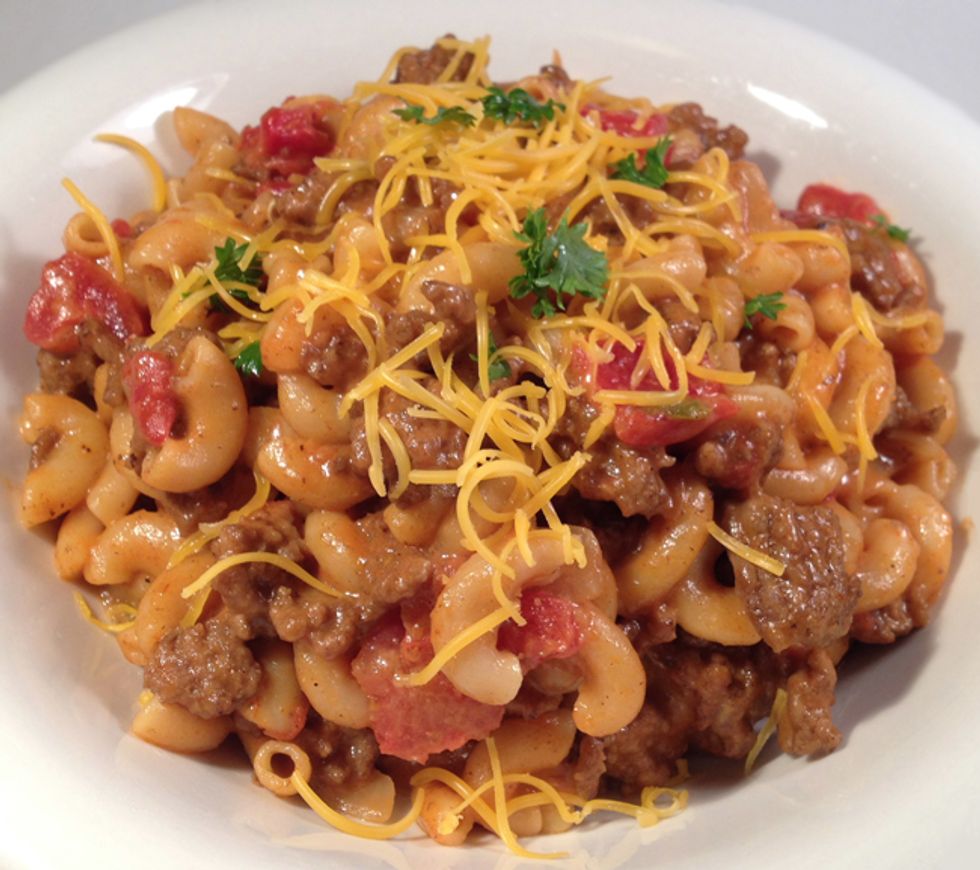 Live from Chicagoland, with little time to spare, we are shamelessly helping hamburger make a great meal! This one-skillet dinner is going to mash your comfort button with both thumbs, in about a half-hour. Yes, I am so going there.
---
My mother, like plenty of mothers, used to make Hamburger Helper. Hamburger Helper is a freak show in a box full of terrible things that are so bad for us, and it smelled wonderful. It was almost as exciting as taco kit night!
Other recipes will offer up versions of back-engineered Hamburger Helper, but those people should not be trusted. Almost every last one of them is lying about hating the very thing they are trying to duplicate. They're all like, "I can't stand Hamburger Helper, but my kids love it!" Wow, I wonder who made it for your children? Then, "I don't use powdered cheese like THEY do!" How would they know about the cheese envelope if they didn't open it? Ask yourself! I can't stand these people. Know who you are and what you like, and the rest will settle out.
I aim for the Cheesy Hamburger edition of the Helper, with tomatoes. Mine takes just as long to prepare as the box (about 30 minutes), is definitely healthier, and serves four. Crazy-good aroma. There is so much winter happening outside. Come in. Have this with me:
Ingredients
1 ½ lb. ground beef
1 onion, chopped
Dab of oil and butter, for cooking if needed
1 ½ c. elbow macaroni
2 c. milk
¾  c. water
1 can stewed tomatoes, chopped, plus juice
½ can of tomato paste
Tabasco sauce, to taste
garlic powder
salt and pepper
2 c. shredded extra-sharp cheddar
parsley, for garnish

In a large skillet, brown the ground beef. I use 95% lean beef, which means almost no draining. Add a dab of butter and oil to cook the onions with the beef, until the onions are translucent. Pull out some kitchen shears and chop the stewed tomatoes right in the opened can. Back in the skillet, stir in macaroni, milk, water, tomatoes, tomato paste, garlic powder and then season. Cover the skillet and simmer on low for about 15 minutes. Stir occasionally.
When the macaroni is cooked, add shredded cheese and blend well. When the cheese has fully melted, serve this with a few sprinkles of cheese and parsley on top -- but only if you're taking photos. If no photos, dig in. Eat this and play the underwear/band name game (color of your underwear, last thing you ate). It's fun, and all of the cool kids are doing it. Enjoy!