HAXORZ Leave Dumb Message On Electronic Road Sign In Virginia
News
June 19, 2009 12:21 PM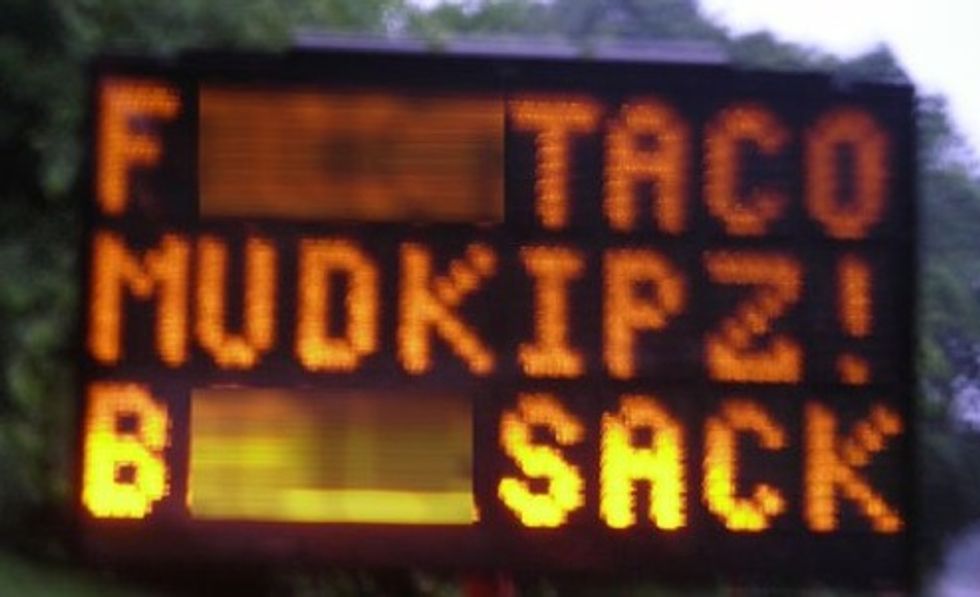 Well, somebody thought it was necessary to blur out the naughty bits from this picture of the Virginia road sign attacked by Electronic Haxorz, so we have to guess what the strange message is supposed to mean ... something about a secret couplet written in lemon juice on the back of the Stephen Colbert painting in the National Portrait Gallery, where bloated albino Newt Gingrich is dead and spreadeagled in the shape of David Vitter, but the diaper is on his face? Right?
---
Okay, we've got F___TACO, which must mean, we guess, "Food Taco." This is anti-immigration hate speech, as if even a common mouth-breathing Virginia white pig didn't know "taco" is a method of ingesting fat and grease.
Next, it's MUDKIPZ, which is the name of Nestle's new E Coli Raw Cookie Dough, made from real poop!
Finally, we have the curious B____SACK, which must mean "beef sack," which is an arcane Jeffersonian term for the hot dogs at Nationals Park, which are made of ass.
Okay, hooray! Mystery solved. Your commute is officially just another wasted hour on the long road to death.
(PS YES WE KNOW 4CHAN HAS SOMETHING TO DO WITH THIS, 4CHAN MADE UP THE TERM "BALLSACK" IN THE EARLY 17TH CENTURY AS A COMICAL AUDIENCE PRANK DURING THE 1604 KING'S MEN PREMIERE OF WILLIAM SHAKESPEARE'S THE MERCHANT OF VENICE.)