Here Is Your Fourth Of July Nice Things Spectacular!
Nice Time
July 04, 2020 11:23 AM
Buster and Thurgood, by Wonkette Operative 'Amelia Z'
It's the Fourth of July, at a time when going out and doing the usual Fourth of July things might be a bit more dangerous than the typical sunburns, potato salad that sat out too long, or tongs-related injuries (you silly BBQ klutz, you). So let's make the best of it, maybe watch Hamilton, and relax with a collection of oddments from around the webs. If you want to, you could even look at our Independence Day reading collection from last year, one part of which we're going to just copy-paste right into this post here, because it's timelier than ever. Stay safe, wear that mask, and if you need to join the dogs under the coffee table when the neighbors start shooting off fireworks, scritch 'em behind the ears for me. The dogs, not the neighbors.
---
Frederick Douglass: Still Doing An Amazing Job
This year, as many Americans lurch unsteadily toward what looks like a serious attempt at reckoning with our Original Sin, Frederick Douglass's July 5, 1852 speech to the Rochester Ladies' Anti-Slavery Society, "What to the Slave Is the Fourth of July?" feels more important than ever. It's an impressive indictment of our founding myths, and a hell of a good piece of rhetoric, too, daring to implicate even his allies, the abolitionist society that had invited him, in the enslavement of fellow humans. Yes, they opposed slavery, and were on the right side of history. But Douglass was compelled to remind his white allies that the holiday they'd marked the day before belonged to them — not yet to all Americans. If you have time, go read the full thing here.
On NPR yesterday, Yale historian David Blight, author of the biography Frederick Douglass: Prophet of Freedom, described the speech as a "symphony with three movements":
First movement, he sets them at ease by honoring the Founding Fathers. He calls the Declaration of Independence the ring-bolt of American liberty. He calls the Fourth of July the American Passover. He sets them all at ease, but then he takes them through a litany of all the horrors of the slave trade, of the slave ships, of slave auction blocks. He takes that audience to the dark heart of what slavery really is.

And then that middle movement - he says, oh, be warned. Be warned. There is a horrible reptile coiled up at your nation's heart. And then he ends. And the last movement of the speech, he says, your nation is still young. It is still malleable, changeable. It's not quite too late. You might yet have a chance to save yourselves.

This speech is a rhetorical masterpiece. And its great theme is American secular and religious hypocrisy for the practice of slavery. And it is a great warning that if the country doesn't find a way to face this problem, it will face tremendous disruption, tremendous violence. Today, it will remind people so much of the current crisis we're in and this ever-lasting problem that we never quite are able to solve — the question of race.
Here's a small excerpt from that middle movement, just before the part that shows up everywhere.
Fellow-citizens, pardon me, allow me to ask, why am I called upon to speak here to-day? What have I, or those I represent, to do with your national independence? Are the great principles of political freedom and of natural justice, embodied in that Declaration of Independence, extended to us? and am I, therefore, called upon to bring our humble offering to the national altar, and to confess the benefits and express devout gratitude for the blessings resulting from your independence to us?

Would to God, both for your sakes and ours, that an affirmative answer could be truthfully returned to these questions! Then would my task be light, and my burden easy and delightful. [...]

But, such is not the state of the case. I say it with a sad sense of the disparity between us. I am not included within the pale of this glorious anniversary! Your high independence only reveals the immeasurable distance between us. The blessings in which you, this day, rejoice, are not enjoyed in common. The rich inheritance of justice, liberty, prosperity and independence, bequeathed by your fathers, is shared by you, not by me. The sunlight that brought life and healing to you, has brought stripes and death to me. This Fourth [of] July is yours, not mine. You may rejoice, I must mourn. To drag a man in fetters into the grand illuminated temple of liberty, and call upon him to join you in joyous anthems, were inhuman mockery and sacrilegious irony. Do you mean, citizens, to mock me, by asking me to speak to-day? [...]

At a time like this, scorching irony, not convincing argument, is needed. O! had I the ability, and could I reach the nation's ear, I would, to-day, pour out a fiery stream of biting ridicule, blasting reproach, withering sarcasm, and stern rebuke. For it is not light that is needed, but fire; it is not the gentle shower, but thunder. We need the storm, the whirlwind, and the earthquake. The feeling of the nation must be quickened; the conscience of the nation must be roused; the propriety of the nation must be startled; the hypocrisy of the nation must be exposed; and its crimes against God and man must be proclaimed and denounced.
We could do with fewer military parades and a lot more Frederick Douglass, if you ask me.
As The Statues Come Down, Signs Are Going Up
Historian Kevin Levin lets us know that, as the gross old monuments to the Confederacy have been coming down in Richmond, Virginia, a local group of vigilante historians and artists calling itself "History is Illuminating" has been putting up signs along Monument Avenue that resemble roadside historical markers, but with a more pronounced editorial perspective on the city's Black history.
Here's a sign near the spot where the Robert E. Lee statue formerly stood: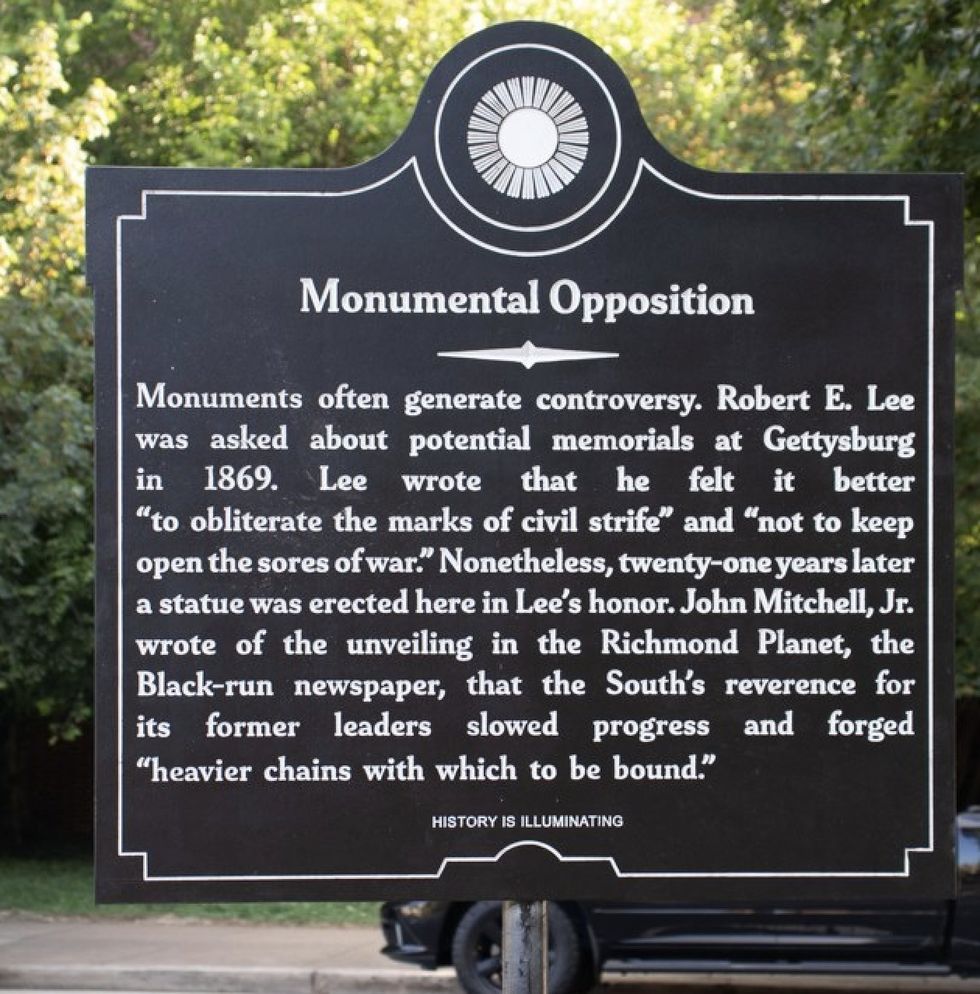 Monumental Opposition: Monuments often generate controversy. Robert E. Lee was asked about potential memorials at Gettysburg in 1869. Lee wrote that he felt it better "to obliterate the marks of civil strife" and "not to keep open the sores of war. Nonetheless, twenty-one years later a statue was erected here in Lee's honor. John Mitchell, Jr. wrote of the unveiling in the Richmond Planet, the Black-run newspaper, that the South's reverence for its former leaders slowed progress and forged "heavier chains with which to be bound."
In a blog post on the project, Levin reflects,
Clearly, these markers have a limited shelf life. The narratives work in conjunction with the process of removal, but it does raise the question of whether interpretive markers will find a place on this re-imagined urban landscape. My hope is that the city can find a way to tell the full story of why these monuments were created, sustained for so long, and finally removed in 2020.

The removal of monuments continues to be framed as an attempt to erase history, but over the past few weeks we've seen the opposite in the former capital of the Confederacy. It is history that has propelled people to take to the streets and make demands on their local government.

It is the acknowledgment of history in these historical markers that is helping to reshape a city and give new direction to its future.
Way to go, Richmond.
Also, The Cute Animals And Twitter Stuff
This Politically Correct Cancel Culture has gone too far, 238 CE edition:
Giggling foxes!
Yes, that's from the same fox rescue that bought us the greatest video of all time, and I do not mind repeating it.
Dixiedo fox runs away with my phone. Tries to bury it youtu.be
Also, little tiny musk oxen:
Two-dimensional birbs:
And we'll close with this reminder, via noted political pundit Our Girlfriend: Do not taunt Happy Fun Goat.
OK, fine, it's not her goat or anything, she just found the video. Point stands.
Have a safe and happy Fourth, you!
Update: Well phoo, this was supposed to go up at 11 EDT and be yr OPEN THREAD, so I've changed the timestamp so it'll be in the right spot on the front page.
[NPR / Teaching American History / WWBT / Civil War Memory]
Yr Wonkette is kept independent by YOU and your donations! Please help us keep the servers fed and the writers humming!
Do your Amazon shopping through this link, because reasons.