Here Is Your Mommyblog Leftover Lamb Curry Recipe, Drink It Up Yum!
Recipe Hub
December 30, 2014 11:51 AM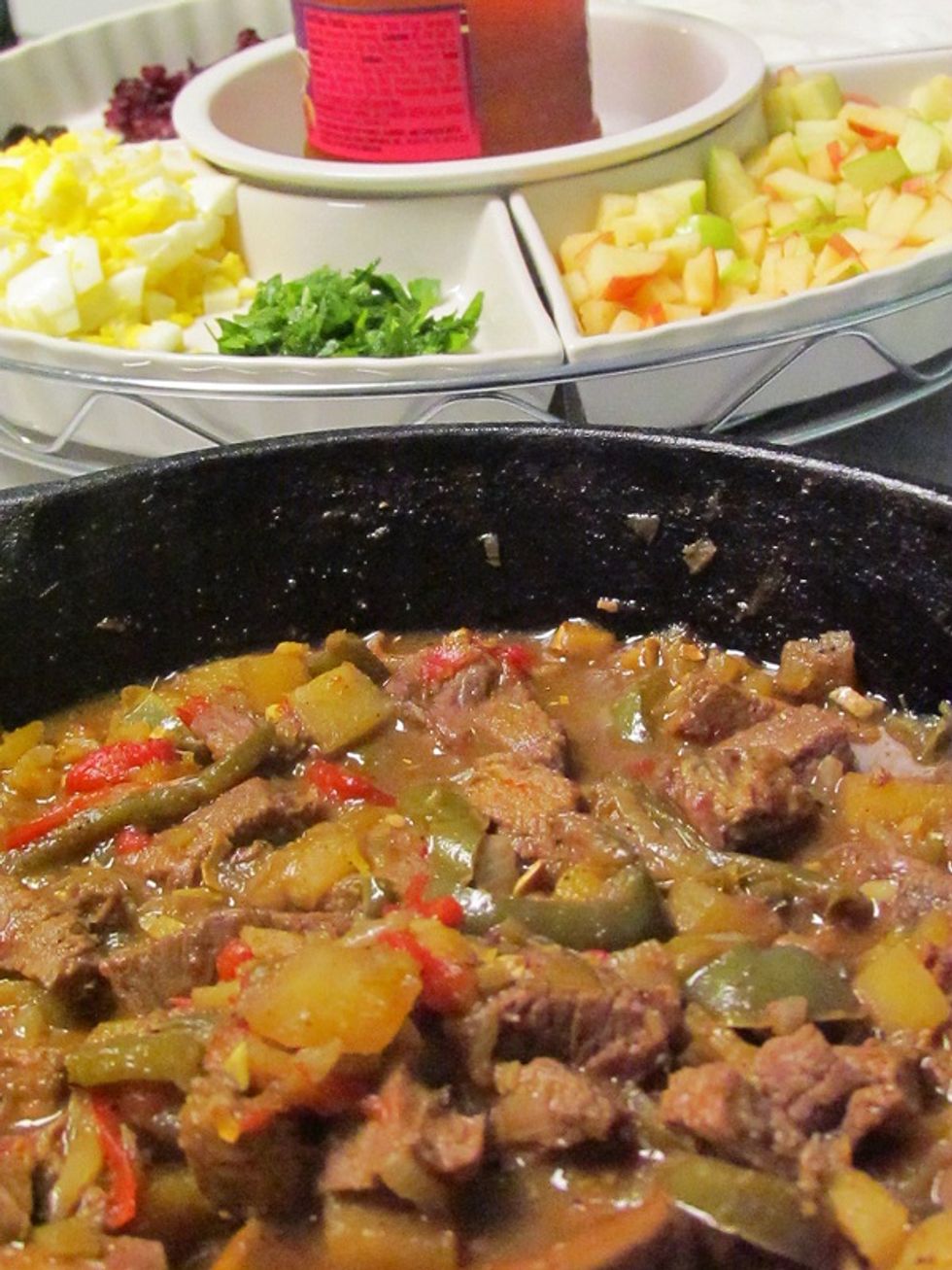 We have some meat left over from a leg of lamb roast that was boned, rolled, and tied — the BDSM community prefers the opposite order. Leftover lamb curry  is easy to make for as many people as you have a pan big enough to cook it in. Perfect for a New Year's Eve dinner with some friends, or a weeknight meal for the family. And clean-up's a cinch because it's a one-dish meal on top of some rice or steel-cut oats (mommyblog!). You can substitute lentils, beans, raw meat, or squash. We'd never suggest the beef you may have from the War on Christmas sale at your supermart.
---
Put out a whole bunch of different garnishes: plain yogurt, cilantro, mango chutney, dried fruit (raisins, cranberries, chopped dates), coconut flakes, diced hard-boiled eggs, butterscotch chips, diced apples. All those options will make trying new, different flavors fun for your kid (mommyblog!).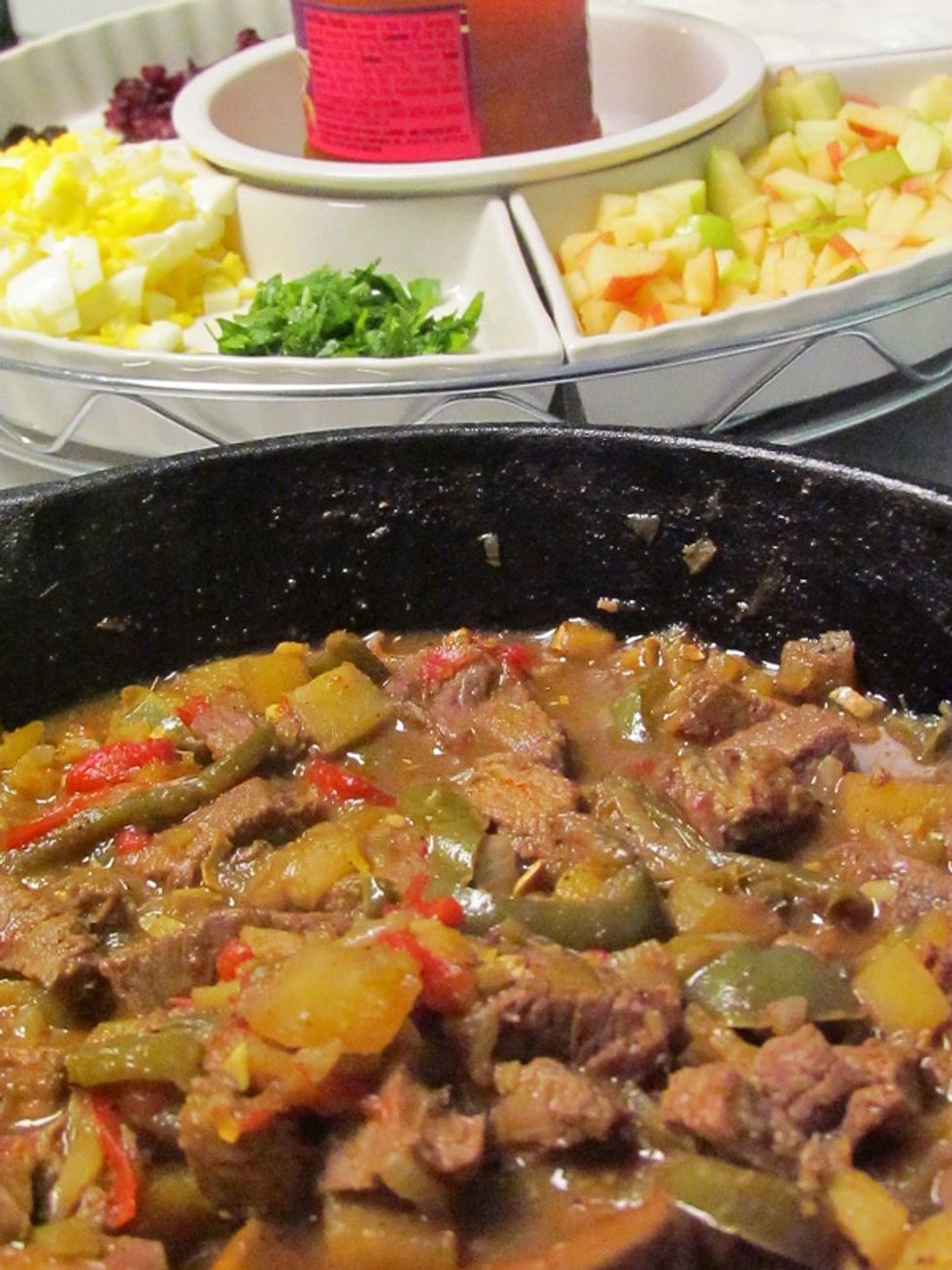 Leftover Lamb Curry
1 onion, half diced finely, half sliced
2 stalks celery, diced finely
1 green bell pepper, sliced
1 red bell pepper, sliced
4-25 cloves of garlic, minced
A piece of ginger about the size of a piece of your anatomy (how much do you like ginger?), minced
Some amount of hot chili pepper, minced
1/4 bunch of cilantro, minced
1 bay leaf
Several handfuls of curry powder
1 1/2 lbs leftover lamb roast, cubed
1 scant cup of stock
2 apples, peeled and diced
Salt and pepper
This serves about 4 people.
Over medium heat, saute the onion, celery, and bell peppers in butter, for 3-5 minutes. Add the garlic, ginger, chili pepper, cilantro, and bay leaf.
Add a few handfuls of curry powder. This is a good time to peruse your spice rack and put in a dash of this and that.
Stir in the meat (if you're using raw meat, go back and brown it before you do the onions and stuff, then add it back in now).
Add the stock (maybe you even have a few frozen cubes of lamb stock in the freezer). Does it look like it still needs some liquid? Add as much of a beer as it looks like it needs, and drink the rest. We're using Guiness Extra Stout. Scrape the bottom of the pan while you stir in the liquid.
Bring that up to a simmer; put the lid on and heat down; simmer for 20-30 minutes, stirring occasionally.
Taste and adjust seasoning. Stir in some more cilantro right before you serve.
Serve on rice, steel-cut oats, or whatever cereal grain you're into. Top with your choice of the available garnishes. It's like taco night!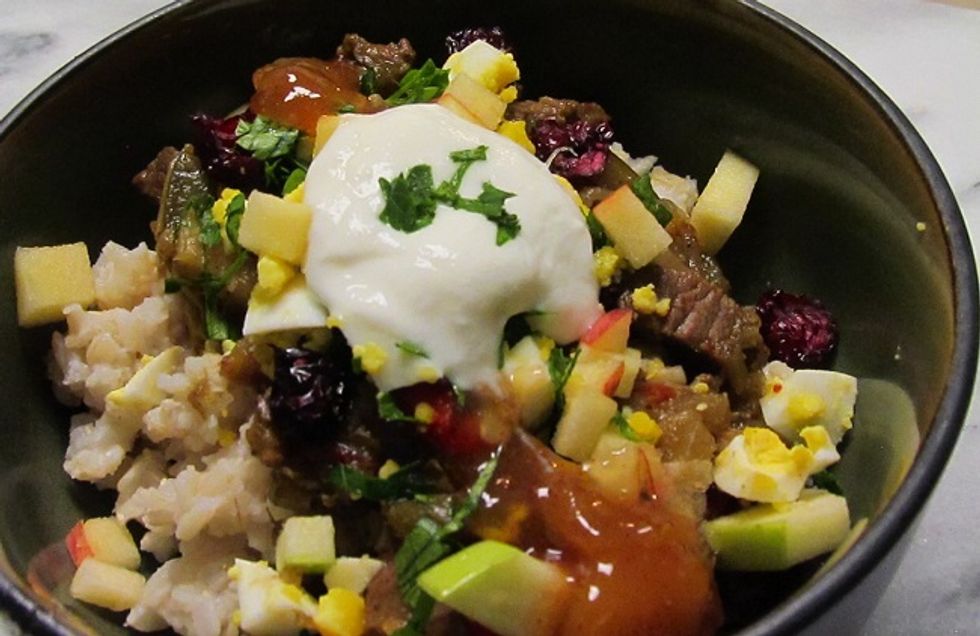 This meal goes great with bubbly wine, beer, or those fruitier white wines like riesling or gewurztraminer. (Mommyblog!)