Here Is Your Mommyblog Recipe For Some Goddamn Drunk-Ass Cherry And Lime Pie
Recipe Hub
July 18, 2014 04:44 PM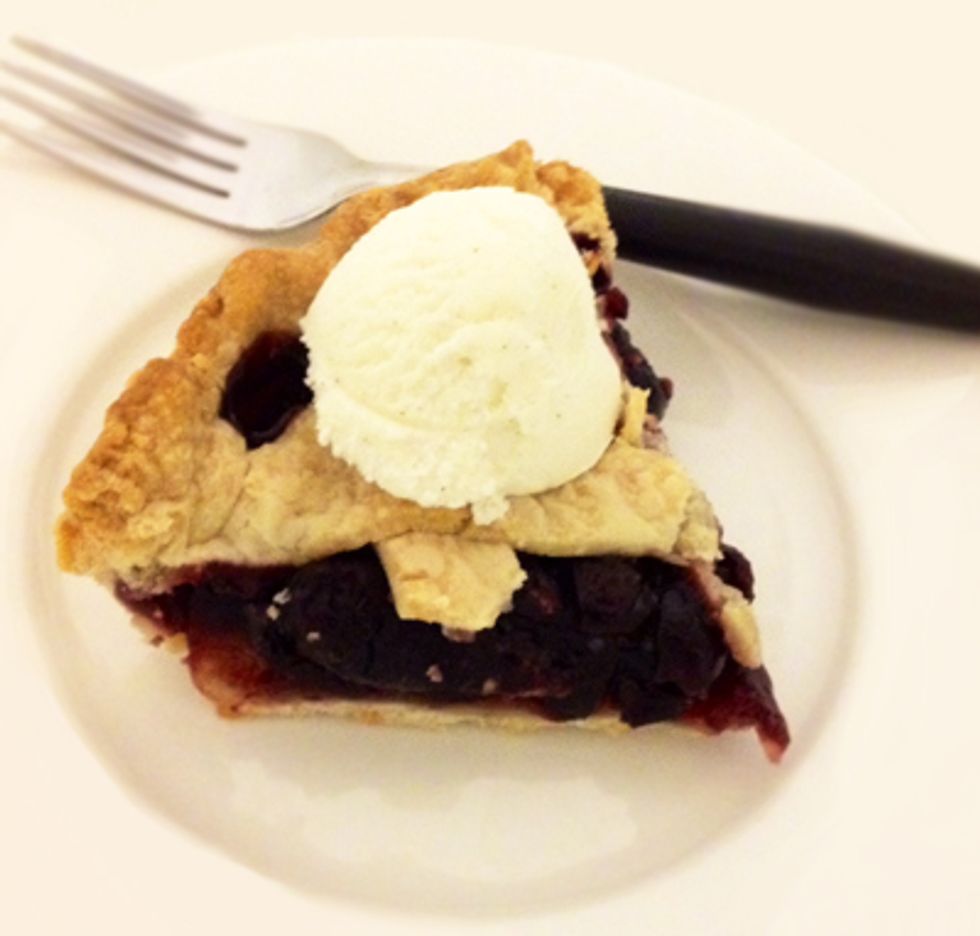 Whenone door closes, try another door -- and bring a pie. Bring a pie that is so hammered on booze, no one will ever mistake you for a Jehovah's Witness. I give you this, a Drunk-Ass Cherry and Lime Pie! Guess what else? It's in a skillet!
---
A cherry pie made with sour cherries is satisfying, but I was in the mood for some strange. It occurred to me while shopping for produce, why overlook the bags of seasonal black cherries, especially when I have a perfectly good bottle of champagne cognac at home? I envisioned pie. Add lime and brown sugar, whip up a flaky crust, and bake that whole business in an iron skillet. It's THAT easy.
Here is what you need:
2 1/2 c. Unbleached all-purpose flour
1 Stick of cold, unsalted butter, sliced*
1/2 c. Vegetable shortening
2 tsp. Brown sugar
Couple dashes of salt
5-6 tbsp. Ice water
*You can double the butter if you don't have shortening, but the crust will not be as flaky. I use both - one for flavor, the other for texture.
Put the flour, butter, shortening, sugar and salt in a food processor with a pastry blade. Mix until it's crumbly. Add the ice water slowly while mixing until the crumbles form into a ball. Divide this into two pieces, one slightly bigger than the other. Flatten into a small Frisbee-shape, wrap in plastic and refrigerate.
The filling takes about a day to prepare. You can leave the crust in the fridge until the filling is ready. Whatever you decide to do first, make sure the pie dough is refrigerated for at least an hour in advance. Working with cold dough is the key to making a great crust.
Filling
5 c. Pitted black cherries
1 c. Champagne Cognac
Couple tbsp. brown sugar
1/2 c. Brown sugar
1/4 c. White sugar
1 Lime zested, juice reserved
2-4 tbsp. Reserved liquid
Couple shakes of salt
3-4 tbsp. Cornstarch
Little bit of vanilla extract
1/3 stick of butter, sliced and cubed
After pitting the cherries, put them in a container that has a matching lid. Give yourself a minute to dig out the right lid, because the one you want always hides. Once you find it, sprinkle the cherries with a couple tablespoons of brown sugar, pour in the cognac, mix well and refrigerate for 24 hours. Shake the contents occasionally, ever so gently.
After a day has passed, strain the cherries and set the reserved liquid aside. Add the brown and white sugar, vanilla extract, lime zest and juice, some salt, and mix with a few tablespoons of reserved liquid. Add the cornstarch and mix some more until everything is dissolved and blended.
Preheat the oven to 425, and use the second-to-lowest rack.
Roll out the bigger dough Frisbee on a floured surface. (Also: save yourself some tears and swearing, unless you like tears and swearing, and flour your rolling pin!) It needs to fit your iron skillet, with about a half-inch of overhang. Add the filling, dot this evenly with butter cubes, and then roll out the smaller Frisbee. Cut this into strips to make a lattice topping to go over the butter. Fold the edges of the crust over the lattice and pinch to seal. I used a chopstick to make little indentations on mine, because I had nothing better to do. If you are skilled in the art of fashioning piecrust bling, good on you - send tips!
Bake this at 425º for about 10-15 minutes. Reduce the heat to 375º, and bake 45 minutes more, until everything is bubbly and golden. Remove from the oven and cool for about 30-40 minutes. It should still be warm when serving.
I am not going to lie. Drunk-Ass Cherry Lime Pie is super rich, though not too sweet, and absolutely inebriated. The pie is in no condition to drive home. The flavor is reminiscent of a Cuban cocktail with a buttery crust. And lit up so hard that's it's drunk dialing all of it's Internet friends, one at a time.
We used real cherries because they retain their meaty texture when baking. They don't disintegrate like whatever is inside of a sad and terrifying McPopOver. Your hands are going to be a mess when you're done pitting black cherries, if you do it right, and that means you made something worth eating.
I would definitely suggest vanilla ice cream on a slice of cherry lime pie, or fresh whipped cream. It compliments the tang and booze like nobody's business! This pie gets all five stars on the Plate Licker Scale, is what I am saying. Enjoy!