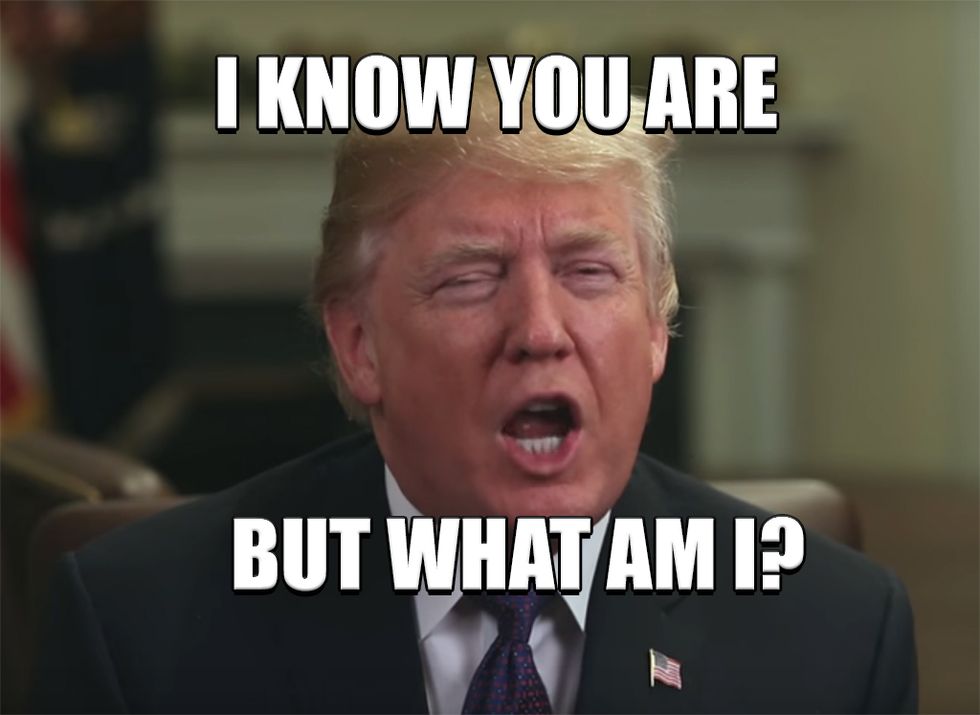 Happy New Year and good morning to you, Wonketariat! After you shake off the last of your hangover, grab some coffee and take a peek at some of the things we may be talking about today -- BUT FIRST, let's squee at exotic ocelot kittens!
---
Trump was up and tweeting this morning, hypocritically accusing Hillary Clinton aide Huma Abedin of violating security protocols, and threatening to investigate and imprison her for giving "state secrets" to foreign agents.
A Houston man remains in police custody as police try to figure out why he had a small arsenal of shotguns and assault weapons in a downtown high-rise hotel.
2017 Legislative Shitmuffin of the Year Devin Nunes wants to push the House Trump-Russia probe into the FBI for using THE DOSSIER, and that has some Republicans and Democrats super pissed.
Some Republicans are still dead-set on killing Obamacare, even if they can't agree on another bumbling scheme to screw poors until they're dead.
As Congress critters begin to skulk back to the Hill, they face a jam-packed legislative agenda that includes a (NOTHER) government shutdown, DACA and Trump's Tortilla Curtain, CHIP, 702 FISA warrants, disaster relief, and funding health insurance markets.
Trump's White House can't figure out what its priorities are for 2018, and it appears torn between welfare reform and infrastructure spending, neither of which is likely to pass as Republicans nervously watch 2018.
Businesses are engaging in an orgy of expansion now that the Trump administration has signaled it has no intention of enforcing the regulations it can't repeal.
Just before wildfire season began and burned up massive chunks of the West, Interior Secretary and incompetent grifty bastard Ryan Zinke used funds from the National Interagency Fire Center to pay for ANOTHER $39,295 worth of helicopter rides.
Democrats now want to depose Reince Priebus after Sean Spicer noted Priebus's proximity to the Trump Tower nerve center on election night in 2016, possibly violating a 35-year old ban on RNC poll-watching.
Even though we haven't even started the 2018 midterm elections, 2020 hopefuls are already running shadow campaigns, with Bernie and Biden the likely front runners, and Warren, Gillibrand, and Booker running right behind -- however Mark Cuban, Mark Zuckerberg and The Rock are feeling out challenges just the same as John Kasich, Ben Sasse, Jeff Flake and Mitt Romney.
Sen. Elizabeth Warren is hoarding a massive war chest of campaign cash, leading to lots of 2020 speculation as she prepares to battle a massive assault from Mercer money.
Sen. Kirsten Gillibrand's staunch anti-Trump record is fueling chatter about her own 2020 run, as well as her zero-tolerance sexual harassment policy.
Everyone is still looking at Iowa as the beginning and end of all political campaigns because there's apparently something about the corn-bred that defines America in the 21st century.
Currently there's a total of 79 women running or considering gubernatorial runs 2018. But shouldn't they be out shopping for SHOOOOZ?
VA hospitals have been gaming their shitty stats by denying care to at-risk patients in order to bring up their ratings and net bonuses for hospital brass.
Governors associations are being used to funnel unlimited amounts of money to gubernatorial campaigns thanks to a loophole that allows big donors and businesses to make secret quid-pro-quo donations. [Archive]
As Trump's first travel ban was put into effect, DHS activated a "Crisis Action Team" to provide intel and assistance that clearly didn't trickle down to local and private institutions.
Claims by Confederate sympathizers seeking to "honor" black Confederate soldiers aren't passing muster as a new investigation has found ZERO black soldiers fighting for the Confederacy, surprising nobody.
For the fifth day, Iranians are protesting in the streets, prompting a security crackdown from Revolutionary Guard Forces, and the allegations of Western influence from Ayatollah Ali Khamenei.
While wearing an odd grey suit, Kim Jong Un gave a mixed message of peace in his annual New Year's address, expressing a willingness to negotiate with South Korea as he boasted about the nuclear button on his desk.
Rumors of the demise of IS/ISIL/daesh/whatever have been greatly exaggerated as there has been a resurgence in guerrilla tactics by militants in Syria and Iraq. [Archive]
A Idiot youtuber is being criticized for uploading video of a dead body while traipsing around Japan's infamous suicide forest. The douchey bro later issued a tone deaf apology, claiming he "didn't do it for the views," because he "can get views."
On Sunday, Chief Justice John Roberts released the annual 2017 State of the Judiciary Report, and noted that "the judicial branch is not immune" from sexual harassment, and that the judiciary will begin evaluating conduct and practices so that grab-ass is not tolerated.
The former Editor in Chief of the Anniston Star is being accused to sexually assaulting women in the newsroom after a former reporter detailed the EiC's habit of spanking female reporters throughout the 1970s.
There's growing concern that the #MeToo movement will implode as partisan groups try to weaponize sexual harassment claims for cheap political gain, and silver-tongued "alt-right" conspiracy crazies are leading the pack.
People in Palm Beach are wondering why Trump's private business helicopter seems to make a lot of dubious trips to and from Mar-a-Lago whenever Trump comes to town, possibly violating city regulations.
After reporters began giggling about former Sheriff David Clarke being served a search warrant to investigate abuse of power, he vented his butthurt on Twitter, threatening to "bitch slap" reporters and "MAKE THEM TASTE THEIR OWN BLOOD" for being so mean.
According to The Mooch, THE MOOCH IS COMING BACK! Multiple reports are confirming The Mooch has been scuttling about and bragging how much Trump's White House wants him back -- however, when asked he denied everything, telling reporters, "I have said nothing like that at all…Don't believe BS."
During his last address of 2017, Pope Francis said that humanity had "wasted and wounded" the year "in many ways with works of death, with lies and injustices." I wonder who he was talking about?
Gretchen Carlson is the new board chair for the Miss America Organization, so 2018 seems to be off to a decent start.
And here's your morning Nice Time! KOALA JOEYS!
Give us all your money so we can stay 100% reader-supported and free!
Follow Dominic on Twitter! and send him adorable critters!
Dominic Gwinn
Dominic is a broke journalist in Chicago. You can find him in a dirty bar talking to weirdos, or in a gutter taking photos.