Here's Hoping Donald Trump Has A BAD F*CKING NIGHT. Your Midterm Results Liveblog!
Elections
November 06, 2018 07:04 PM
Giphy
OH MY GOD, WONKETTE PEOPLE AND OTHER PEOPLE WHO MAY BE READING THIS NOW, IT IS TIME TO DO THE THING!
First of all, we want to tell you that we feel pretty good about things. But we also want to say that polls are still open in lots of places! So if there's anybody you know who might not have voted and there's still time, GTFO and get them there! But we also want you to know that if we win tonight, we're in the win together. If we ... grrrrrrrr ... NON-WIN tonight, then first of all if it's Stacey Abrams in Georgia, we're calling for an investigation. But if things somehow don't break our way (on top of calling for investigations) we are STILL in this together. Because win or lose, our work is not over tonight! But let's hope we win.
DEEP BREATHS.
---
NBC has released some exit polls, and while exit polls don't necessarily mean shit while the polls are still open, they're interesting. For instance, according to those they surveyed, Trump only has a 44% approval rating, which is lower than Obama in 2010 and Bill Clinton in 1994, and those were BLOODBATHS. Also, according to Chuck Todd on the television, this is the least white midterm electorate ever of all time. Thank GOD. Democrats' favorables are higher than Republicans' favorables, so that is also a good thing. However, Trump approval seems a bit high in exits from Georgia and Florida, but those are not final numbers and they ain't no early vote exit polls either, so that might not mean shit!
Anyway, polls are closing ... NOW! ... in KY-06, which is one of our first important races of the night, that of badass Amy McGrath vs. suckass Andy Barr. Also, in general, we will get stuff from the Eastern Time Zone parts of Indiana, which is where Joe Donnelly is trying to hold on to his Senate seat.
Settle in, kids, we got a long night ahead of us.
6:15: How about a couple nice facts to start us out? Fact one comes in this tweet, about how the NRA is a sad shell of its former self and the gun control groups are OUTGAMIN' them:
The second fact is this screengrab from MSNBC, what is talking about people who voted in a midterm for the very first time, which turns out according to the exit polls was 16 percent of the electorate. This is how they broke down in casting their votes: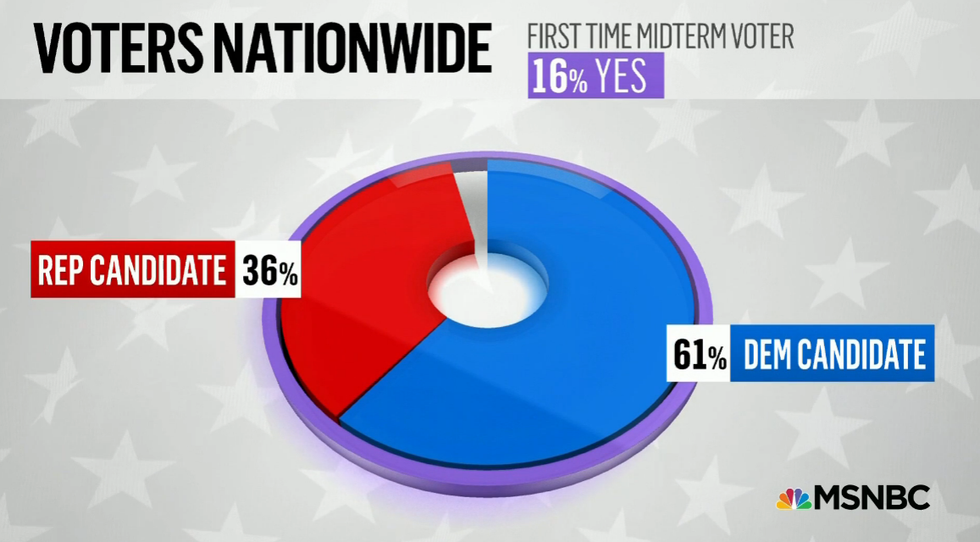 We can work with that!
6:37: OK, Wonkers, we have your first dispatch from Wonkette Secret Teen Election Genius, who A) exists and is B) snarking from an undisclosed location. He says "Tell Dana Bash that she is full of shit, and the fact that Braun is up 5,400 when Gary and Fort Wayne and ALL THE PLACES are still voting, oh and also the only thing reporting right now is a few dirty red counties, is MEANINGLESS."
Correct, Wonkette Secret Teen Election Genius!

Also, KY-5 has been called for the incumbent Republican Hal Rogers. This is meaningless and not a surprise.
Also, who runs elections in Georgia? That guy must be A IDIOT.
Oh that's right. Brian Kemp runs elections in Georgia. DERP.
6:45: We are 15 minutes from some poll closings. Florida! Georgia! Virginia! This is where we'll start to get a feeling about how the night is going to go.

We really don't have updates for you on KY-06 or IN-SEN, because Jesus, there's like 1% in and they're only reporting absentee votes from farm animals, which are ILLEGAL VOTER FRAUD FOR THE RECORD.
6:56: Oh nothing, just the adult human governor of Texas retweeting Jim Hoft and taking him seriously.
6:57: Here is a nerdy update about what's been reported in the KY-06 race between Amy McGrath (the good Democrat) and Andy Barr (the bad man):

Fayette County is the most populous county. It is where Lexington is! McGrath is overperforming and the votes are coming in slow. In Barr's turf, which is coming in faster, he's barely hitting his benchmark.
These are good things! For the record, Wonkette Secret Teen Election Genius thinks McGrath is going to win. Let's see if WSTEG really has ninja election skills or not.
7:00: Actual updates!

You guys, this might be a shock, but Bernie Sanders has won re-election. Also Tim Kaine has re-winned his Senate seat in Virginia. These are according to NBC News, which is not AP, which is what we usually follow, but fuck, Brian Williams was talking so we decided to tell you what he said.
7:12: TELL US A THING, STEVE KORNACKI THAT WE HAVE A MASSIVE CRUSH ON PLEASE DON'T TELL NOBODY: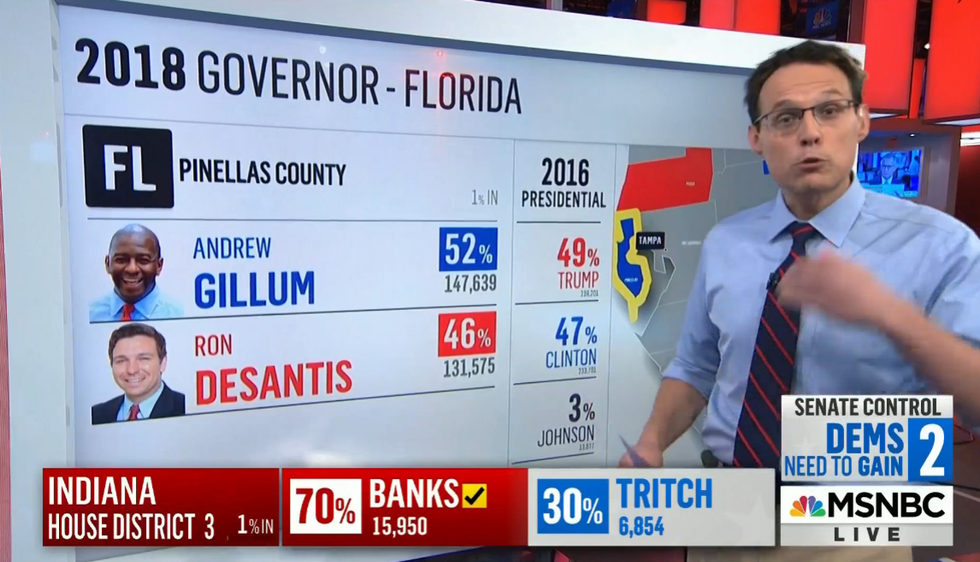 Basically what Kornacki is telling us is that based on where the early vote is coming in in Florida, Andrew Gillum is outperforming Hillary Clinton and Ron DeSantis is underperforming Trump, in key counties. These are good signs!
7:16: Hey, here's a good progress report for you! Remember crazy ass Kim Davis, the county clerk in Kentucky what hates the gays so much? She is currently NOT WINNING:
7:23: OK, we have a LOT of Florida vote in now, and you will be happy to know that both Andrew Gillum and Bill Nelson are doing very comfortably well.

Also the Democrats have picked up the governorship of Guam, according to MSNBC.
GUAM, FUCK YEAH!
7:25: And here is a race to keep your eye on. Florida's 15th, where Republican Dennis Ross decided not to run for re-election. It's TIGHT right now, but like we said, just keep your eye on it.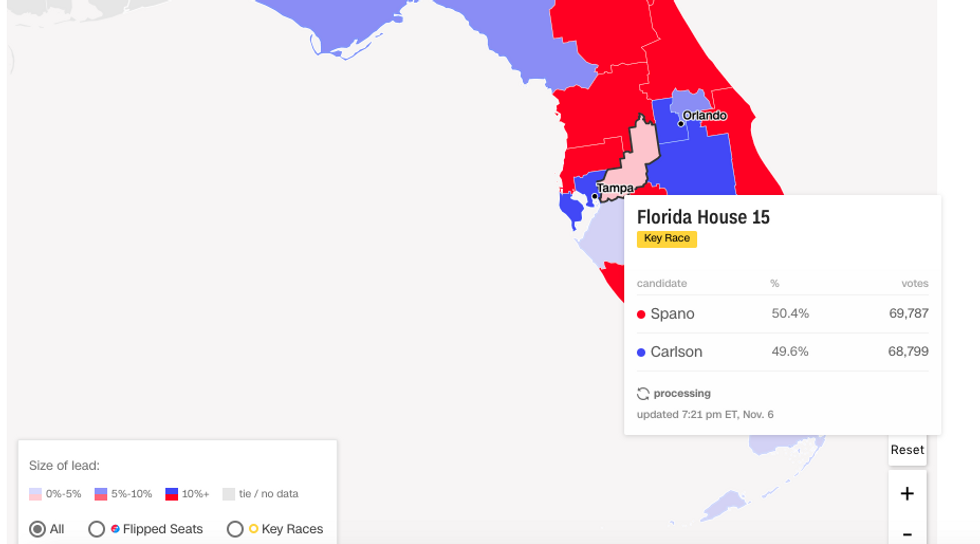 7:29: Chuck Todd is currently Chuck Todd-ing about WHAT DOES IT MEAN if Abrams wins in Georgia and Gillum wins in Florida but Bredesen doesn't win in Tennessee? (Chuck Todd knows nothing about Tennessee politics.)

We really want them all to win, partially to see how confused Chuck Todd gets about WHAT DOES IT MEAN.
7:33: Here is some good news that is not final news! in Virginia's 10th, Jennifer Wexton is currently kicking GOP Rep. Barbara Comstock's ASS and she is probably DONE, but Wonkette can't make that call yet. However, in the county that's mostly in (Loudoun), Wexton is matching Hillary Clinton's numbers. Hillary won that district.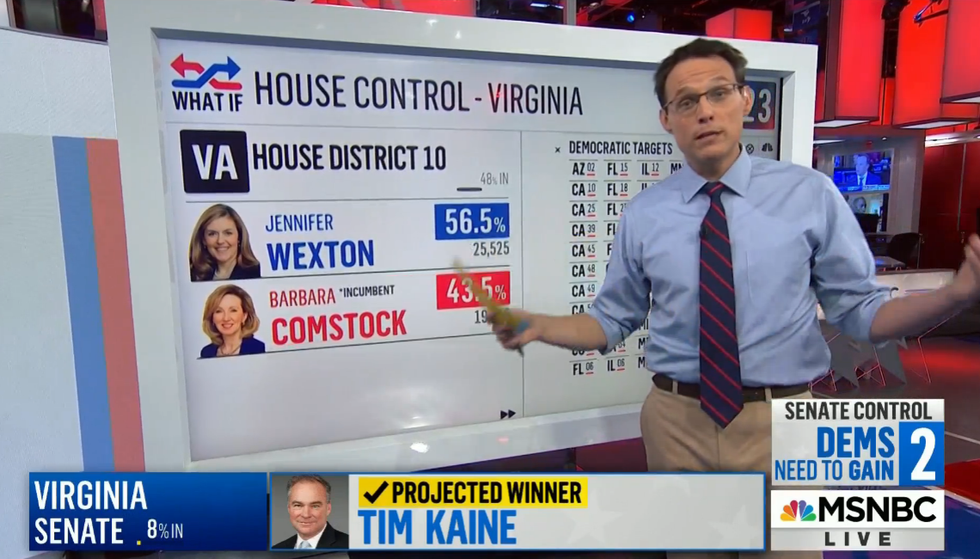 7:37: We are sorry to say but the election has been cancelled because Jim Hoft, The Stupidest Man On The Internet, has a BOOM!

We are sorry for ever thinking #Blexit was not a thing :(
7:40: WE HAVE OUR FIRST BIG DEMOCRATIC PICKUP OF THE NIGHT! In VA-10, Republican Barbara Comstock has been BEATED by awesome new Democrat Jennifer Wexton, according to the AP. Now, this was, out of all the districts, the one we pretty much knew any idiot could beat the incumbent Republican. But it has happened!

May it be the first of many!
7:59: Good news, bad news Wonkers. Democrat Donna Shalala flips FL-27, and Denver Rigglemen (aka Mr. Bigfoot Porn) holds VA-5.

Also, this is Yr FDF.
8:00 A bunch of NO SHIT calls in the 8 o'clock hour. Senate in MD, DE, CT, RI, MA, PA -- all Dems, woohoo. Governor's races in PA, and MA. Why even does Massachusetts have a Republican governor, Yr FDF asks from Maryland. AHEM.

8:10 I see you out there freaking out about Florida. Cut that shit out! Lots of Miami-Dade, most of Broward, and Tallahassee and Tampa are still out. Just chill.

8:12 Editrix has made a grievous error in omitting to help you to help her to get hammered.
8:35: OK GUYS HI, IT IS EVAN AGAIN. So we've had a couple/bunch of kind of obvious calls, like for instance we will still have Jim Jordan of Ohio and Matt Gaetz of Florida to kick around. Joy.

NBC projects that all the people who said "Bob Menendez might lose, you guys!" are absolutely full of shit, and that Menendez will be a winner, winner, chicken dinner.
Andrew Gillum's race against the shithead continues to be a fucking nailbiter, and so does Bill Nelson's Senate race, so BRB having some heart attacks.
Georgia is way too early to call and Brian Kemp is obviously looking for some Stacey Abrams votes to delete somehow.
Karl Dean, per NBC, has lost his race to be the Democratic governor of Tennessee. Let us tell you, as a Tennessee Person, that we don't think that race has ONE SOLITARY DICK to do with Phil Bredesen's race in Tennessee, which is still very early to call. (We predicted Karl would lose. We hated to say it but it was just damn true.)
Finally, JB Pritzker and Gina Raimondo are the governors of Illinois and Rhode Island, respectively. Oh and that Republican fucker Hogan in Maryland.
8:45: OH HEY YOU GUYS, looks like Beto won the early vote in Texas. Maybe that will stick!

Sorry, we are at that plateau portion of the night where all the nailbiters drag out. Grrrrrrr.
8:47: Bad news, you guys. Lots of Democrats are going to win tonight, but Amy McGrath isn't one of them. :(
8:57: MSNBC says Joe Donnelly has lost his race in Indiana. And our Senate dreams begin to slip away ...

But RELAX, GUYS, there is a lot of night left. The Senate was always a longshot with this year's map.
8:59: Democratic Senator Joe Manchin keeps his seat, so we'll still have him to kick around, JUST KIDDING WE ARE GLAD TO SEE THAT A REPUBLICAN DID NOT PICK UP THAT SENATE SEAT, ESPECIALLY IF JOE DONNELLY SUCKS AN ASS.

Martin Heinrich, Amy Klobuchar, Tammy Baldwin, Kirsten Gillibrand also all going back to the Senate, according to the 9:00 PM calls after those poll closings. Those were all expected, obviously.
9:03: Guys. We were wrong, unless NBC is wrong. MSNBC just called Tennessee for Marsha Fucking Blackburn.

9:05: OK, but here is a good news! Amendment 4 in Florida, which restores voting rights to felons who have paid their debt to society, is projected to pass!

9:07: Also, we want to let you know what is out in Florida, and it's a small part of Miami-Dade County and also 30% of Fucking Broward County, because it's always Fucking Broward County. That's why so much is in right now, and everything is still too close to fucking call, goddammit.

9:17: OK, we are going to say we don't know if MSNBC's projection (not call, PROJECTION) that Bredesen loses in Tennessee was wrong, but we are going to say we think they (and CNN) may have gotten in front of their skis a little bit. Why? Shelby and Davidson counties are not remotedly reporting yet. (That's the Memphis metro and Nashville.)
Everything else still a fucking nailbiter oh my god we haven't even started drinking yet can you believe it?
9:29: Happy Democrat House pickups to report!

Democrat Mary Gay Scanlon wins PA-05! Pickup!
Democrat Jason Crow wins CO-06! Pickup!
9:37: More happy!

JARED POLIS WINS THE GOVERNOR'S RACE IN COLORADO!
This means this is the first state in America to be run BY A GAY DUDE!
9:39: More happy!!!!!

Conor Lamb wins newly created PA-17 district! This counts as a pickup, even though he was already in Congress, because again, redrawn new district!
9:41: MOAR HAPPY!!1111!!!
They are both the first!
Anyway, Texas and Florida are still shitshows.
9:43: MOAR HAPPY!
9:45: If you've been wondering why we haven't been talking about the GA-Gov race, it is because they are counting SLOW. That's right, Brian Kemp is using his fingers AND his toes.

9:49: Here is another happy!
Also Democrat Dean Phillips just beat incumbent Republican Erik Paulsen in MN-03, so there is another #pickup!
By the way, if you are having PTSD, please let us help you.
We are pretty sure we are going to win the House. We are pretty sure we are not gonna win the Senate. ALL OF THIS WAS EXPECTED. In fact, the Dems are doing pretty much everything we expected.
Also, as Steve Kornacki just said on the MSNBC, there were 25 GOP districts that Hillary Clinton won in 2016. The GOP has not kept a single one of them yet.
RELAX, the night is a fetus.
9:55: HOORAY!

SHARICE DAVIDS is projected by MSNBC to win KS-03, which is another Dem pickup! Sharice Davids, as Rachel Maddow just pointed out, is both Native American and also a lesbian. First Native woman in the House.
This. Is. YOOGE.
9:56: And Mikie Sherrill (that is a GIRL Mikie, FYI) wins in NJ-11. That is another Dem pickup, in a NON-Hillary district!

9:58: YOU GUYS KRIS KOBACH JUST FUCKING LOST TO DEMOCRAT LAURA KELLY FOR GOVERNOR OF KANSAS.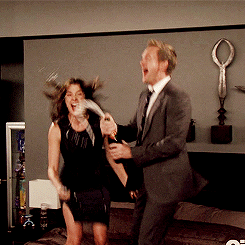 Also, Carlos Curbelo lost his seat in Florida to Democrat Debbie Mukarsey-Powell in FL-26. That is a pickup!

BUT YOU GUYS KRIS KOBACH OMG OMG OMG OMG OMG OMG.
Elaine Luria picks up VA-02 against GOP incumbent Scott Taylor in a Trump district.
And Chrissy Houlahan The Democrat picks up a seat in the new PA-06.
And Max Rose beats Staten Island's DAN DONOVAN for another DEMOCRATIC PICKUP!
Susan Wild wins PA-07. She is a Democrat! This is Charlie Dent's old seat!
12 to go for a majority!
We just copied all Steve Kornacki's homeworks!
10:09: MSNBC projects Heidi Heitkamp loses her seat in North Dakota. Voter suppression wins.

Everybody take a moment and remember the stand she took for decency in voting against Brett Kavanaugh. She is a good person.
10:13: And MSNBC projects Beto loses.

Deep breaths, everyone. Deep breaths.
10:15: Listen, you guys.

Beto O'Rourke was always a long shot. If this holds, HE WAS NEVER SUPPOSED TO BE THIS CLOSE TO BEATING TED CRUZ.
Also, he just became the 2020 frontrunner.
10:20: Fuck, we walk away for eight seconds!

Pete Sessions loses in TX! To a black guy! Named Colin Allred! We predicted this!
And Democrat Haley Stevens beats Lena Epstein, who invited that fake Jew for Jesus to Mike Pence's rally!
Pickup!
Pickup!
As of now, the GOP keeps the Senate, and the Dems will officially take the House.
10:26: Hey, here is a fact. Pennsylvania elected SEVEN WOMEN to the House tonight. SEVEN.

10:28: Oh hey, Democrat Michelle Lujan Grisham is the new badass gov of New Mexico!

10:34: Fuck yeah, Gretchen Whittmer wins MI-Gov, per MSNBC! This is another GREAT thing, considering what Michigan has gone through the past few years.

Oh yeah and Marsha Blackburn officially won in Tennessee, Jesus Christ, can Memphis and Nashville just secede from the state and we'll call the rest Camp Dipshit?
10:43: Y'ALL! Y'ALL!

BIG NEWS!
Y'ALL!
Remember Kim Davis? The Kentucky clerk what hates the gays? She ain't get to be the county clerk of Rowan County no more, because dickhead lost!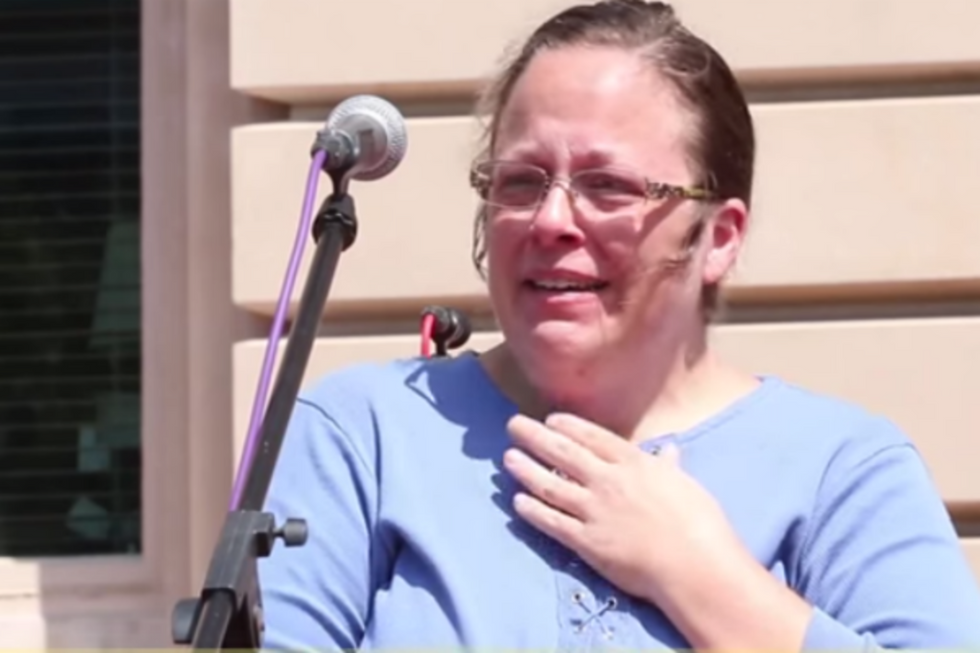 10:46: More happy! Peter Roskam is projected to lose IL-06 to Sean Kasten, a known Democrat!

Oh also, the Dems just flipped the Colorado state senate.
11:01: ANTONIO DELGADO BEATS JOHN FASO IN NY-19!

ANTHONY BRINDISI BEATS CLAUDIA TENNEY, LITERALLY THE WORST ASSHOLE IN CONGRESS, IN NY-22!
And also Andrew Gillum conceded :(

And MSNBC is calling Ron DeSantis the "apparent winner."
But Tina Smith keeps her Senate seat in Minnesota!
And now the polls are closed on the West Coast and more stuff will happen we guess.
11:05: Oh, and Abby Finkenauer beats incumbent Republican Rod Blum in Iowa's 1st!

So yes, guys. There are bad things. But there are good things.
LIke just now, Dem Lizzie Fletcher beats GOP incumbent John Culberson in TX-7!
Beto helped, you guys.
11:09: Wanna see a really fun one?
HOT. DAMN.
FUCK DAVE BRAT SOOOOOO HARD, GOODBYE.
11:13: By the way, you guys, Democrats have a net gain of 21 seats.

Also, OOH! OOH! New Dem congressperson for Oklahoma! Kendra Horn! She beat Steve Russell! OK-05! Oklahoma previous had NO DEMOCRATS IN CONGRESS!
11:17: Debbie Stabenow keeps her Senate seat in Michigan, so STFU to Fox News for being like "this black Republican John James might surprise everybody by beating her, because we're Fox News, and we think black voters are dumb! He took money from white supremacists, but that's probably OK!"

11:22: Angie Craig, a Dem, has defeated incumbent GOP dick Jason Lewis in MN-02!

Also, MSNBC just said actually now there have been 100 women elected to the House. SO THAT'S A THING.
11:44: MICHIGAN. LEGALIZED. WEED.

11:48: Welp. Claire McCaskill lost her seat.

Did the Russians rig the Senate but couldn't figure out how to rig the House?
12:12: LOLOLOLOL BETO IS GIVING THE MOST AMAZING "CONCESSION" SPEECH EVER AND HE SAID "I'M SO FUCKING PROUD OF YOU GUYS" AND HE ENUNCIATED IT AND IT PLAYED ON TV AND OMG THIS IS HIS 2020 ANNOUNCEMENT SPEECH.

12:16: HE IS SO FUCKING PROUD OF YOU GUYS
12:33: You guys still here? We are! Stuff is still happening! And we are still absorbing results! But yeah mostly we are watching Beto saying "fucking" over and over again, because that is our sexual orientation now.

12:34: OK, now we are going to bum you the fuck out, because look what Alabama and West Virginia did tonight:
Voters in Alabama and West Virginia have approved amendments to their respective state constitutions that seek to immediately ban abortion if Roe V. Wade—the landmark 1973 decision that made abortion legal nationwide—is ever overturned by the Supreme Court.
12:37: You guys, let's give New York's 27th a chance to take a bow for actually winning re-election for indicted GOP Rep. Chris Collins, EVEN THOUGH LIKE WE JUST SAID HE IS INDICTED AS FUCK RIGHT NOW.

Some people are just not good at America-ing. Like the voters of NY-27.
12:41: And holy Christ, Duncan Hunter in California too! He's under 60 indictments! Because that's OK!

Hell, maybe they'll have special elections after they go to jail.
12:44: AW HELL YEAH, YOU REMEMBER THIS GUY, RIGHT?
Also Maine flipped its state Senate blue tonight.
12:47: More Maine good news!

Shithole Maine Governor Paul LePage will be replaced by a DEMOCRAT LADY named Janet Mills! Hooray for Janet Mills!
12:50: Cough ABOLISH THE SENATE cough.

1:08 That beady-eyed little badger-fucker is hanging on for another hour or two at least! Looks like Walker might have the votes in Green Bay to close the gap with Evers. BUTBUTBUT there are 45,000 absentee ballots that Milwaukee is about to count right now! And Milwaukee is going pretty big for Evers, so .... NO ONE IS EVER GOING TO SLEEP!

1:40: Sorry, we are not updating OFTEN right now because we are tired and li'l bit drunk but Stacey Abrams is speaking and SHE IS NOT BEING CONCILIATORY.

Let's see if she says "fucking"!
1:45: Remember that what's happening in Georgia, if something surprising doesn't happen with the margin (Kemp is up 51-48 right now) tonight, they're looking for it to at least narrow to the point that Kemp is under 50. That means they go to a runoff. And then it just comes down to whose voters care more.

1:56: Of course.
Sure why not.
But more importantly, it looks like -- seriously -- Scott Walker might be about to go down in Wisconsin, because of some absentee ballots that just were counted from Milwaukee.
Seriously.
If this is the election that takes down Scott Walker ...
LOLOLOLOLOLOLOLOL
2:01: OH THANK GOD.
Clark is Las Vegas, if you didn't know.
2:17: The locals are reporting that Jacky Rosen has won in Nevada. HOORAY!
Oh yeah, did you hear we took Mark Sanford's seat in South Carolina?
And it looks like Mia Love lost in Utah too, but they haven't called it. So.
OK guys, we have had a lot of BEER, because, just like Brett Kavanaugh, we like BEER, but unlike Brett Kavanaugh, we don't assault women or men or anybody else. (Do we still have to say "allegedly" about Brett Kavanaugh's allegations? Oh well fuck it.)
What we are saying is that this liveblog is basically over, unless we come back, which is totally possible, but if we stay until the bitter end, we're not coming in tomorrow.
Oh yeah, looks like Scott Walker is going the fuck down and we won't know anything about Kyrsten Sinema until one million minutes from now.
Please tip your bartenders or just find me on Venmo, whatever!
Follow Evan Hurst on Twitter RIGHT NOW, DO IT RIGHT NOW!

Wonkette is the ONLY NEWS ON THE INTERNET. Please give us money RIGHT THERE BELOW if you want us to live FOREVER.
Evan Hurst
Evan Hurst is the managing editor of Wonkette, which means he is the boss of you, unless you are Rebecca, who is boss of him. His dog Lula is judging you right now.
Follow him on Twitter RIGHT HERE.