Here's The Most Fun Aspect Of John Boehner's Health Plan!
News
November 06, 2009 06:01 PM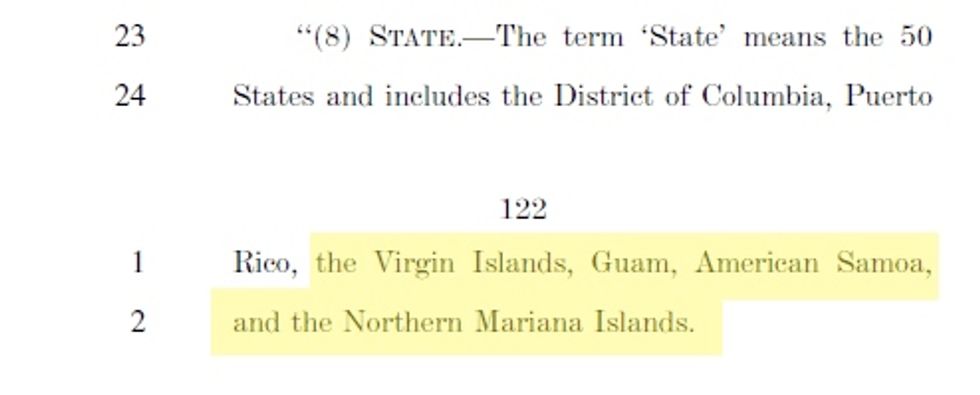 Now now, liberals, you can no longer smugly declare in political arguments, "the Republicans don't evenhave a health care plan," because they do! John Boehner released the GOP alternative plan a few days ago, and the CBO scored it, to much fanfare. It is but a modest (Very Responsible Centrist) plan to save America from the Muslims. One of its central tenets -- and the health care thing you've been hearing Republicans blab on about most, after they've exhausted tort reform -- is to allow consumers to purchase health care plans across state lines. Doesn't that sound nice, for competition and pricing? But what if... what if many of the health insurers then set up shop in the "state" of the Northern Marianas, where there is not a single law against anything?
---
No one really trusted the Republicans when they claimed their plan would introduce new regulations regarding coverage of people with pre-existing conditions, elimination of lifetime caps, etc. This might be one reason why (sorry if it gets wonky, THIS STUFF IS IMPORTANT, THE GOP PLAN MIGHT PASS!):
Under Title III 'State' is defined as the fifty states, D.C., Puerto Rico, the Virgin Islands, Guam, American Samoa and the Northern Marianas (p.122). Insurers are allowed to designate any 'State' as their 'Primary State' which if we go back to p.199 is defined: "the term 'primary State' means with respect to individual health insurance coverage offered by a health insurance issuer, the State designated by the issuer whose covered laws shall govern the health insurance issuer in the sale of such coverage under this part". On page 121 we see that 'covered laws' include such 'laws, rules, regulations' governing among other things the 'offer, sale, rating (including medical underwriting), renewal and issuance of individual health insurance to an individual'.

After a few pages of excruciating bureaucratese we come to the following on page 126: "The covered laws of the primary State shall apply to individual health insurance coverage offered by a health insurance issuer in the primary State and in any secondary state," And this is backed up by some mandatory disclosure language on page 130 that warns insurees that their new policy is not subject to any laws of the state in which it is purchased including those which might require "SOME SERVICES OR BENEFITS MANDATED BY THE LAW OF THE STATE". "ADDITIONALLY THIS POLICY IS NOT SUBJECT TO ALL THE CONSUMER PROTECTION LAWS AND RESTRICTIONS ON RATE CHANGES OF THE STATE". (CAPS in original).

Now this language is followed by a bunch more pages setting out rules about lawsuits and appeals but the bottom line is pretty clear: should private insurers choose they can officially choose the Virgin Islands or the Northern Marianas as the governing jurisdiction for all their individual insurance policies and their [sic] is basically nothing the states of California, New York or Washington can do about it.
This is not to suggest that there aren't endless streams of loopholes in every Democratic bill. But probably not nearly as many! Sometimes it takes 1,990 pages to weed them out.
Sweatshop Insurance: O'Boehner Care & the Northern Marianas [MyDD via Think Progress]