Hero Trump Lady Not Gonna Wear A Mask, 'Cause She's Not Even A Porn Burglar!
White Nonsense
June 18, 2020 01:25 PM
Trump idiots have all kinds of reasons to not wear masks in the time of coronavirus, and all of them are rooted in science. There are those who think they will get carbon dioxide poisoning, because of how it is a well-known fact that masks cut off all air supply to humans. (Or is that pillows? Oh well, who could possibly know!)
There are those who think masks are the thing that will take their Adonis-like faces and make them look like dorks.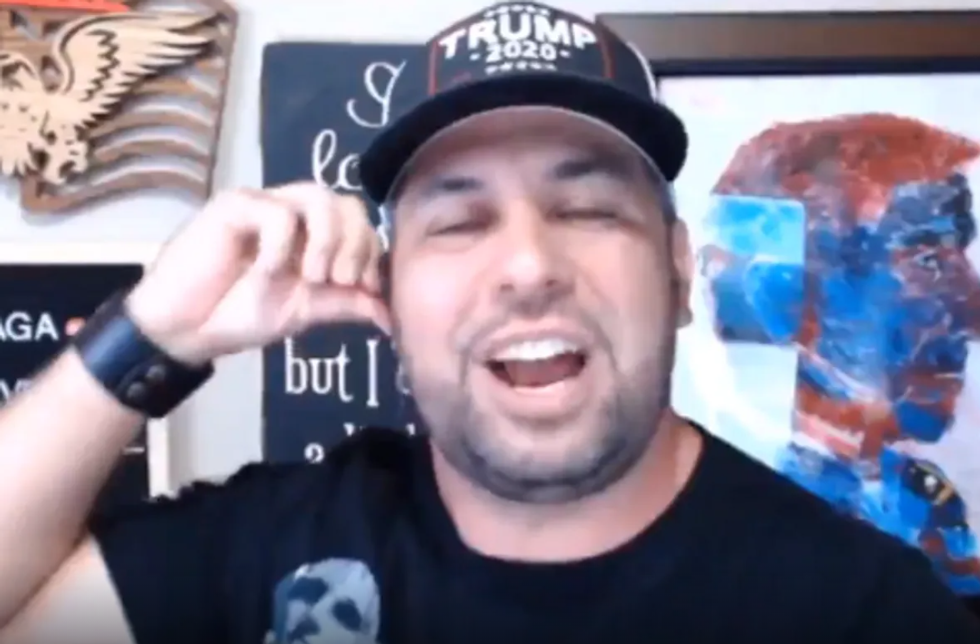 Oh yes, please don't cover up THAT sexuality with a mask!
But we'd like to introduce you to a MAGA lady in Ventura County, California, who has really thought through why she is not going to wear a mask, and she explained it to the board of supervisors earlier this week, before they voted to require masks in public. Her name is Deborah Baber, and she knows who wears masks. Antifa wear masks. Sex slaves wear masks. S&M bondage enthusiasts wear masks. Burglars wear masks. Pandering politicians wear masks. Victims wear masks.
Know what Deborah Baber's friends say about her? We don't know either, but we know they DON'T say, "Oh boy, have you met Deborah? She is the Antifa S&M Burglar!"
Know what kind of conversation Deborah Baber does not want to get into with her child at the Target, if she even has kids?
CHILD: Help! There's a PORN BURGLAR telling me what to do!

DEBORAH BABER: No, it's just Mommy!

CHILD: Stranger!

TARGET MANAGER: *calls the cops*

Therefore Deborah Baber is not going to wear a mask, because we guess she doesn't want people to mistake her for the Antifa S&M Burglar.
---
Far-right Trump supporter Deborah Baber goes off her rocker at Ventura County board meeting, 6/16/20 www.youtube.com
What is your favorite part of the video? Is it this quote?

I am a healthy American! I used to be free! I am not a terrorist! I am not ANTIFA! I am not a sex slave that wears masks! I am not into sado-masochism and bondage! I am not a burglar! I am not a pandering politician like we see here! and here! and here! and here!
Have you ever seen the miniseries version of Angels in America, where Emma Thompson, playing the role of The Angel America, introduces herself by dramatically saying, "I, I, I, I," repeating "I" several times just like that, loudly, to emphasize who she is? Trust us when we say this is just like that, except for Deborah Baber's distinct lack of being Emma Thompson.
I am a proud Trump Republican! Trump Republican! Yearning to be free again!
I, I, I, I AM THE CONTINENTAL PRINCIPALITY OF AMERICA! I AM A BIRD OF PREY! I WILL NOT BE COMPELLED!
WHO ARE YOU? VICTIM? OR VICTOR?
No really, y'all. It's like that.
Angels in America - The Angel Visits pt.4 www.youtube.com
Maybe she wasn't auditioning for Angels in America. (Might be a bit above her pay grade.) Maybe she was auditioning for the community theater's upcoming production of Braveheart. "THEY MAY make us wear masks when we go bargain shopping at the Big Lots TAKE OUR LIVES, BUT THEY'LL NEVER TAKE OUR FREEEEEEEDOM!"
Know what both Braveheart and Angels in America were missing, though? A little bell to ringy-dingy and shake back and forth a whole bunch. Deborah Baber had that, and she didst make it ringy-dingy while she incanted "Let Liberty Ring!" Her monologue wouldn't have been the same without it, quite frankly.
Also Deborah Baber followed that with an a cappella rendition of "God Bless America," which was completely serviceable. Most of the notes were right there on the piano scale where they were supposed to be, or reasonably close, and she didn't forget any of the words.
And we can't tell for sure from the video, but we don't think anybody in the room busted their shit out laughing like Green Shirt Guy, and you know why?
Because nothing funny had just happened, nothing funny at all.
Follow Evan Hurst on Twitter RIGHT HERE, DO IT RIGHT HERE!
Wonkette is fully funded by readers like YOU. If you love Wonkette, WE NEED YOUR LOVE GIFTS TO KEEP US GOING.

Evan Hurst
Evan Hurst is the managing editor of Wonkette, which means he is the boss of you, unless you are Rebecca, who is boss of him. His dog Lula is judging you right now.
Follow him on Twitter RIGHT HERE.