Herschel Walker Moves Back To  Georgia, Decides To Run For Senate, Sure Why Not
2022 midterms
August 26, 2021 04:20 PM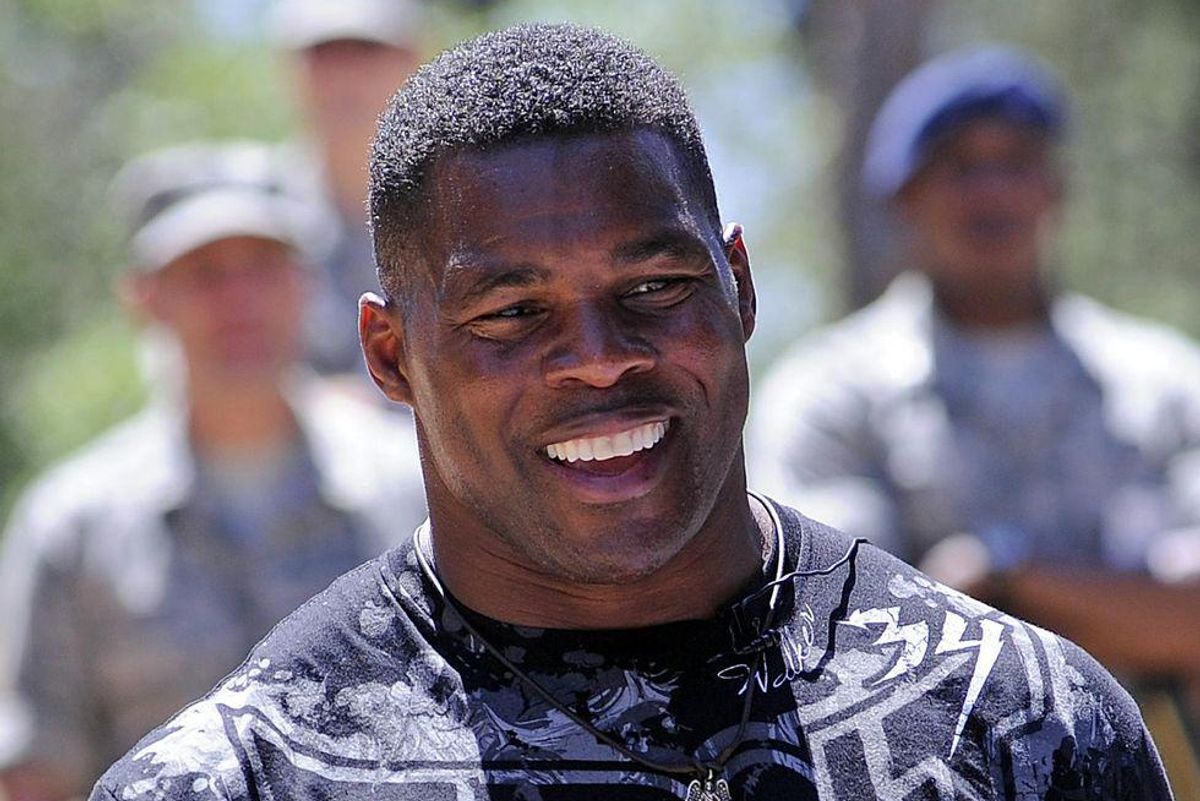 commons.wikimedia.org
"I don't know a single significant GOP operative who thinks Walker will lose the primary. I don't know a single significant GOP operative who thinks Walker will win the general," Erick son of Erick tweeted yesterday on the announcement that retired football star Herschel Walker had officially thrown his hat into Georgia's US Senate race. "There's a lot of frustration out there."
There is not a lot of frustration at Mar-a-Lago however, since Donald Trump is the one who engineered this whole candidacy, even getting Walker to move back to Georgia from Texas, where he's lived for decades.
"I think he'd win. I think it would be very, very hard to beat Herschel," Trump blarped to conservative talkshow host Buck Sexton back in June. "They have the ballads, they made ballads to Herschel. They still sing them all the time. So I think beating him would be very tough. And I think he's going to run."
THE BALLADS. Very subtle.
---
Indeed the former Georgia Bulldog and 1982 Heisman Trophy winner does have high name recognition in the state. That coupled with Trump's endorsement makes him a virtual shoo-in to win the Republican primary to take on Sen. Raphael Warnock, beating out Agriculture Commissioner Gary Black, Walker's closest rival. Unlike Black, Walker has no experience running for office or actually governing. But he does have ... other experiences.
Experiences like domestic violence, according to records from his divorce recently unearthed by the AP:
Four years later, in December 2005, Cindy Grossman, Walker's ex-wife, secured a protective order against him, alleging violent and controlling behavior.

Grossman has said she was long a victim of Walker's impulses. When his book was released, she told ABC News that at one point during their marriage, her husband pointed a pistol at her head and said, "I'm going to blow your f'ing brains out." She filed for divorce in 2001, citing "physically abusive and extremely threatening behavior."
With his creative accounting acumen, he'll be a natural for the Ways and Means Committee:
More recently, Walker has made outsize claims about his business record. In repeated media interviews, Walker claimed his company employed hundreds of people, included a chicken processing division in Arkansas and grossed $70 million to $80 million annually in sales.

However, when the company applied for a federal Paycheck Protection Program loan last year, it reported just eight employees. (It received about $182,000 in COVID-19 aid.)

In a recent court case, Walker gave far more modest revenue figures, indicating that the company averaged about $1.5 million a year in profit from 2008 to 2017.
And not for nothing, but his second wife Julie Blanchard is currently under investigation for voting illegally in Georgia when she lived in Texas. Which is rather inconvenient since Walker has been railing against supposed fraudulent and illegal voters for months.
"Play by the rules.....the American people demand ONLY LEGAL BALLOTS be counted. Anyone manipulating this election should be prosecuted," he tweeted on November 4.
"If we're residents in both places, is that legally wrong?" Blanchard complained to The Atlanta Journal-Constitution two weeks ago. "If you have multiple homes, you can't vote where you have a home?"
No, in fact, you cannot. But it appears we may have found someone even less prepared for life as a public official than Herschel Walker. Congrats, Mrs. B!
And not for nothing, but Walker has been very open about his struggles with dissociative identity disorder. Which is admirable, of course, but a 2008 book detailing his struggles with both suicidal and homicidal impulses may well come back to haunt him on the campaign trail.
Here in NOT GEORGIA, Walker's entry into the race looks to Wonkette like good news for the Blue Team. Do Republicans really think they're going to peel off Black voters with a guy who thinks the Black Lives Matter movement is funded by China? But if Donald Trump wants to fuck up Republicans' chances in Georgia again, who are we to complain?
Endorse your slate of crazies, Mr. President, Sir! Come out strong for Adam Laxalt in Nevada, Josh Mandel in Ohio, Ted Budd in North Carolina, Eric Greitens in Missouri, and Kelly Tshibaka in Alaska. Don't let that old coot Mitch McConnell stop you! You alone can fix it.
OPEN THREAD!
Follow Liz Dye on Twitter!

Click the widget to keep your Wonkette ad-free and feisty. And if you're ordering from Amazon, use this link, because reasons.
Liz Dye
Liz Dye lives in Baltimore with her wonderful husband and a houseful of teenagers. When she isn't being mad about a thing on the internet, she's hiding in plain sight in the carpool line. She's the one wearing yoga pants glaring at her phone.