Hershey's Chocolate Harshing Everyone's Buzz By Suing Over 'Reefer's Peanut Butter Cup'
News
June 05, 2014 11:25 AM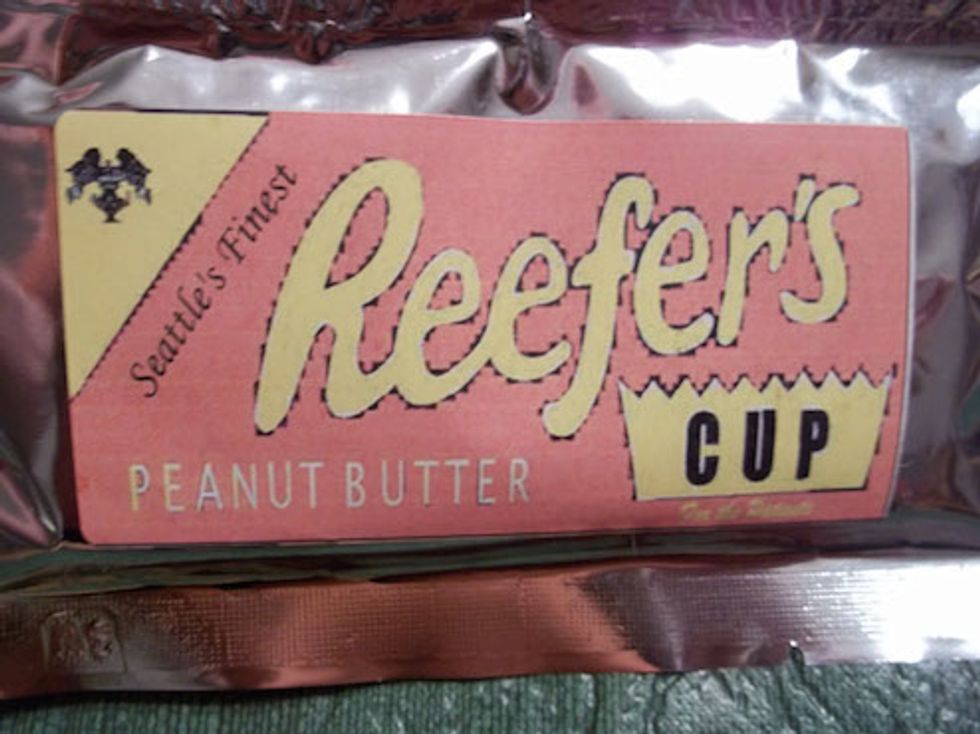 Just yesterday we had to remind you again of the terrible legit dangers of weed candy; namely that if you eat all of the delicious candy instead of one measly square, you will probably die. We overlooked an even greater danger of weed candy, however, which is that you might apparently be so stupid as to mistake your weed candy for regular candy. Mercifully, chocolate juggernaut Hershey is aware of this potential problem and has sued a Seattle dispensary to stop them from selling Reefer's Peanut Butter Cups and Mr. Dankbar. Thank them later.
---
Chocolate makers Hershey have filed a federal trademark infringement suit against a marijuana dispensary in Seattle saying some of the products it carries are potentially confusing for consumers, KIRO-TV reported.

"Consumers depend on our brand names to represent a level of quality and dependability," Hershey spokesperson Jeff Beckman was quoted as saying. "These entities have used Hershey's trademarks, without authorization, to trade on Hershey's goodwill and reputation, and to draw greater attention to their products; these unauthorized uses of Hershey's trademarks also make the products more appealing to children."
Dude, we hate to break it to you, but weed candy is pretty much by definition appealing to most children we have met, regardless of whether you dress it up Reese's. That said, we're pretty solidly on team Hershey on this one, sadly, because you generally cannot just stone cold steal the look and feel of someone else's iconic trademarked good and promote your thing with it instead. Lawyers fucking LIVE to write those cease and desist letters. LIVE. And from the sounds of it, this particular dispensary doesn't actually have much left once you take away the weak sauce parody ripoffs of other logos.
At the Conscious Care Cooperative location in North Seattle, the logos on the doors resembled that of the Sonics. Online a logo of theirs also resembles the logo of the Sounders FC.

Items for sale included many snacks and sweets that looked like Goldfish crackers, Gummy Bears, Cap'n Crunch and Rice Krispie treats.
Side note: we love the idea that you have to dress up your ostensible pharmaceutically necessary drug in order to get people to take one version of it over the other. When you go to CVS you do not care if they give you the Vicodin that comes in the round white tablet or the long oblong caplet shaped version, because you just want the fucking Vicodin, but weed-needing sufferers must be a particularly capricious lot that need constant marketing and redecoration to woo their whimsical tastebuds. Looks like Conscious Care Cooperative (god, we're irritated just typing that name) will have to get you to buy their weed candy without fooling you into thinking you've picked up a Hershey's classic. However will they cope? Oh right, they will cope because people FUCKING LOVE WEED.