Hey, Here Is a Photo of Obama Egypt Anti-American Groups Can Use!
News
January 28, 2011 04:37 PM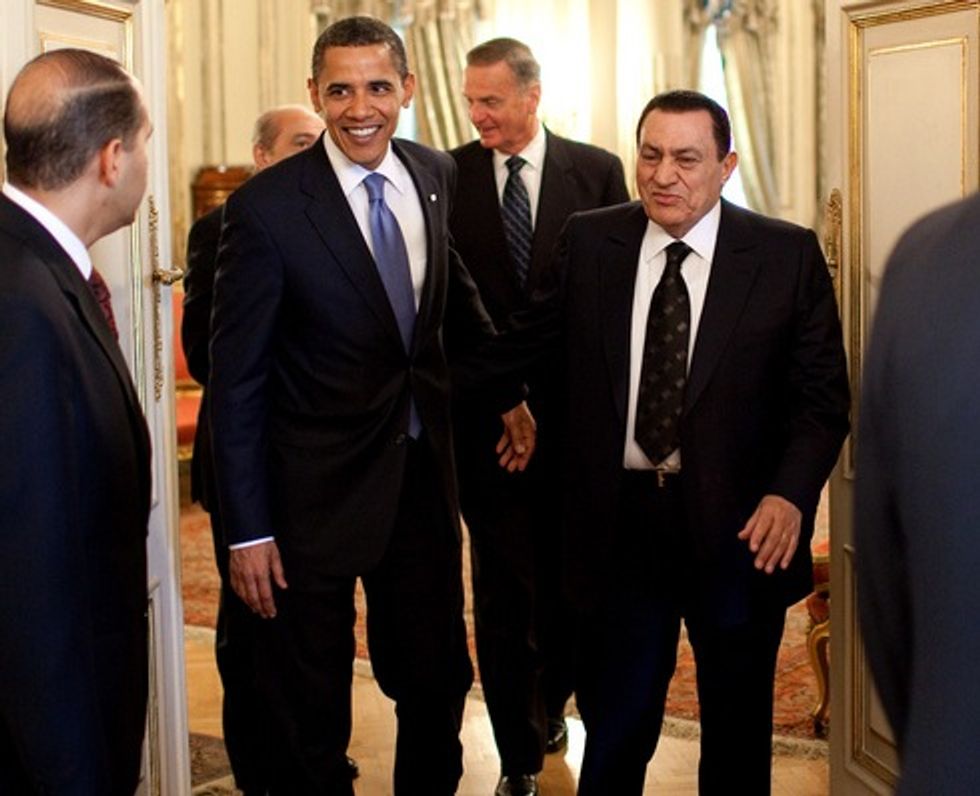 Hey America, guess what your government did today? It sad idly while some security forces it funded in another country set their hoses on anti-dictatorship protesters who were praying. Yes, it appears that Egypt has gone to crap, and its authoritarian regime may soon crumble in the name of freedom. And where will the American president be in all of this? Standing next to that dictator, smiling, on millions of election posters for anti-American political parties very soon. There are many of these photos to choose from! Yes, the people of the Muslim world finally are standing up for themselves and for freedom, just like ol' Georgey Bush wanted. But the United States of America is not joining them. Oh, there will be a "review" of our relations with this regime in "coming days," according to Robert Gibbs. Hmm, too late? Decades too late, maybe?
---
White House Press Secretary Robert Gibbs told reporters Friday that the U.S. is reviewing its aid to Egypt in the wake of the violent protests taking place in the country.

"We will be reviewing our assistance posture based on events now and in the coming days," Gibbs said. [...]

He added that the White House is "deeply concerned about the images and the events we see in Egypt today."
Dear people of Egypt, we did give a shit when you were taking down your dictator, okay? We were deeply concerned! We just didn't really do anything about it.
Sincerely, the Leaders of Democracy in the World, America. [Flickr/CNN]