HEY MICHAEL COHEN, SHOW US THAT FUCKIN' PASSPORT AGAIN!
Russia
April 13, 2018 07:55 PM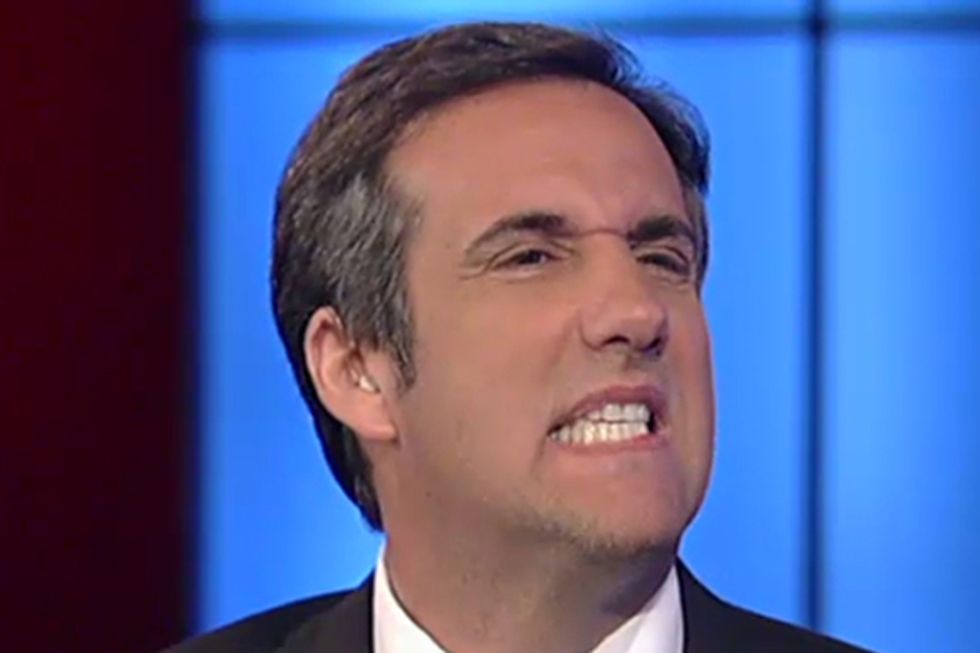 ---
Remember that time the DODGY DOSSIER was published, and while errbody else was like "WHEE PEE PEE TAPE!" Trump dipshit fixer lawyer Michael Cohen fixated on a different part, which was an obvious LIE about how he had secretly gone to Prague, to act as a fixer to fix all the poop messes Paul Manafort had made in conspiring with the Russians?
Here is what the DODGY DOSSIER says:
WHOA IF TRUE, right?
Later in the DODGY DOSSIER, it got worse, saying Cohen's role in the Trump-Russia conspiracy had grown BIGLY in Manafort's absence, and that he was cold meetin' all the time with Russian government officials AND HACKERS, aiding and abetting a cover-up to hide the conspiracy that included, among other things, how the Trump campaign and Russia had PAID RUSSIAN OPERATIVES AND HACKERS to fuck Hillary Clinton (in the electoral way) and other stuff, like such as.
Seriously, babes, read all this and refresh your lovely selves:
But Michael Cohen proved this was all #FakeNews, tweeting out that NUH UH I HAVE NEVER BEEN TO PRAGUE, and to prove he wasn't sayin' no lies, he tweeted a picture of the cover of his passport, but not the inside, which proves STUFF, YES IT DOES TOO PROVE STUFF, AND MICHAEL COHEN WILL MAKE YOUR FUCKING LEGS BREAK IF YOU SAY IT DOESN'T PROVE STUFF:
And here is a video of Donald Goddamned Trump saying NO PRAGUE, NO PRAGUE, HILLARY IS THE PRAGUE:
Here is Trump saying that his lawyer Michael Cohen was not in Prague, it was a different Michael Cohen.

Liars, all of them. I'm so happy Mueller is in charge. pic.twitter.com/LY1dOS0D1O

— Denizcan James (@MrFilmkritik) April 13, 2018
[wonkbar]<a href="http://89.223.24.149/624166/do-republicans-hate-the-trump-pee-hooker-dossier-because-its-too-true"></a>[/wonkbar]We have said ONE MILLION TIMES that even if Cohen had tweeted an open passport and it didn't have a stamp that said "PRAGUE," it wouldn't necessarily matter, because the Czech Republic is in the Schengen Zone, AKA that wide swath of Europe where you ain't need no stinkin' passport to cross borders, so it could have said "Italy" or it coulda said "Switzerland" or it coulda said ... IT COULDA SAID "GERMANY."
WELL WELL WELL WELL WELL!
WELL!
Are you ready for us to tell you the thing that made us postpone our weekend drinking so that we could write you this on Friday night? Haha, we will let McClatchy tell you, because they broke the story!
The Justice Department special counsel has evidence that Donald Trump's personal lawyer and confidant, Michael Cohen, secretly made a late-summer trip to Prague during the 2016 presidential campaign, according to two sources familiar with the matter.
YES?
It's unclear whether Mueller's investigators also have evidence that Cohen actually met with a prominent Russian – purportedly Konstantin Kosachev, an ally of Russian President Vladimir Putin — in the Czech capital. Kosachev, who chairs the Foreign Affairs Committee of a body of the Russian legislature, the Federation Council, also has denied visiting Prague during 2016. Earlier this month, Kosachev was among 24 high-profile Russians hit with stiff U.S. sanctions in retaliation for Russia's meddling.
WE'RE SURE BOBBY THREE STICKS WILL FIGURE IT OUT, GET TO THE POINT, MCCLATCHY:
... [I]nvestigators have traced evidence that Cohen entered the Czech Republic through Germany, apparently during August or early September of 2016 as the ex-spy reported, said the sources, who spoke on condition of anonymity because the investigation is confidential. He wouldn't have needed a passport for such a trip ...
WHY? ANY PARTICULAR REASON THAT WONKETTE MIGHT HAVE MENTIONED BEFORE?
... because both countries are in the so-called Schengen Area in which 26 nations operate with open borders. The disclosure still left a puzzle: The sources did not say whether Cohen took a commercial flight or private jet to Europe, and gave no explanation as to why no record of such a trip has surfaced.
NO COLLUSION! NO COLLUSION! Oh wait, it sounds like there might have been a fuck-load of collusion! And if Donald Trump knew about it? He's fuuuuuuuuuuuuucked.
IF YOU HAVE EVER MET DONALD TRUMP, OR IF YOU ARE DONALD TRUMP, PLEASE GO TO JAIL, DO NOT PASS GO, DO NOT GO TO PRAGUE THROUGH THE SCHENGEN ZONE ON THE WAY, THE RUSSIANS CANNOT SAVE YOU NOW.
The entire point of this post is that Michael Cohen is fucked and the dossier is true and now it is Wonkette Christmas, NOW BUY US A DRINK, BY CLICKING THE BUTTON BELOW.
Follow Evan Hurst on Twitter RIGHT HERE.
Are you a fairly regular Wonkette reader and have had a nagging little voice for some time saying "you should throw Wonkette a buck every month"? We would surely appreciate it!
Evan Hurst
Evan Hurst is the managing editor of Wonkette, which means he is the boss of you, unless you are Rebecca, who is boss of him. His dog Lula is judging you right now.
Follow him on Twitter RIGHT HERE.