Hey Who's This Loretta Lynch Gal That Might Be Our New Attorney General Maybe?
News
November 07, 2014 12:57 PM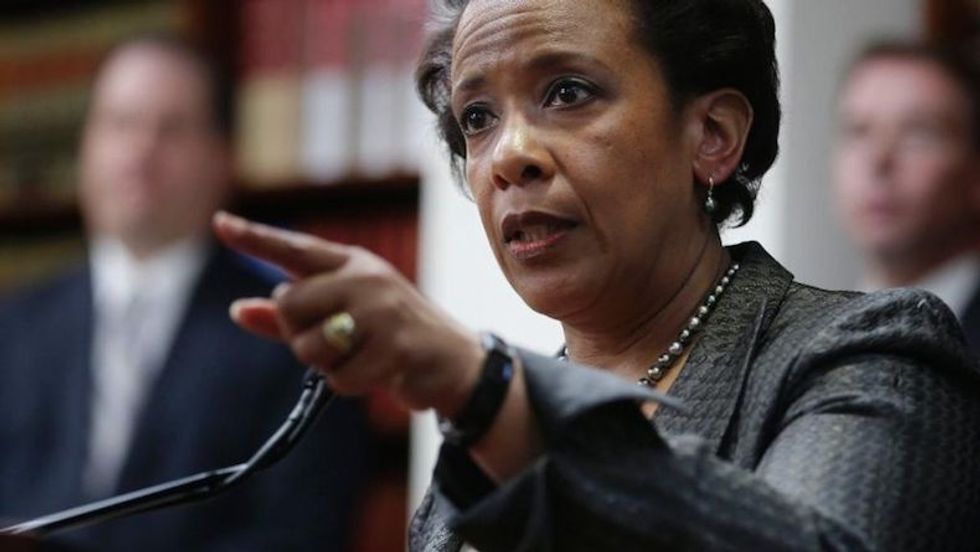 Eric Holder told us a while ago that he's resigning as Attorney General to spend more time with all his Black Panther buddies. Who would replace him as the nation's top cop? No one knew -- the thinking was that if Obama named a potential successor, every Democrat would have to have an opinion on the successor, and that might be the kind of thing that could really hurt the party's chances in the midterms
---
Haaaaahaahahahahahhaha, it feels good to laugh again, doesn't it?
Well, the midterms came and went, and now we're looking at a new Attorney General nominee, and it will maybe be Loretta Lynch from Brooklyn according to two anonymous sources who talked to NPR, so who knows!
Two sources familiar with the process tell NPR that Loretta Lynch, the top prosecutor in Brooklyn, could be nominated by President Obama as attorney general in the coming days.

Lynch is the lead federal prosecutor in a district that serves 8 million people. But outside of law enforcement circles, this daughter of a preacher is not widely known. Friends say that's because Lynch prefers to let her cases speak for themselves.
And boy howdy have you heard of her cases before. Remember a fella by the name of Abner Louima? Haitian bro, got forcibly sodomized with a broken-off broom handle by members of the NYPD? Lynch was the prosecutor who put one of Louima's attackers behind bars for 30 years.
How about Staten Island Rep. Michael Grimm, you guys? Remember him? Lynch was the one who brought the tax evasion and fraud charges against Grimm. That case has yet to go to trial, but if Lynch wins, we will be sure to remind you all about how she used the force of law to break Michael Grimm, like a boy.
The White House has yet to nominate Lynch, and as such, the NINE full-time staffers at Twitchy have yet to compile a rundown of conserva-tweeters' spittle-flecked, 140-character jeremiads. But this bit in the Wall Street Journal's article about Lynch should make them go "Buh?" and turn their heads like your dog does when it doesn't know what's going on.
[Lynch] attended an elementary school with mostly white students, and recalled scoring high on a standardized test. Administrators demanded the young Ms. Lynch retake it, she said.

Ms. Lynch's mother fought back, saying the score wouldn't have been questioned if her daughter was white. Ultimately, Ms. Lynch took the test again and, to her mother's "great delight," scored even higher, she said.

Ms. Lynch also should have been her high school's first African-American valedictorian, she said. But after much hand-wringing, school administrators decided she had to share the honor with two other top-scoring students — one black, the other white.

"We were all friends," she said, "and we all thought this is really dumb. But it became a huge deal."
Take heart, conservatives! Loretta Lynch is a victim of affirmative action, too, so now you have to love her! It is truly a new day in Mitch McConnell's Ted Cruz's America!
Follow Dan on Twitter. He does not employ nine full-time staffers.