Trump Admin As Good At $300 Million Coronavirus Propaganda Campaign As Everything Else It Touches
coronavirus
September 30, 2020 12:38 PM
Who wants to watch Medicaid chief Seema "Dragon Lady" Verma share the good word on coronavirus with Justin Timberlake?
What, nobody?
Ah, well. It's probably for the best, since that particular episode of The COVID Happytalk Funtimes Show never made it to production. But not for lack of trying by recently departed GOP flack turned Department of Health and Human Services comms czar Michael Caputo, who requisitioned $300 million of coronavirus funds from the CDC to shoot a series of uplifting PSAs to "defeat despair" and boost confidence in the Trump administration's handling of the pandemic. The fact that this effort was timed to produce results before the election is entirely coincidental, of course.
Politico's Dan Diamond has been all over this story from the jump. Apparently, the HHS staffers were less than stoked to shoot what amounted to campaign videos for Trump telling America we've rounded the corner on the whole virus thing. Go know!
"This is a boondoggle," an HHS source told Diamond. "We're in the middle of a pandemic … we could use that quarter of a billion dollars on buying PPE, not promoting PSAs with C-list celebrities."
---
Which is way harsh! They weren't planning to use C-list celebrities. If they couldn't get Timberlake for Verma, they were willing to settle for Lady Gaga or Taylor Swift or even Eminem. And the celebrity matchmakers at HHS were hoping to set CDC Director Robert Redfield up on a hot date with Garth Brooks or Jennifer Lopez.
No, really! Just look at this shit.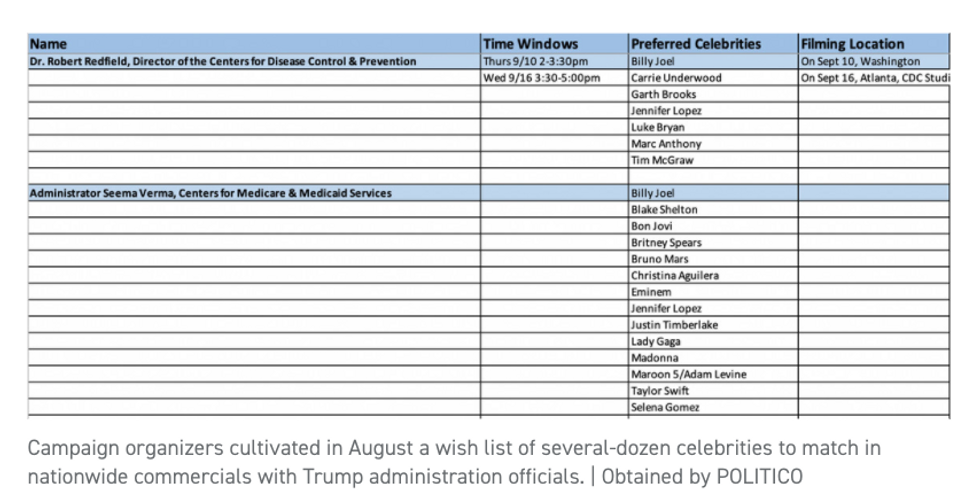 Who on earth thought that Jon Bon Jovi, a major Democratic donor, would lend his support to Donald Trump? At the end of the day, they wound up with Dennis Quaid, gospel artist CeCe Winans, and Hasidic singer Shulem Lemmer. Even Dr. Oz pulled out when Diamond's stories about the "boondoggle" started dropping.
"It would be malpractice to my client," said one star's agent of the HHS effort to enlist his client in this debacle. "There are other ways to raise coronavirus awareness than partnering with the Trump administration."
So how the hell did this even happen? Well, as so often happens, personnel is policy. And the person directing this effort as Caputo's health issues caused him to become progressively, uhh, distracted was his assistant Madeleine Hubbard, a 22-year-old recent college grad with no public health or media experience, whose main qualification appears to be leading the University of Illinois's chapter of Turning Points USA.
While HHS spokesman Mark Weber said Hubbard was primarily responsible for "scheduling," sources told Diamond that she continually inserted herself in the campaign, supervising the photo shoot with Lemmer last week in New Jersey and drafting plans which "specified that she would personally help design billboards and select which outlets to target with advertisements."
But what would a Trump administration story be without cronyism? (That's a trick question, there's no such thing.)
After Caputo smashed the laboratory window and grabbed $300 million from the CDC, HHS immediately turned around and handed a whopping $250 million to market research firm Fors Marsh. That firm is cooperating with the Democratic congressional probe of the contract, but despite the massive size of the contract, the fuckery is more likely located in the $15 million to the consultants at Atlas Research, who dutifully hired the video company DD&T on the recommendation of HHS.
In a remarkable coincidence, DD&T turns out to be run by Caputo's former business partner Den Tolmor.
Tolmor — who was paying Caputo to handle his public relations before Caputo joined the health department in April, according to Caputo's HHS ethics form — has overseen collecting the footage and preparing the PSAs. Two people involved in the process said that Tolmor and his small team at DD&T have been overwhelmed by the task, with staff coming on and leaving the project in a revolving door.
Tolmor, who'd never shot a US public health campaign, was foundering even before Diamond's reporting made the project toxic. Apparently just being pals with Caputo doesn't automatically grant you entrée with Hollywood celebrities, or even competent videographers. Go know!
"It's been a total mess," said one person involved in the process, who described a rush to produce at least 20 public service announcements by Election Day, a time-intensive process that involves considerable scheduling, recording, editing and post-production work for each celebrity interview. "The team should have been recording one celebrity per day. Instead, they've been only recording one per week or, actually, less."
"They had no reason being the people working on this campaign," the source told Diamond. "They did not have any connections to filming crews, companies or anything."
So, it's a clusterfuck of the highest order. And you, the American taxpayer, footed the $300 million bill. Promises made, promises kept ... or something.
[Politico]

Follow Liz Dye on Twitter RIGHT HERE!

Please click here to support your Wonkette. And if you're ordering your quarantine goods on Amazon, this is the link to do it.
Liz Dye
Liz Dye lives in Baltimore with her wonderful husband and a houseful of teenagers. When she isn't being mad about a thing on the internet, she's hiding in plain sight in the carpool line. She's the one wearing yoga pants glaring at her phone.