Horse Porn-Loving Trump Racist Sorry You Got Offended By His Racism Again
Post-Racial America
December 28, 2016 09:30 AM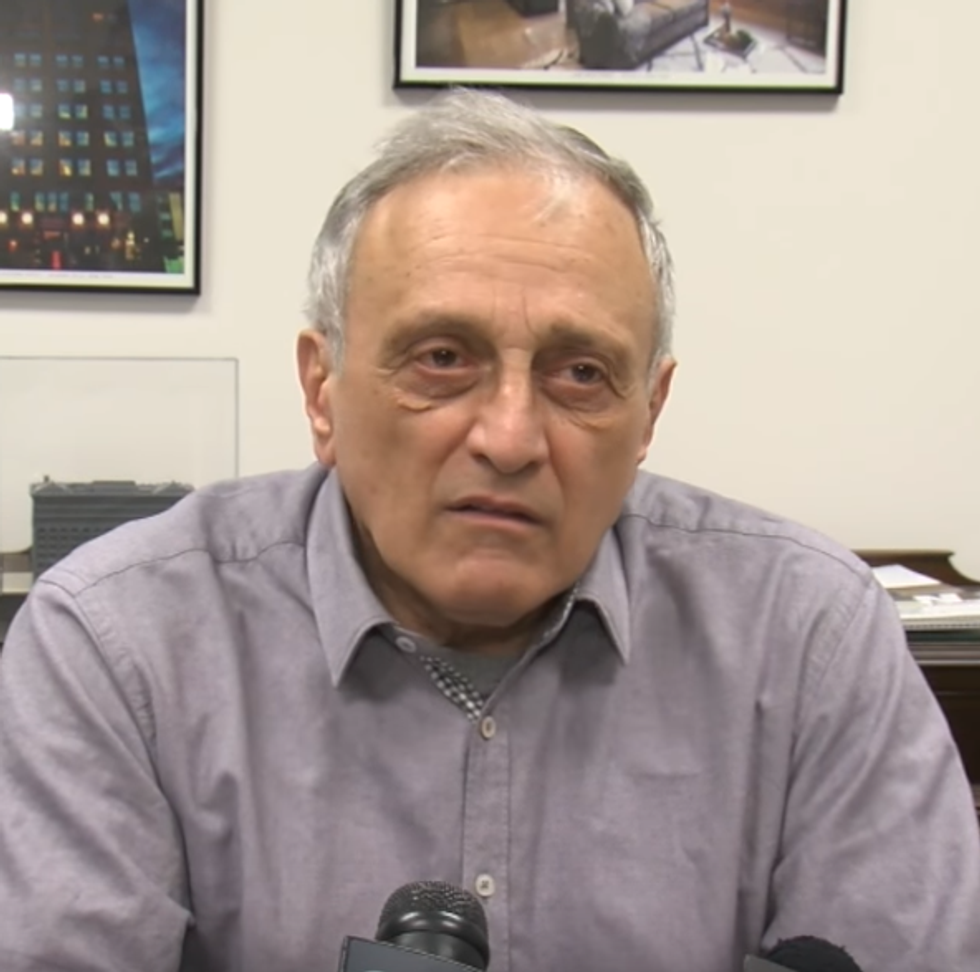 sooooo sorry, his bad you guys
---
Oh dear. Remember that Buffalo, New York, businessman, school board member, and Donald Trump-lover Carl Paladino, what upset you so before Christmas, by saying his 2017 wish list was that Barack Obama would die of Mad Cow Disease and Michelle Obama would become a man and go live in Zimbabwe with a gorilla? Um, he is mega-sorry for making all those gorilla Obama jokes (again), and wants to reassure everyone of how not racist he is. You see, the questionnaire where he listed his hopes and dreams for 2017 just came at a time when he was "wired" and upset about Aleppo, so he did what everyone does when they've had one too many sody-pops and can't stop crying about Syria: He wished the president dead and made gorilla jokes about the first lady :(
when he was caught
sending racism emails and horses fucking human ladies emails to all his best racially transcendent pals. (OH WHAT, IS IT "BIAS" OF US TO REMIND YOU OF THAT RIGHT BEFORE WE PASTE HIS STATEMENT ABOUT HOW SORRY HE IS? Pffffffffft!)
I never intended to hurt the minority community who I spent years trying to help out of the cycle of poverty in our inner cities. To them I apologize.
He never woulda sent those hilarious LOL jokes if he thought he was gonna hurt The Coloreds' feelings like this.
I received your emailed survey at an emotional moment after I had just listened to Obama's statement that he regretted the slaughter in Aleppo that, in fact, resulted from his failed and cowardly foreign policy, a policy to look the other way while innocent people were murdered and starved. I view Barak Obama as a traitor to American values. [...]

Your survey questions provided me with the spark to vent and write deprecating humor about a bad President for whom the main stream media continues to seek an undeserved legacy. I wanted to say something as sarcastic and hurtful as possible about the people so responsible for the hurt and suffering of so many others. I was wired up, primed to be human and make a mistake. I could not have made a worse choice in the words I used to express my feelings.
He was CRYING about Aleppo, and he was so mad at Obama that he got sparked in his underpants and wrote "deprecating humor" about wishing the president was dead and the first lady would be the transgender roommate of a gorilla in Africa. HA HA! But he regrets those words and will try to say his feelings better next time :(
Interspersed throughout Paladino's apology is a bunch of shit about being on the Buffalo school board, which we find boring, but if you really need to read it, go to the source. We will be skipping to Paladino's next excuse for his latest little racist oopsie:
I publicly took responsibility for what I said and confirmed those were my answers, but believe it or not, I did not mean to send those answers to Artvoice. Not that it makes any difference because what I wrote was inappropriate under any circumstance. I filled out the survey to send to a couple friends and forwarded it to them not realizing that I didn't hit "forward" I hit "reply." All men make mistakes.
THANK GOD he wasn't so emotional and hyper that he accidentally attached some horse porn to his answer sheet.
What is horrible is explaining to my 17 year old daughter how her hero could be so stupid.
Daddy bad :(
What is horrible is watching my family and friends react to the rabid hordes of attacking parasites we now call activist progressives.
Liberals bad :(
As Paladino veers non-racistly toward his conclusion, he says he's proud he helped "make history" (with Trump we guess), and poops some more on "vanquished progressive haters" who are "spewing their venom" because they're angry and sad about their "humiliating defeat." Finally, he says he's not leaving the school board, because fuck you is why, and also too, in conclusion:
I certainly am not a racist.
CASE CLOSED WE GUESS.
[WBEN]
Evan Hurst
Evan Hurst is the managing editor of Wonkette, which means he is the boss of you, unless you are Rebecca, who is boss of him. His dog Lula is judging you right now.
Follow him on Twitter RIGHT HERE.