Mubarak To Retire, Spend More Time Being Dictator To Family
News
February 01, 2011 04:55 PM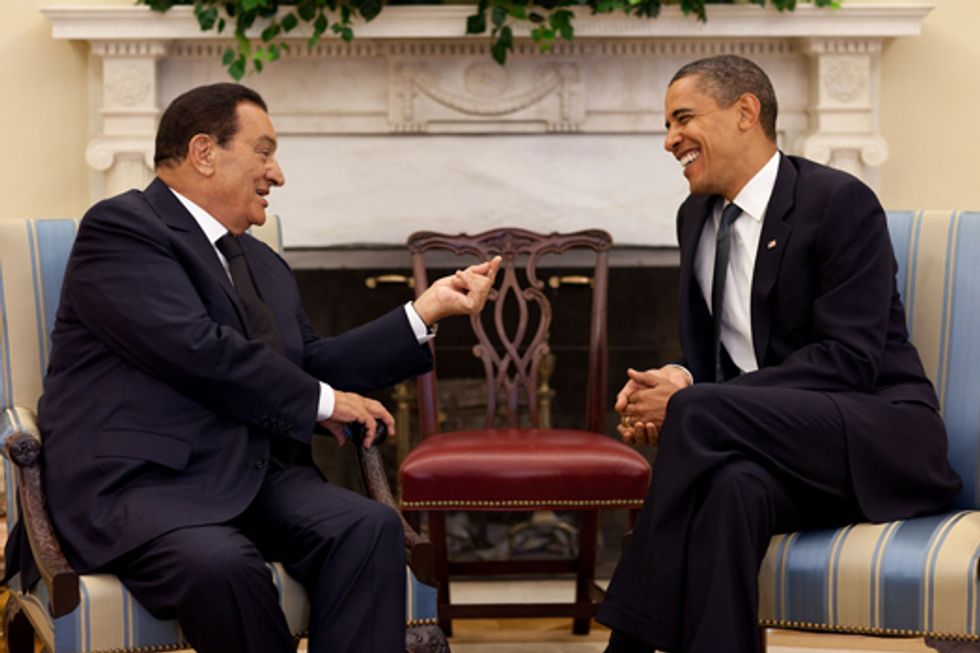 Egypt President Hosni Mubarak has finally given into protests somewhat, saying hewill not "run" (as if he ever has) in the fall for a new term in office. Woah! It's as if public sentiment could stop him from winning another election! "I have spent enough time serving Egypt," he said, which, coincidentally, is exactly what those million protestors were just thinking. It's amazing how they think so alike, he and the protestors! Mubarak has probably been so quiet the last week because he was right down there with the protestors and only just now realized that he was the guy they were protesting. Anyway, we didn't watch this live, but we assume Mubarak rattled something off about "bipartisanship," said he wanted to spend more time being a dictator to his family, and thanked his close personal friend and mentor, former New York Governor David Paterson.
---
Buuuuuuut:
Protesters in Cairo's Tahrir Square, where thousands have gathered for days to call for his ouster, erupted in cheers with the announcement -- but several of them have said they will continue to demand Mubarak's immediate resignation.

"This is not enough," Mahmoud Safi, a lawyer taking part in the Cairo demonstrations, told CNN after reports of Mubarak's impending announcement emerged. "We have one request. We want him to leave our country now, immediately, not tomorrow."
Wait a second! Jeez! Give him time to finish the pyramid! [CNN]