Hot 'Extremely Graphic' Pixxx of U.S. Soldiers Murdering Afghan People
News
March 28, 2011 03:37 PM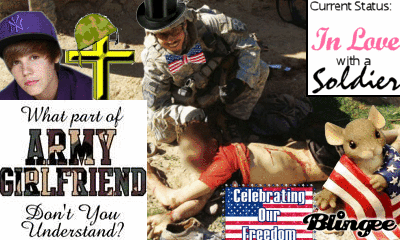 Wow, we arenot even going to click through these, because we kind of remember the last several batches of "extremely graphic" pictures of U.S. troops and U.S. military contractors murdering and torturing Muslims in the various countries where America continues to murder and torture people, for Freedom. In fact, we're going to cover our eyes with a couple of those yellow "I support the troops" car magnets we keep in the garbage, just in case. But if you need some help understanding/remembering why the American Empire is Evil, then please do enjoy (?) these photos of brainwashed meatheads smiling and posing with the corpses of the people they've murdered, thanks to your taxpayer dollars.
---
Of course, not all American troops wantonly murder and torture and rape people all over the world! Most troops simply fuck off and bide their time, hoping to make it home alive and relatively intact. And that is honorable, especially considering the alternative in 21st Century America for most young American men, which is "unemployment."
But for every grinning little murderer in fatigues pictured leering over a bloodied, disfigured corpse, there seems to be a couple of hundred simpatico illiterates filling up the comments pages at Rolling Stone, for the the sin of publishing these pictures that military sadists have been passing around themselves in the idiotic belief that such gruesome evidence of American Military Evil wouldn't find a wider audience:
Julio T___

1 minute ago

IT'S A SHAME OUR COWARD POLITICIANS WON'T TAKE THE LEASH OFF OF OUR GUYS AND LET THEM REALLY GET THE JOB DONE OVER THERE INSTEAD OF THE MICKEY MOUSE BS THEY HAVE TO ENDURE. WHY DON'T WE SHOW THE PICS OF AMERICAN SOLDIERS AND CIVILIANS THAT WHERE MURDERED AND ARE STILL BEING MURDERED BY THE UNGRATEFUL PRIM EVIL SAVAGES. I SAY, "LOOSE THE DOGS OF WAR" AND LETS GET OUR PRECIOUS BOYS AND GIRLS HOME ALREADY.

Sean B Usmc

3 minutes ago

FUKC Those Haji B@stards and FUKC you too Rolling Stones for making this seem wrong. You dont know what war is and you have no idea what it does to people. They were setting up mines to kill AMericans. Dont like how it was handeled. FUKC YOU, and FUKC all you liberal clowns on this site too

Ed H______

59 minutes ago

Thank You for cancelling my subscription! People who expect warriors to act like Sunday School Teachers need to grab a gun and stand the front line themselves instead of making criminals out of our soldiers. Rolling Stone is an out-of-touch elitist music magazine populated by writers who have never done a single thing for anyone other than their own bloated bellies and dr*g-infested hangers-on. As they sit in the million-dollar offices they attack our soldiers making less than minimum wage. The true l*w-life's and sc*m-of-the earth persons reside in the offices of RS, not our soldiers' barracks! In the end, our soldiers give their lives for something bigger than themselves...unfortunately so do the RS writer's it just so happens that a pile of dog fecOs has greater worth than the whole staff of this magazine!

Will

via Twitter

who r u to judge, u ever been the man in the "arena"? U ever been near the "arena"? Do u have balls to fight 4 ur country.

Don H___

13 minutes ago

Yeah, this is ALMOST as horrifying as 3 month old babies having their throats slashed by Palestinians. Get your priorities straight people. It's called war for a reason.
Uhh, Palestinians?
Haha and then this one guy is all, Oh yeah, well FUCK soldiers, that's what! He is totally going to be beaten up by his older brother, if his older brother makes it home from Afghanistan:
Matt C____

1 hour, 21 minutes ago

F&ck soldiers. All of them. All I hear them do is b11tch and whine, and tell me, "Support your troops" and "Thank me for your freedom". Please. These men are propped up in society to look brave and courageous, when in real life, they are cowards and losers. It's easy to go off to war to die when you suck at life. You couldn't get a REAL job or a REAL education, so you take the easy route and join the military. You CHOSE to fight for NOTHING, and now you ret@rds have the nerve to ask ME to thank you for MY FREEDOM? Please. The U.S. government is more of a threat to U.S. citizens than any Afghan or Iraqi. Everyone here needs to remember that when our government decides they don't want us having freedom anymore, it will be THESE SAME soldiers who will be rounding US up and placing us in concentration camps. So, go fight your useless, pointless wars... Go feel special, and courageous... Go kill people for no reason if it makes you feel "brave" or "strong". But don't you DARE ask me to "thank" you for sh!!t. You're all worthless bullet sponges as far as I'm concerned. You couldn't do anything useful in American society, so we sent you to die in the desert. Get it over with already, losers. Your flag-draped casket and sanctimonious, crying "military family" won't mean anything when you're headed to HE11. The sooner the better. I spit on the U.S. military. Disappear.
Anyway, enjoy the photos (or don't, really). Just takes some dr*gs instead. [Rolling Stone]