House GOP Won't Investigate Russia's Own Michael Flynn, It's Not Like He's Hillary Clinton!
News
February 14, 2017 04:30 PM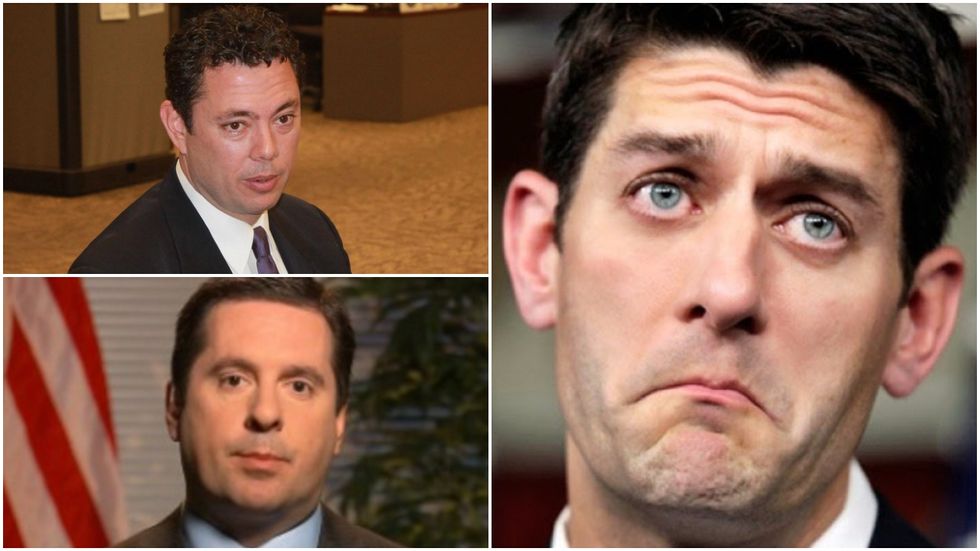 Three idiots.
---
So, Mike Flynn resigned as Donald Trump's national security adviser because he lied about lying about having improper contacts with Russia, and oopsie, the media found out, so under the bus he goes! Of course, the story is NOT OVER, because it's obvious that there is much more we need to know about Flynn's Russian connections, what he did for Donald Trump, who told him to do it, and then beyond Flynn, there is MUCH INVESTIGATIN' that needs to be done to get right to the bottom of the Trump team's collusion with Russia to "win" the election, and also whether Trump or his associates are being blackmailed by Russia.
[wonkbar]<a href="http://wonkette.com/612710/dear-media-mike-flynns-resignation-does-not-mean-trumps-russia-scandal-is-over"></a>[/wonkbar]Therefore, obviously, our Republican House leadership is setting aside petty partisanship and putting their patriotic hats on and getting ready to investigate, because they love America so much that HAHAHAHAHAHA WE CAN'T EVEN TYPE THIS PARAGRAPH.
Republicans in the House are craven pussies who do not love America or the Constitution or democracy or single-teared bald eagles or even that "Proud To Be An American" song. They love power, and they are cowardly whores.
Let's quickly visit with three Republicans in House leadership and let them tell us why they're not going to investigate Mike Flynn. First up, House Oversight Committee Chair Jason Chaffetz, who pops a wee tent in his magic Mormon Underoos when he gets to investigate anything with Hillary Clinton's name on it:
"It's taking care of itself," Chaffetz told reporters Tuesday, according to Politico's Kyle Cheney, adding that further investigation would be up to the House Intelligence Committee.
Oh, we love it when investigations are so efficient they take care of themselves, like are Mike Flynn and Donald Trump in jail already? Chaffetz must have really taken it to heart when a couple thousand of his constituents showed up at a town hall to scream at his ass and tell him to DO HIS FUCKING JOB. Just kidding, he decided they must have all been paid to show up and yell at him, because who WOULDN'T love Jason Chaffetz?
But fine, Chaffetz referred us to the House Intelligence Committee, so we will ask its chair, Rep. Devin Nunes: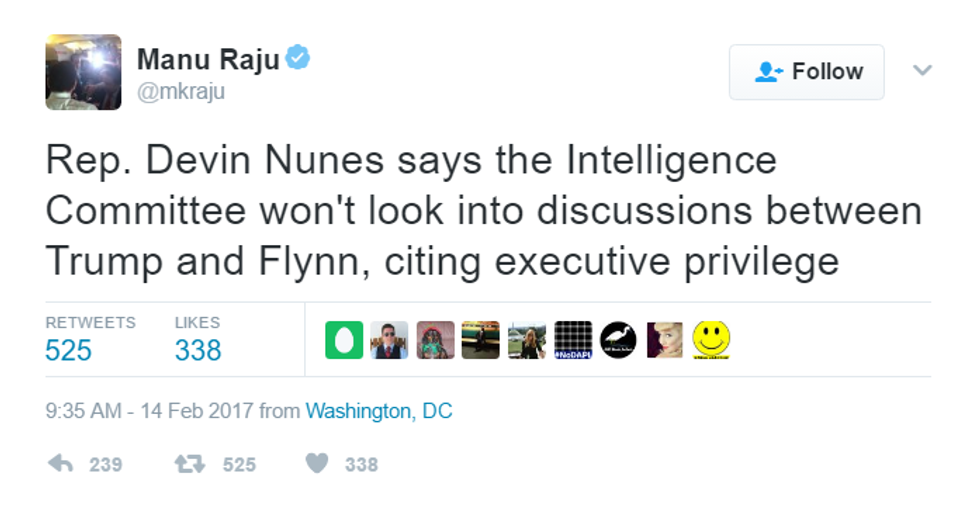 Wait, it gets better, and dumber:
"I expect for the FBI to tell me what is going on, and they better have a good answer," said Rep. Devin Nunes (R-Calif.), chairman of the House Permanent Select Committee on Intelligence, which is conducting a review of Russian activities to influence the election. "The big problem I see here is that you have an American citizen who had his phone calls recorded."
He is upset Michael Flynn had his phone calls with the Russian ambassador recorded. We will not hit caps lock, we will not hit caps lock ...
WHAT THE FUCK IS WRONG WITH YOU, YOU FUCKING MOUTHBREATHING JIZZ GOBLIN? YOU ARE THE CHAIR OF THE HOUSE INTELLIGENCE COMMITTEE AND WE, YOUR HUMBLE WONKETTE, ARE A MOMMYBLOG THAT MAKES DICK JOKES, AND WE CAN TELL YOU TWO REASONS WHY "AN AMERICAN CITIZEN HAD HIS PHONE CALLS RECORDED":
1. There actually was/is an FBI investigation into the Trump campaign's ties with Russia, and has been since way back in the spring! Part of why we know this is because Democrats have gotten briefings from the FBI director on all the super-salacious shit American intelligence knows, and have left those briefings shouting about how said director, James Comey, has no credibility. Maybe Flynn's calls with the Russian ambassador were surveiled because of just such an investigation, especially since Flynn was already known to have ties with Russia, like whoa if true, right?
Or maybe ...
2. MAYBE THE "AMERICAN CITIZEN" GOT HIS PHONE CALLS WITH THE RUSSIAN AMBASSADOR RECORDED BECAUSE IT'S THE FUCKING RUSSIAN AMBASSADOR AND WE MONITOR THE RUSSIAN EMBASSY, AND EVERYBODY KNOWS THAT, RUSSIA KNOWS THAT, SHIT-WHISTLE MICHAEL FLYNN SHOULD HAVE KNOWN THAT, AND IF YOU'RE THE CHAIR OF THE HOUSE INTELLIGENCE COMMITTEE, YOU GODDAMNED WELL BETTER KNOW THAT, OTHERWISE WE MIGHT START TO SUSPECT YOU ARE EVEN LESS QUALIFIED TO HAVE YOUR CURRENT JOB THAN DONALD FUCKING TRUMP IS.
SO GO BLOW IT OUT YOUR ASS WITH EDWARD SNOWDEN IN HELL, MISTER "WAAAAAH WHY DID A NICE AMERICAN CITIZEN HAVE HIS PHONE CALLS RECORDED?"
[wonkbar]<a href="http://wonkette.com/608251/radicalized-fbi-sleeper-cell-probably-led-by-rudy-giuliani"></a>[/wonkbar]And sidenote, with how Nunes is 'spectin' the FBI to tell him the true business, it's worth noting that the FBI seems to have rogue elements all up in it, whose only true aim is to protect Trump. That's why we keep seeing poorly sourced stories about how the FBI has found no collusion between Trump and Russia, or the FBI looked at the calls between Flynn and the Russian ambassador and found all to be hunky dory, and then we get the real story weeks or months later, when intrepid reporters dig deeper and find sources who don't lie to their faces.
You stupid, naïve baby.
Let's talk to the leader of the Republicans, Speaker Paul Ryan, to see what a craven little shit he's being: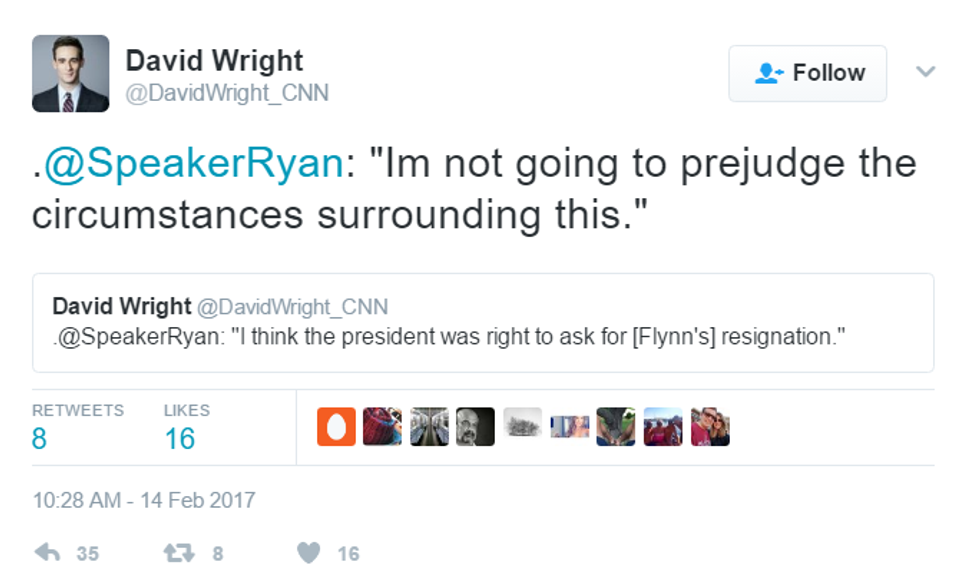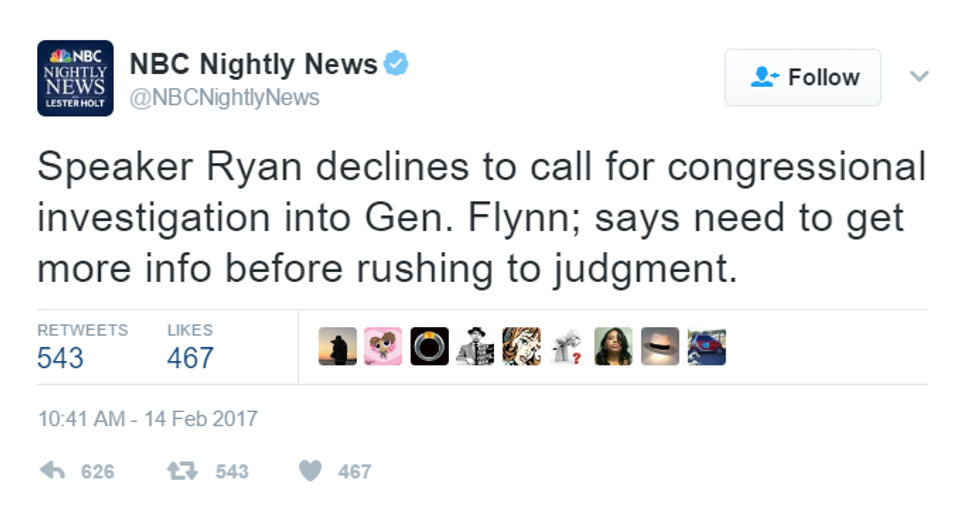 That is ... um ... we ... I ...
THAT'S WHAT AN "INVESTIGATION" IS, ASSHOLE.
Have we not said many times that the best course of action for Paul Ryan, at all times, is to STFU and look pretty, because the boy ain't all that bright? We have.
So there you have it. Three Republicans in House leadership, three snot-nosed turd-muffins, who are acting like such pussies you'd think the Russians have secret video of them getting whizzed on by Russia's finest pee hookers.
They probably don't.
OR DO THEY?
We'd have to guess they probably DO.
Wonkette is entirely reader-supported, which means we don't have shitty ads to eat your browser. If you liked this post, drop us a couple bucks, why don't ya?
[Vox / Washington Post]
Evan Hurst
Evan Hurst is the managing editor of Wonkette, which means he is the boss of you, unless you are Rebecca, who is boss of him. His dog Lula is judging you right now.
Follow him on Twitter RIGHT HERE.