How Daddy's Little Frauders Ivanka And Don Trump Jr. Skated On Charges! Are They Lucky Or What?!
Russia
October 04, 2017 02:41 PM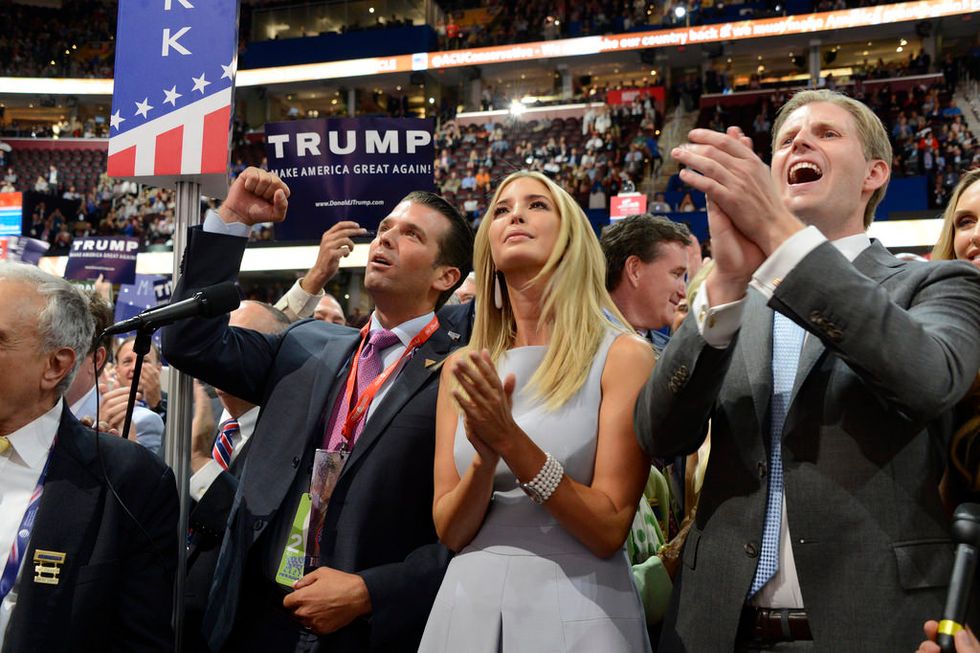 ---
THERE IS NO BOTTOM! We are just going to spend eternity falling into the endless abyss of Trump scandal. Every day another revelation bringing further shame upon the country, until we're ground down into a fine powder that Don Jr. will snort off the ass of an aging catalog model. This is our fate.
Today's very special episode of Days Of Our Humiliation features Ivanka and DJ, with cameos by perennial favorites Marc Kasowitz and Felix Sater, and a special appearance by Manhattan District Attorney Cyrus Vance! Coming to you via special collaboration between WNYC, The New Yorker, and ProPublica.
Picture it: New York, 2006...
The Trump Organization was marketing its fabulous new condo tower, THE TRUMP SOHO. Only it wasn't really in SoHo -- it was actually by the entrance to the Holland Tunnel. And it wasn't really condominiums, which would have violated zoning regulations. It was a "condo-hotel," where owners were cordially invited to stay for no more than 120 nights per year. And it wasn't all that fabulous, if we're being honest. Since the bottom was falling out of the real estate market, and no one was buying overpriced fake condos near the Holland Tunnel.
Luckily, the Trumps weren't being honest! Per The New Yorker,
Business was slow, but the Trump family claimed the opposite. In April, 2008, they said that thirty-one per cent of the condos in the building had been purchased. Donald, Jr., boasted to The Real Deal magazine that fifty-five per cent of the units had been bought. In June, 2008, Donald, Jr., and Ivanka, alongside their brother Eric, gathered the foreign press at Trump Tower in Manhattan, where Ivanka announced that sixty per cent had been snapped up. "We're in a very fortunate position where we have enough sales, and now we are strategically targeting certain buyers," she said.
Now if Vanky -- who has a history of doing just exactly the same thing! -- and Deej had just padded the numbers by five or ten percent, we might call it fibbing. But two years later they'd only managed to sell 15.8% of the condos, so we feel comfortable labelling this one a giant fucking lie.
And we all know lying's a sin. But sometimes it's also a CRIME. Like when your contract says that you have to sell 15% of the units in your fake condo building if you want to hold on to buyers' deposits in 2008, so you tell them ACHIEVEMENT UNLOCKED, even though you don't hit the mark for another two years. And while you're probably in the clear if you tell potential buyers, These units are going like hotcakes! you might face criminal prosecution if you make false statements like, We've sold 60 percent of these units!
And if you left an email chain saying, Don't worry that we lied about the condo sales, no one will ever find out!, YOU'RE A COMPLETE IDIOT.
In one e-mail, according to four people who have seen it, the Trumps discussed how to coördinate false information they had given to prospective buyers. In another, according to a person who read the e-mails, they worried that a reporter might be on to them. In yet another, Donald, Jr., spoke reassuringly to a broker who was concerned about the false statements, saying that nobody would ever find out, because only people on the e-mail chain or in the Trump Organization knew about the deception, according to a person who saw the e-mail."
Yes, DJ almost went to jail for crimes he admitted via email in 2010. And he was still stupid enough to collude with the Russians over email in 2016. BUT WE DIGRESS.
The People are represented by two equally important groups
Back in New York, the Manhattan District Attorney's Major Economic Crimes Unit was slowly building a case against Ivanka and Don Jr. The Trump kids were represented by their own criminal defense team. But in May of 2012, Poppy Trump's personal lawyer Marc Kasowitz went to visit Manhattan District Attorney Cyrus Vance to discuss the case. By sheer coincidence, Mr. Kasowitz had donated $25,000 to Cyrus Vance's reelection campaign in January of that year. And in another striking coincidence, Mr. Vance ordered his staff to drop the case against the Trumps shortly after the meeting. (Everything went to hell in that office after Adam Schiff retired!)
To be fair, Mr. Vance returned the $25,000 to Mr. Kasowitz before meeting with him in May. But in yet another coincidence, after the charges against the Trumps were dropped, Mr. Kasowitz hosted a fundraiser for Mr. Vance which netted more than $50,000.
Hmmmmm. That's quite a lot of coincidences! But that has NOTHING to do with Mr. Vance deciding to give the $50,000 back. Four years later. After he was contacted by reporters about this story.
And in another coincidence, guess who was involved in the Trump Soho deal?
Their partners on the project included two Soviet-born businessmen, Felix Sater and Tevfik Arif, who ran the Bayrock Group, a real-estate-development firm.
Oh, look! It's the family's Russian fixer Felix Sater and Trump's bazillionaire Kazakh gangster pal Tevfik Arif!
Superfans will remember Sater, who most recently came to our attention for promising to coordinate with Vladimir Putin's team to get Trump elected. Via email, of course, which was published in the New York Times, of course.
"Our boy can become president of the USA and we can engineer it," Mr. Sater wrote in an email. "I will get all of Putins team to buy in on this, I will manage this process."
During the election campaign, Sater was hustling to build a Trump Tower in Moscow. Was he hustling in 2008 for Russian buyers who would be happy to pay cash for "condos" that were only available one-third of the year?
Also, too, HOW THE HELL IS THIS GANG OF LOWLIFES IN CHARGE OF OUR COUNTRY?
The Trumps managed to stay out of jail. But they never did find buyers for their fake condos. The New Yorker reports,
The Trump SoHo went into foreclosure in 2014 and was taken over by a creditor. Only a hundred and twenty-eight of the three hundred and ninety-one units in the building have sold. That comes out to around thirty-three per cent.
It took another two years for the Trump Organization to broker the sale of 1600 Pennsylvania Avenue. But eventually they did find a Russian buyer.
Well, that's quite a lot of coincidences! Please click here to fund our coincidence hunting!
Liz Dye
Liz Dye lives in Baltimore with her wonderful husband and a houseful of teenagers. When she isn't being mad about a thing on the internet, she's hiding in plain sight in the carpool line. She's the one wearing yoga pants glaring at her phone.