Welcome to Wonkette Happy Hour, With This Week's Cocktail, The Zombie!
News
September 30, 2022 04:35 PM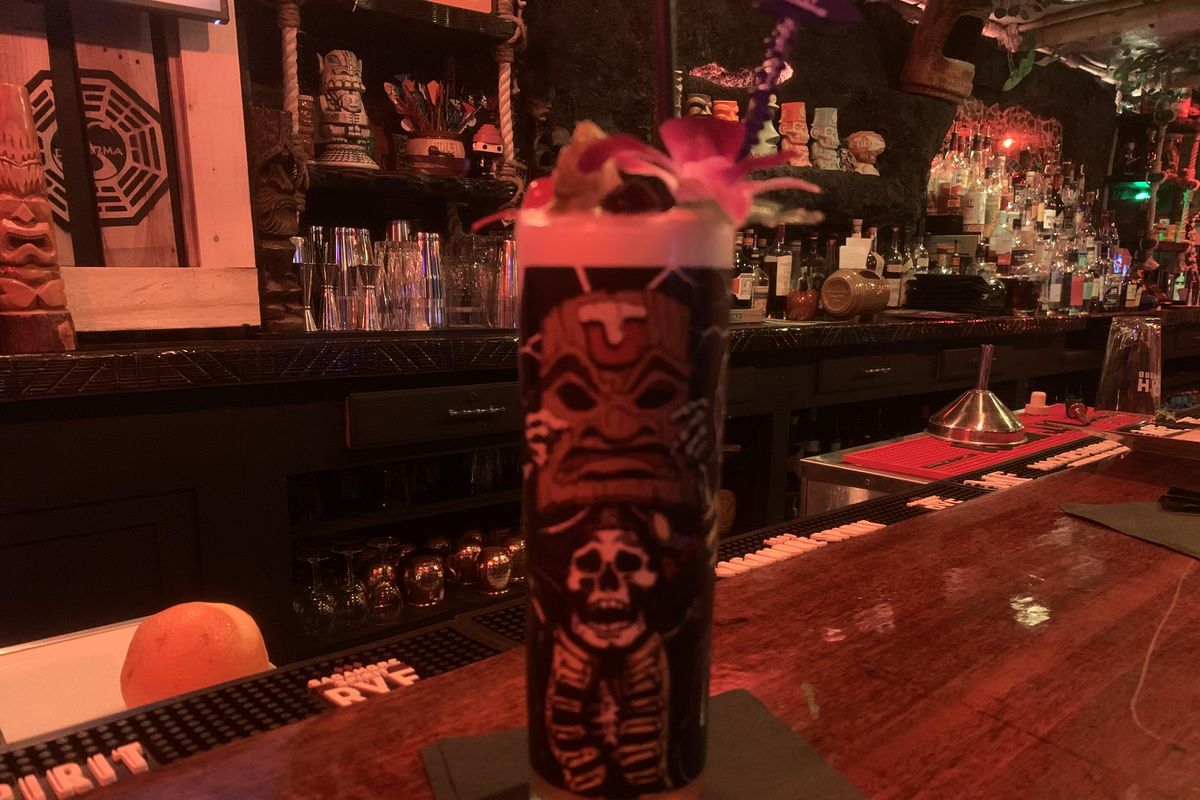 Matthew Hooper
Greetings, Wonketteers! I'm Hooper, your bartender. I'm taking the day off today, sort of. Instead of making you a cocktail, I'm taking you to visit Tiki Underground to enjoy a Zombie with Jessica, my favorite bartender in Ohio. This cocktail's the pinnacle of tiki, a beautiful masterpiece that you really should enjoy at least once when you visit your favorite tiki bar. You don't have a favorite tiki bar? That's all right. I'll share mine with you. The recipe and more are below.
---
Zombie
¾ oz. lime juice
½ oz. grapefruit juice
¼ oz. cinnamon syrup
¼ oz. house grenadine
½ oz. Maggie's Farm Falernum
1 ½ oz. Plantation Special Dark Rum
1 ½ oz. Appleton Estate
1 oz. Hamilton 151 Rum
2 dashes Angostura Bitters
1 dash absinthe
Shake well and strain over ice into a Zombie glass. Garnish with pineapple, cherry, an edible orchid, and a festive swizzle stick.
First off, real talk: This is not a drink you make at home. If you're making this drink at home, I want to make an acquaintance of your liquor cabinet. This is a cocktail you let a professional make for you, someone who really knows their stuff and can transform all these ungainly ingredients into something magical.
If you're in Ohio, Tiki Underground is the best possible place to find that professional. There are some other good candidates, but TU is my home away from home. I learned to love rum and tiki under Tonga Tim's tutelage, shook up amazing drinks elbow to elbow with Jessica, and basically had the time of my life there. The old place reopened in a new location, and it's amazing. Every tiki bar aspires to be a magical getaway. You step inside the door, and you're transported to an exotic locale far from cold, dark Ohio. Doktor Bill, the artist who decorated the spot, really outdid himself …
The Zombie is an iconic drink in the tiki pantheon, and Tonga Tim really nailed this version. The original was invented by Donn Beach back in 1934. Myths abound regarding the name's origin. Some say that Donn tossed it together to please a businessman before an afternoon meeting. The customer later reported that the cocktail "felt like the living dead — it made a zombie out of me!" According to Donn's menu, the Zombie was born out of weeks of research and dozens of bottles of rum. Whatever the case, the drink's been resurrected from the nascent days of tiki, and now lives on in the best bars in America.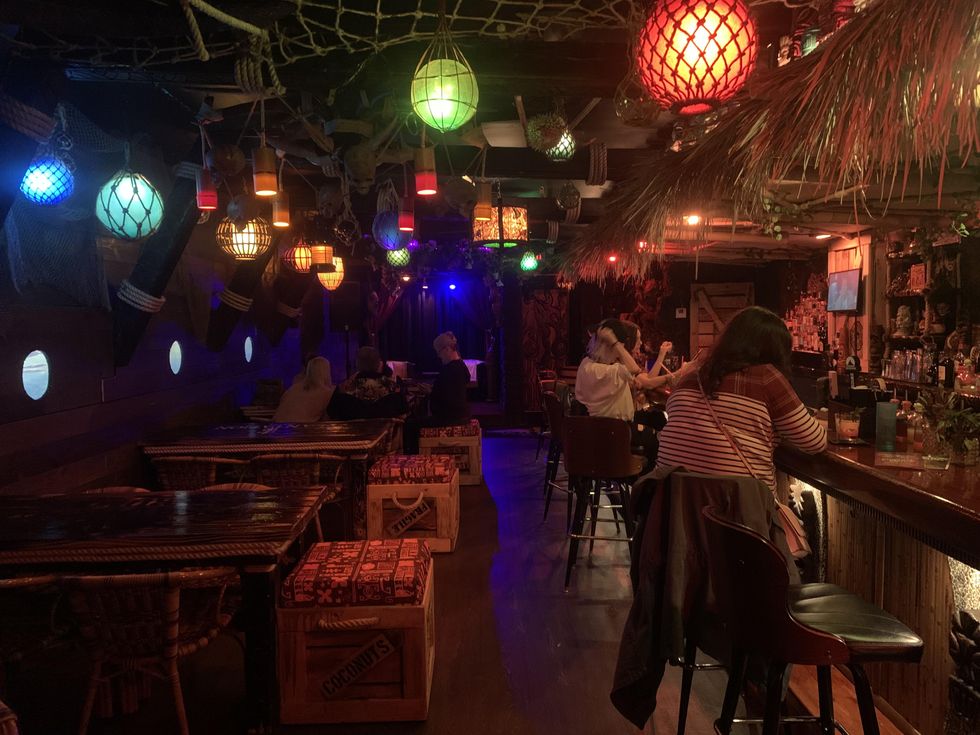 My favorite getaway. Matthew Hooper
Let's talk ingredients. I've got no expectations that you'll make this at home, but it's interesting to talk about what's in this glass and why.
Lime Juice: Lime juice is the unsung hero of most tiki drinks, and Tiki Underground takes its lime juice very seriously. They use an industrial centrifuge to clarify their lime juice, removing all the solids for crystal clear juice. It lasts much longer than unprocessed juice and has a crisp, unmuddled flavor.
Grapefruit Juice: We need a strong, broad citrus profile to stand up the rum and sugar in the glass. Grapefruit provides another angle while supporting the lime.
Cinnamon Syrup: This is demerara syrup — one part sugar in the raw, one part water, simmered until clear — with a cinnamon stick added during the simmering. It's cinnamon flavored, but not too strong, just right to support the spice notes of the drink.
House Grenadine: Equal parts pomegranate juice and sugar, simmered until the sugar melts, with a few dashes of orange blossom water to add a floral note. Another sweet ingredient to support the cinnamon syrup and balance the acid and booze.
Maggie's Farm Falernum: Maggie's Farm is a rum producer local to Philadelphia. It provides clove, almond, allspice, and ginger flavors. Tiki Underground likes to support the locals, but John D. Taylor Falernum is the industry standard.
ALL THE RUM: It's a core principle of tiki: Never use one rum when three will do. The Zombie delivers, with three ounces of standard rum and an ounce of overproof to round things out. This cocktail takes a quick tour of all the major centers of rum production, each with their own flavor profile. Appleton Estate provides the overripe tropical notes of Jamaican rum, Plantation Dark for a blended center, and overproof demerara rum for a caramel grounding note.
Angostura Bitters: More spice, and a little bitterness to tamp down the sugar.
Absinthe: Absinthe and bitters are a common combination in classic tiki. The anise notes are sweet and spicy; a tiny touch can lighten and broaden the flavor profile of the cocktail.
Overall, the Zombie is a gloriously topheavy exercise in excess. More acid, more sweet, and more rum, precariously balanced and utterly lovely. It tastes exotic, like a tropical punch from a country you've never heard of. The rum is completely undetectable, until you stand up and wonder where the floor went. Don't take my word for it, though. Find a tiki bar. Take a road trip, if you have to. Escape. It's going to be a cold winter. Might as well find the nearest island hideaway.
In summary and conclusion, drink well, drink often, and tip your bartender — donate to Wonkette at the link below! Come see me and Yr Editrix at the CLE Wonkmeet tomorrow! And if you'd like to buy some bar gear or books from Amazon, please click here!
OPEN THREAD!
Matthew Hooper
Matthew Hooper, aka Samurai Grog, turned 50 in 2021 and decided to have a midlife crisis by leaving a boring sales and marketing job to tend bar at the local country club. He's never been happier. He's also a fencer, a dad, a husband, and a punk music fan. Overall, he's way cooler than he ever thought he could be when he was 16.