ICE Knows What You Did Last Summer
Local News
July 12, 2018 11:54 AM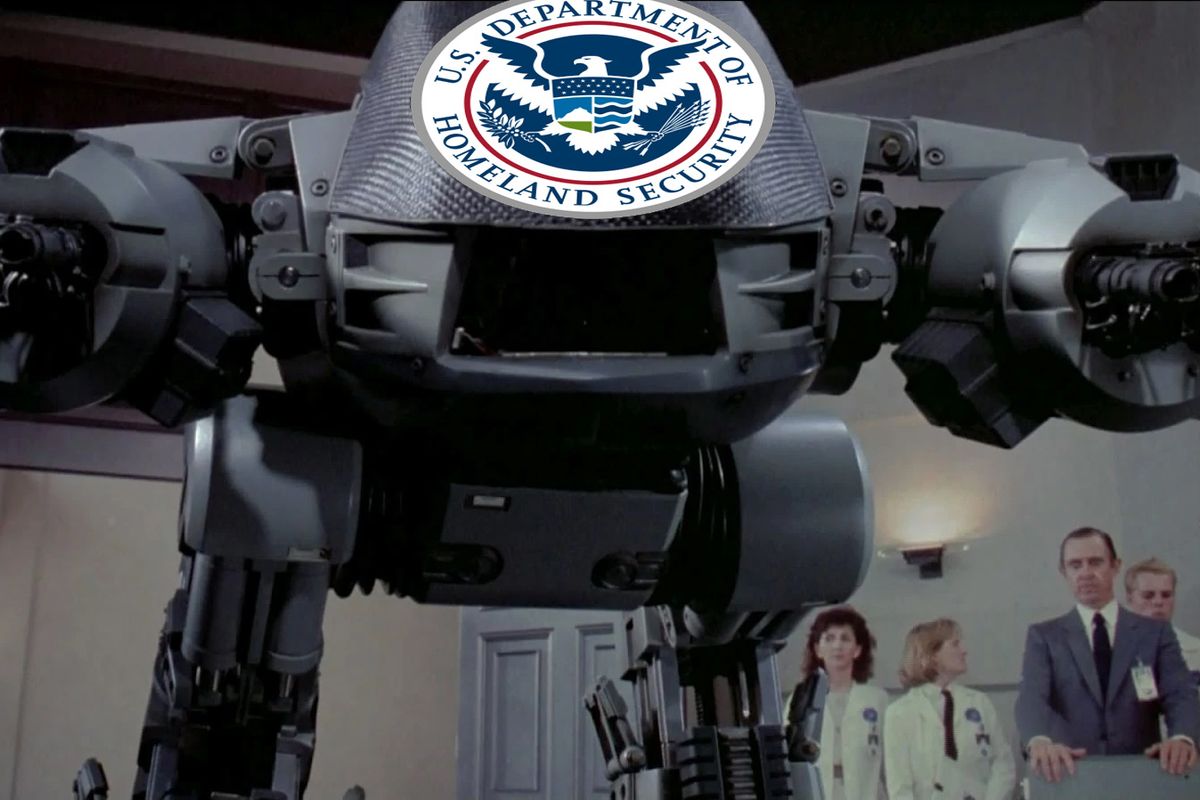 A major US real estate developer has given mall cops the ability to collect license plate information on their customers -- and send them to ICE. The Irvine Company -- whose owner, Don Bren, is the richest developer in the country, worth approximately seven to 15 Donald Trumps, depending on how Trump feels about his assets that day -- has been taking pictures of licenses plates as they drive in and out of their mega-malls.
---
The Electronic Frontier Foundation (EFF), the civil liberty super heroes of cyberspace, noticed that the Irvine Company had a little disclaimer that mentioned people MIGHT be getting spied on when they grab an overpriced latte at one their yuppie sanctuaries. Irvine has been using automated license plate readers (ALPRs), which are usually used in speed cameras or automated toll booths. They snap a photo of licenses plates as cars zip by, adding each one to searchable database with location data and a time stamp. Why a real estate company wants to keep track of everyone getting overpriced frozen yogurt and handbags is a bit of a mystery.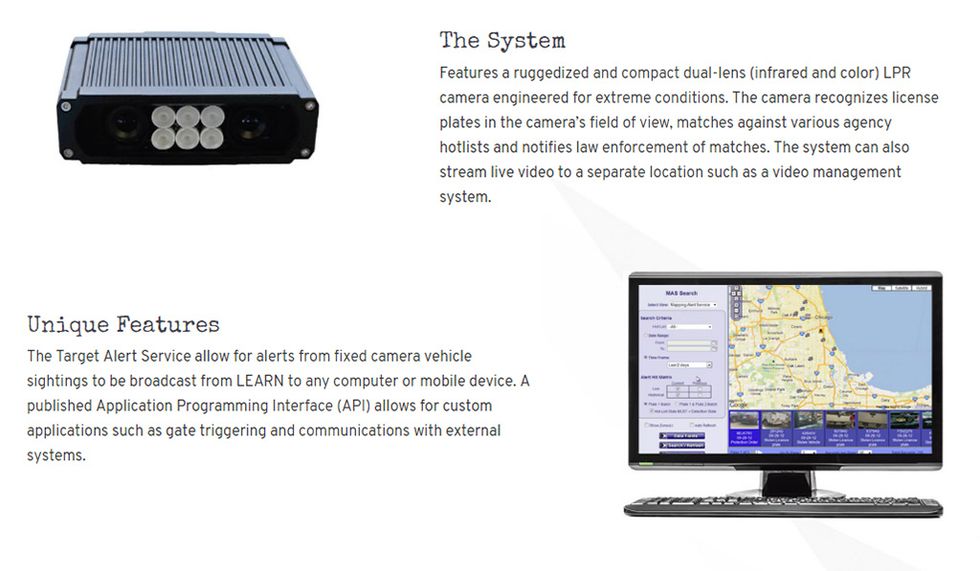 A version of ALPR and a tracking system from Vigilant.
The ALPRs used by Irvine are from Vigilant Solutions, a security vendor that pushes fancy gizmos on cops. Vigilant sells facial recognition systems, license plate readers, and cataloging software so that cops can sit back while Skynet does all the actual police work. Vigilant feeds its database to local and federal law enforcement agencies, like city police departments, ICE, and debt collectors. Yes, seriously. Debt collectors and ICE have the same mass surveillance tools and vendors.
In December 2017, ICE signed a contract with Vigilant Solutions to access its license-plate reader database. Data from Irvine Company's malls directly feeds into Vigilant Solutions' database system, according to the policy. This could mean that ICE can spy on mall visitors without their knowledge and receive near-real-time alerts when a targeted vehicle is spotted in a shopping center's parking lot.
Irvine says that the information it collects with its ALPRs only goes to Vigilant, adding that Vigilant is contractually obligated to only share information "with local police departments as part of their efforts to keep the local community safe." Sure.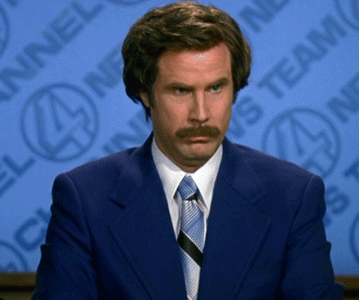 Vigilant disputes the EFF's story, telling The Verge that the story is "inaccurate and rooted in opinion," but declined to give any details. ICE declined to confirm a data-sharing agreement with Vigilant, stating, "ICE is not seeking to build a license plate reader database, and will not collect nor contribute any data to a national public or private database."
Of course ICE isn't trying to build a database, that's what Vigilant does.
The Irvine Co. has retail property all over Southern California, including Los Angeles and Silicon Valley, as well as buildings in New York and Chicago. If you want to have some fun, walk around one of their heavily monitored office complexes taking photos and time how long it takes to get questioned by a security guard. It only took me seven and a half minutes in front of their complex at 300 N. LaSalle in Chicago.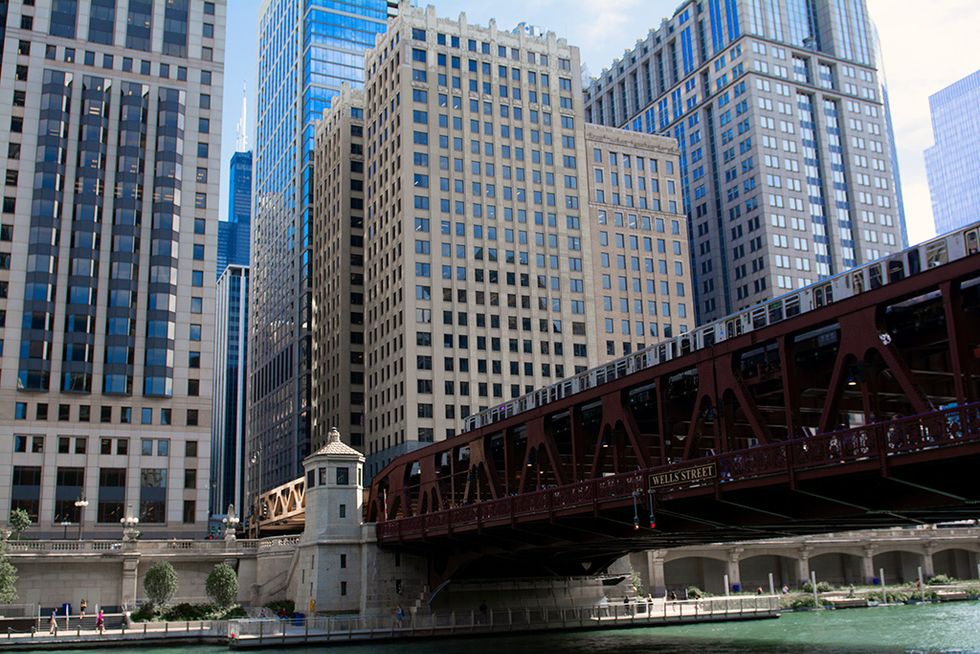 The friendly security guards did not want me poking around to take this photo at 300. N. LaSalle. by Dominic Gwinn
This kind of tech scares the piss out of privacy advocates, but it can be helpful in some instances, like Amber Alerts; still, there's no reason for mall cops to have this much power. The fact that cops and federal authorities can now get real time updates on random people is fucking scary. People are losing their right to privacy without warning, whether it's for Facebook or frappuccinos. So enjoy your day!

[EFF / The Verge / NBC 7 San Diego]
Wonkette is ad-free, is not owned by Donald Bren OR any Trumps, and depends on YOU to pay our freelance bills. Please give us money if you can!
Dominic Gwinn
Dominic is a broke journalist in Chicago. You can find him in a dirty bar talking to weirdos, or in a gutter taking photos.