If Tucker Carlson Doesn't Believe In White Supremacy, How Can He Believe In Himself?
Media/Entertainment
August 07, 2019 12:22 PM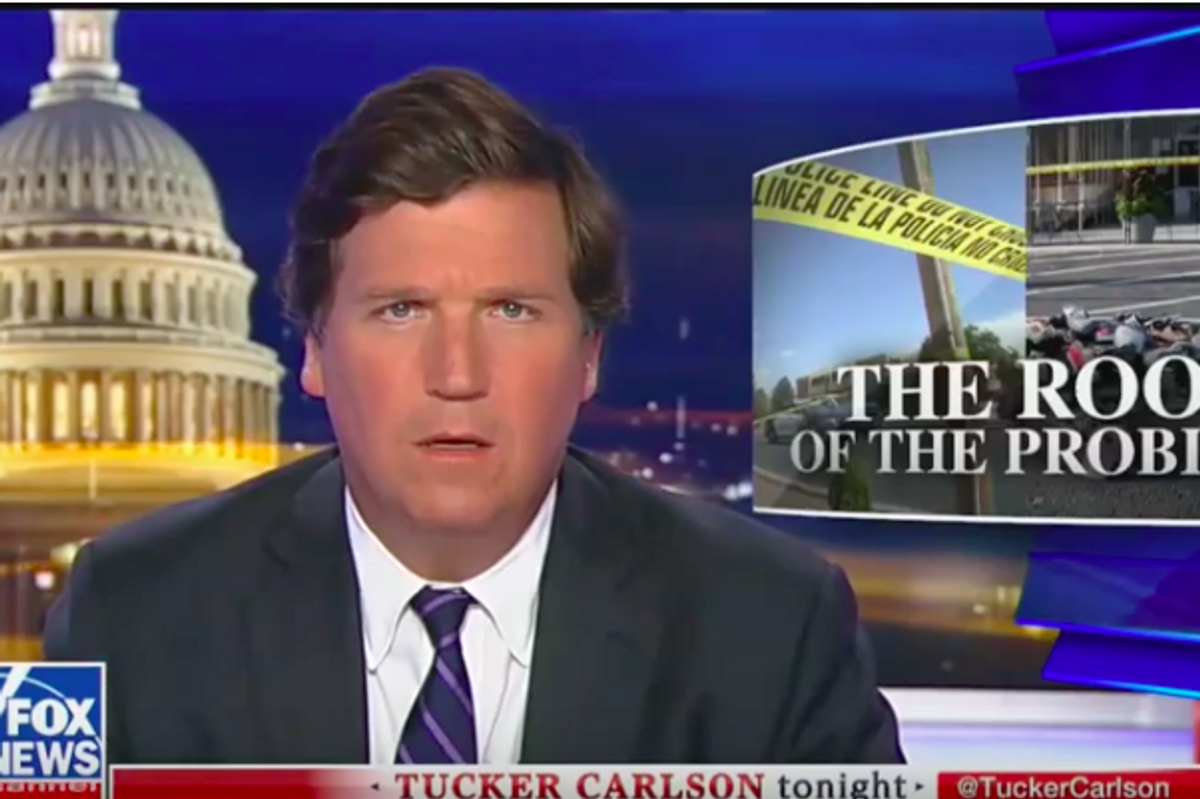 Did you think for a minute that the racist-fueled murders of 22 people in El Paso this weekend would cause bigoted half-wit Tucker Carlson to reconsider his life choices? If so, you're obviously high on Hallmark movies. The Fox News host spent most of Tuesday's show blaming Democrats for "dividing" Americans based on their identity and otherwise raising mobs against decent people like Donald Trump donors and -- LOL -- Mitch McConnell.
CARLSON: Using race to divide us is a core tenet of the Left. Identity politics is the process of dividing people on the basis of immutable characteristics, factors they can't control. That's what the Democratic Party is at this point. It's an identity politics party. They promise some Americans reparations. They denounce others for their skin color. They call it PRIVILEGE!
Carlson uses classic abuser rhetoric when he claims the "Left" is "dividing" the nation. Like most conservatives, Carlson hates at least half the country. He self-divides himself from us every night. But, sure, whatever, Tucker, the Democratic Party -- the one with all the minorities -- is the racist party. When not constantly warring with Eurasia, the Democrats are pitting Americans against each other for crass political gain. This more accurately describes the current White House squatter, who calls Elizabeth Warren "Pocahontas" and claims Beto O'Rourke tricked Hispanics into liking him by changing just his first name. But Carlson believes Trump goes out of his way to combat the true racism plaguing the nation, which is suggesting that PRIVILEGE is why a doofus like Carlson doesn't make his living collecting discarded soda cans.
---
Tucker: Left is doing all it can to divide Americanswww.youtube.com
Carlson spread the popular right-wing lie that Trump has never endorsed and enabled white supremacy. White supremacists just love him because he's dapper and charming. Carlson complained that Trump "condemned [white supremacy] anyway" -- like he's doing us a favor -- but liberals weren't satisfied. We thought he "didn't really mean it." That's because Trump's unscripted rants on Twitter or at his hate rallies probably reveal his true beliefs more than scripted words on a teleprompter that he can't even read correctly.
This was when Carlson out-Tuckered himself and argued that "white supremacy" is as real as black Santa Claus.
CARLSON: But the whole thing is a lie. If you were to assemble a list, a hierarchy of concerns of problems this country faces, where would white supremacy be on the list? Right up there with Russia probably. It's actually not a real problem in America. The combined membership of every white supremacist organization in this country would be able to fit inside a college football stadium.
That's a very large college football stadium. It's also not the size of your white supremacist organizations that matter so much as their impact. They've killed a hell of a lot of people, roughly the same number since 9/11 as all the radical Islamic terrorist groups that have Americans hiding up their beds and suspending due process.
Tucker Carlson: White Supremacy Is a 'Hoax' and 'Not a Real Problem in America'www.youtube.com
CARLSON: This is a hoax, just like the Russia hoax. It's a conspiracy theory used to divide the country and keep a hold on power.
A guy with a prime-time TV show that millions of gullible white people watch daily just called white supremacy a "hoax" and "conspiracy theory." Those Nazis marching in Charlottesville were all Lee Strasberg students. They were so method they literally killed a woman. This is dumber than claiming the moon landing was staged. The moon is very far away. It's a short drive to a Trump rally.
Carlson's use of "hoax" and "conspiracy" reminds us of Holocaust revisionism, which was also promoted by douchebag racists in suits and ties. Revisionism denies the historical or ongoing atrocity while slyly justifying it. After all, the true villains are the sick people who'd lie about something so awful, who'd orchestrate such an elaborate plot to make you feel bad.
Conservatives have latched onto the Dayton shooter's apparent support for Elizabeth Warren and Bernie Sanders. Carlson, who likes to make "populist" appeals, demonstrates how white male entitlement and the resulting violence can cross ideological lines.
CARLSON: This is a country where the average person is getting poorer, where the suicide rate is spiking. "White supremacy, that's the problem" — this is a hoax. Just like the Russia hoax, it's a conspiracy theory used to divide the country and keep a hold on power.
We've seen these sentiments expressed on left-wing message boards. "Identity politics" is how the one percent from "both sides" hold onto power and oppress the working class. However, minorities are part of the working class, and it's hard to worry about health care and better jobs when white supremacists are shooting you dead.
Carlson flagrantly promotes white supremacy while repulsively denying its existence. If you're alive and conscious, it's impossible for this not to enrage you. It reminds us of some wise words from Toni Morrison.
"The very serious function of racism … is distraction. It keeps you from doing your work. It keeps you explaining, over and over again, your reason for being. Somebody says you have no language and so you spend 20 years proving that you do. Somebody says your head isn't shaped properly so you have scientists working on the fact that it is. Somebody says that you have no art so you dredge that up. Somebody says that you have no kingdoms and so you dredge that up. None of that is necessary."
Tucker Carlson and Fox News exist to diminish minorities, the oppressed, the marginalized. We don't expect them to change, but we also won't let them change us.
Follow Stephen Robinson on Twitter.
Yr Wonkette is supported by reader donations. Please send us money to keep the writers paid and the servers humming. Thank you, we love you.
Stephen Robinson
Stephen Robinson is a writer and social kibbitzer based in Portland, Oregon. He writes make believe for Cafe Nordo, an immersive theatre space in Seattle. Once, he wrote a novel called "Mahogany Slade," which you should read or at least buy. He's also on the board of the Portland Playhouse theatre. His son describes him as a "play typer guy."