Welcome To Wonkette Happy Hour, With This Week's Special, Blueberry Smash!
Recipe Hub
July 09, 2021 04:20 PM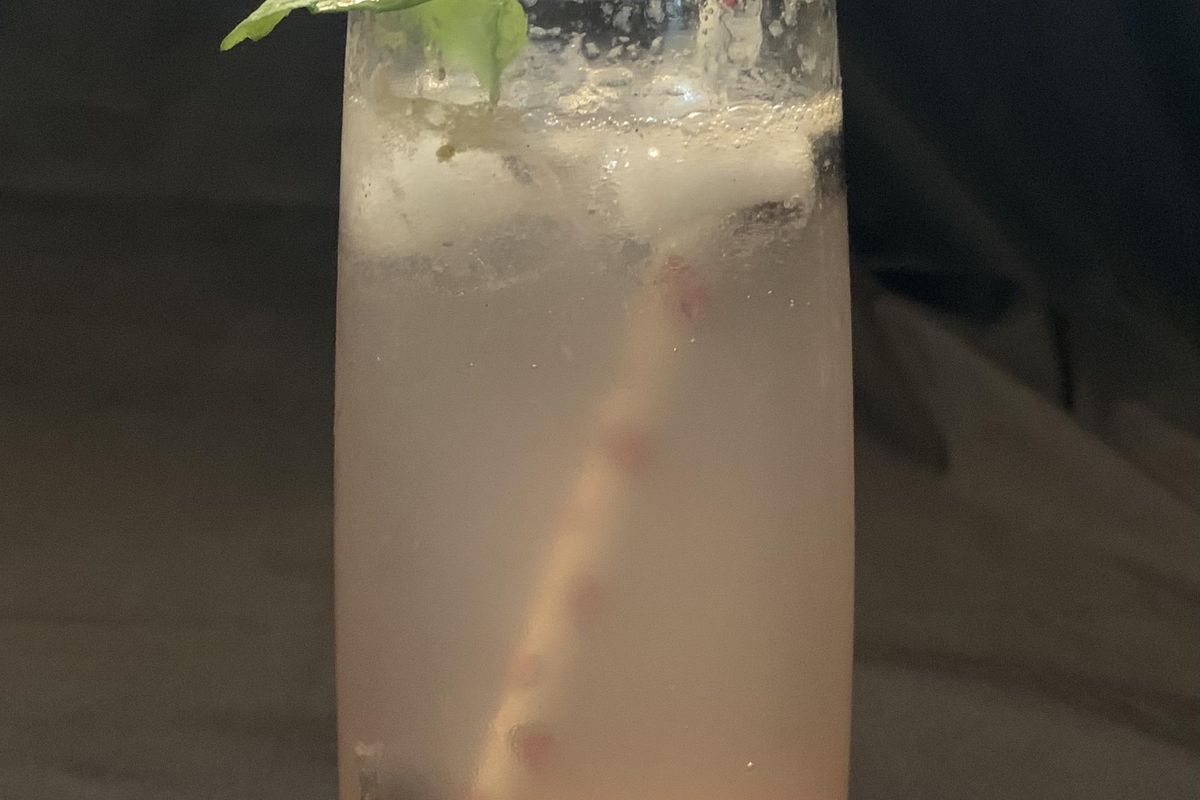 Matthew Hooper
Greetings, Wonketteers! I'm Hooper, your bartender. Last week I got a request to help out with a blueberry mojito. Fruit, mint, sugar, and booze are all awesome, but balancing all these things out is a bit of a trick. Here's my take on making it all work.
---

Blueberry Smash

2 oz vodka
20 fresh blueberries
2 fresh mint leaves
2 oz. Honey syrup
½ oz. Cointreau
½ oz. Lime juice
Soda water

Add fruit, honey syrup, Cointreau, lime juice, and vodka to a tumbler. Gently muddle the fruit. Bruise the mint leaves and add to the glass. Shake and strain into an iced highball glass. Top with soda water and garnish with fresh fruit. 1-2 mint leaves, and a straw.
Almost every ingredient in this recipe can be switched for something else. I'll run down some possible iterations in the ingredient list. There are a lot of flavors at work here, and figuring out what goes well with what can be a challenge. I leaned hard on The Flavor Bible by Karen Page to choose my flavors. This book is an absolute godsend when you're trying something new in the kitchen or at the bar. I can't recommend it highly enough.
On to the ingredients!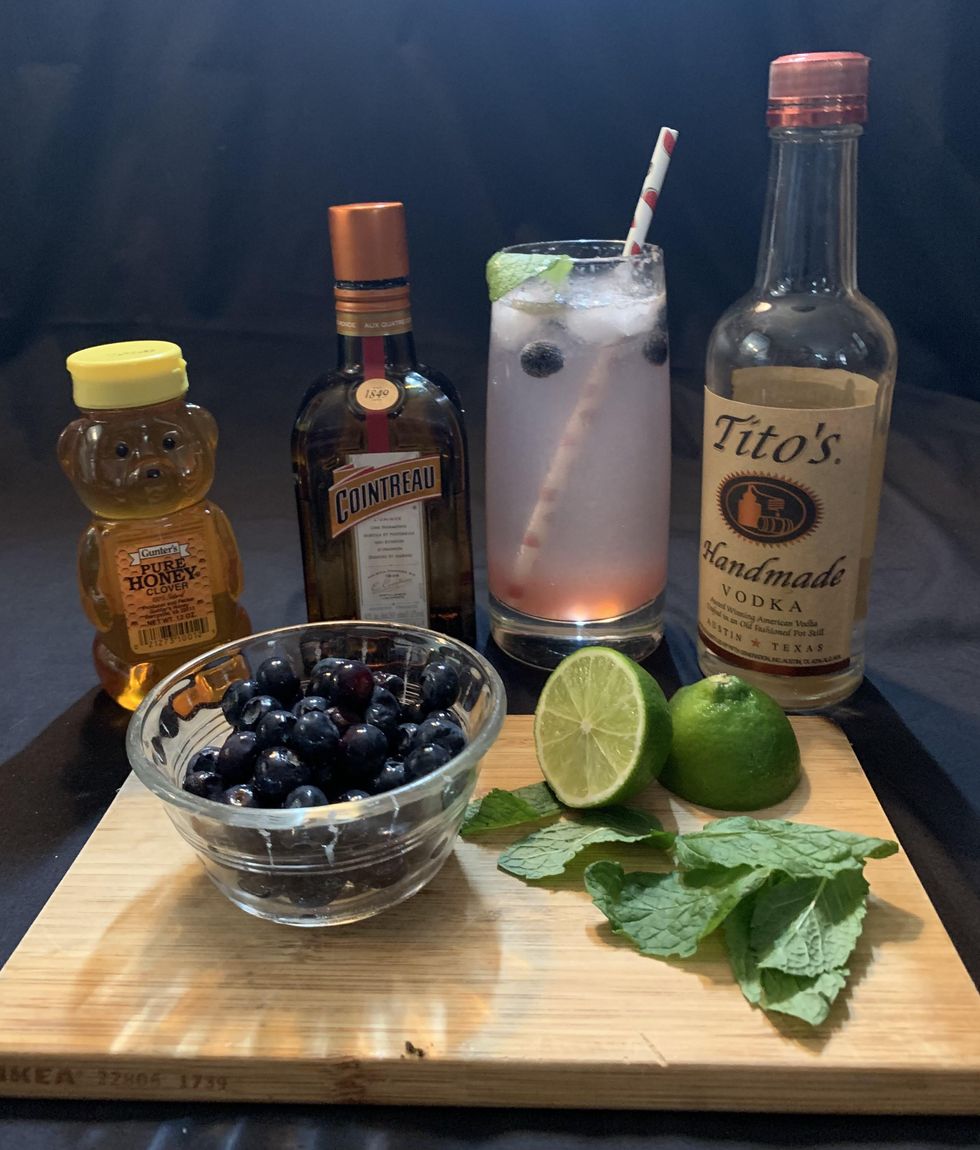 Ingredient shot. The blueberry smash disappeared mysteriously after this photo was taken.Matthew Hooper
Vodka: Any good-quality domestic vodka is fine. I chose Tito's because they're nice to dogs. If you replace the vodka with another spirit, it literally becomes a different drink. Swap the vodka for rum, and it's a mojito. Change it to bourbon, and it's a julep. Use gin, and it's a gin daisy. I personally prefer vodka in this recipe. There's a lot of flavors involved in the glass, and I don't want the liquor to get in the way. But use your favorite – you really can't go wrong. One caveat: Do not use a cheap flavored vodka. Stoli Blueberry? Bad, bad move. Artificial flavors and natural flavors in the same glass are… ech. You'll regret it, I promise.

Blueberries: Blueberries are at their peak right now; it's the perfect time to enjoy them. But just about any fruit works. I serve a strawberry smash at the bar that's a top seller. Peaches? Absolutely. Blackberries? Go for it. There are no wrong answers here. Use more fruit than you think you need, though. Fresh fruit is surprisingly subtle in a chilled glass. And be gentle when you muddle – you want to break the berries, not mash them.

Fresh mint:Be gentle with this herb. You do not want to muddle it with the fruit – it'll become a black, shredded mess. Pinch the leaves between your fingers before adding them to glass; when you shake the drink the ice will do the rest. Basil's another great choice here, especially with strawberries.

Honey syrup: Honey tastes awesome here, but it's hard to use it straight out the jar. It's too thick to pour properly, and it takes forever to dilute in a cocktail. Make a honey syrup instead – 1 part water, 1 part honey, stir until dissolved. Much easier. Simple syrup would work fine here, too. Maple syrup would be absolutely stunning if you have some – go for it. Use a heavy hand with your sweetener. Fresh fruit needs a lot of sugar to stand out.

Cointreau: The Flavor Bible notes that triple sec and blueberries play together well. I thought we'd use a little leftover Cointreau from the margaritas last week. Triple sec is okay here too. You might want to leave this out if you're working with peaches or nectarines, but it'll be a welcome addition to any version of this recipe that features berries.

Lime juice: You need acid to balance out the drink. I considered lemon juice for a moment, but it's too acidic and too distinct.

Soda water: Use cheap bottled stuff or a SodaStream. Fancy sparkling water won't improve the drink much.

Shake and serve: Shake this drink a little longer than normal. You only need to shake a drink for 8-10 seconds to get it cold. Work this one over for an extra 2 seconds to muddle the fruit and mint. It does layer with the soda water, so a straw's mandatory.

Doing a non-alcoholic version of this one is a bit tricky. Alcohol is great for extracting flavors when you muddle; water won't do. A strong acid can pull it off, though. Try this: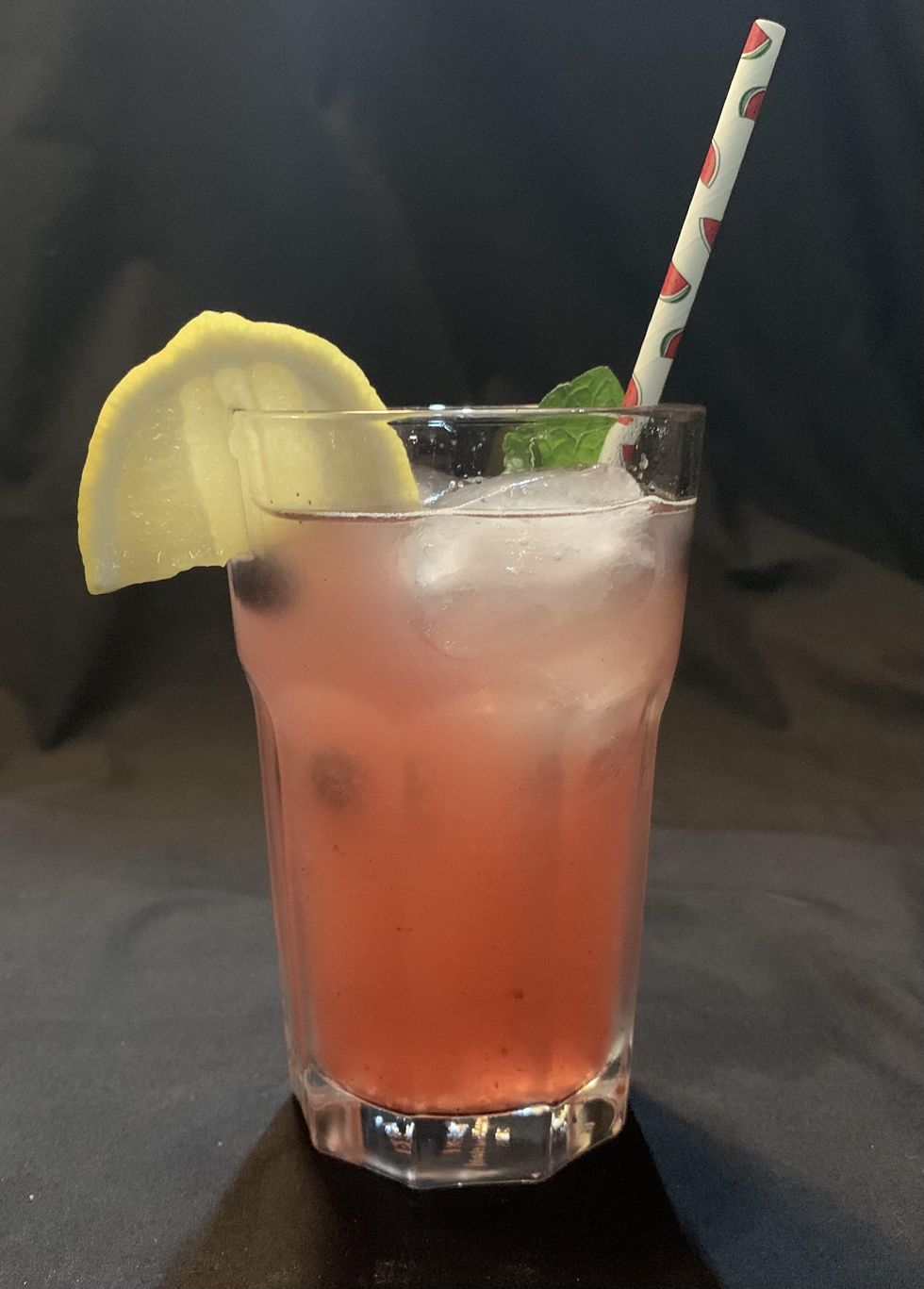 Blueberry mint lemonade. Some extra Tito's might have made its way into this before it vanished.Matthew Hooper
Blueberry Mint Lemonade

¼ cup fresh lemon juice
1/3 cup honey syrup
20 blueberries
2 mint leaves
Splash of orange blossom water

Muddle the blueberries in lemon juice. Add honey syrup, mint, and orange blossom water. Shake, strain, and serve.

This is very tart as written — feel free to adjust the honey/lemon juice ratio. Even with the strong lemon juice in play, the blueberries come through wonderfully, and you can barely pick up on the mint and orange blossom at the end. It's the most decadent lemonade you'll ever drink.

In summary and conclusion, drink well, drink often, drink with a friend. Also, please tip your bartender and donate to Wonkette at the link below.

Also, if you want to buy The Flavor Bible, or a SodaStream, or some nifty bar gear, please use this link to shop at Amazon.
OPEN THREAD!
Matthew Hooper
Matthew Hooper, aka Samurai Grog, turned 50 in 2021 and decided to have a midlife crisis by leaving a boring sales and marketing job to tend bar at the local country club. He's never been happier. He's also a fencer, a dad, a husband, and a punk music fan. Overall, he's way cooler than he ever thought he could be when he was 16.