Immigrant Child Sex Abuse Victim Told Not To Bother Her Attacker Because America Sucks
Post-Racial America
July 28, 2018 11:57 AM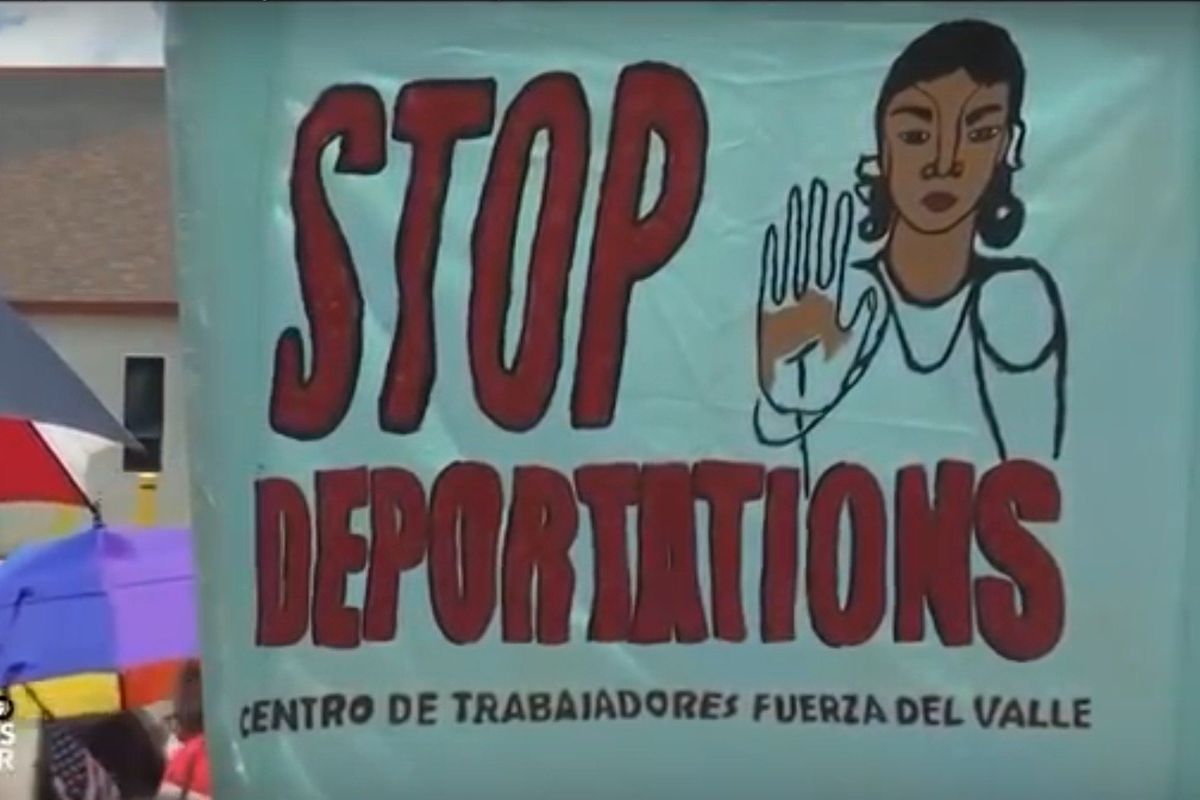 Remember when we were screaming and yelling that it was completely dangerous to snatch children away from their parents and lock them in baby jails? Well, the worst fears that we feared have come to life in Arizona. At a detention facility, a 6 year old girl has suffered physical and sexual abuse, and that's just the tip of the iceberg.
---
Not only was she victimized by an older child in the facility (yes, kids hurt other kids, especially when they are hurt themselves), she was forced to sign a statement promising to stay away from her own abuser. Because of course she was. All victims are responsible for evading the next attack, especially when they are 6 years old and have no way to get away from the abuser they are LOCKED UP IN A DETENTION FACILITY WITH.
Via The Nation:
"According to immigrant-rights advocates, a 6-year-old girl separated from her mother under the Trump administration's "zero-tolerance" immigration policy was sexually abused while at an Arizona detention facility run by Southwest Key Programs. The child was then made to sign a form acknowledging that she was told to maintain her distance from her alleged abuser, who is an older child being held at the same detention facility."
The thing is, why exactly would they put the onus on the victim to maintain their distance? The child has already been assaulted, so why come with official looking documents making HER seem like she was a willing party to her own abuse? Well, it seems that victim blaming in America starts super young, and hey, isn't it easier to simply tell the victim, "You're on your own. Stay away from the bad guy or it's your fault!"? Of course it is, if you are a fascist misogynist who hates immigrants children.
"A Southwest Key Programs document obtained by The Nation confirms that D.L. was reported to have been sexually abused on June 4, 2018. On June 12, one day after D.L.'s father was contacted, the 6-year-old girl was presented with the form stating that, as part of the facility's intervention protocol, she had been instructed to "maintain my distance from the other youth involved" and had been provided "psychoeducation," described in the document as "reporting abuse" and "good touch bad touch." The form, posted below, shows D.L's "signature"—a single letter "D," next to the characterization of her as "tender age"—which supposedly confirms that D.L understands "that it is my responsibility to follow the safety plan" reviewed with her."
It is my responsibility to follow the safety plan? Do the adults in the facility not have any responsibility to separate abusive children from the other children? Since when can a 6 year old be responsible to save herself from physical and sexual abuse when the adults around her failed?
For parents, we see it as our responsibility to keep our children safe, even from each other at times. If these facilities cannot keep the children safe, why the fuck are there children at these facilities? Perhaps our Government needs to admit that they fucked up completely and have no idea what the fuck they're doing? Maybe that. Also, I'm seeing a layer of victim shaming in this case that makes the bile rise high in my throat.
Her father was horrified (UNDERSTATEMENT) to learn what happened to his daughter while she was in the custody of Uncle Sam, who is a horrible babysitter, and also despises children. Especially the girls, it seems.
"It was a nightmare. When my husband told me what happened, I felt helpless. She was so little, she was probably so scared, probably afraid to say anything to anyone. It was a total nightmare for me."
Did you think this was over? Nope. Shit like this never ends. Once again, the child was abused by the same abuser, who was still at the facility, presumably completely ignoring the "safety plan" which left the victim at their mercy. Safety plan my ass, the safest plan would have been to not take the child from her mother in the first place, but I'm being redundant in my digressions.

"On June 22, Southwest Key again contacted D.L.'s father and informed him that the same boy initially cited for abuse had hit and fondled D.L. again. According to Lane, D.L.'s father asked how the facility could allow this to happen, and the woman on the phone responded that she was only calling him to advise him that it had happened, that she didn't have permission to say anything else, and he would have to speak with the director."
Apparently, the child was suffering violence on top of the sexual abuse, which raises a few questions... Why the hell was that abusive child allowed to remain in the same location as his victim?How many other children were abused, saw the outcome of reporting, and simply gave up and decided not to report? Why do we live in hell? These questions will likely remain unanswered. As usual.
For this victim, the abuse at the facility is over, thanks to the hard work of Families Belong Together, so the family is back together. But the pain and trauma of the abuse she has suffered remains with her and her family. Which is Making America Great Again, or something stupid as fuck like that.
"Through the work of Families Belong Together and a legal team assembled for this case, D.L., her mother, and her father have now all been reunited.
According to D.L.'s mother, when the family came together again, the young girl was confused. "I hugged her, I was crying. She didn't recognize me," the mother said. "She told me that she thought I was never going to be with her again and that she was going to have to live with another lady. She behaved like she was still in detention. She wouldn't touch me, hug me, or kiss me."
This is depressing, outrageous, disturbing, painful, and it is also the reality of putative family separations. What these children are going through will affect them throughout their lives, and it is our fault, it is done in our name, by our nation. The lack of safe and supportive human contact for months on end seems to be actually harmful to the development of children. Who could have guessed? Oh. EVERYBODY? How interesting.
Luckily for this particular child, the constant fear and trauma of being locked away in a baby jail with her abuser is over. How many more children are locked away with people who intend them harm? We don't know. But we are not sticking our heads in the sand to spare ourselves the grief. We have our eyes open and will scream and rant and rage until ALL of the children are safe. Take care of yourselves, and don't forget the children need you.
Do you want to be awesome and do the right thing? Donate now, so we can keep bringing you the news you need to read.
Wonderbitch
Follow Wonderbitch aka Bravenak aka Bianca DeLaRosa, loves her jobs as Social Media Manager for Wonkette more than Sarah Huckabee Sanders loves lying to America. Bianca also moonlights as a Witch (THE BAD KIND!!) and is a Freelance Goddess of All Things Ever. Be very nice her because she likes to curse people, especially mean people. You can find Bianca on Twitter @Wonderbitch81, or email her at bianca@wonkette.com