Inauguration Protest Prosecutors Lighting Constitution On Fire
Cops
December 21, 2017 11:19 AM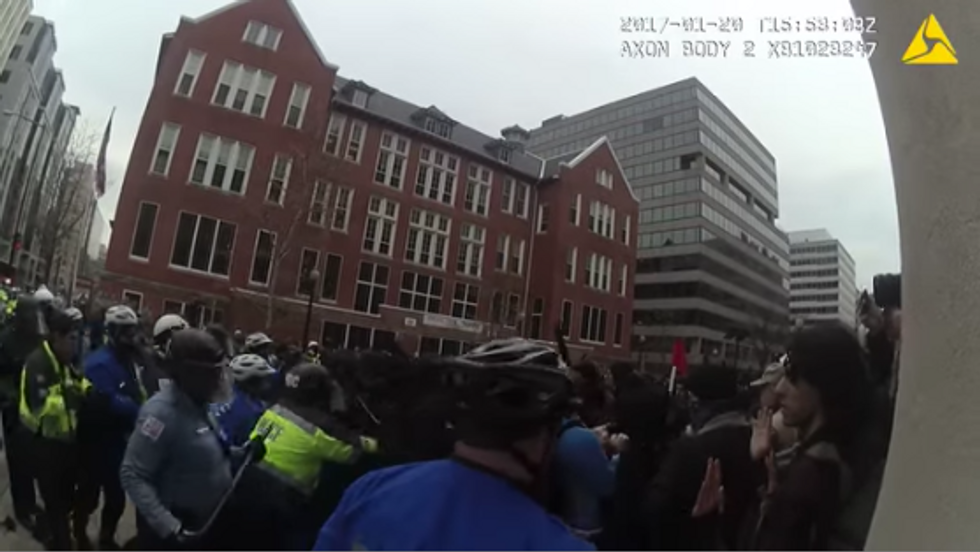 The beginning of the kettle of the J20 defendants in Washington, DC.
---
One of the undercovered stories of the year is the fact that this very minute, the following saga is unfolding:
Midway through 2016, a bunch of activists formed a loose affiliation and called it Disrupt J20, planning to cause a bit of mayhem during the Inauguration. They planned marches and various actions like blockading the entrances to the national Mall during the inauguration. (Turns out, not that many people wanted to go to the Inauguration anyway!)
Project Veritas, which you will remember as the people who just tried and failed to fake out the Washington Post, attended and secretly filmed a protest planning meeting at Comet Ping Pong -- yes, that one -- in which a group of protesters loosely called J20 planned to throw butyric acid at people attending the Deploraball, and failing that to possibly somehow get it into the building's ventilation or sprinkler systems. This meeting was also attended by an undercover police officer, unbeknownst to Veritas.
Which sounds pretty fucked and terroristy for sure, but read this. It's a stink bomb. Probably a bit choking at high concentration if a single spilled drop made a room smell horrid for two weeks or more, but not exactly life-and-limb stuff.
A man was arrested and charged in connection with the purported attack. The members of J20 in the video have claimed that they were aware they'd been infiltrated and were intentionally saying provocative things trying to force the Veritas plant out.
During this time, DC police spent hundreds of thousands of dollars equipping themselves for the Inauguration, buying gas masks, batons and what they call less-lethal munitions like smoke bombs and Stinger grenades.
"The police here always give three warnings to protesters before they give any action. In this case, there was nothing," Thompson-Washington said in an interview. "There was no order of dispersal, no warnings. They just immediately brought out their batons and pepper spray without any warning." - Ria Thompson-Washington, Legal Observer
The day of the protests, hundreds of people marched with J20. A lot of them were dressed in black. A few of them broke off from the main group and broke windows. They burned a limousine and threw trash cans, among other assorted property damage that was later estimated at about a hundred thousand dollars. Police eventually swept up hundreds of people in a kettle, which is a maneuver in which protesters are trapped between police lines. They arrested 217 people.
The ACLU
sued police
 in June, alleging that protesters' rights had been violated somewhere between the unlawful arrests, the invasive genital searches, police use of non-lethal weapons without warning, and the fact that many of the people who were arrested were refused access to food, water or bathrooms for hours. The DC Police Complaints Board issued a
report
that found police had violated procedure multiple times.
"They're using whatever stuff they can drag up. It's doubly strange that they would be taking such a discredited source." - Erin Lemkey, J20 Defendant
In early fall, a judge lifted a gag order and it was confirmed that the government had subpoenaed Facebook data for every person who had visited the J20 Facebook page and all communications via Facebook connected to the account, as well as that of J20 leaders. The J20 website's host was asked to turn over all the website data, and also the information of its 1.3 million visitors, though a judge later narrowed the scope of the subpoena. The data grab alarmed tech people and civil rights activists alike.
A few people pleaded out to smaller charges. The first six defendants in the trial are now waiting on the jury.
"They intend to hijack the First Amendment. And you need to remind them, 'Whose streets? Our streets.' These are your streets. You're DC residents. Many of them are not." - Prosecutor Rizwan Qureshi, to the jury
During this trial, which you will recall is over property damage, none of the defendants are accused of personally damaging any property. They are being held accountable for what was discussed at meetings they did not attend. They are instead facing prison time for being near the property damage in the vicinity of people who attended the infamous meeting.
"The defense has talked to you a little bit about reasonable doubt. You're going to get an instruction from the judge. And you can tell it's clearly written by a bunch of lawyers. It doesn't mean a whole lot." - Prosecutor Jennifer Kerkhoff, to the jury
In September, the prosecution introduced several audio and video files into evidence, including files created by the Oathkeepers. Using the video captured by Project Veritas and the recollections of the undercover officer at the Comet Ping Pong meeting — at which none of the defendants currently on trial were in attendance — the prosecution is arguing that anyone who attended the J20 protests intended to either commit or provide cover for criminal acts.
"What do you need a medic with gauze for? What do you need a medic with all the items that Ms. Kropf laid out for? I thought this was a protest!" - Prosecutor Rizwan Qureshi, to the jury
The prosecution has argued that a nurse who was acting as a medic having gauze is proof that the group planned ahead for "war," that wearing black clothing was cause to believe that a defendant was engaged in a conspiracy to riot, and that all the defendants had ample warning to leave the situation well before they were arrested. An independent investigation has determined that not to be the case.
"How is he an up-and-coming journalist and he's talking about a kettle? I didn't know what a kettle was before this case. Did you?" -Prosecutor Rizwan Qureshi, to the jury
Prosecutors also say it's suspicious that Alexei Wood, a freelance journalist who was live-streaming the protest, knew terms like "kettle," and they argue that his approving narration of events to the people following his stream constitute a broadcast meant to encourage rioting. They argue that his borrowed press pass means that his legitimacy as a journalist is in question.
"We don't believe any of the defendants personally engaged in property destruction." - Prosecutor Jennifer Kerkhoff
All six defendants face two misdemeanor rioting charges and five felony charges of property destruction. Additional charges of felony incitement were dropped after the judge ordered an acquittal for lack of evidence. We remind you that none of the defendants are accused of destroying anything. This case should matter to you if you plan to protest anything in the future, or if you ever visit political websites, or if you sometimes attend political meetings, or if you enjoy reading the news.
Wonkette is a tiny outlet but even we've had reporters on the wrong side of police this year. It is not outside the bounds of presumption to think that it's a good idea to bring basic medical supplies to a protest. It's not strange that people in an increasingly militarized society would know tactical terms that have been printed in the New York Times. It's not unreasonable that people concerned with the maintenance of civil liberties would go observe them being exercised and act as legal observers.
What is very unreasonable is the idea that a citizen that nobody accuses of doing more than showing up to a protest might be charged with a felony conspiracy charge and rioting based on the actions of other people and political meetings that other people hosted and attended. It is unreasonable to charge people with those things because they hosted or attended a meeting when they weren't at the protest, much less causing damage. It is pushing the bounds of absurdity to ask to jail hundreds of people for a collective twelve thousand years because a half dozen people broke some windows and destroyed a limo.
The notion that the state gets to decide who's a journalist based on whether they're w-2 employees of a large enough media outlet to satisfy the prosecution's notion of journalistic legitimacy is absolutely chilling; our very own Dom would not qualify as a journalist based on that standard, because Wonkette does not give out hard passes. Dom has a degree from a reputable institution in the field of journalism, and has gainful employment in the field - no small feat for anyone in this climate, much less a recent grad. My body of work spans 12 languages and four continents and my byline's everywhere from the Guardian to the Financial Times to an obscure Irish academic journal; still, I would not qualify as a journalist by this standard.
It's all fucking chilling, and that's intentional.
The jury is out in the first round of trials. If they don't return a verdict by Friday, deliberations will resume next Wednesday. [UPDATE: IT IS A NICE TIME! NOT GUILTY ON ALL CHARGES!]
[Huffpo]
Wonkette is ad-free, so we're probably not considered journalism either. Click to keep us that way!