Indelible In The Hippocampus Is The Laughter Of President Shitbag And His Deplorables
News
October 03, 2018 10:33 AM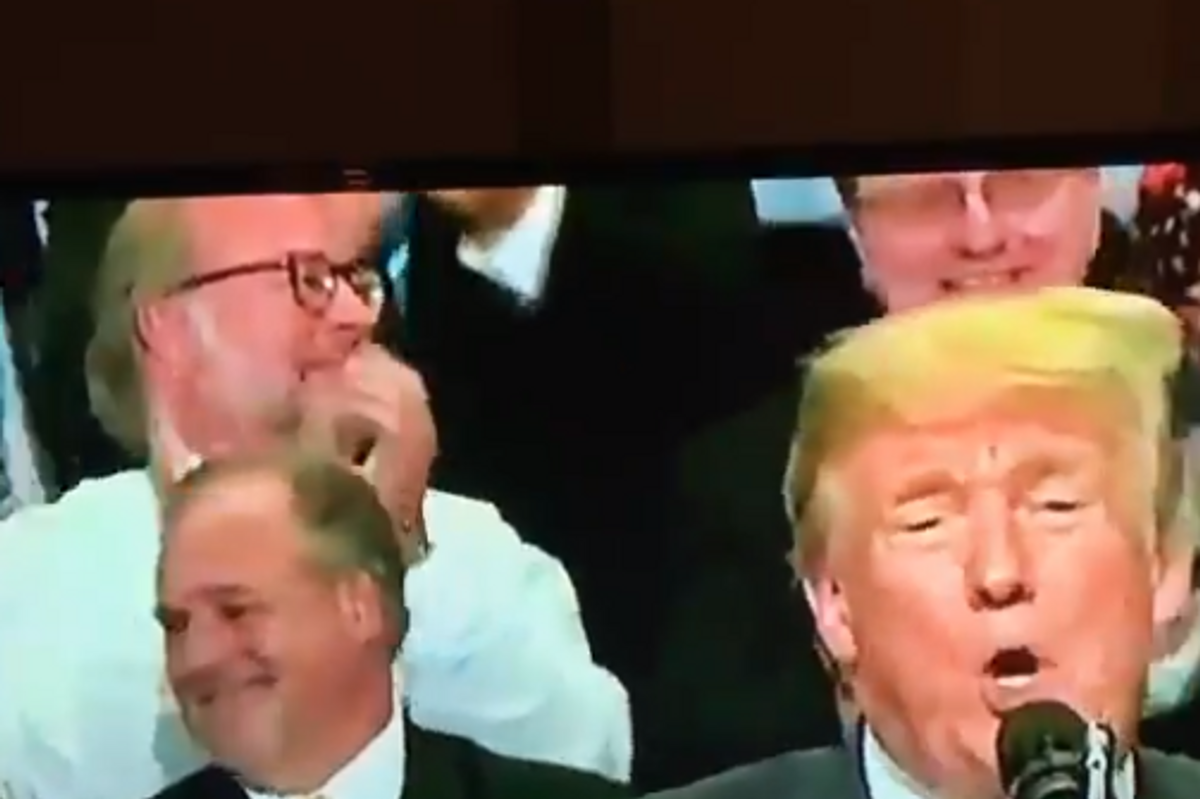 We don't need to repost Christine Blasey Ford last week responding to a senator's question about what she remembers most about the night she was sexually assaulted by Brett Kavanaugh, saying that "indelible in the hippocampus was the laughter, the uproarious laughter," the line that, casually peppered as it was with the scientific lingo of her professional expertise, instantly made millions of people cry. But we're going to, because we want her voice to be louder than Donald Trump's, including in this post:
Last night, Donald Trump, the barely elected shithole human who currently serves as president of the United States, did one of his Hitler Hee Haw rallies in Southaven, Mississippi, in yr Wonkette's backyard. We did not attend.
Trump has been truly, madly, deeply triggered by the events of the past few days, obviously relating his own experiences of being credibly accused of sexual assault to Brett Kavanaugh's experiences of being credibly accused of sexual assault. He's not reflective about it, because he's incapable of self-reflection. Instead, he is losing it over the fact that mere women might be able to derail something such as the Supreme Court seat a white man feels entitled to, just by telling their stories of being sexually abused by that man. And ohhhhhhh, he is mad.
---
Speaking to the gathered glue-sniffing hordes, Trump made them giggle and giggle as he mocked Christine Blasey Ford as if she were a common disabled reporter, only days after saying he found her testimony credible. Clearly, Trump has now remembered who his real enemy is, and it is decency and humanity, and also women.
We would transcribe, except fuck that man's shitmouth, this website is too good for his words:
He mocked Christine Blasey Ford for not remembering every detail of her assault, for her claim she only had one beer, and for anything else he could think of because DAMMIT, he was seething at that woman standing in the way of his ability to put a likely serial sexual abuser on the Supreme Court. His deplorable followers approved:
Hope they don't have daughters, but of course, some of them do.
You'd think that was enough, but nah, Trump's people have been trying to shut him up on this for a whole week and he was just bursting with pig ignorance and rage. Elsewhere in the rally, Trump told the most pathetic hypothetical story about a boy telling his mother he was just doing great at life, mom, and he's succeeding at life, mom, but oh no, mommy! What's going on, mommy! A nasty lady is lying on me and saying I raped her, MOMMY WHAT DO I DO!
Trump tonight seemed to tell the crowd that their husbands and sons and could be falsely accused of sexual miscondu… https://t.co/xGy3XsSFZS

— Kyle Griffin (@Kyle Griffin) 1538529628.0
In a normal world, the question would be "Well, son, did you rape that woman?" But not in Trump's America. In Trump's America, that terrible woman is taking away something that (white) boy is owed, and dammit, Trump and his pigs are MAD about that.
Speaking of his pigs, we're having a hard time finding a video clip of it, but the New York Times's Maggie Haberman and others report that soon after, they broke into a chant of "Lock her up!" -- about Dr. Christine Blasey Ford. It's like Aunt Lydia forcing the handmaids to chant "Teach her a lesson!" but with less deodorant and more monster trucks and fireworks accidents, considering the location of the rally. (Now you know why those of us in Memphis often suggest putting a fence around our Mississippi suburbs and putting up signs that say "Camp Moron.")
The usual suspects upon whom Brett Kavanaugh's nomination hangs, like Jeff Flake and Susan Collins, were interviewed this morning and said it's just "appalling" (Flake) and "wrong" (Collins) what Trump said, and we'd find you videos of that if we thought you cared.
Dr. Blasey's attorney responded on Twitter:
A vicious, vile and soulless attack on Dr. Christine Blasey Ford. Is it any wonder that she was terrified to come… https://t.co/JRtQBvQW78

— Michael R. Bromwich (@Michael R. Bromwich) 1538530280.0
Perhaps the only good thing to come out of Trump's rally is that he made Democrats a free campaign commercial, and painful and sad and terrible as it is, you'll be hearing Trump's words and seeing Dr. Christine Blasey Ford's face a lot between now and November 6. Look, here's an ad, directed at Jeff Flake, Susan Collins and Lisa Murkowski:
NEW DIGITAL AD: Versions will run in Maine, Alaska and Arizona, starting tomorrow. https://t.co/UX5x6FeNd6

— Brian Fallon (@Brian Fallon) 1538531647.0
We feel like a broken clock, but VOTE LIKE YOUR LIFE FUCKING DEPENDS ON IT.
Because it does.
Follow Evan Hurst on Twitter RIGHT NOW, DO IT RIGHT NOW!
Wonkette is the ONLY NEWS ON THE INTERNET. Please give us money RIGHT THERE BELOW if you want us to live FOREVER.
Evan Hurst
Evan Hurst is the managing editor of Wonkette, which means he is the boss of you, unless you are Rebecca, who is boss of him. His dog Lula is judging you right now.
Follow him on Twitter RIGHT HERE.