Insane Maine GOP Conventioneers Also Search, Vandalize Classroom
News
May 13, 2010 09:23 PM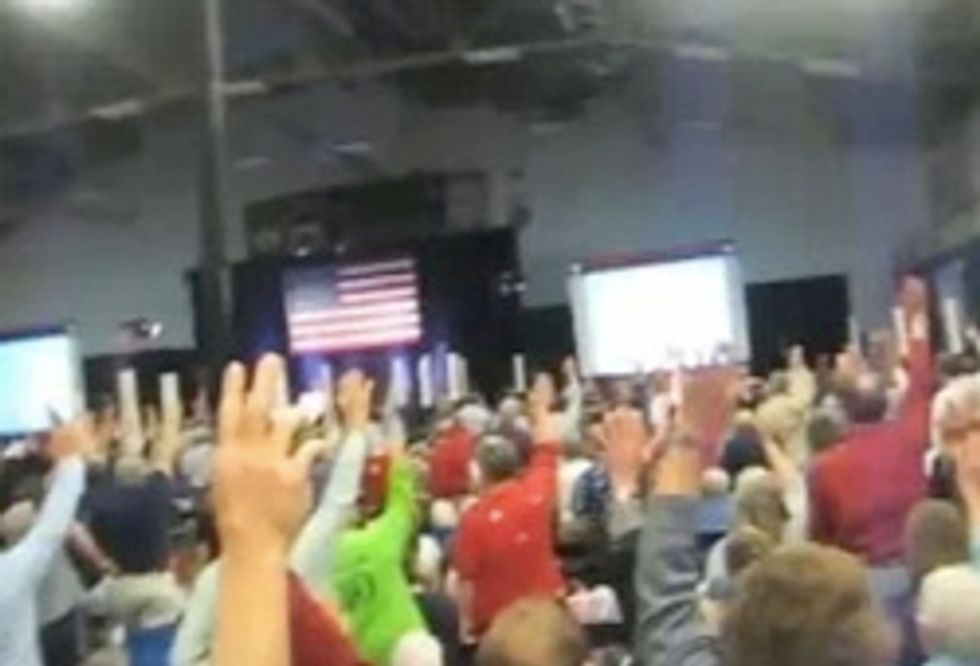 Earlier this week we learned that the Maine GOP, during its state convention,replaced its standard platform with a hilarious four-page teabagger e-mail that one local reporter could only describe as "a mix of right-wing fringe policies, libertarian buzzwords and outright conspiracy theories." It turns out, though, that this was only the second most comical thing that the teabaggers did during the convention. Some folks, while caucusing in a rented classroom at the nearby middle school, got it in their heads that the classroom's teacher was a commie liberal indoctrinating the children with commie liberalism, and so they just dug through all of his stuff and trashed the place.
---
"We allowed them to use the space and I'm appalled that they would go through a teacher's things, let alone remove something from a classroom," [school committee member Sarah] Thompson said Wednesday. "We want the public to use school spaces, but they need to respect that it's a school and understand that they should leave it the way they find it."

The Republican State Convention was held at the Portland Exposition Building, which is on Park Avenue, near the middle school. Party members from Knox County caucused in a classroom used by eighth-grade social studies teacher Paul Clifford.

When Clifford returned to school on Monday, he found that a favorite poster about the U.S. labor movement had been taken and replaced with a bumper sticker that read, "Working People Vote Republican."

Later, Clifford learned that his classroom had been searched. Republicans who had attended the convention called Principal Mike McCarthy to complain about "anti-American" things they saw there, including a closed box containing copies of the U.S. Constitution that were published by the American Civil Liberties Union.

Maine Republican Party leaders have issued a written apology to King students and teachers.
The state party leader, Christie-Lee McNally, added, "Over 900 other people attended these caucuses without incident and I hope that the actions of few do not tarnish the image of many." They won't. The fact that they adopted a hilarious four-page teabagger conspiracy theory e-mail as their official state platform, that's the part that tarnishes the image of many.