Internal Fox News Memo Shows They Knowingly Broadcast Ukraine Dezinformatzya
Journalism
February 07, 2020 01:05 PM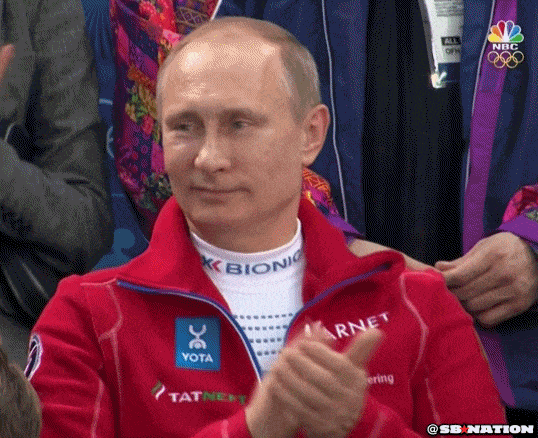 Giphy
Which Trumpland media figures know the whole thing is a lie, and which are true believers? It's one of the enduring mysteries of this three-year nightmare. Who is running a con, and who thinks the insane conspiracy theories they flog hourly are actually the truth? Sure Don Jr. is a drooling idiot who thinks Mitt Romney is a crypto-Democrat in cahoots with Nancy Pelosi to impeach the greatest president since Lincoln to please George Soros. But does Laura Ingraham, a former Supreme Court law clerk, actually buy into all this crap?
Apparently, the higher-ups at Fox are in on the joke. The Daily Beast got its hands on an internal Fox News briefing book, which makes clear that the network has known all along that Rudy Giuliani and Hill "opinion" writer John Solomon were selling a pack of lies about Joe Biden in Ukraine. But the rubes eat that shit right up, so ... LOL! And also KA-CHING!
---
The briefing book was first alluded to by former Fox producer Marcus DiPaola, who tweeted out the front page of a report updated December 9, 2019, on "Ukraine Disinformation & the Trump Administration" compiled by Fox senior political affairs specialist Brian Murphy.
At a time when not just Sean Hannity and Lou Dobbs but the "hard news" side of Fox as well were airing Rudy Giuliani's conspiracy rants as if they might actually be true, Murphy had identified all the players in the "unrelenting disinformation campaign" to support Trump's Ukraine extortion scheme.
Perhaps more valuable for reporters working on the story, the longer narrative about the Ukraine saga gives one an understanding of the motives behind the disinformation campaign organized by a desperate and easily transparent Ukrainian politician, Lutsenko, and the corrupt Ukrainian oligarch Firtash, with his own clear financial and legal motives. Reading the timeline in its entirety – not a small task -- makes clear the extensive role played by Rudy Giuliani and his associates, Lev Parnas and Igor Fruman, in spreading this information. Parnas and Fruman's links back to Firtash are also detailed.
Later, the document describes Giuiliani's "high susceptibility to misinformation," which is a nice way to say he's a demented loon who believes any crazy shit you jam in his ear trumpet at the cigar bar. Further noting that Parnas and Fruman have "strong reported financial links to Firtash," Murphy described "the extensive role played by Rudy Giuliani and his associates, Lev Parnas and Igor Fruman, in spreading disinformation."
Murphy also made his bosses aware that disgraced Hill reporter Solomon was working with hairball lawyers Joe diGenova and Victoria Toensing, who regularly appeared on the network without disclosing that they had been paid upwards of $1 million by Firtash to gin up Ukraine dirt on Joe Biden to trade to the Justice Department for leniency in his case.
Notable are the roles of Joe diGenova and Victoria Toensing in spreading disinformation and their parroting of beneficial narratives while employed by Firtash. John Solomon played an indispensable role in the collection and domestic publication of elements of this disinformation campaign. And domestic media outlets (the most prominent featured in this timeline) played a role in amplifying the distribution of these storylines.
Murphy complained that Hannity continued to refer to Solomon as an "investigative reporter," despite the fact that the rest of the Hill staff forced editors to slap an "opinion" label on his columns in 2018 after he published one too many nonsense conspiracies about the Uranium One lie. Luckily, Solomon found a new home at Fox last November. Which reminds us that Hill editor Bob Cusack promised after Solomon's departure that the publication would be "reviewing, updating, annotating with any denials of witnesses, and when appropriate, correcting any opinion pieces referenced during the ongoing congressional inquiry." Since then ... crickets. Are they still wading through the unending pile of lies, or are they hoping we'll forget all about it?
And speaking of lies, HEY, FOX! What's your excuse for knowingly airing so many of them?
That's just a little joke -- we are so silly on Fridays. Fox never needs an excuse to exploit its audience's ignorance and eagerness to swallow the most improbable of lies. It's their entire business model!
[Beast]
Follow Liz Dye on Twitter.
Please click here to support your Wonkette, who made it through another insane week!
Liz Dye
Liz Dye lives in Baltimore with her wonderful husband and a houseful of teenagers. When she isn't being mad about a thing on the internet, she's hiding in plain sight in the carpool line. She's the one wearing yoga pants glaring at her phone.