Intolerance Will Not Be Tolerated! Wonkagenda For Mon., Feb. 13, 2017
POTUS
February 13, 2017 09:10 AM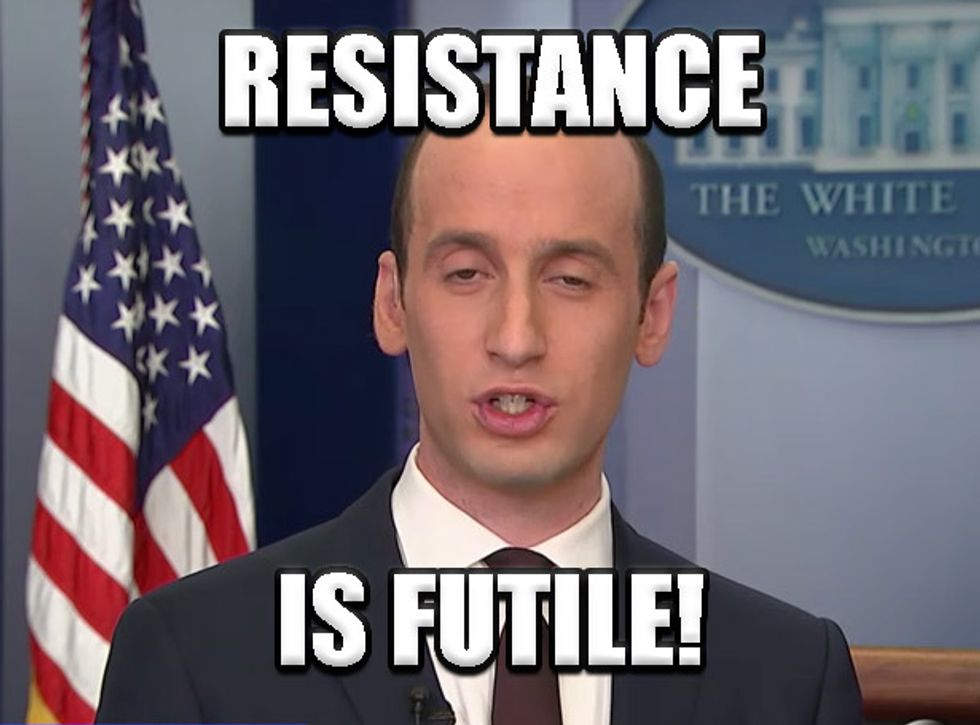 Morning, Wonkers! It's been a busy weekend, so we hope you're all rested up! Here's some of the things we may be talking about today!
---
Stephen Miller did a full court press Sunday, hitting all the teevee newsy shows, and not only lied out of his ass, he wants it known that NOTHING on this Earth will stop God-Emperor Trump.
Trump's national security staff, like their boss, are incompetent and petulant children who don't understand how to call up the National Guard or why they can't board ships in international waters, but they do get complimentary MAGA coffee cups!
Mike Flynn is trying to avoid getting "You're Fired" after he was caught talking about Russian sanctions, a violation of the Logan Act. Whoops!
Even Reince Preibus is catching heat from some Trumpkins who want his head (and job)!
BUT WAIT, THERE'S MORE! Trump's White House is denying that Sean Spicer might be "You're Fired" for being so bad at lying to reporters, and hiring some guy from Fox News as the new press secretary.
Trump is killing more regulations than Reagan with the Congressional Review Act, scaring environmentalists and giving corporations big money boners.
North Korea test-fired a missile near Japan, but don't worry, Trump let Japanese Prime Minister Shinzo Abe speak instead of tweeting, possibly preventing World War III (for now).
The Department of Education mispelled several tweets this weekend including the apology, but it talk gooder sumday.
ICE raids arrested 600 people across 11 states this weekend but they were all gang members and drug dealers, not random people with families, except for the ones who were.
Bernie Sanders WAS going to have a town hall in West Virginia about health care, but the venue suddenly pulled out and Bernie is pissed.
The military has been hiding lethal airstrikes in Iraq, Syria, and Afghanistan for several years and may go back to the start of the "war on terror" in 2001 because reasons! Stop asking questions!
California's Orville dam may flood, and an evacuation order has been issued, so tell your friends and family in NorCal to GTFO, and remember this the next time people complain about infrastructure spending. [Morning Maddow]
The U.S. Tennis Association is super sorry it played the Nazi-era version of Germany's national anthem before a tennis thing this weekend, and Germany is rightfully pissed.
And, on Late Night, Bill Maher had Al Franken, and Jim Jefferies told Piers Morgan to fuck off. Meanwhile, John Oliver is back breaking down Trump's truthiness.
And here's SNL's cold open with Melissa McCarthy reprising her spicy Spicer!

And here's your morning Nice Time, a baby orphaned antelope getting some much needed TLC!
Dominic Gwinn
Dominic is a broke journalist in Chicago. You can find him in a dirty bar talking to weirdos, or in a gutter taking photos.