Is America Ready For This French Retro-Porn Sci-Fi Parody? Your Saturday Nerdout
Science
October 03, 2015 01:30 PM
Somebody set up us the dong!
---
The weekends are for rest, relaxation, and catching up on binge-watching The Walking Dead (yes, even Season 5). Oh, and maybe doing something about that mass of matter in the kitchen sink before it achieves self-awareness and launches Judgment Day.
Where Is The Ultra-Sex? What Is The Ultra-Sex?
We're incredibly lazy, so we're just going to borrow The Daily Beast's description of what promises to be the greatest intentionally crappy movie of all time:
Cut together from dozens of vintage 1970s-1990s boom-chicka-wow-wow porn pulled from the archives of French broadcaster Canal+, the insane sci-fi XXX film In Search of The Ultra-Sex tells a shockingly cohesive science fiction narrative filled with disco robots, spaceship battles, roller skating sex, laser vaginas, and Power Rangers-esque warrioresses shooting milk from their breasts.

Taking their cues from Woody Allen and his 1966 remixed spy flick What's Up Tiger Lily?, French directors Nicolas Charlet and Bruno Lavaine also manage to make a delightfully bizarre monstrosity more sublime than its forgotten, mostly Eurotrash parts.
So what this thing is, is a bunch of old porn-flick clips remixed into a sci-fi film about the desperate attempt of some people on a spaceship to rescue Earth from a worldwide outbreak of uncontrollable sexiness before everyone bones each other senseless. The intrepid heroes must solve the mystery of who has stolen the "Ultra-Sex matrix that keeps humankind's libido in check," as we see all sorts of weird bad porn overdubbed with dialogue rejiggered to the purposes of the SF story. It may help that the clips are from those antique pre-internet days when porn makers felt obliged to include a plot and dialogue of some sort. Oh, look! There's a trailer! Needless to say, it is NSFW:
Sadly, no word on when/whether this instant classic will get an actual U.S. release; it played at last weekend's Fantastic Fest in Austin, but darned if we could find out anything about a video release. This obvious brilliance deserves to be seen.
Farewell, Log Lady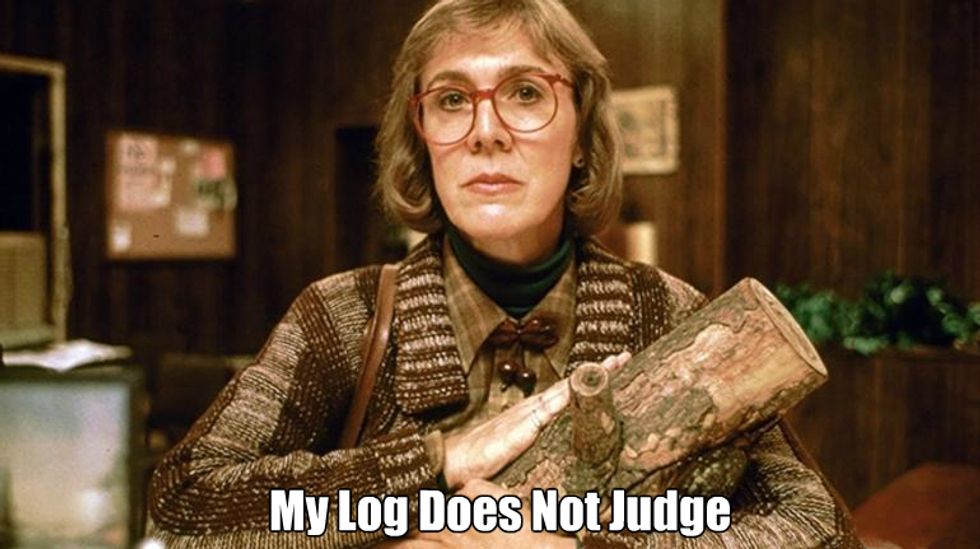 The owls are not what they seem, either
Catherine Coulson, who played the Log Lady in David Lynch's sublimely weird Twin Peaks, died Monday at the age of 71. NPR brought us this very sweet remembrance of the actress and the character:
Do We Still Need 'Banned Books Week'?
Today is the last day of the American Library Association's Banned Books Week, which is a great time for bookstores to put out displays of Vonnegut, The Grapes of Wrath, Captain Underpants, and Sherman Alexie's The Absolutely True Diary of a Part-Time Indian. To mark the occasion, Slate ran this contrarian thinky-piece by Ruth Graham arguing that we really don't need a "Banned Books Week" anymore, since for all practical purposes, there's no such thing in U.S. America as a "banned book" -- there are still books that get pulled from school reading lists or moved to a restricted shelf at the library, but those very same books are still quite available in bookstores, and very often, when a book gets pulled from a school, publishers and bookstores go out of their way to distribute free copies of the book to students, as happened in Nampa, Idaho, when the school district dropped Alexie's Part-Time Indian.
As Graham points out, we're long past the days when selling Tropic of Cancer or Lady Chatterley's Lover would get you arrested or fined; the fights now are almost always over whether a book will be used in a class or kept on the shelf of a school library; suppression of books at public libraries is far rarer. And even when some challenges to books seem downright silly -- like the Texas mom who thought a nonfiction book, The Working Poor, was "Marxist" and full of dirty sex, -- Graham notes that "it's hard to argue that parents should have no right to weigh in on what their children read at school."
While she didn't convince us completely -- considering that teachers still lose their jobs simply for reading books in class that some parents freak out over -- but it's an interesting read. Go, read, and argue in the comments, which we of course do not allow because we are fascists who hate the First Amendment.
[contextly_sidebar id="BnX1CODyNFPrXCV8L8HxisToMAHOkrjx"]
Massachusetts Invaded By Cool Wind-Operated Walking Beasts
For you geeks in New England: Dutch artist Theo Jansen is exhibiting a bunch of his "Strandbeests" at the Peabody Essex Museum in Salem, Massachusetts. Constructed of PVC pipe and fabric and possibly Elven technology, the beach-walkers are hypnotic to watch and unspeakably cool:
Lemony Snicket Is A Pro-Choice Good Guy
Daniel Handler (aka Lemony Snicket), the author of the wonderfully mordant A Series of Unfortunate Events books, has pledged ONE MILLION DOLLARS to Planned Parenthood, because he's just that kind of guy. We're huge fans of the books, especially the audio versions, which are brilliantly narrated by Tim Curry, except for three or four where Handler reads them himself (He's good, too, but he's no Tim Curry).
Handler has fine dirty-liberal-progressive credentials; if you haven't read his "Thirteen Observations made by Lemony Snicket while watching Occupy Wall Street from a Discreet Distance," you need to correct that. Today! A sampling:
1. If you work hard, and become successful, it does not necessarily mean you are successful because you worked hard, just as if you are tall with long hair it doesn't mean you would be a midget if you were bald.

2. "Fortune" is a word for having a lot of money and for having a lot of luck, but that does not mean the word has two definitions.
And so on.
Simpsons Spoiler: Waylon Smithers Is Gay
We guess that's news, because now the producers are going to have Smithers come out to the only person in Springfield who doesn't know that: Montgomery Burns.
We seem to recall Matt Groening saying one time that Smithers wasn't exactly gay so much as he's Burnsosexual, but we never relly believed that, given his dialogue at the candy machine: "I could always go for a Jolly Rancher."
This should be a very exciting development for anyone who still watches The Simpsons and sighs, "Well, it still has its moments."
Here's Just How Much Sound Effects Matter
Here's a fun "oops!" -- an exciting promotional clip from Everest got sent to the BBC with part of the soundtrack missing: all the sound effects. As Casey Chan at Sploid sez,
it is oh so goofy to see an impossibly tense scene of the movie with all the VFX added and everything looking right and action packed but sounding... like they're having a normal conversation in a quiet room.
Maybe it's from a special cut for Mitt Romnney?
[contextly_sidebar id="umofmxslCnwc7OqgCNI2AzIlY26xJOmf"]
That's No Moon -- It's A Puppy Dog!
We figured you could use a few Nerd Doggies (OK, Nerds' Doggies) after this shitty week: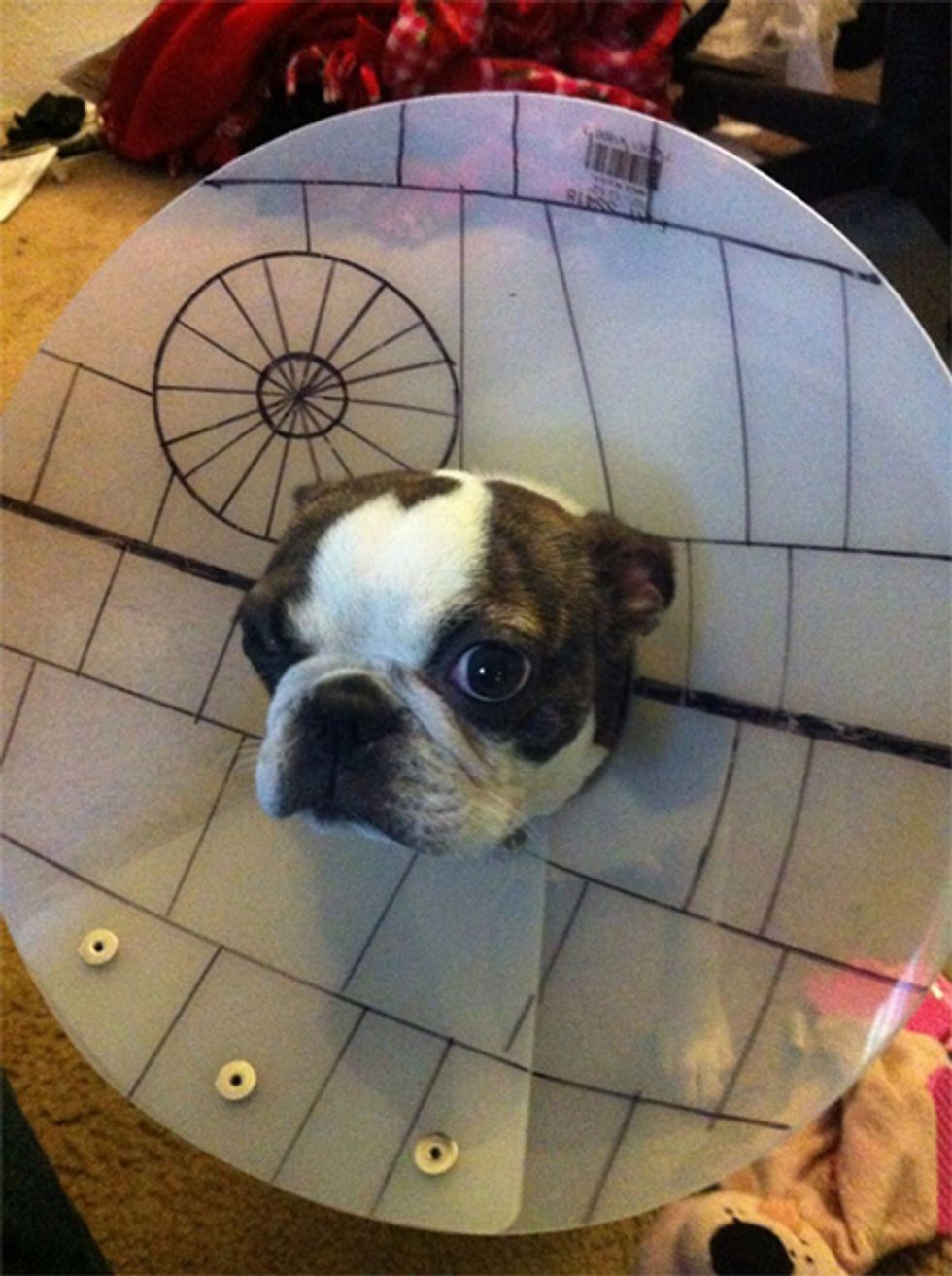 Don't you shed too much for a Stormtrooper?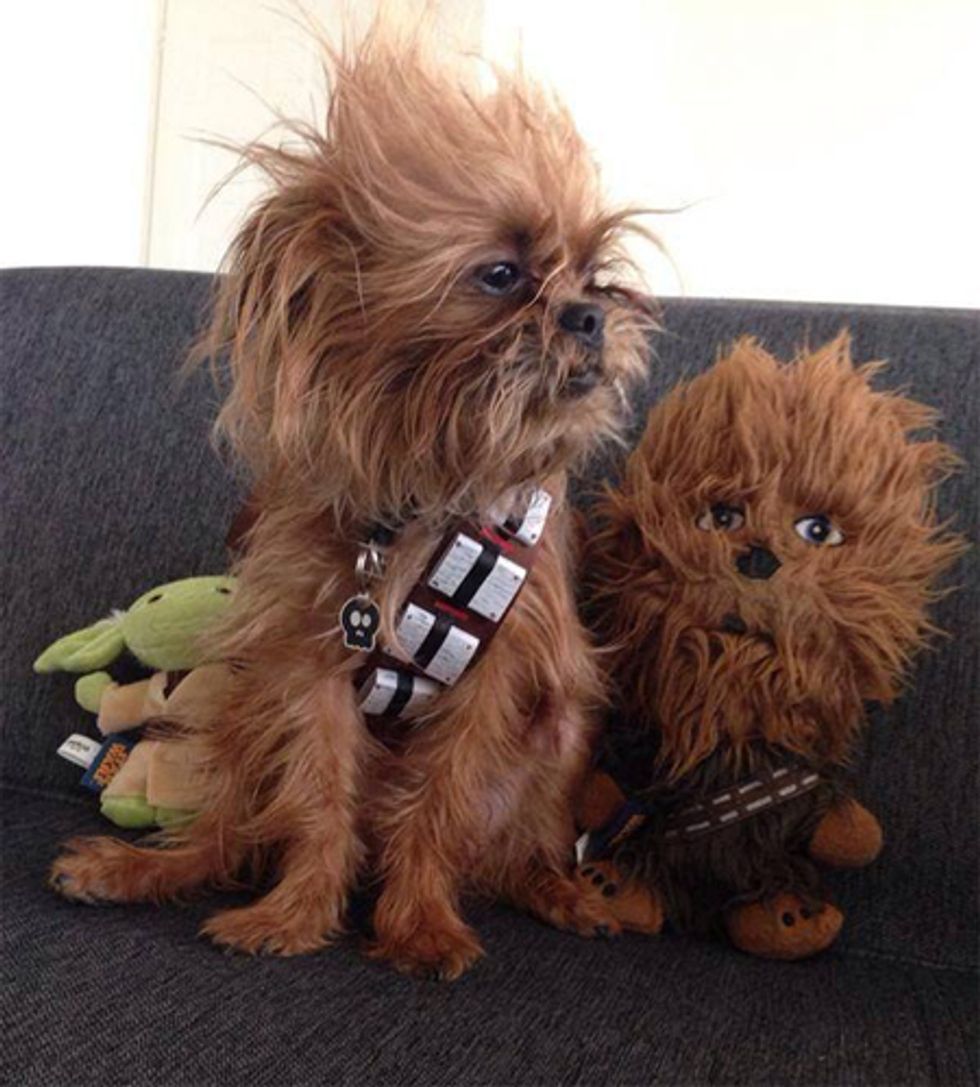 There are chewy toys, and Toy Chewies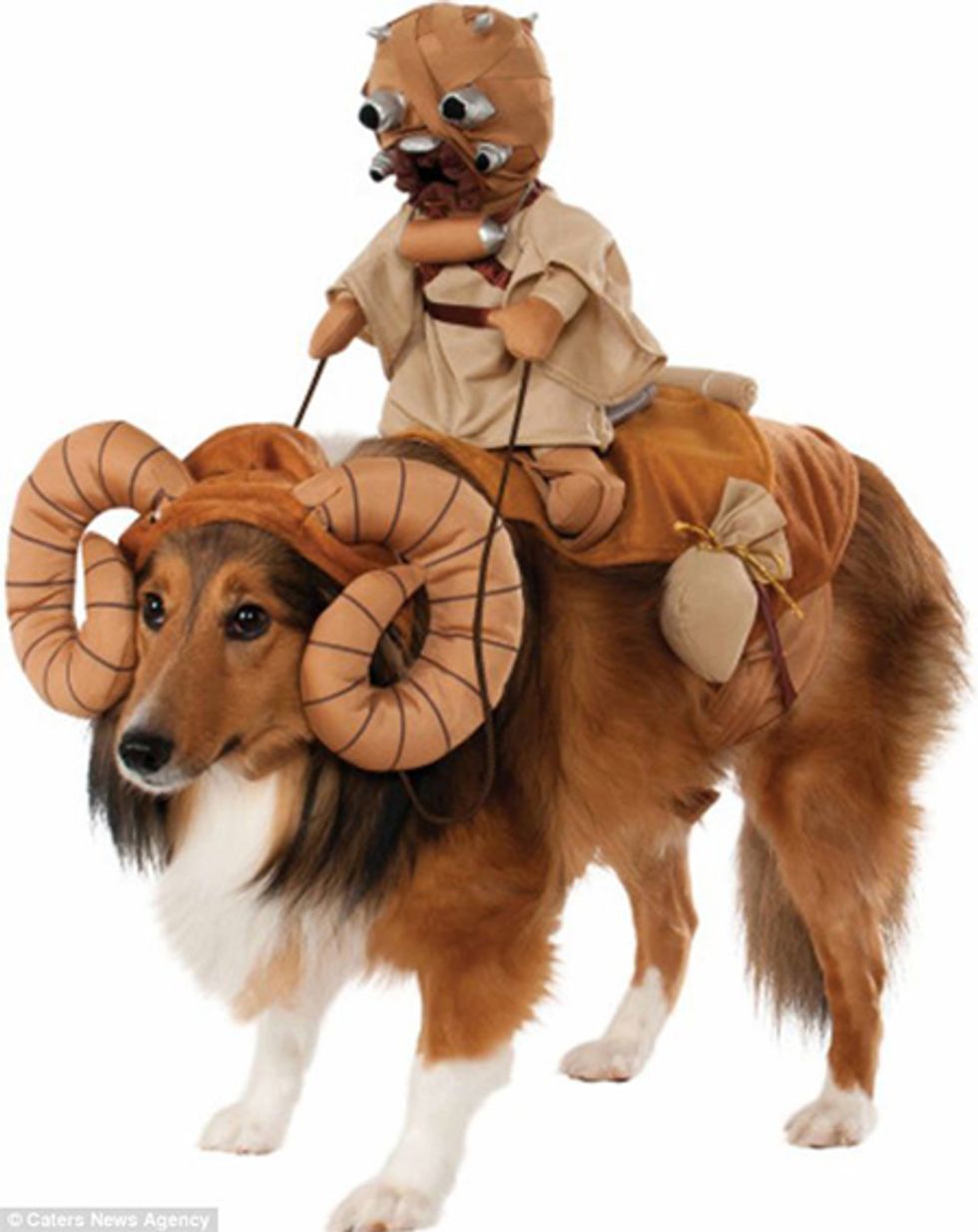 The sandpeople startle easily, but they'll soon be back, and on more embarrassed collies