Is Dianne Feinstein 'Bout To Shove Lisa Murkowski Into A Locker, Or Is Everything Cool?
News
September 26, 2018 04:11 PM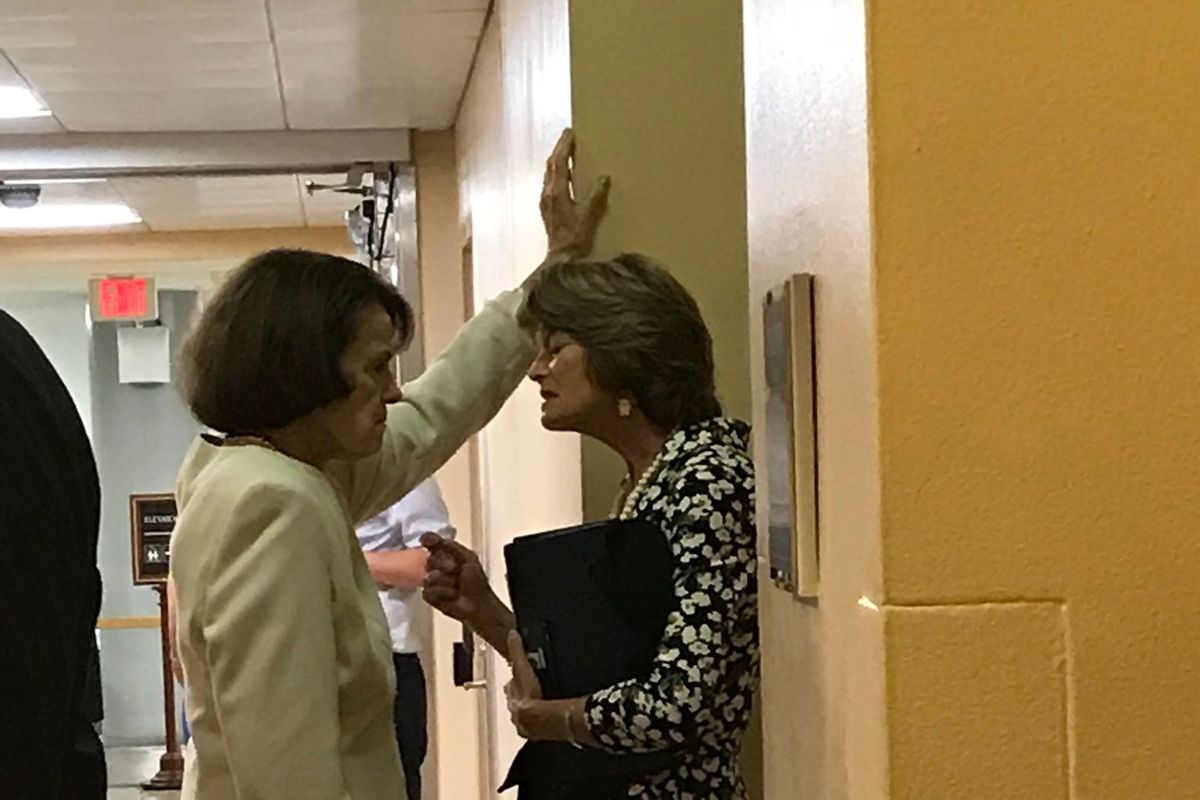 pic via Bo Erickson of CBS News on Twitter
Oh hey everyone, tomorrow is going to suck! We are just telling you in case you didn't know that already. Will the hearing with Christine Blasey Ford and Brett Kavanaugh go on as expected? Or will Brett Kavanaugh PULL OUT for the first time ever, allegedly? Will the shit hit the fan when Michael Avenatti comes out with more goods? Will Donald Trump bomb Canada to distract everybody?
OR WILL THE PEE TAPE FINALLY COME OUT?
We just don't know.
We also don't know what is going on in that picture up there, which was tweeted by a nice Twitter person who snapped an iPhone shot in the Capitol basement, we guess. Here is the full tweet, from Bo Erickson of CBS News:
---
MURKOWSKI and FEINSTEIN huddling in Capitol basement. What are they talking about? https://t.co/ouYjMa7kq4

— Bo Erickson CBS (@Bo Erickson CBS) 1537985887.0
OOOOOOH, WHAT IS HAPPENING THERE? IS IT GONNA BE FISTICUFFS? IS DIANNE FEINSTEIN ABOUT TO GIVE LISA MURKOWSKI A SWIRLIE BEHIND THE GYM AND SHOVE HER INTO A LOCKER?
Or is everything OK?
Here is some more context, from somebody else who was trying to eavesdrop but couldn't hear nothin':
Feinstein just ran into Murkowski in the hall and they hugged and then Feinstein said "this is just between us" and… https://t.co/XuupLSLWHt

— Peter Sullivan (@Peter Sullivan) 1537985721.0
UH OH! Are they planning a surprise birthday party for Chuck Grassley? Are they going to surprise him with a corn fountain that rains hot buttered corn on his nude body all day long? That is what he likes, we hear, allegedly.
Or mayyyyyybe Lisa Murkowski is going to be the one to tank Brett Kavanaugh's whole life, and Dianne Feinstein and Lisa Murkowski are keeping it just between them for now.
Here is another angle, from another journo in the Capitol basement:
Murkowski didn't have anything new for reporters afterward. Wouldn't say if she has seen the new Avenatti allegation https://t.co/loeA6RHd9J

— Sarah D. Wire (@Sarah D. Wire) 1537986070.0
We just don't know what's happening here!
But YOU GUYS DO! So for your open thread, let's have a caption contest where we say we will give out sexxxy prizes for the winners and then completely forget to do that like we always do!
Sound good?
Yeah it does, so ... GO! SAY FUNNY THINGS!
But please don't say them too loudly because we are all ZZZZZZ now and did we mention tomorrow is going to SUCK?
Follow Evan Hurst on Twitter RIGHT NOW, DO IT RIGHT NOW!

Wonkette is the ONLY NEWS ON THE INTERNET. Click if you want us to live FOREVER.
Evan Hurst
Evan Hurst is the managing editor of Wonkette, which means he is the boss of you, unless you are Rebecca, who is boss of him. His dog Lula is judging you right now.
Follow him on Twitter RIGHT HERE.