Is Hillary Clinton World's Evilest Arms Dealer Ever? Maybe!
Featured
May 28, 2015 11:30 AM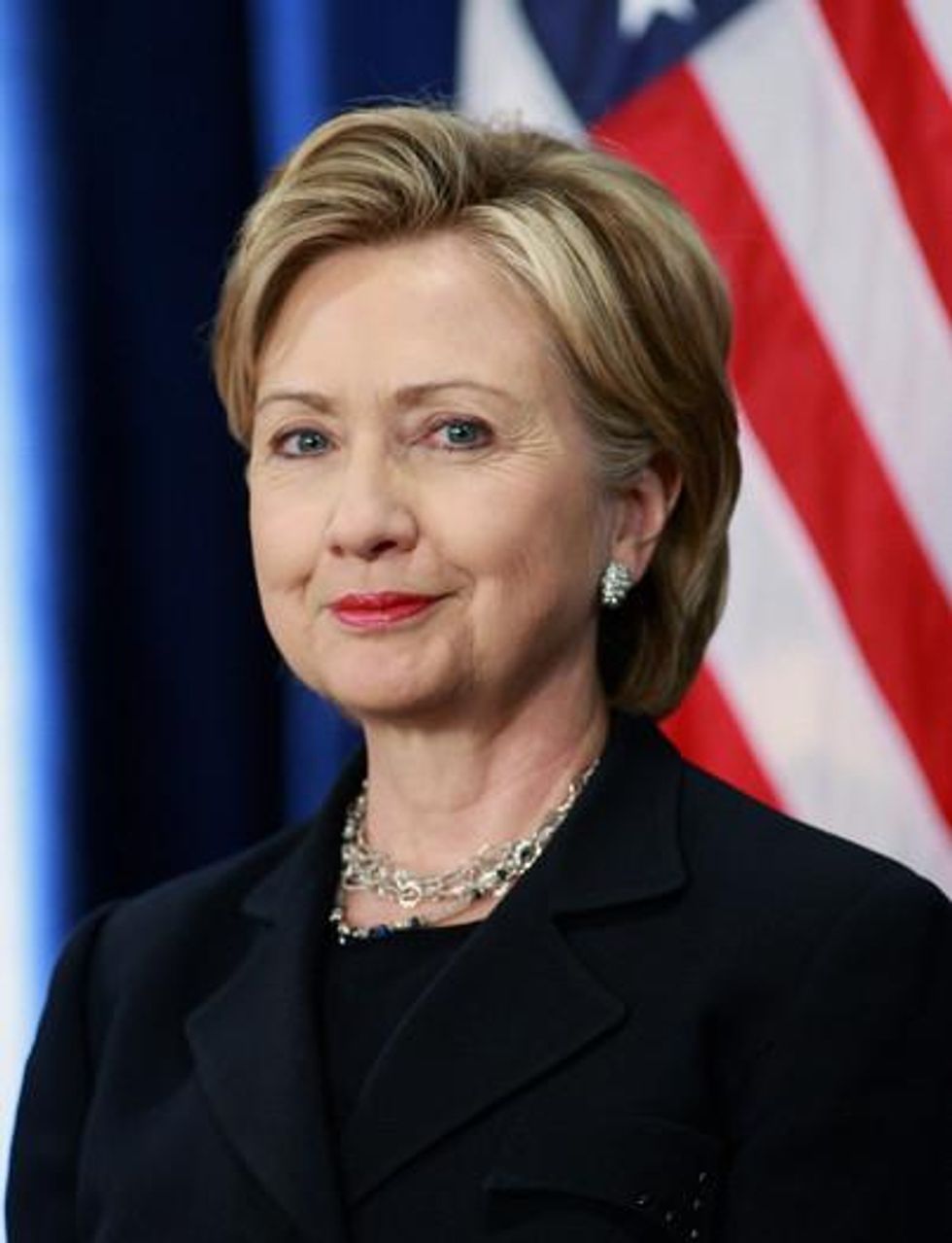 At last, a Hillary Clinton ZOMGgate story that might actually be a thing! (Or might not. You never know with those wily Clintons, which is why it's generally best to assume guilty until proven otherwise.) According to an exhaustive trillion-word report by the International Business Times, the Clinton State Department authorized approximately eleventeen metric fucktons of defense contracts between corporations and countries that, coincidentally uh huh sure right, happened to donate a whole bunch of money to the Clinton Foundation and to Bill Clinton (that's her husband) for doing his high-priced speechifying thing:
---
In all, governments and corporations involved in the arms deals approved by Clinton's State Department have delivered between $54 million and $141 million to the Clinton Foundation as well as hundreds of thousands of dollars in payments to the Clinton family, according to foundation and State Department records.
It just so happens that some of those countries who were allowed to get their hands on some sweet, sweet weapons were also on the official United States Naughty List of Countries That Are Naughty, like Algeria and Qatar, who were condemned by the State Department while Clinton was secretary of it, for sucking super hard at human rights, and for things like "widespread corruption" and "arbitrary killing." And yet they were allowed to buy all kinds of military hardware and chemical agents and other goodies. Plus there was a $29 billion -- yes, with a "b" -- deal to sell fighter jets to Saudi Arabia, which is supposed to be our pal in the Middle East even though its human rights abuses are pretty bad too, but the Saudis give us all that oil we need, so we just sort of ignore their naughty stuff. And yet all of those countries, who happened to have given money to the Clinton Foundation, were permitted to buy stuff from defense contractors who also happened to give money to the Clinton Foundation, HMMMMMMMMMM. Coincidence? Maybe. Or maybe not. But maybe?
Just before Hillary Clinton became Secretary of State, the Clinton Foundation signed an agreement generally obligating it to disclose to the State Department increases in contributions from its existing foreign government donors and any new foreign government donors. Those increases were to be reviewed by an official at the State Department and "as appropriate" the White House counsel's office. According to available disclosures, officials at the State Department and White House raised no issues about potential conflicts related to arms sales.
IBT has long lists of names and dollar figures, if you wanna get super nerdy about it, to see just how many millions of dollars flowed to the Clinton Foundation from the same corporations that then got to sell their war-making wares to countries we maybe don't want to arm, like Algeria and Qatar and Australia. Wait, do we care if Australia has weapons? Unclear.
And then there are some law professors and ethics experts who say that OK, maybe Billary did not technically do anything bad or wrong, but it sure looks suspicious, and that's kind of a problem, because you don't want your secretary of state or your madam president (ahem) getting super rich off deals that look suspicious, even if they are technically kosher. Which is, as always, the problem with the Clintons, SIGH. Even if there's no there there, they sure do a heckuva job making it look like there's a there there, and then the entire U.S. government has to stop dead in its tracks to do investigations and subpoenas and hearings, forever and ever and EVER, to look at the there that might be there, to figure out whether the there that might be there is there after all. SIGH again.