Is Wonkette's GET YOUR GUNS OFF MY LAWN Tour Coming At YOU NEXT WEEK? (Yes.)
Guns
March 07, 2018 04:30 PM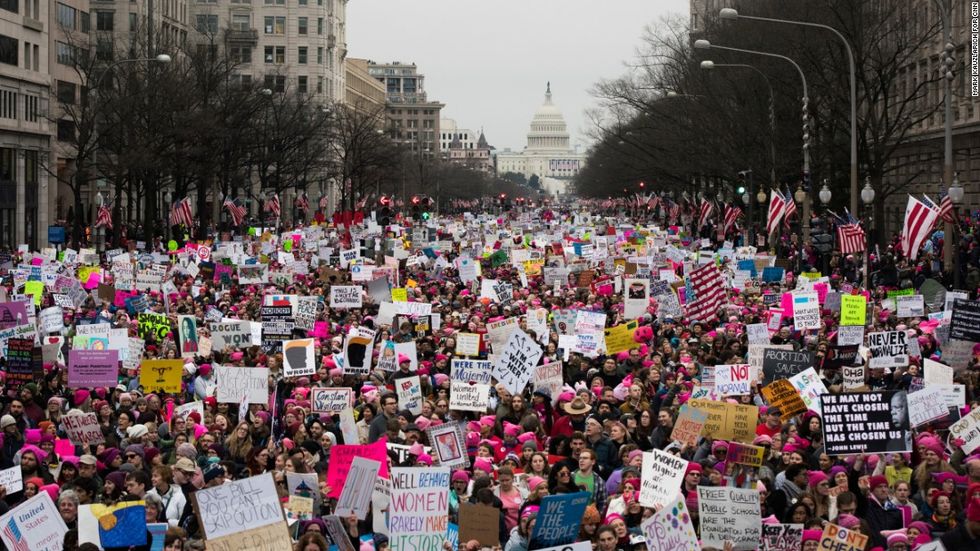 But with teens.
---
YOU sent us money to drive from Montana to DC for the Teens' March for Our Lives, so WE are coming to your hamlet or burg* and throwing beer and food at you.
*If your hamlet or burg is Fargo, St. Paul, Madison, Chicago, Pittsburgh, Philadelphia, Brooklyn, DC, Baltimore, Morgantown WV, Lexington, Kentucky, Indianapolis, St. Louis, Wichita, or Denver.
FARGO, North Dakota! Come join us for a beer and a hamburger, at SICKIE'S GARAGE, 3431 Fiechtner Dr S, Fargo, ND, (701) 478-7425. Tues., March 13, 6:30-8 p.m.!
St. Paul, Minnesota! Moscow on the Hill? HILL yeah! I will buy the Russian blinis and potato salads and whatnot, and YOU will buy your own vodka! 371 Selby Ave., St. Paul, MN, (651) 291-1236. Wed., March 14, 6-8 p.m.
Madison, Wisconsin! Your comrades' private home, 5118 E. Buckeye Rd. Thurs., March 15, 6 to 8:30 p.m.
Chicago! Join us for a no-host wine tasting! (That means you pay $25 to drink all the wines, but we buy you nice appetizers! If you ain't got $25, PLEASE email me at rebecca at wonkette dot com and say YOU WANT TO COME! Don't be shy, the Wonkette Nation sent good money for you to join us!) Fri., March 16, 7:30-9:30 p.m. at wineHouse, 3164 N. Broadway, in the "Lakeview East" neighborhood, if that is helpful, I don't know.
Pittsburgh, Pennsylvania, Sun., March 18.Penn Brewing Company, 800 Vinial St., 2 to 5 p.m.!
Philadelphia, Pennsylvania, Tues., March 20. This was at Franky Bradley's, and it was amazing.
Brooklyn, NY. Join us at your comrade Erin's restaurant Grindhaus in the Red Hook neighborhood! Again, appetizers on me, drinks out of your own wallet. Thurs., March 22, I think maybe 7 p.m.
Washington DC! Pizza party at Pi Pizzeria, 910 F Street NW, Washington, DC 20004, 202.393.5484. Pizza and beer are on me! Fri., March 23, 6-8 p.m.!
And here is the plan for the March for Our Lives, Saturday morning:
We will meet outside Rosa Mexicano, 575 Seventh St. NW, across the street from the Gallery Place Chinatown Metro Station. We (or you!) will be waiting there from 10:30 a.m. to 12:15, because — and this is important — last time we were an hour late to our own meeting spot because it took 90 minutes to get out of the subway. We're not mad — getting out of the subway was one of the funnest, most energetic parts of the 2017 Women's March — we are just saying, there will be a whole block of time when we might be late, or you might be late, or all of us might be late together. So instead of leaving without each other, we will all wait quite a while. GOT IT? GOOD! :D
Baltimore, Maryland! Holy Frijole, 4 to 7 p.m.! Sun., March 25.
Morgantown, West Virginia! Let us wipe off the coal dust and kiss you on your FED UP faces! Mon., March 26. And then ...
Lexington, Kentucky: Tues., March 27, let's say 6 to 8. Bru Burger Bar, 3010 Lakecrest Circle!
Indianapolis! Wed., March 28, 6-8 p.m. Ralston's Drafthouse, 635 Massachusetts Ave., Indianapolis.
St. Louis, Missouri! CANCELED FOR WONKEBAGO BREAKDOWN
Are you my mom? Then we will see you here, in these days during which there are NO PARTIES AT ALL!
Wichita, Kansas! Mon., April 2, 5-7 p.m. The Anchor Wichita, 1109 E. Douglas, Wichita.
Denver, Colorado! Wed., April 4, 6-8 p.m. Wynkoop Brewing, 1634 18th St., 6-8 p.m. We will buy you beer and appetizers!
Maybe Wyoming? We got anyone in Wyoming? One guy has emailed me "I live in Wyoming."
Okay we love you bye.
Words can't express how grateful we are that you sent us out to support our rad teens. If you haven't contributed and would like to, we will take your money and redistribute it proper, at gas stations and brewpubs across our fine land. As always, if you're along the route and want us to stay in your driveway, shoot us an email! (Bribes of liquor and cakes we like get priority.) Now you may commence to OPEN THREAD.
Rebecca Schoenkopf
Rebecca Schoenkopf is the owner, publisher, and editrix of Wonkette. She is a nice lady, SHUT UP YUH HUH. She is very tired with this fucking nonsense all of the time, and it would be terrific if you sent money to keep this bitch afloat. She is on maternity leave until 2033.