It's Real Fuckin' Obvious Why GOP Didn't Want Us To Read The Fusion GPS Transcript
Russia
January 10, 2018 01:32 PM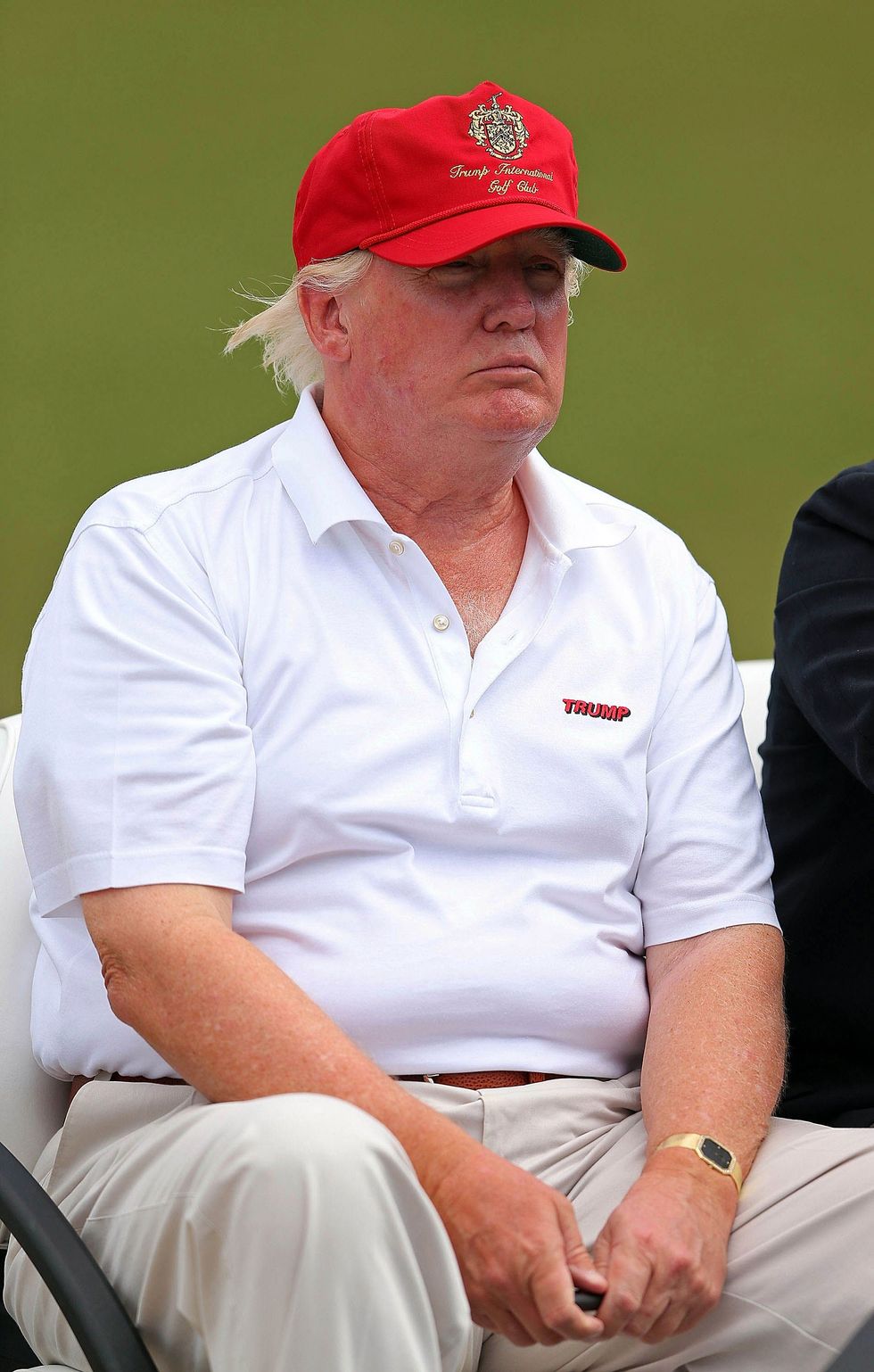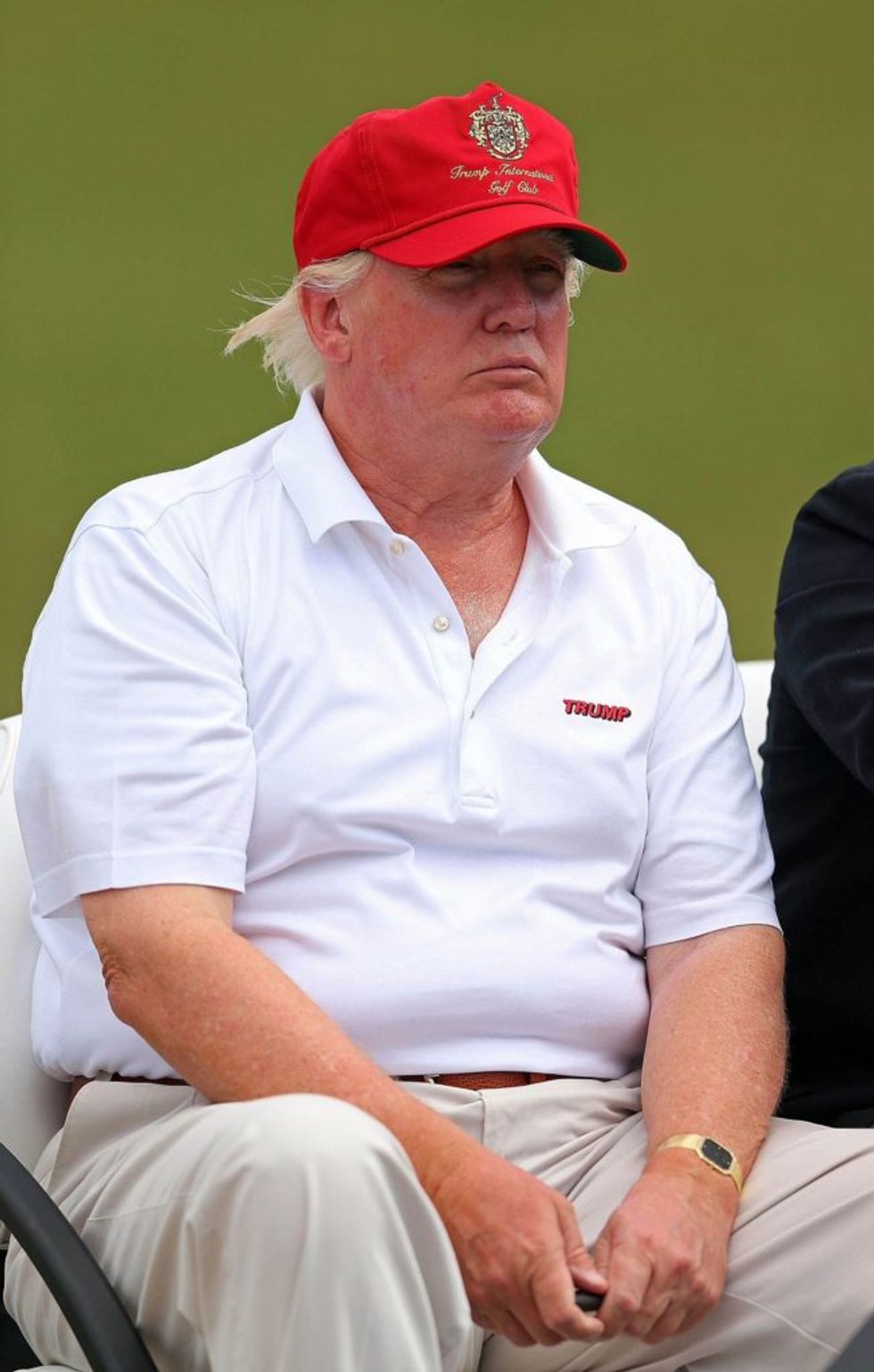 Russia's most beautiful intelligence asset, allegedly.
---
Let's be clear about one thing right now. Senator Dianne Feinstein is a hero and a fucking boss for releasing that giant Fusion GPS transcript, which we spent six hours reading and blogging on Tuesday. Is she kinda too conservative for a lib state like California? SHE IS. Is she also MURDERING HER REPUBLICAN COLLEAGUES, WITH MURDER? That too!
On MSNBC Tuesday night, Lawrence O'Donnell chuckled as he remembered his time working in Congress, saying Feinstein is the LAST senator you'd expect to do something so bold. Rachel Maddow reported that RUMOR HAS IT Feinstein reached her "fuck you" point after Senate Judiciary Committee Chairman Chuck Grassley and craven Trump suck-up Lindsey Graham made the first criminal referral of the entire Russia investigation, without consulting her, and it was to INVESTIGATE CHRISTOPHER STEELE, the nice spy who uncovered a lot of the Trump-Russia conspiracy and was so worried about the national security implications of what he found that he, a Brit, insisted on going to the American FBI to say "PIP PIP ACHTUNG!" or however they say "Danger!" in England. To be clear, Chris Steele The British Spy is a greater goddamn American patriot than Grassley or Graham or House Intel Committee chair Devin Nunes will ever fuckin' be.
And what was that criminal referral about? This, presumably!
Other Republicans, meanwhile, have recently complained that British spy Christopher Steele, the author of a disputed Trump-Russia dossier who has also served as a source for the FBI's Russia probe, had what they call inappropriate contacts with reporters during the 2016 election.

"I don't think an informant for the FBI should be taking the product and shopping it around to journalists throughout the world," Sen. Lindsey Graham (R-S.C.) said Sunday on NBC's "Meet the Press."
Well we don't think you should do that with your face, Senator, but that hardly means we get to refer it for charges to the Department of Justice.
President Bathrobe Executive Time is SO MAD BRO: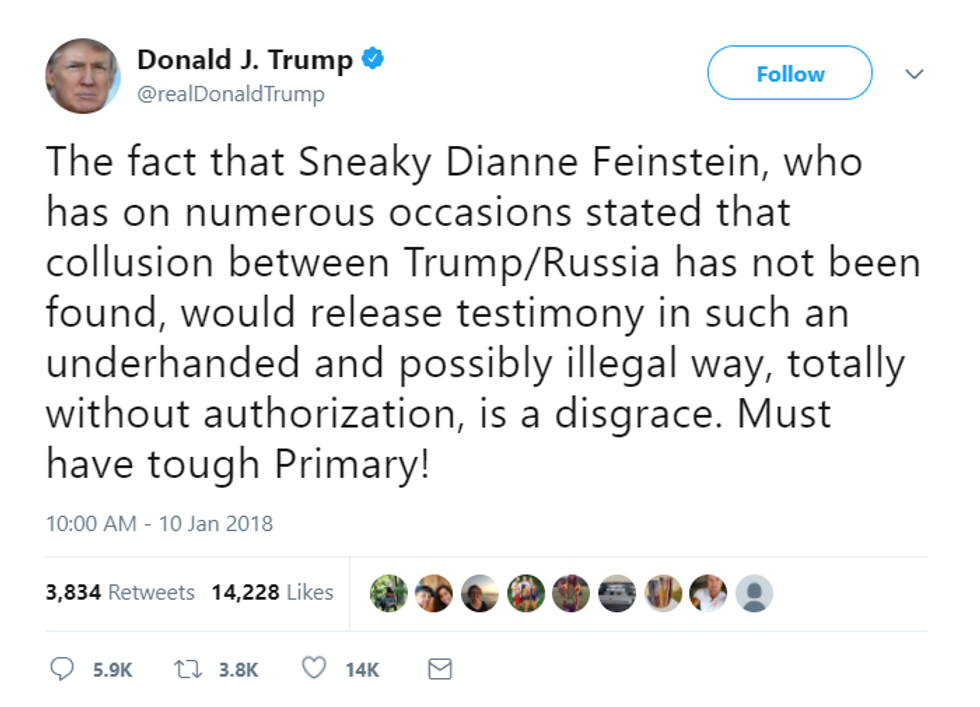 What does all that mean? God fucking knows, but it probably took him an hour to come up with "Sneaky Dianne," so he had to get some mileage out of it. (It WAS pretty sneaky though, considering how Feinstein's office hit "publish" the same second she was sitting across from Trump in the White House getting him to endorse a DACA bill. LOL Sneaky Dianne!)
Having read the full transcript it's easy to see why Grassley (who is also SO MAD) and Graham and Trump and all the rest of 'em didn't want this released. They've been making up conspiracies about Fusion GPS and the inception of the spy memos that became known as THE DOSSIER, chief among them that the dossier was the only reason the FBI even began an investigation into the Trump campaign's collaboration with Russia. That had been disproven handily before Feinstein released this transcript, partially because the founders of Fusion GPS debunked it in the New York Times last week. But in order for that conspiracy theory to work, they had to discredit the dossier itself, and to do that, they concocted an even bigger conspiracy theory, one they've been weaving for months, that somehow Fusion GPS is a Russian agent, and that it rustled up the "Trump Russia collusion hoax" all by itself.
This conspiracy theory, in general, is based on the following things, which are actually facts:
Fusion GPS, a private intelligence firm, was hired by American law firm BakerHostetler to work on a case representing a Russian company, Prevezon Holdings Ltd. Also working on that case were Russian lawyer Natalia Veselnitskaya and her Russian-American spy/lobbyist pal Rinat Akhmetshin, both of whom have worked in America for the repeal of the Magnitsky Act and other Russian sanctions, and also both of whom attended a meeting in Trump Tower with Dumbfuck Junior, promising sweet Hillary dirt in exchange for help getting the sanctions lifted.

Fusion GPS, a private intelligence firm, was also hired, first by the conservative Washington Free Beacon during the GOP primary, and later by Marc Elias (and his law firm Perkins Cole), an attorney with ties to the Hillary Clinton campaign, to do oppo research on Trump.

Somewhere around the time Fusion GPS switched from working for the Washington Free Beacon and Elias started writing the checks, it contracted with Steele to look deeper into Trump's business ties with Russia.
As we've explained multiple times, the Prevezon work and the Trump oppo research were two different projects for two different clients, which should be easy to understand if you've ever seen TWO CARS BEING WORKED ON AT THE SAME TIME at a Jiffy Lube. TWO. CLIENTS.
But the GOP wants us to think all of these things are part of one big conspiracy soup and that Fusion GPS, in being paid by BakerHostetler, which was being paid by the Russian company Prevezon, was WORKING FOR THE RUSSIAN GOVERNMENT AND FOR HILLARY CLINTON to do the DODGY DOSSIER, for HILLARY AND RUSSIA.
It's a loopy-ass conspiracy theory that assumes nobody in the world knows how client relationships work, but it gives Sean Hannity something to bang his poop jowls together about every night, while congressmen like Louie Gohmert make up charts that "connect the dots" without giving any details, similar to how Republicans STILL yell things like "BENGHAZI! VINCE FOSTER! FILEGATE!" about Hillary Clinton. If you ask them to explain one damn iota of what they're mouth-shitting about, they just yell more mouth-shits. It's kiiiiiinda been the GOP playbook for decades.
In reading the Fusion GPS transcript, you can see the hook they're hanging this conspiracy theory on. GOP investigators asked Fusion GPS co-founder Glenn Simpson OVER and OVER and OVER again about how well he knows Rinat Akhmetshin, who worked on the Prevezon case, attempting to trick him into "admitting" Akhmetshin had something to do with the firm's separate work with Christopher Steele. Barring that, did Chris Steele work on the Prevezon case? Did Natalia Veselnitskaya help write the dossier? Was Hillary Clinton home THE WHOLE NIGHT of the Benghazi attacks?!?!?!?!?!
A few screenshots from the transcript: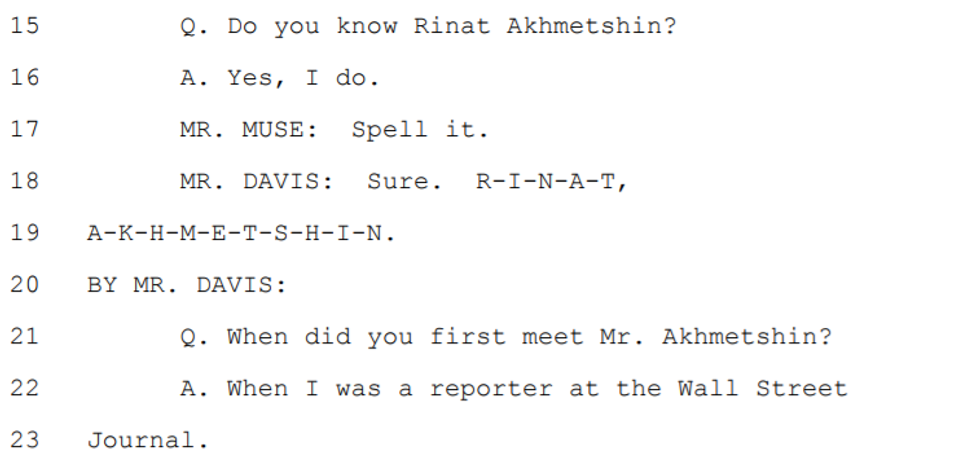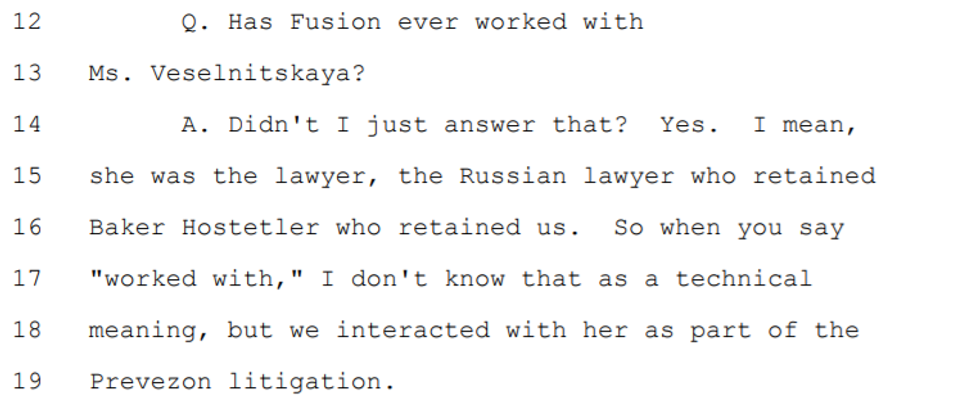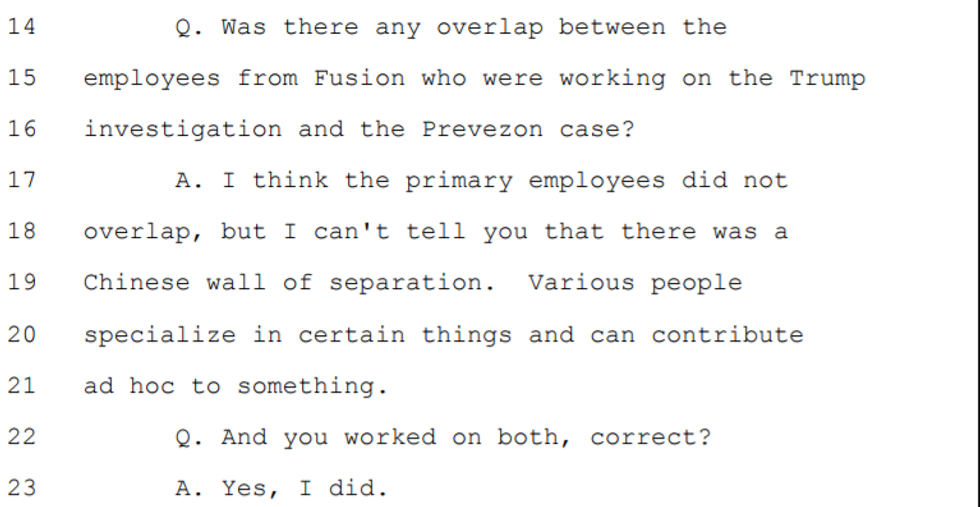 Here's one where the GOP investigator couldn't seem to keep a straight face as he was trying to do the GOTCHA! that Chuck Grassley obviously imagined would prove Fusion GPS is a tool of the Russians: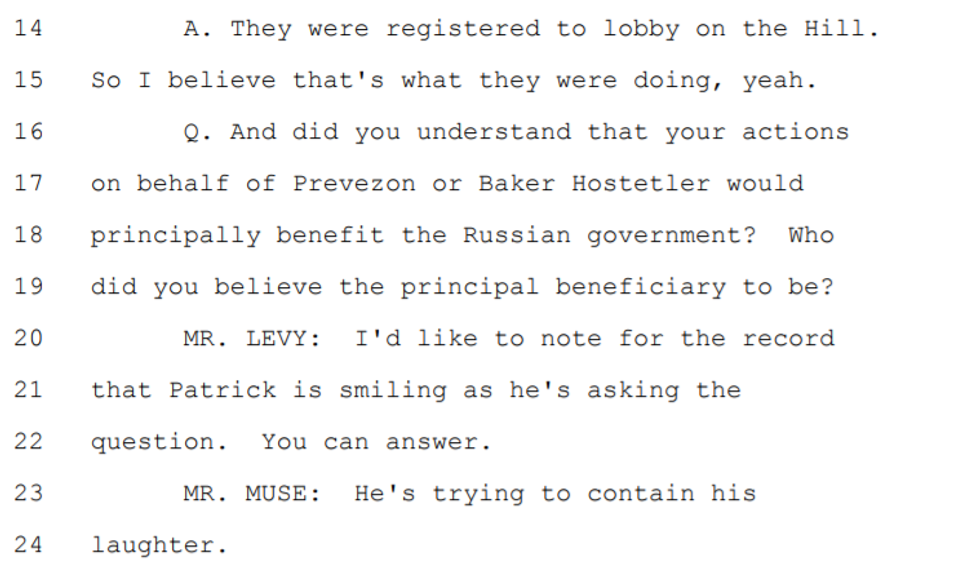 And, because, according to the squirrel brains of wingnuts like Grassley and Ohio Rep. Jim Jordan, the FBI had to have OBVIOUSLY been part of the conspiracy, we had questions like this: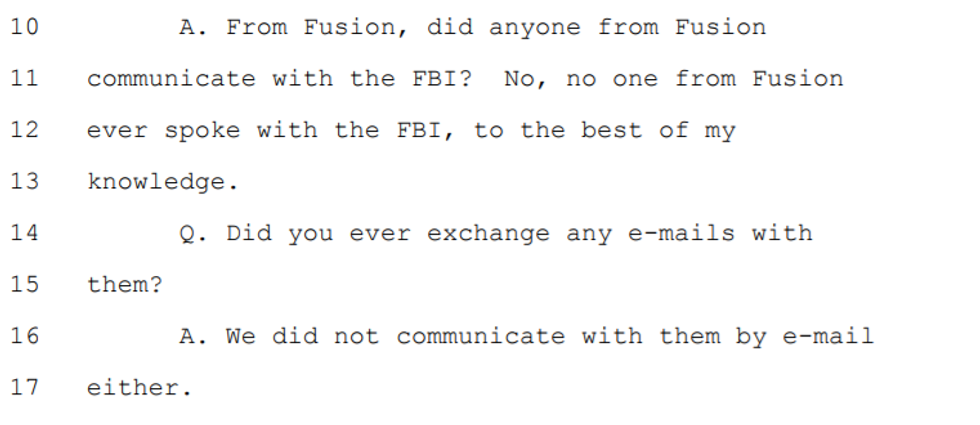 And over and over and over again, Glenn Simpson, with what we imagine had to be the most "WTF" look in his eyes, explained that "WHAT FUCKING PART OF WE ARE A PRIVATE INTELLIGENCE FIRM WITH MULTIPLE CLIENTS AND THESE ARE TWO TOTALLY SEPARATE THINGS DO YOU NOT UNDERSTAND?"
But juuuuuuuuust to be sure: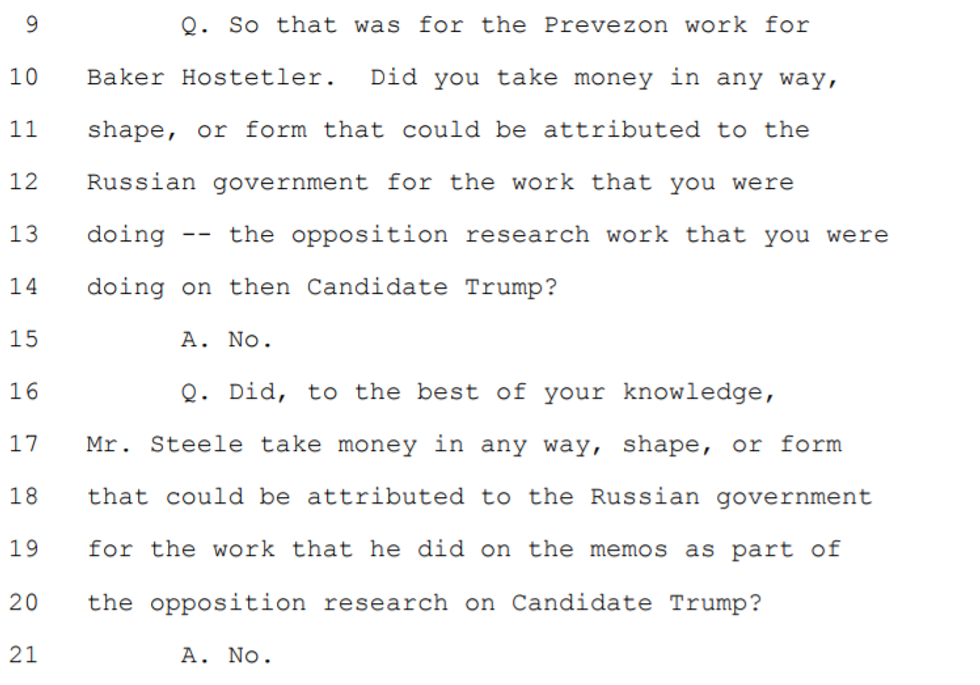 GOP investigators were particularly fixated on how the Prevezon case seemed to be wrapping up around the same week in June 2016 as the Trump Tower Donald Trump Jr. Russian meeting, which proves ... SQUIRREL! UNDERPANTS GNOMES! HILLARY COLLUSION! (Of course, it proves diddly shit about Fusion GPS and its separate work with Chris Steele. Easy to see that when you can read the transcript, ain't it?)
Over and over, Simpson calmly responded with the facts, explaining in detail who Fusion GPS is, what it does, how it works, and, by extension, how insane these GOP attacks really are.
He also explained multiple times how unimpeachable Chris Steele's reputation is: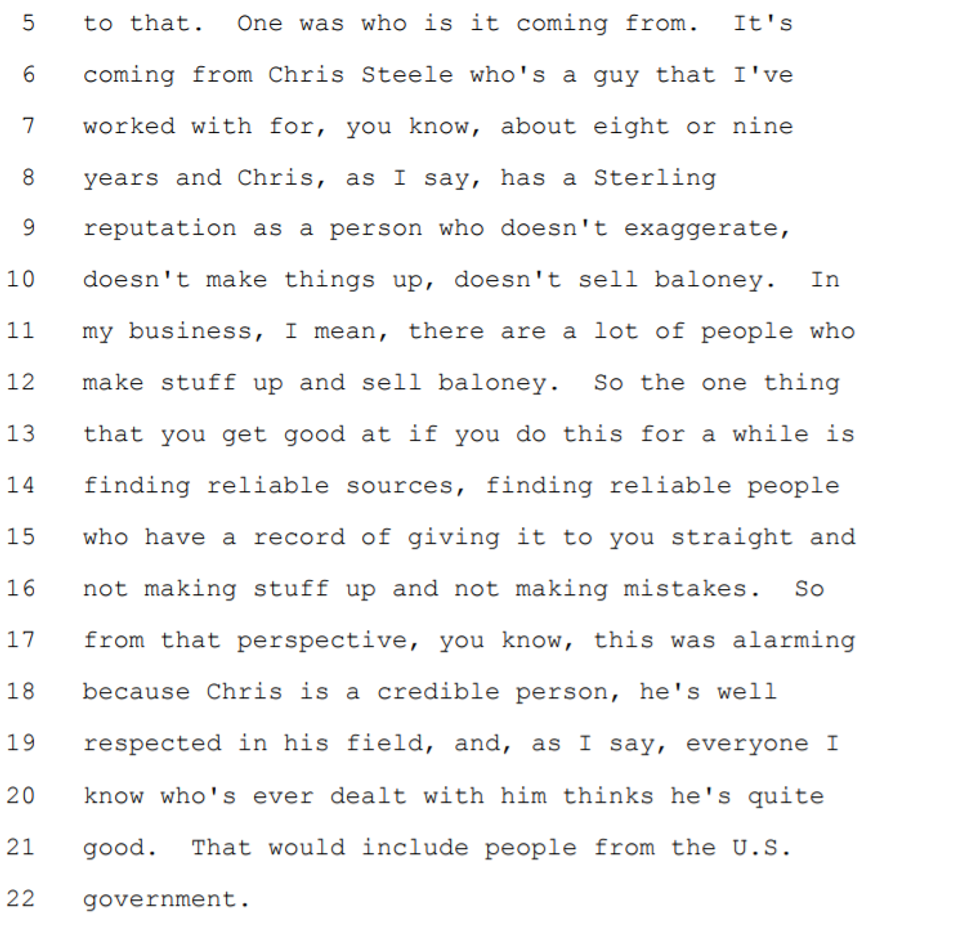 And he said several times how worried Steele was, based on what he had learned, about the national security of America, a concern Chuck Grassley, his president and his colleagues don't seem to share: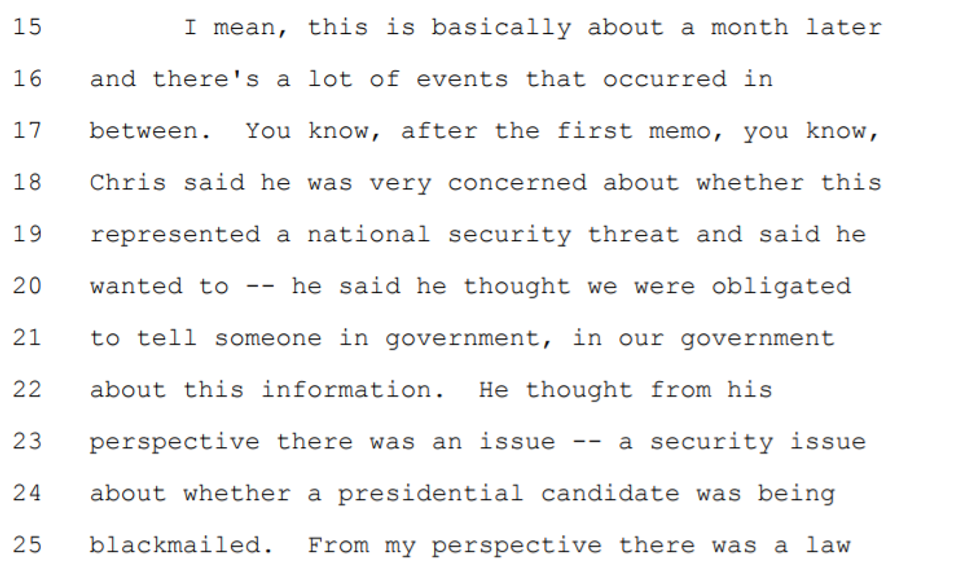 Sunlight changes things, doesn't it?
And yes, Chuck Grassley, we see why you didn't want this transcript out!
Now, will the horseshit attacks on Fusion GPS, Steele and the dossier go away? Fuck no, have you ever gone swimming in the syphilitic swamp stew that is the typical GOP congressman's brain? Wear floaties or you'll drown: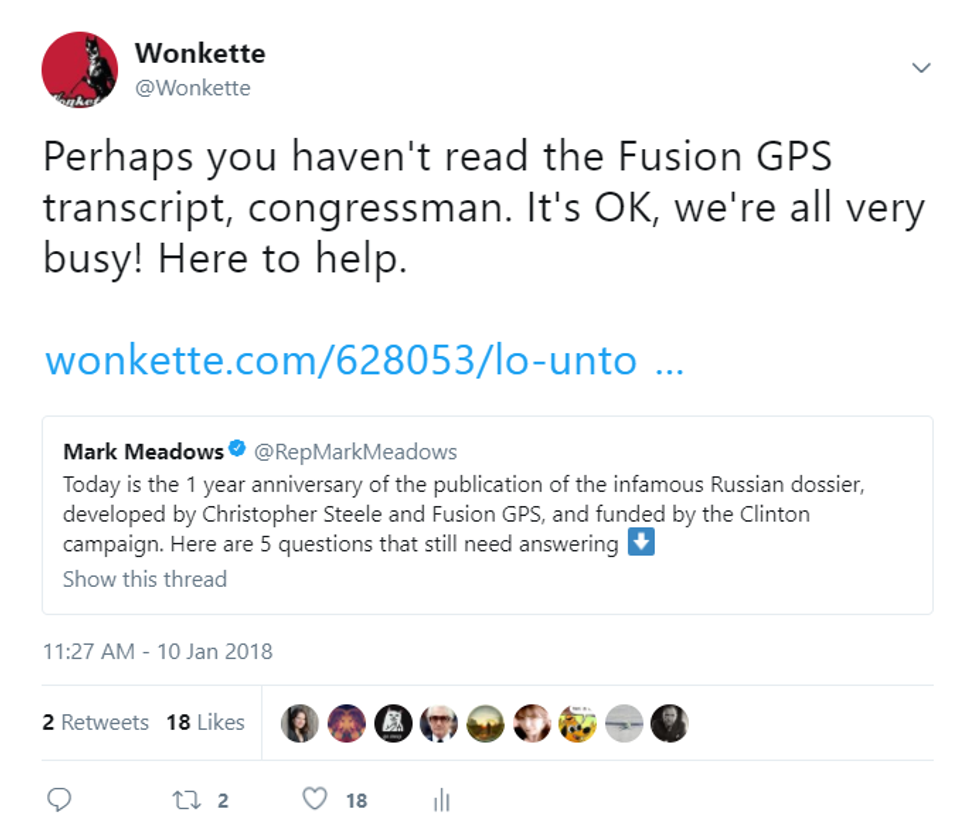 But now Americans know with 100% certainty -- or at least those Americans capable of reading and/or willing to do so, which likely excludes the president -- that the Congressional GOP is acting as little more than an obstruction of justice organ for Donald Trump. It's laid bare, and in front of everybody's faces. How far will they go to protect the pussgrabber in the Oval Office? How willing are they to subjugate American national security and sovereignty to a hostile nation in order to protect their own power?
This is how far they've gone so far. We imagine it will get much, much worse.
Good morning, GOP. We see you.
Follow Evan Hurst on Twitter RIGHT HERE.
Wonkette is fully paid for by YOU! Please click here to pay Wonkette's salary.
Evan Hurst
Evan Hurst is the managing editor of Wonkette, which means he is the boss of you, unless you are Rebecca, who is boss of him. His dog Lula is judging you right now.
Follow him on Twitter RIGHT HERE.