It's 'Special Rights' When Gay People Want Cake, But Airplane Discount For NRA Is GOD-FUCKING-GIVEN
Guns
February 27, 2018 09:57 AM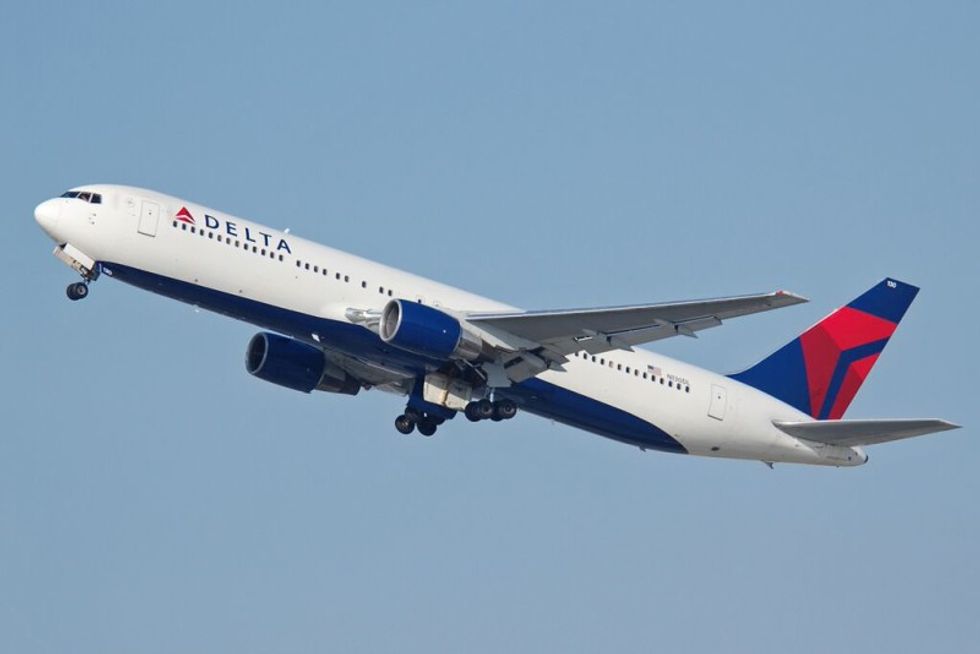 Just as long as Delta doesn't have to bake a gay cake.
---
All these Corporate Persons using their free speech to disassociate themselves from the National Rifle Association have really made freedom-loving conservatives mean mad, because once again we see the sick influence of the liberal left in stigmatizing and oppressing patriotic Americans. By convincing Avis not to offer a discount to gun-humpers. So far, no prominent Republican has yet invoked Martin Luther King or Rosa Parks to call attention to the plight of NRA members who'll now have to pay full price just like everyone else instead of getting special rights, but we're sure that's inevitable, probably followed by NRA Freedom Riders sitting in at rental car check-in counters, demanding their God-given discount.
Among the companies that have drawn the ire of wingnuts is Delta Airlines, which announced Saturday it would end ticket discounts for NRA members flying off to their annual convention. The poor dears are already unable to carry their precious guns on planes or in most convention halls, so this was simply too much to bear. American Airlines dropped its NRA discount a few hours later.
Delta's move didn't sit well with a number of Georgia Republicans, including several who are seeking an upgrade from their present seats come November. As it turns out, Delta chose a particularly inconvenient time to piss off wingnut snowflakes over guns, because the state legislature has been considering a tax cut bill that includes a provision cutting jet fuel taxes, which, with Delta accounting for 80 percent of flights at Atlanta's airport, would give Delta a $50 million annual tax break. The bill had been pushed by Gov. Nathan Deal and sailed through the state House last week in a wave of Republican love for the state's largest private employer. But then Delta had to go and get on the wrong side of the NRA and freedom, so several Republicans in the state Senate called for a stop to the tax break. The most prominent was Lt Gov. Casey Cagle, who's also the leader of the Senate. Monday, Cagle Twote thusly: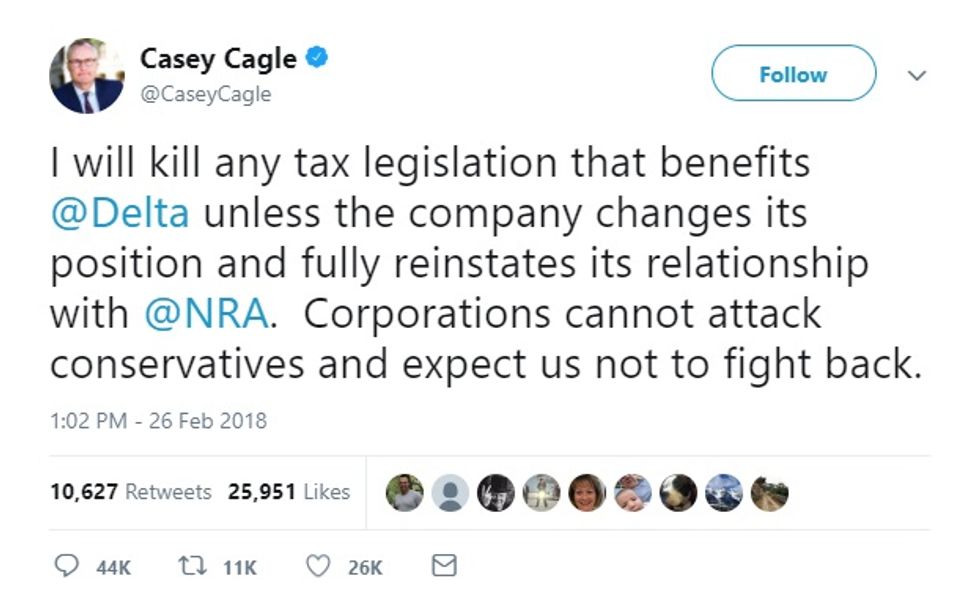 Say, did we mention that Cagle is currently the front-runner in the race for the GOP gubernatorial nomination? It's possible that playing to the gun-humper base was a factor there. Cagle said Monday that the legislature just couldn't stand silently as big corporations like Delta "kowtow to the type of political pressure that comes against conservative values." Economic powerhouses like Coca Cola and the NFL had previously butted their big corporate noses into conservatives' business and stomped all over conservative values by helping to scuttle Georgia's 2016 "religious freedom" bill, which passed both houses but was vetoed by Deal.
"I'm tired of conservatives being kicked around on our values. It's time we stand up and fight and show corporations that conservative values are important, not just to Georgia but to the entire nation," [Cagle] said. "We can fight for jobs, but we can also fight for values."
Corporate citizens getting the Gay all over Georgia was bad enough, but damned if Cagle or any other Republican running this year is about to let the big employers take away Georgians' guns! Or their sacred Second Amendment right to a discounted flight to the NRA convention.
Delta had previously gotten the sweetheart fuel tax deal as a nice economic incentive for its Atlanta hub, but the Lege killed it off in 2015 when the airline called for higher gasoline taxes to spend on Georgia roads. See what you get when you say you want a gas tax? Haw haw haw.
After Cagle's threat, a bunch of your troublemaking liberal types said it was probably illegal as fuck to threaten legislative action against a corporate person in order to influence its "speech." Thanks, Citizens United! But while it would be clearly unconstitutional for a legislature to punish a company's unpopular position on a public issue by passing a bill designed to hurt that company, it's less clear whether any court would take up a lawsuit over not passing a tax benefit for that company:
Though Cagle may act with unconstitutional motives, it is difficult to predict whether a bill that did not become law would have been enacted — or whether it would have been enacted with amendments — if Cagle hadn't engaged in illegal retaliation.
In any case, the state Senate went ahead Monday and voted to strip the jet fuel tax cut out of the larger tax bill, which should certainly send Delta a message about just how petulant deeply committed to conservative values -- and discounts on those values -- Republicans can be. Delta, already struggling under the burden of December's GOP Tax Cuts for Rich Fuckwads -- which gave the airline an immediate $150 million fourth-quarter tax-cut bonus -- will probably be OK, although of course it would love further tax cuts, because what company anywhere doesn't love all the corporate welfare it can get?
As Eric Levitz at New York magazine points out, Georgia Republicans' hissy fit at Delta does a better job than progressives ever could to underline that Republicans are actually quite happy to pick winners and losers. If the fuel tax cut were really about keeping Georgia competitive, then a mere annoyance like the end of a discount for gun-humpers would be irritating, but something Rs would just have to swallow, because after all, you have to cut taxes for the good of the economy. Instead, it's clear that, in this case at least, tax cuts are just Culture War by other means.
Yr Wonkette is supported by reader donations. Subsidize us by clicking here -- we're only beholden to you. And you are incredibly smart, generous, good-looking, and resistant to base flattery.
[WaPo / Atlanta Journal-Constitution / ThinkProgress / US News / New York]