It's Super Bowl Sunday: Stay Home, Don't Huddle With Strangers
Sportsball
February 07, 2021 11:30 AM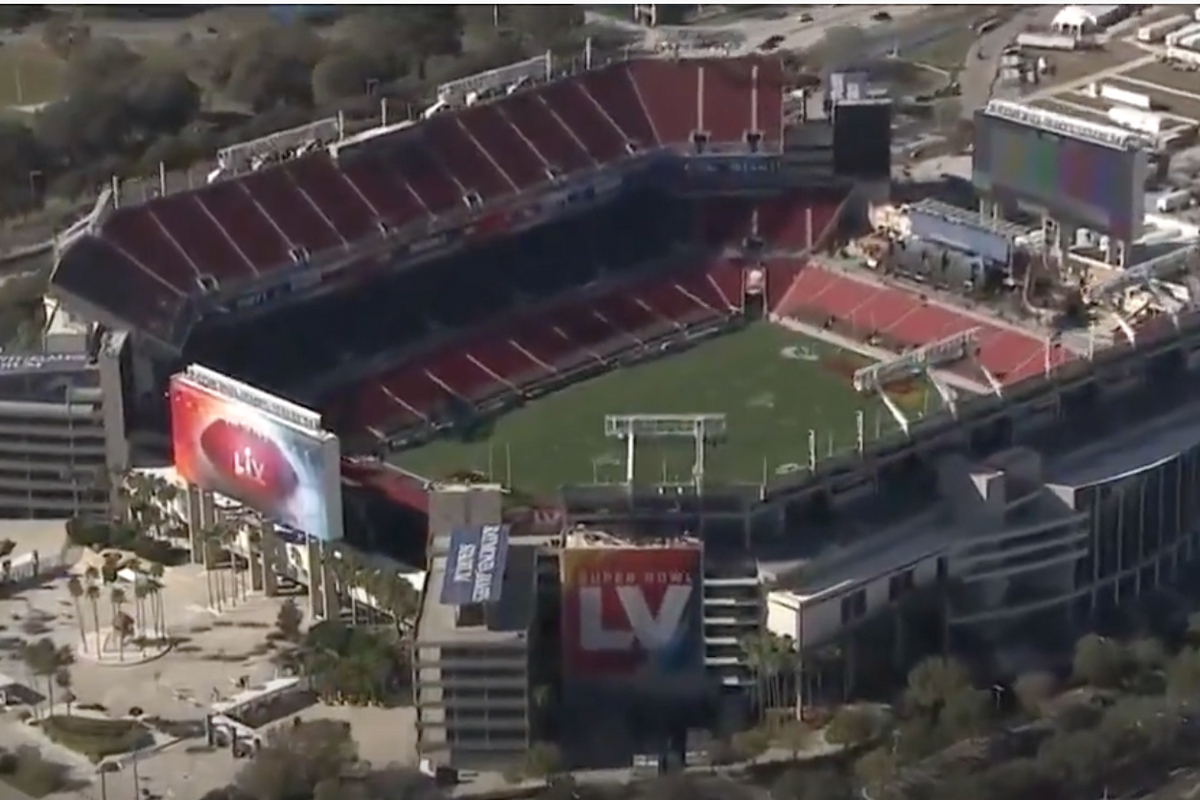 The 55th Super Bowl is tonight. The grossly named Kansas City Chiefs will play against the Tampa Bay Buccaneers. Companies will sell you products during breaks from all that thrilling football. Uptight people will complain about something that happens during the halftime show. The world seems almost normal again, but don't be fooled! We're still wrestling with the COVID-19 pandemic — metaphorically because you shouldn't touch anyone right now.
The Super Bowl, or the "Big Game" if you're in advertising and don't want to get sued, will take place at the Raymond James Stadium in Tampa, Florida. The Buccaneers will have a home field advantage, but that's just a coincidence. The NFL awarded Super Bowl 55 to Tampa in 2017, back when we still left the house.
Last year, 62,417 attended the Super Bowl at the Hard Rock Stadium in Miami Gardens, Florida. Today's "Big Game" will have attendance capped at roughly 25,000 live (for now) fans. This includes 7,500 vaccinated front-line healthcare workers, who the NFL kindly invited as guests. (Vaccinated people can still contract and spread COVID-19.) This is close to 40 percent of the stadium's capacity of 65,890.
---
Hey @GovParsonMO – how about a friendly @SuperBowl wager? You know I'm going with the @Buccaneers! #GoBucs https://t.co/7Tz4FPujhy

— Ron DeSantis (@Ron DeSantis) 1612561121.0
I've eaten at Frenchy's in Clearwater, Florida, and I agree with Governor Ron DeSantis that the restaurant has some of the best seafood in the state. He'd make a decent Yelp! reviewer, but he's a lousy governor, whose COVID-19 response has been a disaster. He declared in December that he won't impose any more mask mandates or lockdowns because they just don't work (they do, in fact, work).
"The lie of the lockdown was that if you just locked down, then you can beat the virus," [DeSantis] said. "Then why are people having to lockdown two or three times then?"
Because, Governor Einstein, the United States never had a full, hardcore lockdown. The one-term loser started pushing for the country to "reopen" in April, and since then, most COVID-19 "rules" were merely "suggestions" that idiots mostly ignored.
Shannon Palus at Slate wrote:
The "rules" also vary a lot by geographical location. Coronavirus is surging nationally, but indoor dining—which involves, by necessity, taking your mask off and moving your mouth such that it produces aerosols, which are what spreads the coronavirus—is banned in just a few places, like Seattle, California, Michigan, and maybe, soon, New York. In some states, indoor gatherings are capped at 10 people, or there's a recommended cap of a couple households, but in others, there are simply no restrictions. In many places, the restrictions there are make no sense—the government of Minnesota has, for some reason, banned outdoor gatherings of any sort, but wedding venues and churches are still allowed to open their doors to as many as 250 people. The difference in policies doesn't even correlate with where cases are highest: Leadership in South Dakota, for example, refused to establish so much as a mask mandatewhile cases there were the highest in the nation. Often, it doesn't align with what the science says about transmission, like New York allowing restaurants to remain open while schools close.

It's all a big, hot mess, which is how most travel guides describe Florida. The state has at least 1.7 million reported COVID-19 cases — almost 10 percent of its population — and 27,456 Floridians have died. The death toll's daily average was 171 people over the past seven days. Meanwhile, this is what a grocery store in Naples, Florida, looked like last week.
Naples has a mask mandate but the owner of Oakes Farms Seed to Table Market found a way around public health measures. Customers were greeted with this sign before entering.
"Those in our lovely government have ordered all persons entering indoor facilities to wear a mask. If you have a medical condition that prevents you from wearing a mask, you are exempt from this order. Due to HIPAA and the 4th Amendment we cannot legally ask you about your medical condition," it reads.

"Therefore, if we see you without a mask, we will assume you have a medical condition and we will welcome you inside to support our business."

Visit Tampa Bay spent $7 million in CARES Act funds to promote tourism in a COVID-19 petri dish. The campaign highlighted "outdoor activities, open spaces and reduced crowds at area amenities," where no one bothers to wear a mask or social distance. Mayor Jane Castor is looking forward to the crush of "Big Game"-related tourism.
"Of course, you have to have a concern: We're in the midst of a pandemic, there's no denying that, and it's a virus that is easily transferable," Ms. Castor said of the Super Bowl. "But on the other hand, it can be easily managed if people take the simple steps of wearing masks and separating when possible."
Tampa has a mask mandate, but the governor bans enforcement of mandate violations. It's like the scene in Pulp Fiction when Vincent Vega explained Amsterdam's casual approach to drug enforcement. COVID-19 digs it the most.
Bars will be open, and "separating when possible" seems unrealistic under the conditions. However, Super Bowl parties at home are even bigger superspreader threat. A reported 25 percent of Americans plan to attend gatherings with people outside their household, which the Centers for Disease Control and Prevention doesn't recommend. Among diehard sports fans, that number increases to 40 percent.
Meanwhile, Broadway remains closed and New York's theatre district is devastated. But nothing must stop the "Big Game."
Follow Stephen Robinson on Twitter.
Do your Amazon shopping through this link, because reasons.
Yr Wonkette is 100 percent ad free and supported entirely by reader donations. Please click the clickie, if you are able!
Stephen Robinson
Stephen Robinson is a writer and social kibbitzer based in Portland, Oregon. He writes make believe for Cafe Nordo, an immersive theatre space in Seattle. Once, he wrote a novel called "Mahogany Slade," which you should read or at least buy. He's also on the board of the Portland Playhouse theatre. His son describes him as a "play typer guy."