It's The Perfect Time For Some Slow-Cooked Dal, Indian Style
Recipe Hub
November 09, 2014 10:25 AM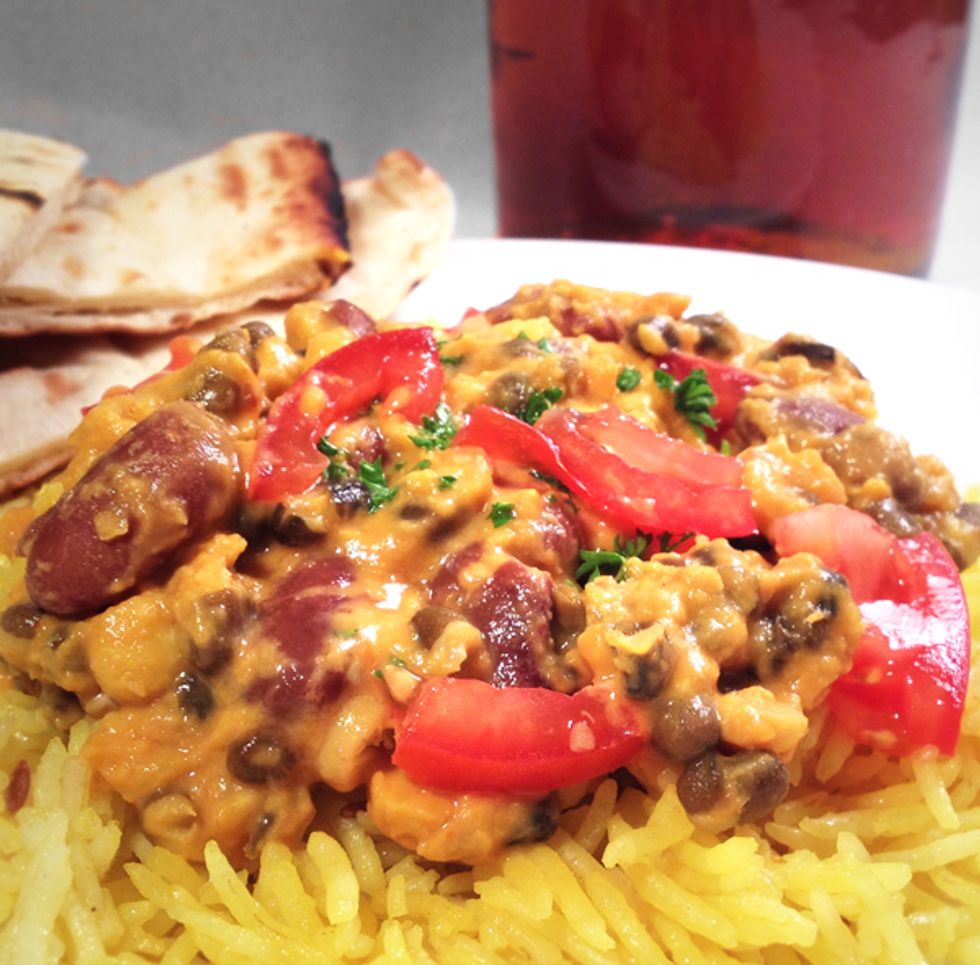 Such a crazy, busy week, and a perfect time for Teen Taal dal (Three Note Dal) -- black lentils with kidney beans and chickpeas, stewing all day in a slow cooker. Man am I going to fill you up on some dal. Toot toot! Let's slow-cook it Indian style, and use ALL of the ingredients.
---
This is a hearty meal, and its based on one featured in The Indian Slow Cooker, by Anupy Singla, from Chicago. I have enjoyed some insanely good Indian food in Chi, some of the best I have ever had. Be it at restaurants, or something someone made for a family banquet and brought back a tub to share. Ms. Singla covers 50 important recipes, from vegetables to meat, and it's brilliant.
The ingredients for Indian cuisine are available at (almost) any grocery store, or can be sourced on-line. The difficulty rating to prepare this feast is pretty much at beginner-level. Special equipment you will need (beyond a crock-pot) is a mortar and pestle, or a grinder set aside for spices. Also, a food processor or a blender to make a savory paste.
We are going to be so starving when we smell this pot cooking. But first, rinse and sort the dried beans thoroughly before we get started.
Ingredients
1 c. dried black lentils
1 c. dried chickpeas
1 c. dried kidney beans
3 fresh or dried Indian bay leaves
3-4 cardamom pods
1 cinnamon stick
1 small red onion, peeled and quartered
1 pinkie-sized piece of ginger, peeled
5 cloves of garlic, peeled
4-5 Serrano peppers, stems removed*
1 tbs. cumin seeds
1 tbs. coriander seeds
2 tbs. oil (canola or vegetable)
1 tsp. turmeric
1 tbs. chili powder
2 tbs. sea salt
2 tbs. tomato paste
½ c. plain yogurt
9 c. water
½ c. heavy whipping cream
fresh cilantro, half a handful, minced
chopped tomatoes, for garnish (optional)
* Substitute Serrano pepper for Thai or cayenne chilies.
Soaking the beans overnight is optional, but feel free. Boil the kidney beans for 10 minutes, right before adding them to the cooker, to neutralize a toxin (phytohemagglutinin) that can cause digestive distress. A slow cooker may not be hot enough to destroy the toxin, and the FDA has more info.
Set aside the drama, drain the kidney beans and let's cook.
Load up a large 5-quart crock-pot with the trio of legumes, bay leaves, cardamom, and cinnamon stick. Process the onion, ginger, garlic cloves and hot peppers into a paste.
In a non-stick skillet on medium-high heat, toast the cumin and coriander for a few minutes, and avoid over-cooking. Shake the pan to turn the spices, to keep them from burning. Let this cool for about ten minutes, and then pulverize them with a mortar and pestle (or a spice grinder). Crushing things smells so freaking good.
Heat the oil in a pan and sauté the onions until golden. Add the cumin-coriander blend, turmeric, chili powder, and salt, and simmer for a few minutes. Stir occasionally to prevent scorching. Scrape the pan and add this entire mixture, drippings and all, to the slow cooker. Add tomato paste and water. Cook on high for about six and a half hours, or low for about ten hours.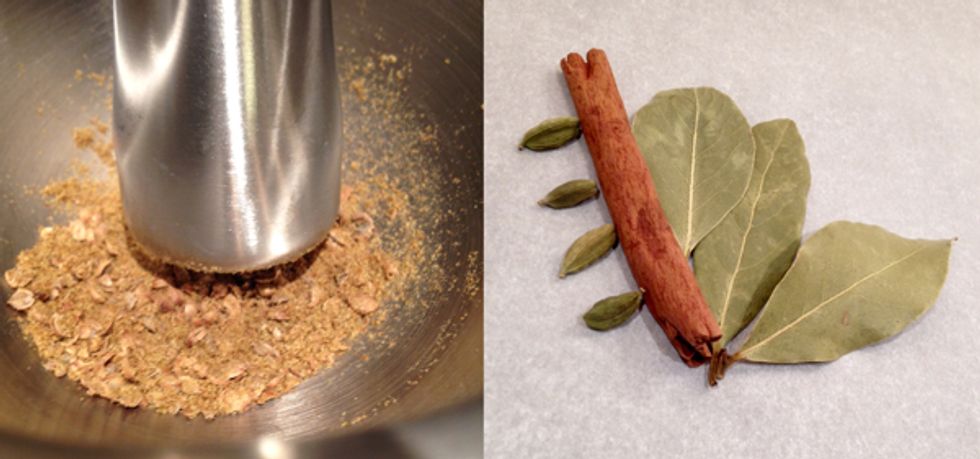 You have so much time to spare now. What will you do with so many hours? Take out the trash? Wash your hair and go to work? Look at you, all grown up and planning ahead. My heart is warmed. Someone raised you right.
When enough cooking time has passed, turn the cooker to high, then add the yogurt and cream. Dairy tends to break down in a slow cooker, so it's best to add it last. Adjust the seasonings, if needed. Let this simmer on high for about 45 minutes.
Remove the cinnamon stick, bay leaves and cardamom, then top with cilantro (and even chopped tomatoes). Serve with seasoned basmati rice, naan or all of the above, plus some beer. I'll be right there. Enjoy!