JACK REED (THE RHODE ISLAND SENATOR) IS OBAMA VEEP CHOICE?!
News
August 22, 2008 09:34 PM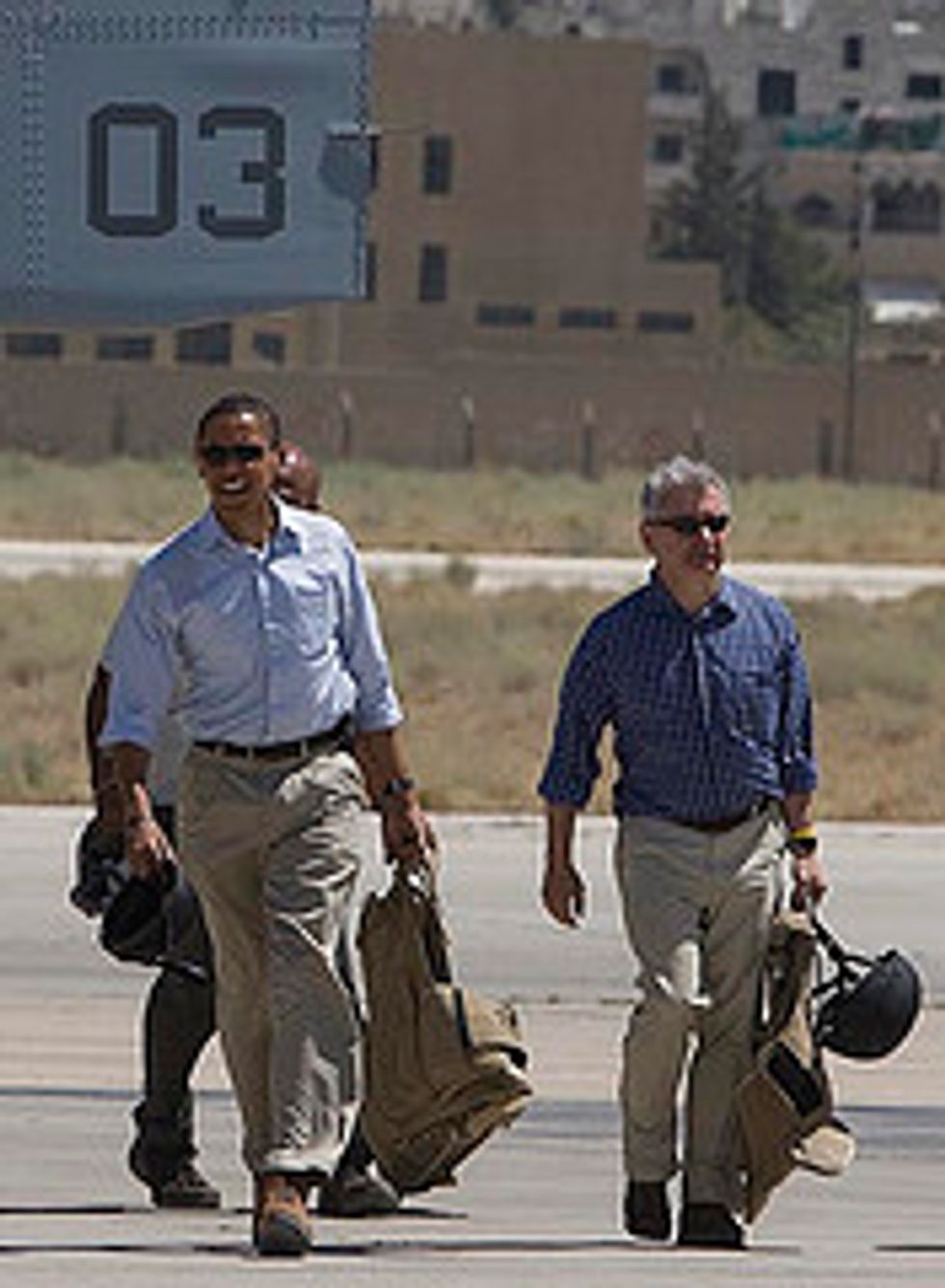 Well, who the hell knows, but we have it on very good authority -- an email sent to your editor, who is not named "Chris" -- that Rhode Island senior senator Jack Reed will become Obama's running mate, officially, in the next few hours or at least by tomorrow morning. Why some Eastern senator from a make-believe state? Because he's aMilitary Hero, get it?
---
See that little picture, of Barack and Jack in the Middle East just cold travelin'? That's from Obama's Flickr set about his big trip abroad! In fact, Barack picked that very pic to ID the whole set, and you know you always pick the most important photo for that spot.
Chris--

Obama's pick is Jack Reed. The Secret Service are began protection on Reed in the last 24 hours and have been crawling around Rhode Island since yesterday.

The Bayh, Biden, etc names are just a smokescreen. If you want to look like a genius, start mentioning Reed, since nobody else seems to have a clue right now. The decision was all but finalized after the Iraq trip and Reed's voting record on Iraq/national security, and his war record fit perfectly.

And if nothing else, maybe you can buy some Jack Reed on Intrade.
It's boring enough to be true, and Reed isn't hounded by scandal he isn't a look-at-me motor mouth like, say, Bill Richardson or Joe Biden. Here's the relevant biographical stuff:
After graduating from West Point and receiving an active duty commission in the United States Army, Reed attended the John F. Kennedy School of Government at Harvard University where he received a Masters of Public Policy. Reed, an Army Ranger and a paratrooper, served in the 82nd Airborne Division as an Infantry Platoon Leader, a Company Commander, and a Battalion Staff Officer. He returned to West Point in 1978 as an Associate Professor in the Department of Social Sciences.
There you go. For this race -- for these remaining 10 weeks of desperate fighting over the 5% of registered voters who still have no idea who they're voting for, or who's running, or what country they live in -- it's all about giving Obama a nice scandal-free military crutch to lean on when McCain's people scream "POW" all day long every day.
Not only is Reed a war hero who managed to not crash, again, and get captured by village children, but Reed also grew up in a working class family where people actually worked. Reed's dad was a World War II vet and school janitor. And instead of "graduating" at the bottom of his class because no teachers wanted to get fired for flunking Aristocrat McNasty, Reed was an excellent student and went on to be a professor at West Point.
Here's what the Wall Street Journal's Washington editor wrote about Reed just last month:
If you were to construct the ideal Democrat to engage Republicans in debate over Iraq, he might look something like this:

He would be a military veteran with real experience, maybe even a West Point man. He would have opposed the war against Iraq originally, and maybe even have cast a vote against the war to prove it. But since then, he would have devoted himself to making the exercise a success, becoming an expert on U.S. policy and what is happening on the ground.

Hey, wait. There is just such a Democrat out there. He is Sen. Jack Reed of Rhode Island. And he was at Sen. Barack Obama's side Monday touring around Baghdad. All of which raises an intriguing question: Is there a chance he also could be at Sen. Obama's side as vice-presidential running mate?
And here are more Jack Reed Military Hero in the Middle East pictures from the his Senate photo galleries.
So, like we said, what the hell? Nobody knows anything. But our mysterious tipster "Dan A." will be the smartest guy around if his left-field prediction is true.