James Comey Pisses On Trump's 'Wire Tapp' BS Like A Russian Pee Hooker
News
March 20, 2017 12:43 PM
It's his big day!
---
Well, well, well, the House Intelligence Committee's little funtimes playdate with FBI Director James Comey and NSA Director Admiral Mike Rogers has gotten underway, and we have a few updates for you! For one thing, Comey was finally able to confirm, FOR OFFICIAL, that there is an ongoing investigation into Russian meddling in the 2016 election to help elect Pussgrab Trump, and that there is an investigation into possible collusion between Trump and said Russians. And the choir said, "AMEN, NO SHIT, BRO!" But this is the first official confirmation, and Comey gave it.
Let that sink in: The PRESIDENT is UNDER INVESTIGATION like a common RUSSIAN SPY VERSION OF RICHARD NIXON.
Another big piece of news is that Comey walked up to the raging dumpster fire that is Trump's bullshit claim that he was the victim of a "wire tapp" from Obama, unzipped his trousers, and whizzed all over it:
BREAKING: Comey shoots down Trump's wiretapping claims: "I have no information that supports those tweets." https://t.co/OvKyiXJznd pic.twitter.com/Silbif61sL

— Kyle Griffin (@kylegriffin1) March 20, 2017
With respect to the president's tweets about alleged wiretapping directed at him by the prior administration, I have no information that supports those tweets, and we have looked carefully inside the FBI. The Department of Justice has asked me to share with you that the answer is the same for the Department of Justice and all its components, the department has no information that supports those tweets.
Let that sink in: The PRESIDENT is a LIAR and A FUCKING IDIOT. Comey, of course, foreshadowed this the weekend of Trump's wiretapping tweets, when he asked the Justice Department to please call bullshit on Trump.
Or as Samantha Bee put it, on Twitter: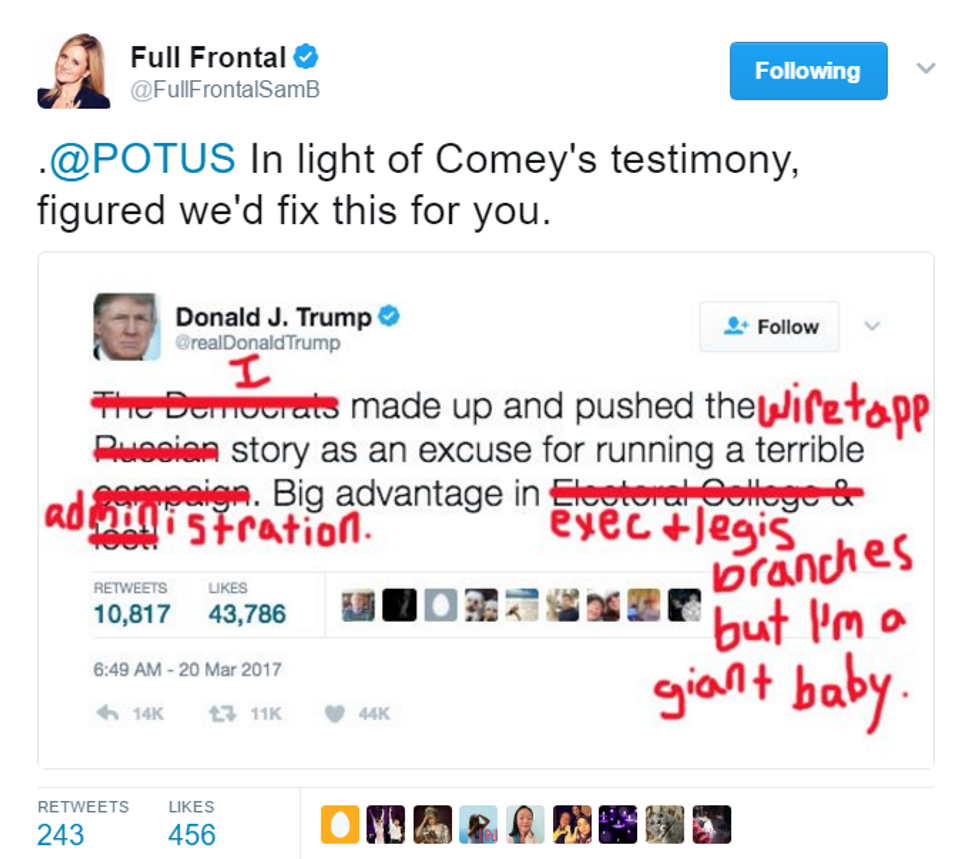 The hearing so far has also made clear that Republicans would like to put people who leak mean things to the press about Fuehrer Trump IN JAIL, and Democrats would like to have an adult conversation about the actual investigation.
Benghazi GOP congressidiot Trey Gowdy has been naming random names of Obama administration officials and doing his weasel-y best to insinuate that they're feloniously leaking contacts between people like poor, disgraced former national security adviser Michael Flynn and the Russian ambassador. Trey Gowdy does not like leaking classified info one bit, except for when he "accidentally" leaks the name of a CIA operative during a Hillary Clinton investigation. That's different.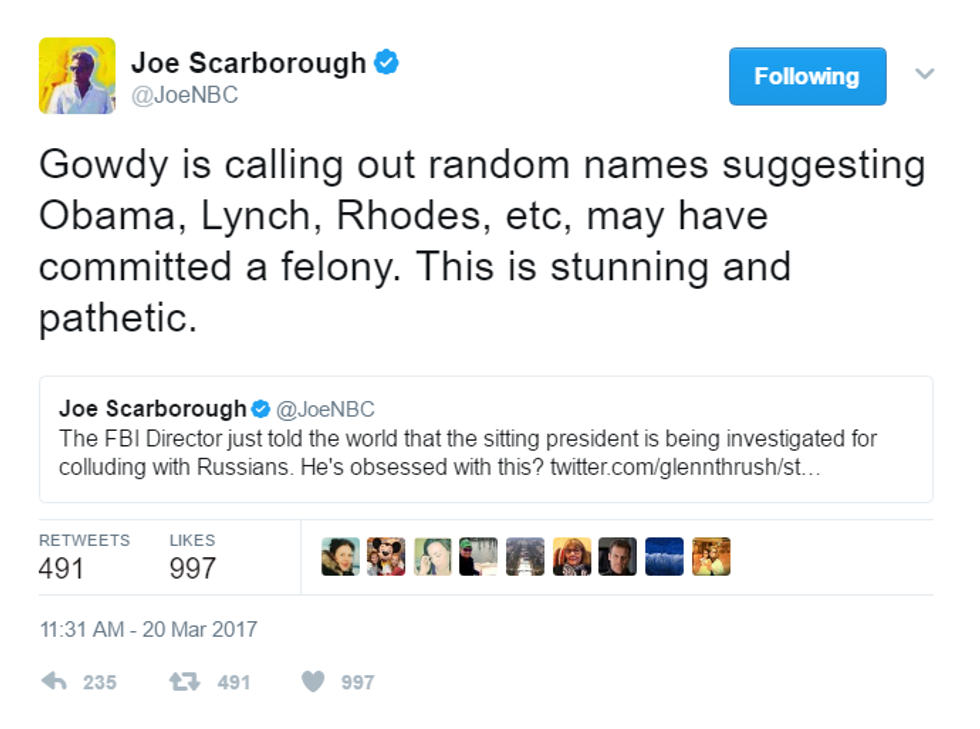 House Intelligence Committee Chair and tattered windsock Devin Nunes has contributed a whole lot to the hearing, asking whether any votes were changed in the swing states, whether the Russians ALWAYS vote for Republicans (LOL), and begging Comey to please investigate whether or not HILLARY colluded with the Russians. It's weird how he would bring that up ...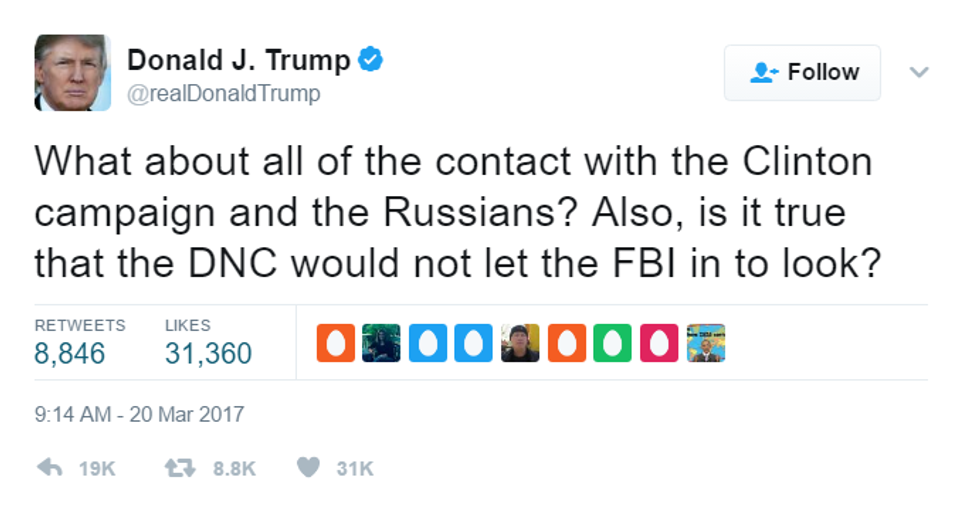 So in case you've been curious how far inside the Republicans' mouth Donald Trump's dick is, the answer is "two or three inches, but Trump would insist it was six."
Oh, and here is another fun thing that happened! Democratic Rep. Adam Schiff, the ranking member on the House Intelligence Committee, asked Comey about all the reports that crazy-ass Trump stooge Roger Stone had contacts with Guccifer 2.0, the Russian-backed hacker who Watergate-d the DNC, and also how Stone bragged about it. Comey wasn't sayin' NOTHIN', besides how he may have heard the name Roger Stone somewhere and SHHHHHHH! He wouldn't comment either way about whether Stone's contacts are under investigation, whether Stone himself is under investigation, or anything else. Veteran intelligence analyst John Schindler took note on Twitter: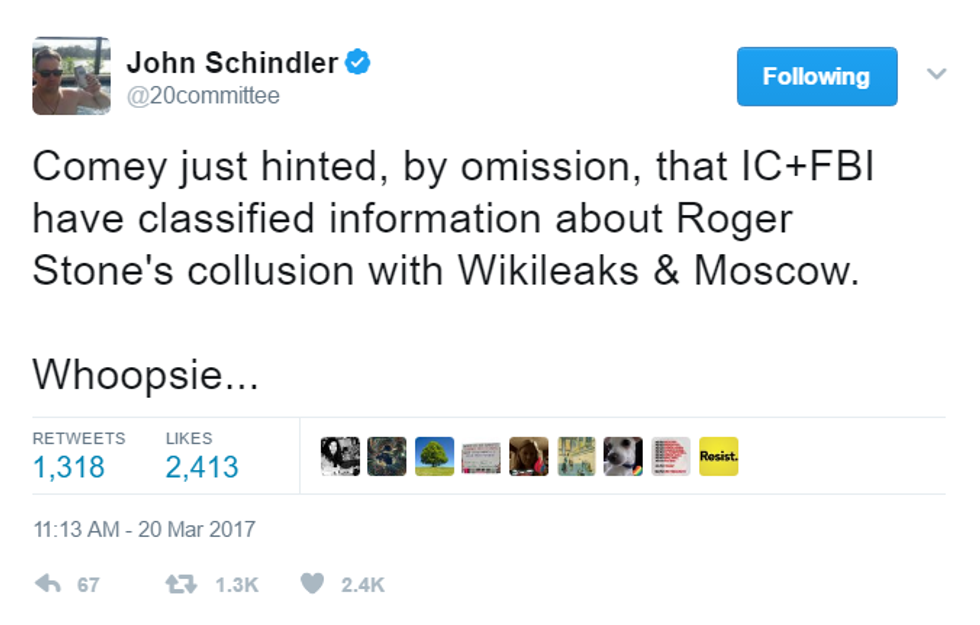 Boom!
As Democrats interrogate Comey, they are basically reading facts into the historical record about what we know about Trump associates' collusion with Russia. In response, Comey is saying "NO COMMENT" every five seconds, which means we're not getting much new information. As Benjamin Wittes at the Lawfare blog explains, this is probably a very good thing. In Wittes's preview of the Comey hearings, styled as a guide for how to watch them, he noted that the more tight-lipped Comey is, the worse things likely are for Trump. Describing a scenario where the FBI has a shitload on Trump's collusion with Russia, Wittes explains how he would expect Comey to act:
In this situation, I would expect him to be minimally verbal. He may have to answer yes or no questions in certain instances, including about the truth of the wiretapping allegations, but he will refuse to answer a lot of questions. He will make as little news as humanly possible. He will be exceptionally spare with his opinions. He will make a point of not antagonizing the President. Lots of people will leave disappointed.
Yep, that's where we are!
So, to sum up: the hearing is still going on, Republicans look like dumbass babies, Democrats are asking really good questions, none of which Comey and Rogers are allowed to answer, and hopefully once this is all over, Donald Trump and everybody he has ever met are going to jail. We'll update you later, when more things happen!
Wonkette is fully reader-funded. Toss us a few dollars if you liked this post, by clicking the happy banner below!
[Lawfare]
Evan Hurst
Evan Hurst is the senior editor of Wonkette, which means he is the boss of you, unless you are Rebecca, who is boss of him. His dog Lula is judging you right now.
Follow him on Twitter RIGHT HERE.