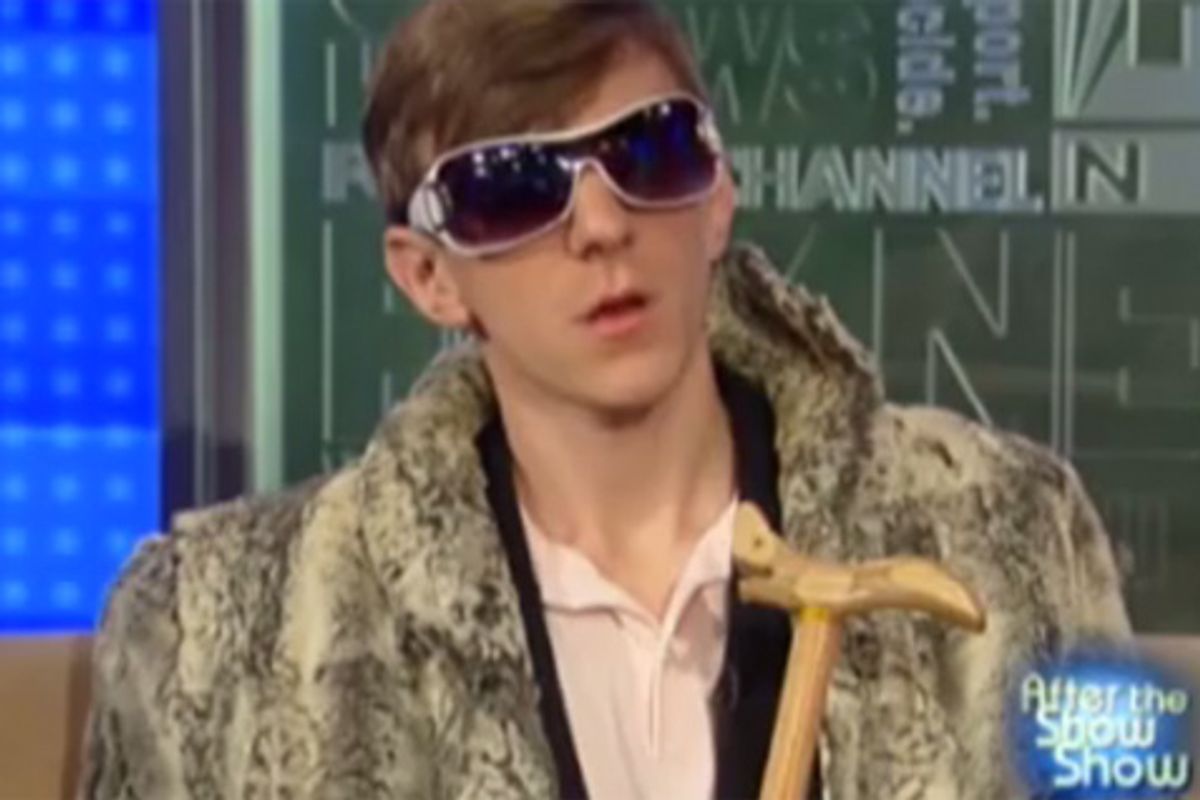 James O'Keefe, the undercover "journalist" who keeps running absolute garbage hidden-camera "sting operations," is working on a great big project to help Donald Trump win reelection this year by delegitimizing absentee voting, The New Republic reports. His "Project Veritas" (Latin for I Project Venereally) is running operations in several states this year aimed at supporting Donald Trump's bullshit contention that mail-in voting is unspeakably fraudulent. That way, if Trump somehow loses this election in which he is overwhelmingly popular and everyone loves him, there'll be an explanation, not to mention fuel for years of additional fundraising by the loony Right.
Based on a trove of internal Project Vanitas documents and chats with several past and present insiders at O'Keefe's little ratfucking mill, the article, by Wonkette alumnus Matthew Phelan and Wonkette not-alumnus Jesse Hicks, gets the obvious out of the way: James O'Keefe has no fucking credibility and Project Verminshit seldom turns up anything more incriminating than liberals saying liberal opinions out loud. (See?! BIAS!) Nonetheless, the dipshit and his crew of fellow dipshits keep attracting big donations from big GOP donors, and that puts O'Keefe
at the vanguard of a larger underhanded approach that Republicans, starting at the very top, are taking to the 2020 cycle. If they want to win, they really have no other choice but to undermine the vote: Trump's poll numbers are in the basement, and he appears constitutionally incapable of making appeals beyond his hardcore supporters on the right.
Project Vomitus may be inept peddlers of dishonest bullshit, but it sure makes lots of noise. And in that, it's no different from what has become the GOP mainstream and the US government.
---
The piece starts with the sad news that O'Keefe was fixing to get married this year, because we guess somebody finally wanted to get on his Dildo Lube Boat. Everybody was gonna go! Or at least everybody was invited! Donald Trump Jr., Clarence Thomas, Sean Hannity, Michelle Malkin — you know, all the wedding guests you want to see get drunk on your dance floor and go home with each other. But then the pandemic happened and the wedding was put off and we guess she didn't get in the Dildo Lube Boat after all :( sadface. Phelan and Hicks note that
Although O'Keefe himself declined to comment on this and many other details for this story, a well-placed frenemy is "90 percent sure they broke up."
O'Keefe, you'll recall, has managed exactly one significant undercover "sting," in which he destroyed the community organizing outfit ACORN through the magic of a deceptively edited video that purported to show workers for the group giving advice on how to cover up prostitution and avoid taxes. (Formal investigations by state authorities in New York and California later cleared the organization of wrongdoing, but it had gone belly-up by then.) It was Phelan, writing for Wonkette, who broke the news that O'Keefe had paid $100,000 to settle with an ACORN worker he had defamed.
Since then, O'Keefe has managed to become a big player in rightwing media by hyping big "investigations" that never really expose much of anything but his own incompetence, like the time he blew his own George Soros sting by forgetting to hang up after leaving a fake message on an answering machine, or his bizarre attempt to lure a CNN reporter onto his dildo lube boat.
To help prove that voting by mail is fraudulent and bad, we learn,
For well over a year, Project Veritas has been secretly producing undercover stings designed to undermine the integrity of absentee and mail-in ballot counts—an endeavor codenamed "Diamond Dog," according to documents we have obtained. Diamond Dog began as only one facet of Project Veritas's 2020 rat-fucking strategy, but with the onset of the pandemic, which has made in-person voting a dicey proposition, it has since become one of the group's top-line action items.
That project fits smoothly with Trump's lies about mail-in voting and Bill Barr's lies about mail-in voting, along with Trump #JustAsking if we should maybe delay the election. Add in the fact that Trump put a man with seventy million conflicts of interest in as the head of the US Postal Service, which is already creating MASSIVE mail backlogs, and you have a recipe for Trump to whine from now until Inauguration Day that the election was #RIGGED.
A sourced that's "close to" Project VeinousSocks said the entire point of Diamond Dog is "literally to get Trump reelected." One pitch from the group, to a donor codenamed "Dr. Bob," teased efforts to uncover nefarious practices such as "illegal aliens voting," mail-in ballot tampering at "nursing homes," and "the sale of absentee ballots and voter profiles on the 'Dark Web.'" Not that any such things are actually going on, but those are definitely things O'Keefe and his ham-handed operatives would like to look for, and maybe even find a low-level campaign volunteer agreeing might be neat to do if they weren't illegal. Even better, some college student volunteer might not even know it's illegal, and agree they'd be up to help.

And of course, there's the classic O'Keefian method of trying to make legal stuff look shady:
In California and Texas, Project Veritas has tasked its operatives with unearthing supposed evidence of widespread mail-in ballot forgery. In both states, Project Veritas has worked to infiltrate the groups of volunteers and paid canvassers who collect absentee and mail-in voter applications from low-income, elderly, and minority groups—a perfectly legal practice in most states that conservatives have tried to label as nefarious "ballot harvesting."
While the allegations of "voter fraud" pursued by Project Weenus haven't turned up any massive schemes, the penny-ante irregularities they do find really whip up true believers' certainty that voter fraud is everywhere, like the case of Rosa Maria Ortega, a Mexican citizen who Attorney General Ken Paxton sent to prison for eight years because she wrongly thought her Green Card enabled her to vote in Texas. She voted in several elections, supporting Mitt Romney in 2012 and some asshole named Ken Paxton for Texas attorney general in 2014.
Anything that helps make it look like there's rampant "voter fraud" gets The Base excited, like a recent AP story about a Georgia family that received an application to register to vote for their pet cat, which has been dead for over a decade. The family didn't try to register the cat to vote, and it looks like some third-party group probably sent the application after getting a bad mailing list, but you can see troll accounts all over Twitter saying a dead cat received a "ballot," or that the cat actually registered to vote.
The New Republic notes multiple examples of O'Keefe's bullshit being cited by Republicans who have pushed through voting restrictions, and even when there's no real evidence of fraud, that's all Trump needs to find support for his bullshit, like his effort to slow down the mail (see what a mess the Post Office is?), his threat to sue Nevada over sending absentee ballots to all active voters, and the administration's active lawsuit to prevent Pennsylvania officials from using curbside drop boxes to collect absentee ballots, because somehow that's illegal "ballot harvesting" (it isn't).
There's a lot of money going into all this, from all sorts of big donors, and it's doing active harm. The piece reminds us that
If you strain to look beyond the lonely partisan kitsch of James O'Keefe's bungled scams and harebrained hoaxes, it's plain to see the march of a whole battalion of Diamond Dog operatives and lawyers turned loose on the integrity of the ballot in key battleground states.
Ninety days to the election, and this shit is going to be everywhere. And for some reason, I have Bowie's "Blue Jean" stuck in my head, not that other one.
Update: Matthew Phelan DM'd me to note that the story was also helped along by invaluable research by Wonkette Alumna Liz Farkas, and that there will be more Project Venality ratfucking stories to come.
[Author's Note: Thanks to Evan for notes and help! The funniest parts are his — Dok]
[TNR / NYT / CNN / AP /PennLive]
Wonkette is fully funded by readers like YOU. If you love Wonkette, WE NEED YOUR LOVE GIFTS TO KEEP US GOING.