Jeff Bezos's Dick: A Cautionary Tale
News
February 15, 2019 02:16 PM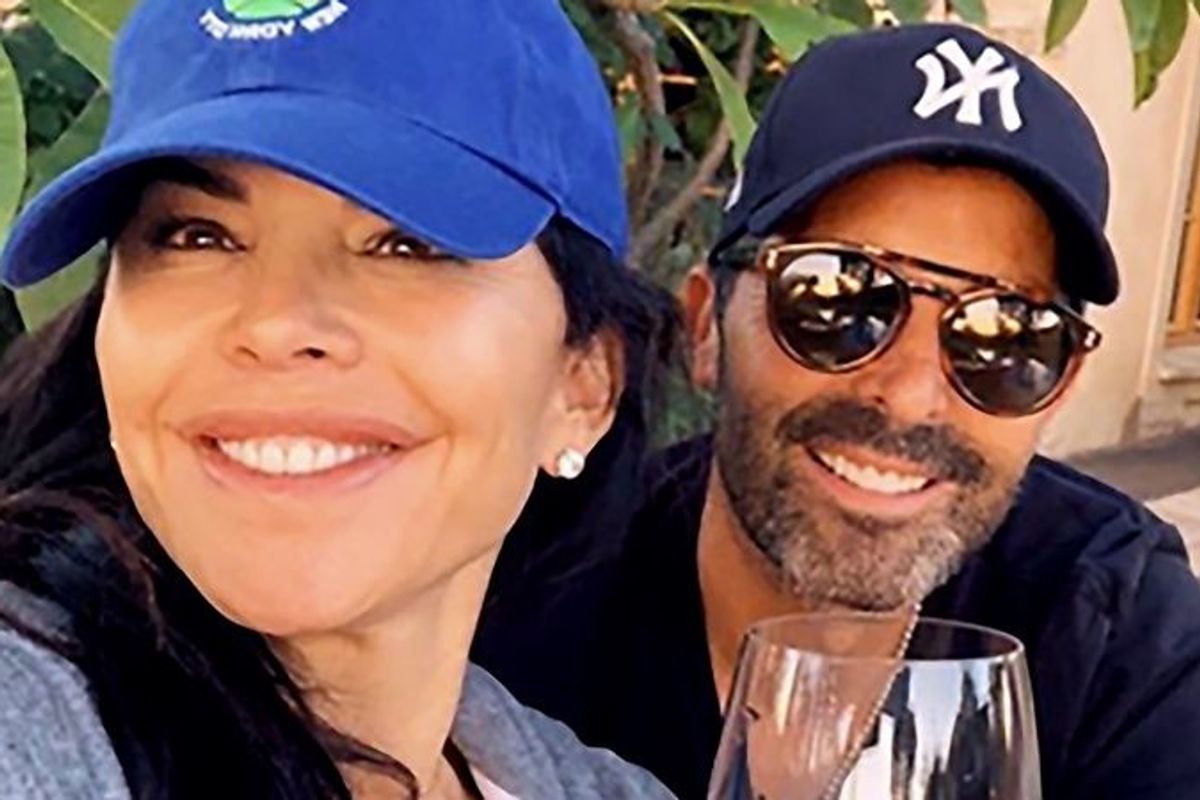 Michael Sanchez Twitter
What the hell is the richest man in the world doing with this pack of Jerry Springer rejects? We're just a simple East Coast elitist, but we cannot fathom why a guy who can buy a Renoir with his lunch money would get mixed up with the Trash Twins in this tabloid shit. But we do appreciate the break from President Sundowner and the downfall of democracy, so double glove it, kids -- WE'RE GOIN' IN!
Since Jeff Bezos dropped his Medium post accusing the National Enquirer of trying to sextort him, possibly at the behest of Saudi Arabia, the Amazon CEO has been largely silent. His girlfriend Lauren Sanchez has also had the sense to keep her mouth shut. But her brother, Trump-loving "talent" agent Michael Sanchez -- call now to book such luminaries as Carter Page and Scottie Nell Hughes! -- will not shut the fuck up.
According to Sanchez, Bezos has two trusted advisers: international security expert Gavin de Becker and ... Michael Sanchez, talent agent to the dopes! Because OBVIOUSLY. While de Becker counseled his client to use discretion to protect himself, Sanchez advocated playing ball with The Enquirer.
"Lauren calls it a cockfight," Sanchez toldVanity Fair's Gabe Sherman:
Over the last year, he said, he served as an unofficial adviser to the couple as they discussed what would happen if their love affair leaked. "They were talking marriage," he told me. "The three of us had discussed before that, at some point, this was going to be a scandal. My advice was, let's get to the other side. Our analogy was always that they were landing a 747. I told them, 'You're both pilots and you've never landed a 747, but that's what we're trying to do here.'"
Jeff Bezos is ... Ted Striker? And Lauren Sanchez is ... Elaine? OH NO, THEY'RE GONNA HAVE TO BLOW ROC!
Airplane 2 - She's gonna have to blow the computer. Guess what: the computer likes it!www.youtube.com
---
In Sanchez's telling, after the Enquirer approached the couple in early January with the leaked texts, "Lauren and Jeff called me like 911." Were they calling him for advice, or because they suspected him of being the leaker? (Which he was, although he swears he wasn't the source for the dick pics -- that had to be Lauren sending those around to her girlfriends, right? You know what those 49-year-old mothers of three are like, amirite?)

"I'm not saying I didn't do something," Michael told me. "Until I go under oath, what I can tell you now is that ever since April 20, when I met Jeff, my only goal has been to protect Jeff and Lauren."
If you believe Sanchez, the couple agreed to send him to New York to negotiate with the Enquirer's chief content officer Dylan Howard, but then de Becker stupidly convinced Bezos to announce his divorce, preempting the tabloid's exclusive story about the affair and launching a flame war with AMI. And if you believe Michael Sanchez over Gavin de Becker, we'd like to invite you into the Wonkbasement to meet Batboy and Bill Clinton's secret black son conceived in a gay love affair with Vince Foster.
In reality, Sanchez has been in bed with the magazine and its parent company AMI for years. The Daily Beast reports that Sanchez was the source of emails between his client Scottie Nell Hughes (formerly of Fox News, currently of Russian propaganda front RT America) and Fox host Charles Payne, whom she later accused of rape.
In July 2017, the Enquirer broke the story of an affair between Hughes and Payne. Soon after, AMI-owned Radar Online published a leaked email from Payne to Hughes containing pictures of a blonde wearing a string bikini in a Confederate flag pattern. "I have no problem with this," Payne wrote. "Shocking Emails & Dirty Photos," the story's headline blared.

Hughes went on to file a lawsuit against Fox claiming the network had leaked her name in retaliation after an alleged sexual assault by Payne. But in fact, the leak had originated from Sanchez, two sources confirmed to The Daily Beast.
Sanchez's Twitter feed, which he seems to have protected in the past 36 hours, is chock-a-block with photos of him and Hughes. So if she was troubled by that leak to AMI, she seems to have gotten over it. But Sanchez's relationships with other clients ended less amicably. There is so much crazy shit in the Daily Beast story, but this excerpt strongly implies Sanchez was willing to weaponize his relationship with the tabloid juggernaut to help his friends and harm his enemies.
When [Mary] Murphy, a client of Sanchez's and a judge on So You Think You Can Dance—then hosted by Michael's sister Lauren Sanchez—parted ways with him, Sanchez levied the wild charge that Murphy was a "desperate, cocaine-fueled nymphomaniac" in a breach of contract lawsuit filed in 2012. The suit alleged Murphy had an "addiction to plastic surgery," engaged in a "cocaine-fueled evening of partying," and had "many inappropriate sexual relationships" with crew members from So You Think You Can Dance and Chelsea Lately.

On the same day that Sanchez filed the suit, Radar Online hyped the "new bombshell lawsuit" that it said it had "exclusively obtained."
He seems nice.
So the guy who leaked the texts and then cooked up a story blaming the DEEP STATE and Mossad with his pals Carter Page and Roger Stone is now blaming Gavin de Becker for the whole situation. Vanity Fairreports:
But Michael Sanchez said Bezos and de Becker are framing the scandal as a pro-Trump political hit job to distract the public from a far simpler story: Bezos cheated on his wife and de Becker's security apparatus couldn't prevent Bezos from being caught. Michael said de Becker's judgment is clouded because he has been trying to break Lauren and Bezos up to protect MacKenzie Bezos, a close de Becker friend.
And if Michael Sanchez didn't leak the photos of Jeff Bezos's dick and his own sister's "nether regions", then Lauren Sanchez carelessly forwarded them to her friends, which is obviously Gavin de Becker's fault. Also, these people are nasty fame whores who are clearly going to drag this out long past their allotted fifteen minutes. But at least they aren't going on dementia benders to subvert American democracy so, slow fucking clap for Bezos's big dick and the Dirty Sanchezes.
Mazel Tov, we're sure they'll all be very happy together!
[Vanity Fair / The Daily Beast}
Follow your FDF on Twitter!

We made it through another week! Please click here to keep your Wonkette snarking for whatever craziness these assholes have planned next week.
Liz Dye
Liz Dye lives in Baltimore with her wonderful husband and a houseful of teenagers. When she isn't being mad about a thing on the internet, she's hiding in plain sight in the carpool line. She's the one wearing yoga pants glaring at her phone.